How to Turn ON/OFF YouTube Safety Mode
YouTube is a site that has great learning potential for young people for millions of hours of footage is uploaded every day on the website by ordinary people, companies and organizations. However, YouTube may also be screened for extremely explicit violent and sexual content. It's still something of a wild frontier, containing a huge volume of garbage that kids shouldn't have access to. If you are afraid that your children will be exposed in some inappropriate contents, you should use YouTube Safety Mode to protect them from these contents.

YouTube Safety Mode
Part 1. What Is YouTube Safety Mode
As we already know that tech giants like Facebook and YouTube don't encourage users to spread inappropriate stuff on the Internet but still, it is very difficult to keep the adult content away from our innocent kids. YouTube Safety Mode feature will surely help you get rid of it.
YouTube Safety Mode is a setting that gives users the chance to stop the mature content. This is a "select" setting, which means it won't work unless you turn it on. This setting will filter search results, delete with mature content or limit the video of the age, which means that the video search, the related video, playlists, show or movie clips won't appear this kind of content.
The YouTube Safety Mode provides the following features:
1. Hide videos with potentially objectionable material.
2. Hide comments on videos unless you elect to show comments.
3. Replace most inappropriate words in comments with stars
Part 2. How to Turn On YouTube Safety Mode
Having known what YouTube Safety Mode is, you might be eager to know how to turn on YouTube Safety Mode. In this part we will introduce you the specific solutions to turning on YouTube Safety Mode. Just refer to the following steps.
How to Turn On YouTube Safety Mode on Computer
Step 1 All you have to do is going to the bottom of the page while on the YouTube tab and look for the option which reads "Safety: Off."
Step 2 You can change your YouTube Safety Mode settings by clicking on "Off".
Step 3 Then you should select the "On" radio button and click on the "Save" button to enable YouTube Safety Mode.

How to Lock YouTube Safety Mode
After turning on YouTube Safety Mode, you may still be worried about the safety. In fact, you can lock the YouTube Safety Mode setting, which will stop someone from changing it. The YouTube account that you use is directly linked with your Google account. You can sign in from your Google Account and then lock the feature so that anyone else who uses the system cannot make changes to it. However, if there is no account, you can still turn on the safety mode but another person can alter it. The steps on how to lock YouTube Safety Mode are as follows.

Step 1 You should first open the YouTube Safety Mode configuration panel in the footer by scrolling down and switching YouTube Safety Mode "On".
Step 2 Then you should click on "Lock safety mode on this browser".
Step 3 Finally, you should login to your Google account to activate the lock safety mode.
How to Turn On YouTube Safety Mode on YouTube App
The above solutions are only applicable for the web browsers. Actually, on your apps, you will find an option in the setting, which says "Safe Search Filtering". These functions are in a similar manner as the "Safety mode" on desktops. However, the only difference here is that if your child or someone else figures out the settings, it can be changed easily. Here are the steps on how to turn on YouTube Safety Mode on app.
Step 1 Go to the Menu icon (3 lines) on the upper left to view the menu.
Step 2 Click on settings for viewing the pop-up options.
Step 3 Here, if your search filter reads "No filtering", click on it to change it to "Strict".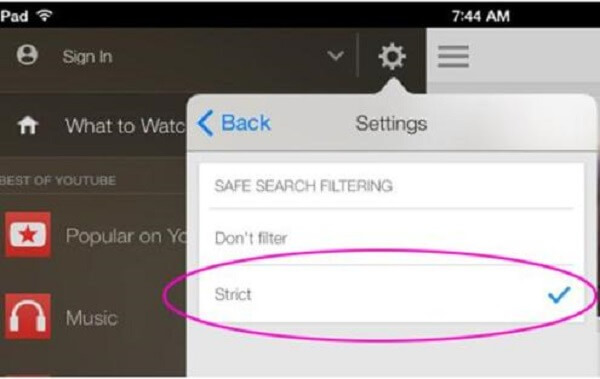 Part 3. How to Turn off YouTube Safety Mode
YouTube Safety Mode helps prevent adult content from displaying when you browse videos on YouTube. But actually, you can easily turn off this YouTube Safety Mode feature from YouTube home page directly or from the YouTube app if you want to see more search results in YouTube. Just read the following steps carefully.
How to Turn Off YouTube Safety Mode via YouTube Website
Step 1 Go to YouTube
Go to the home page of YouTube using any web browser on your computer.
Note: Logging in or having an account is optional. You don't need these to turn off YouTube Safety Mode.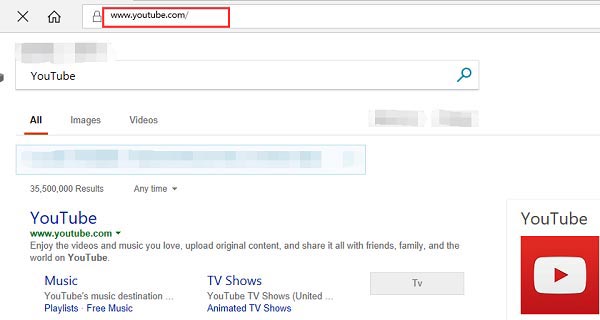 Step 2 Access to Safety Mode Setting
Scroll down the YouTube page to the bottom until you find the ''Safety: On'' option. Click on the ''Safety'' button, and a pop-up will appear with two buttons: "On" and "Off."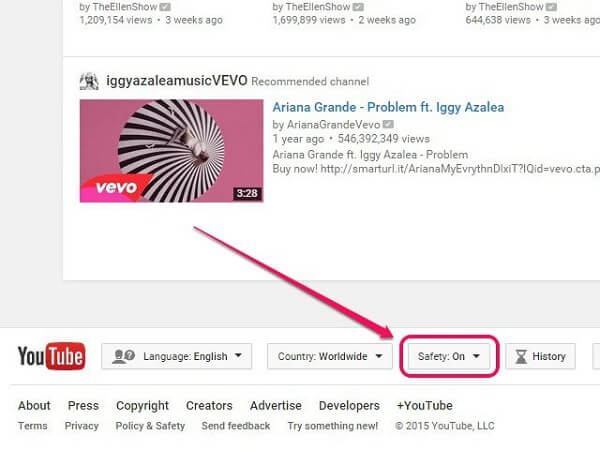 Step 3 Turn off YouTube Safety Mode
Select the "Off" radio button on the right and then click on the ''Save'' button to update the setting.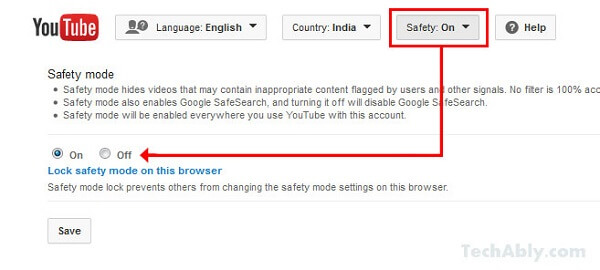 How to Turn Off YouTube Safety Mode via the YouTube App
Step 1 Open the YouTube App and Menu
Locate YouTube on your device's home screen or app drawer, and tap on it. Then click on the "Menu" button in the upper right corner.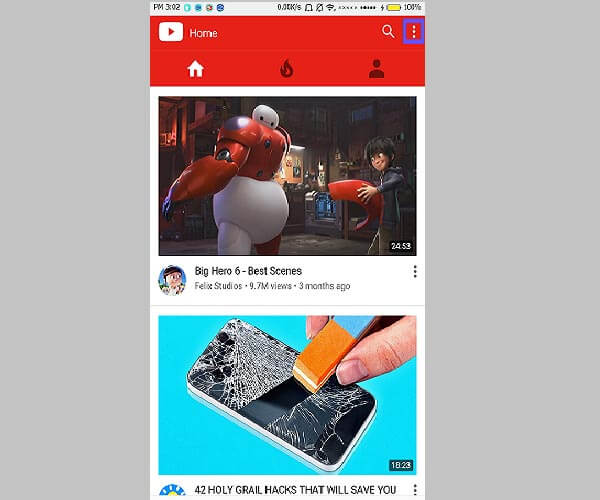 Step 2 Go to General.
Click on "Setting" from menu options and go to the general settings.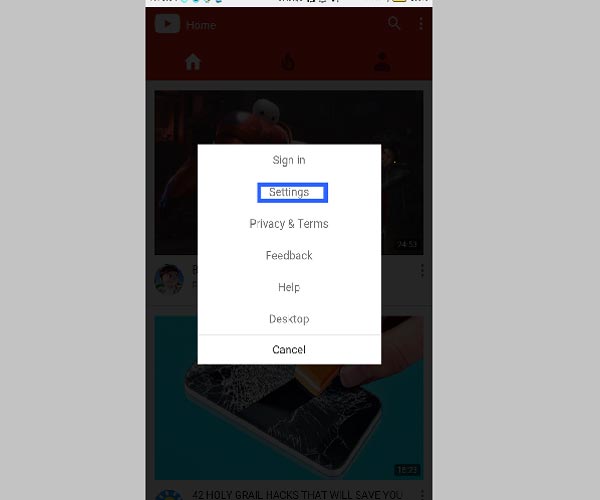 Step 3 Turn Off the Safety Mode.
Click on the "On" button, then it will automatically switch to "Off" mode.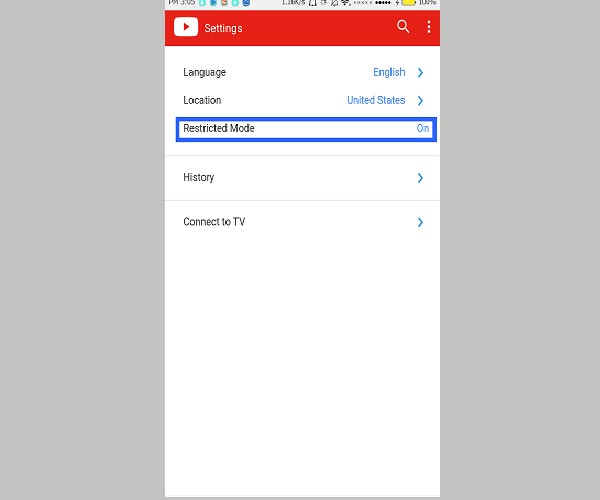 Conclusion
Turning on YouTube Safety Mode is very necessary for you to keep your children from the mature contents of YouTube videos. And if you want to view a video that community flagging or other YouTube measures have marked as appropriate only for a mature audience, you can also easily turn off the YouTube Safety Mode.