How to Convert Between YouTube and SWF
As you know, the YouTube video may be downloaded on your computer as FLV or MP4 format. If you want any other formats of this video, you must convert it by other tools. On the other hand, YouTube only supports some larger quantity formats, such as MP4. While SWF, which is a lower quantity format, is not support by YouTube now. Therefore, many people consider how to convert between YouTube and SWF. Fortunately, this article introduces some methods for you to convert between YouTube and SWF.

YouTube and SWF
Part 1: How to Convert YouTube to SWF Free
Method 1: Convert YouTube to SWF with Free Video Converter
For those who are looking for free software to convert YouTube to SWF, Free Video Converter is the best choice. It is a totally free software you can use to convert whatever you want. Not only SWF and YouTube videos, it also supports convert between more than 300 formats, even including some formats you have never heard.
What's more, with this wonderful software, you can edit your video with opening and ending titles as you want. If you want enjoy SWF with high quality, you can also enhance the video quality in four ways easily. There are two versions you can download this software and both Windows and Mac users can enjoy the simple process of YouTube to SWF. And now follow the next steps to convert YouTube to SWF free.
Step 1 Download Free Video Converter
To begin your YouTube to SWF conversion, the first step you need to do is download this free software from the official website. And then install Free Video Converter on your computer. The installation is very simple and if you have some problems, just follow the instruction.
Step 2 Add YouTube to convert
Launch Free Video Converter on your computer and then the window of this software will show to you. You can see the menu in the left side of window and choose the first button "Free Video Converter". Then you can click "Add Files" which is in the center of the interface. Just click it and add the YouTube video you want to convert. Next you can choose SWF as the output format.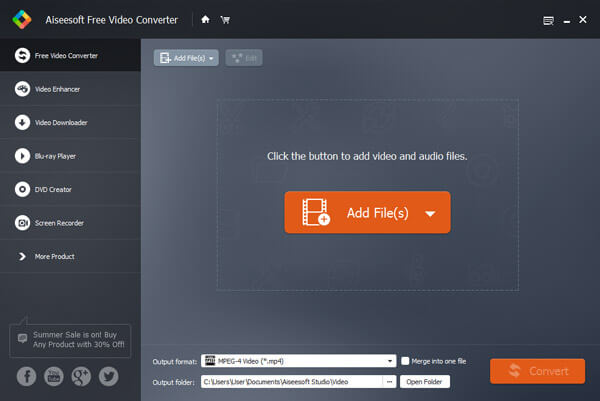 Step 3 Edit your video
Don't forget this software allows you to edit your video. When you add the YouTube video, you can edit this video with opening and ending title as you want. You can adjust the quality of your converted file as well.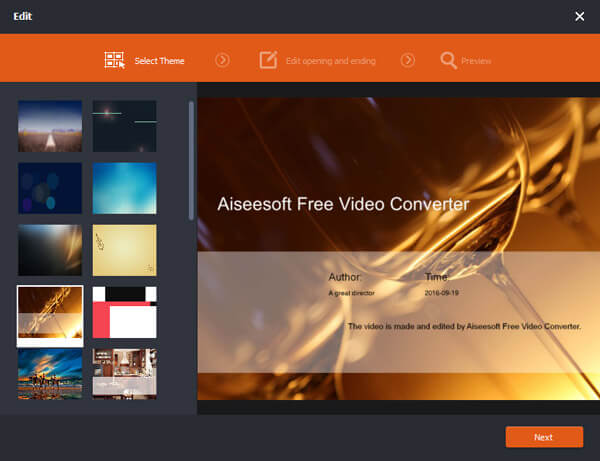 Step 4 Convert YouTube to SWF
When you done your editing, it is time to convert your favorite YouTube to SWF. Before you convert, you can choose the output format again in case you select the wrong format or you change your mind. Then just click "Convert" to start your process of converting YouTube to SWF.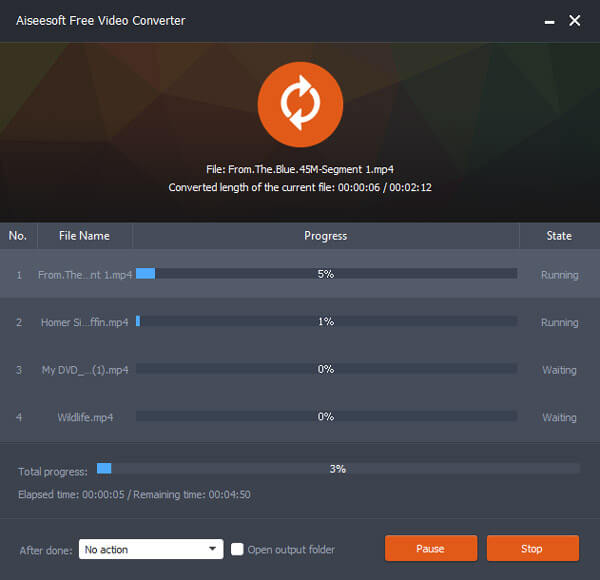 Method 2: Convert YouTube to SWF by Office-Convert.com
Except downloading a program on your computer to convert YouTube to SWF, there is another easy way you can use. You can convert YouTube to SWF online. There are many different kinds of such online converters and here we want to recommend Office-Convert.com to you. It is a very simple website you can convert your favorite YouTube video to SWF and then download it just in one click. The maximum document file size for you to upload free is 50 MB. If you want more, you can pay for a Member Support.
Step 1 Find this useful website using your browser on your computer.
Step 2 Enter the URL of the YouTube video you want to convert or just paste the link.
Step 3 Just click on the "Download and Convert" button to begin converting YouTube to SWF free.
Note: If the video you want to convert is on your computer, just drag and drop it od click "Add Files". And then click "Start Convert". If you want to convert videos from other website, just enter the link into the second blank. Be sure the link you provide is right. Then click "Download and Convert" button which is under the blank you enter.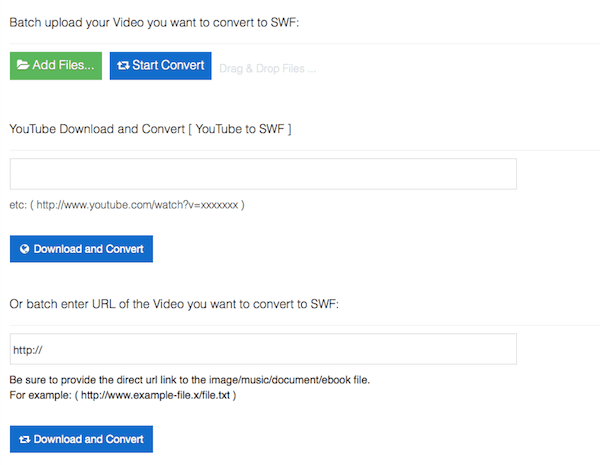 Part 2: How to Convert SWF to YouTube for Uploading
Method 1: Convert SWF to YouTube with Bigasoft Total Video Converter
When you have some great SWF you may want to share it on YouTube with people around the world. To convert SWF to YouTube supported video, Bigasoft Total Video Converter is a good software you can use to. It supports you efficiently convert your favorite SWF to YouTube compatible formats just in a few clicks. Besides it, you can adjust the effects of the video as well, like changing the background music. Of course, it supports two versions, thus both Windows and Mac user can use this totally clean software. Here we list the detailed usage you can learn to convert SWF to YouTube.
Step 1 Download Total Video Converter
Find the suitable version of Total Video Converter and the download it on your computer. Next install it following the installation guide.
Step 2 Import your SWF file
Run Bigasoft Total Video Convert on your computer. Then find the "Add File" in the main interface and click on it. Just select the SWF file you want to convert and click "Open" button.
Step 3 Select YouTube as output
Now you need to choose the output format. Here you need to click "Profile" drop-menu and then select "YouTube H.264 HD video (*mp4)" which is under "Web Video" category. And there is no need to adjust the settings.
Step 4 Start SWF to YouTube conversion
When you done all things, just click the "Convert" button to start your SWF to YouTube conversion quickly. Once your SWF file is converted successfully, you can upload the YouTube video and share the SWF to your friends.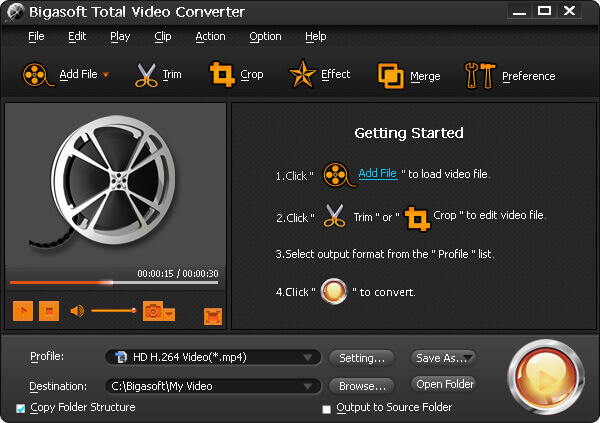 Conclusion
Don't be confused about how to convert between YouTube and SWF anymore. This article gives you the best methods to convert YouTube to SWF free and convert SWF to YouTube supported files. All of these methods are good enough to do these conversions. Hope you gain something helpful in this article.