How to Create a GIF from YouTube with YouTube GIF Maker
Everybody loves GIFs, right? Especially when our attention spans are getting shorter nowadays. GIFs are short little animations that are made to summarize the contents of an entire video.
It is simper, easier and quicker than videos. If you are just looking for a laugh, GIF would be perfect choice. Just like this: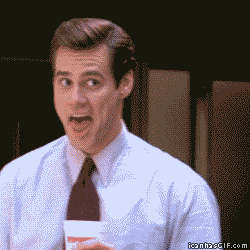 But after laughing with so many interesting GIFs on the Internet, you may be wondering how to make an animated GIF from a video, especially make a GIF from YouTube video.
Here in the following article, we will introduce several YouTube to GIF makers, helping you to convert YouTube to GIF.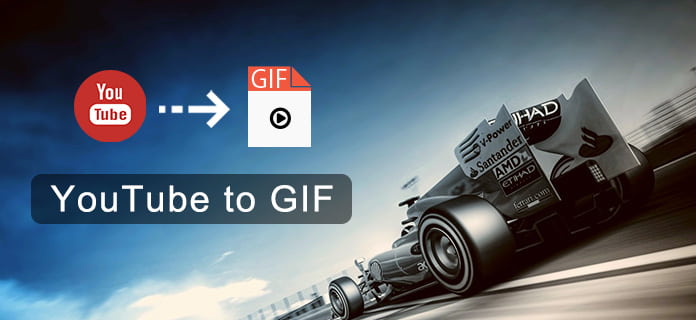 YouTube to GIF
Part 1. How to make a GIF from YouTube video without watermark
In order to make a GIF from YouTube video freely, Video Converter Ultimate is highly recommended. Video Converter Ultimate is the professional YouTube video to GIF animated image converter.
Note: This software lets you add local YouTube video for making GIF. So if you want to create an online YouTube video to GIF, you need to download YouTube videos firstly.
Then follow the steps below to create a GIF from YouTube.
How to create animated GIFs from YouTube with Free YouTube to GIF Maker
Step 1YouTube to GIF maker download
Free Download, install and open this YouTube to GIF makers on computer.
Step 2Load YouTube video file
Click "Add File" in the tool bar to load the YouTube video you want to make GIF from.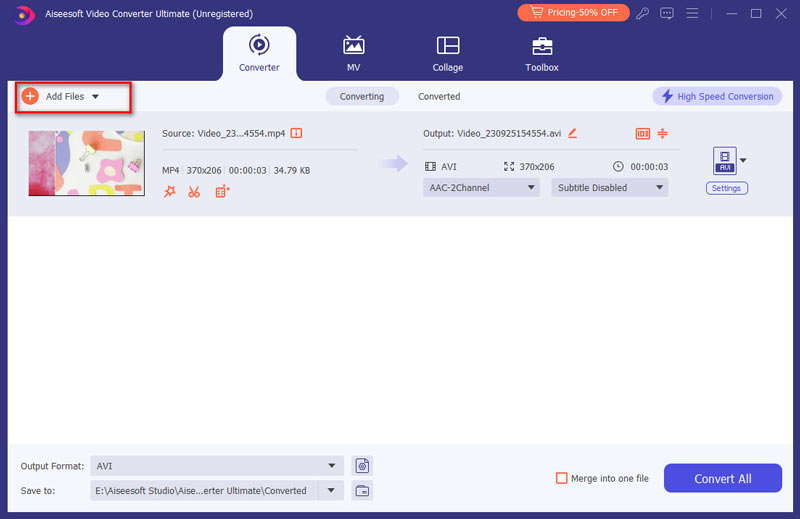 Step 3Edit GIF duration
Click "Clip" in the tool bar, then you'll enter the preview window. Slide the two dots on the progress bar to adjust start time and end time, then click "OK". You can set as 10 second, 23 seconds, 30 second, or longer as you wish.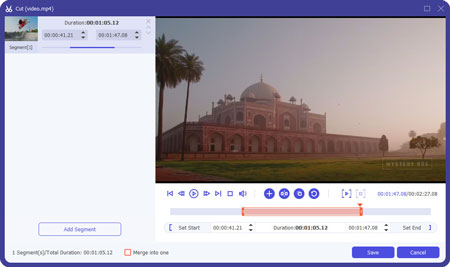 Step 4GIF profile settings
Click "Settings" down the main interface and you are allowed to customize GIF settings including Frame Rate, Aspect Ratio, Resolution, etc.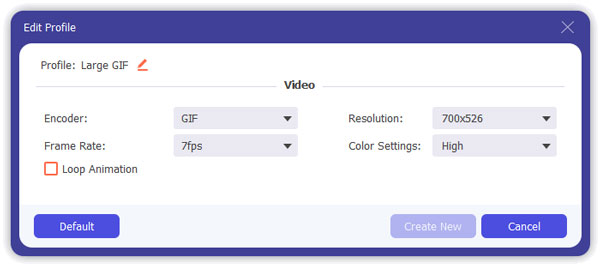 Step 5Convert YouTube video to GIF
After all set, click "Convert" button. Then you can get the GIF out of a YouTube video within a few seconds.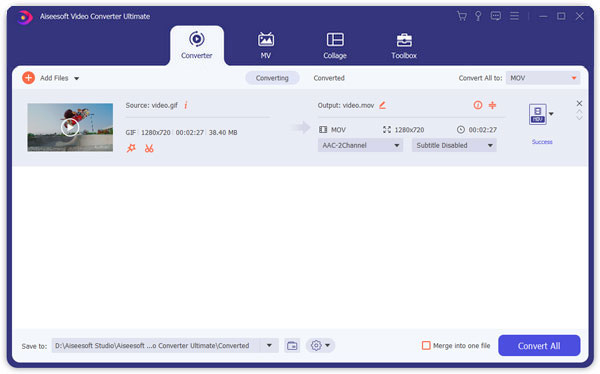 Part 2. How to create a GIF from YouTube video free online
Surely, there are some online tools that support YouTube to GIF converting, like Imgur Video to GIF, GIPHY GIF Maker, etc.
Take Imgur Video to GIF as the example, and we will show how to make GIF from YouTube.
Imgur Video to GIF is one of the best conversion tools available online. It is simple and easy-to-use and allows the user to convert videos of several formats into Imgur GIF images. Free Converting YouTube video to a GIF only needs two steps:
1. Add the YouTube video's URL in the address bar and upload YouTube video.
2. Select a start time, then end time. Click on "Create GIF" and you're done!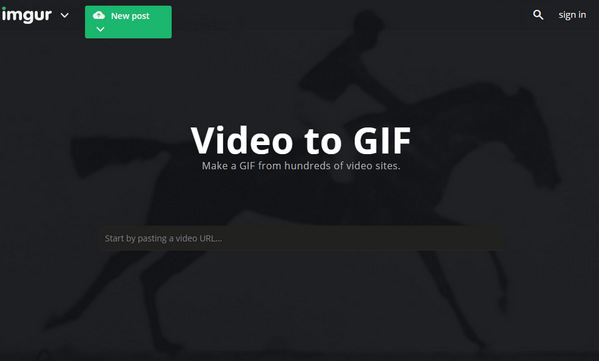 However, the cons you also should know:
1. The YouTube video size must be limited 1GB.
2. The GIF must be within 15 seconds.
3. You get no ways to download, but have to share it directly.
Part 3. How to turn YouTube video to GIF with app
Apart from the above YouTube to GIF apps, you can also try the following apps.
GIF Maker - Video to GIF Creator Tool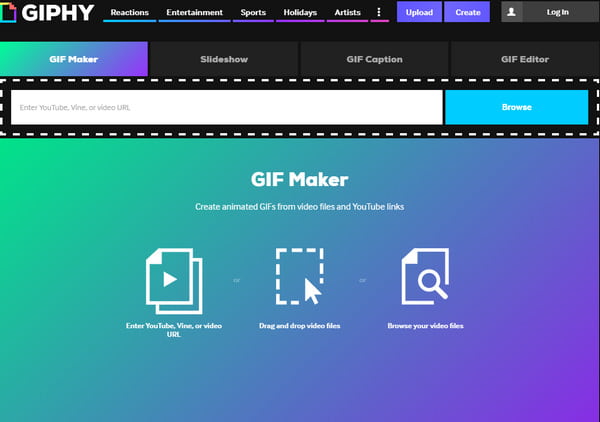 GIF Maker comes from GIPHY and it is the most beautiful online tool to make GIF animations directly from YouTube links. You would be impressed by interface. The steps are also simple:
1. Add video file or YouTube link.
2. Edit start time and duration.
3. GIF personal settings including captions, tags, source URL and more. The YouTube to GIF Maker enables you to change the speed and resolution of the GIF image.
4. Create GIF and share GIF on Facebook, Twitter, Instagram, email and more!
The limitation the YouTube GIF maker has is that the upload YouTube video must be under 100 MB and under 15 minutes long, also it restricts the output GIFs to be of 15 seconds or less.
Make a GIF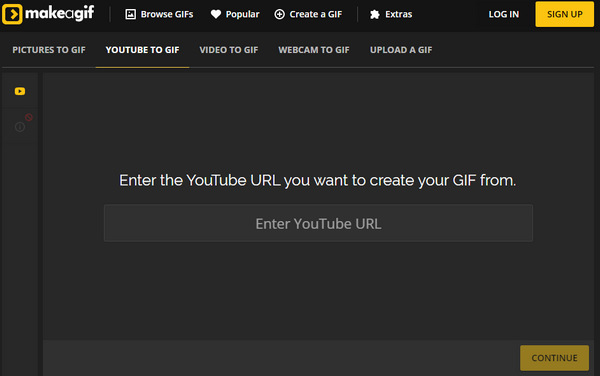 Make a GIF is one of the most popular free GIF creators online. It supports to make GIF not only from YouTube video, but also from multiple images. This Animated GIF Maker also has a number of customization options that include playback speed and resolution. Steps are similar as the above two. Just enter the YouTube URL you want to create your GIF from, and then follow the instruction.
However, the catch is that if you need a high quality GIF image without a watermark, you'll have to sign up for the paid service.
Gifs.com - Animated Gif Maker and Gif Editor, GIF anything in seconds
YouTube to GIF - Easiest way to make gif from Youtube. Enter Youtube URL and create gif from the selected time frame. Absolutely free!
Imagefilp - Easily create animated GIFs online from videos, Youtube, or video websites. Simple yet powerful options.
GifRun - Create animated GIFs and short video clips from YouTube. Custom text can be added to GIFs and videos. Find videos using instant search or cut and paste URL.
Conclusion
In this article, we have provided you several methods to easily make a GIF from YouTube video on computer. Of course, you can find GIF maker for YouTube enabling you to create GIF from YouTube on iPhone/Android, that sounds appealing but YouTube to GIF on mobile is very tricky. Better, converting YouTube to GIF following one methods above, then you can also share GIF animation on your mobile devices!
Part 4. FAQs of creating GIF from YouTube video
How long is a GIF?
There are no restrictions on the length and file size of a GIF. But some GIF makers have restrictions on it, as to make sure you can succeed in uploading GIF on social media.
How to upload GIF file to YouTube?
YouTube doesn't support uploading GIF directly. In order to upload GIF file to YouTube, you'd better convert the GIF file to a video format with Aiseesoft Video Converter Ultimate. Then upload the converted GIF to YouTube without hassle.
Are there GIFs with sound?
GIF is a simple image format and doesn't support sound. Those GIFs with sound are looped videos with audio.
How do I make a GIF from a YouTube video on Android?
With the GIF app for Android, you can easily create GIF from YouTube video on Android. Let us take GIFDroid as an example. Open GIFDroid on your Android phone, and tap Select Video to import the downloaded YouTube video from Gallery. Then select the frames of the video, and tap Create GIF to make your GIF file on Android.