Samsung Phone Screen Is Cracked? Rescue Data Now

"My Samsung Galaxy S3's screen is cracked in a car accident. And now it leaves me a total black box with all my phone data in it. But the problem is that I cannot turn on my Samsung Galaxy S6, let more than extract data in it. I do not many any backup with Kies before. Anyone who can help you fix it?" - Burt

"My Samsung Galaxy S4 is cracked b/c my girl friend cracked my phone screen in a quarrel. I put my phone to the repair store, and the guy fixed my phone with a new screen. But I still could not wake up my phone. There are many important text messages and contacts in it. God, what can I do? I am really blank now." - Allen
The above two questions are from Yahoo Answer. Samsung users may also have the same problem that phone screen is cracked, and all data in it are either gone or still sleeping in phone but cannot be extracted. It is an unhappy thing to get your cell phone screen cracked for some reasons. But what makes you feel sad is the trouble afterwards caused by a broken phone screen. Why?
For a cracked screen on Samsung, you can replace it with a new screen or new Samsung Galaxy S6, but for the important files on your phone like text messages, pictures or photos, contacts, on phone, you have to brainstorm to recover them. In this article, we will share you two ways to help you to retrieve lost data on Samsung from a cracked screen.
Part 1. Restore data from Samsung with cracked screen with Kies
Samsung users must be familiar with Kies, the free data backup and resorting software for Samsung Galaxy S8/S7 Edge/S7/6 Edge/6/5/4/3/2 and Note 6/5/4/3/2. If you are fortunate to back up Samsung with Kies before your phone screen is broken, then you can recover deleted or lost files from broken screen Samsung. Follow the steps as below:
Back up Samsung with Kies
If you have back up your Samsung phone with Kies before, then you could skip this part. If not, refer to this part: Back up Samsung with Kies. You should notice that the different Kies version is suitable for your different Samsung phone version.
What data Kies supports backing up:
Contacts, S Memo™, S Planner, Call log, Message, Videos (internal memory), Music (internal memory), Photos (internal memory), Miscellaneous content files (internal memory), Ringtone, Applications (internal memory), Alarm, Email account information, and Preferences.
Restore data to broken screen Samsung
For smashed screen Samsung phone, the real problem is that you cannot unlock your phone to let Kies recognize your phone. So for removing this barrier, you need to do as following:
Step 1 Go to Samsung's official web page, and log in your Samsung account.
Step 2 Click the "Find my phone" button, then you will find an option on the left hand side of the interface to unlock your phone remotely. Click it and wait seconds, and the progress bar will be filled to say "Your phone is now unlocked".
Step 3 Connect your Samsung phone to PC with USB cable, and click "Backup/Restore" tab > "Restore data" > Select the backup file from the drop-down box to recover your phone backup to your device.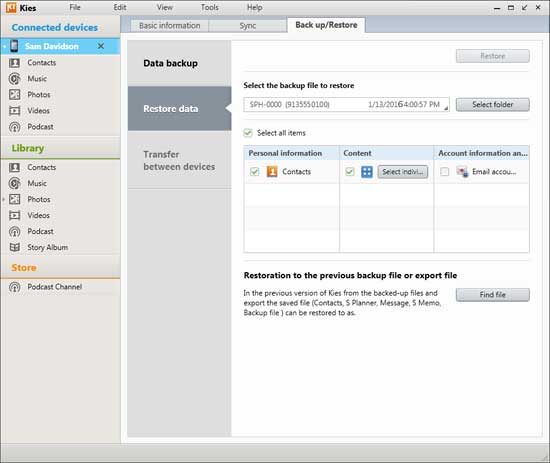 1. This Method is not working on Samsung S2 and S3.
2. This service is not available in USA.
Part 2. Retrieve data from cracked-screen Samsung
If the Samsung phone screen is cracked but you can still tap on the "Trust" button after device connection, you can use the following methods to access the Android data.
Get Contents Off Galaxy with Cracked Screen via AutoPlay
You can use the AutoPlay feature on Windows computer to access phone data to the computer. When you connect your Samsung phone, there should be an AutoPlay window popping up, requiring how you want Windows to handle the device. However, the USB debugging should be turned on previously. If not, AutoPlay won't show up.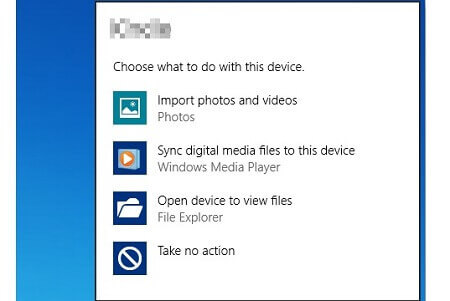 Step 1Connect your screen-cracked Samsung phone to your PC via a USB cable.
Step 2When you see AutoPlay menu, click "Open folder to view files" option.
Step 3Copy and backup the files and folders from the internal memory to PC.
Make sure the AutoPlay feature is turned on. On Windows 10, go to Settings > Devices > AutoPlay to turn it on.
AutoPlay only works when you have turned on USB debugging before your Samsung phone screen gets cracked. However, the truth is that many users usually turn off the USB debugging. One drawback of using AutoPlay is that you can only get access to a limited amount of files on the phone memory, while data like messages contacts cannot be found using this way That's why you should recover data from screen-cracked Samsung phone with the following method.
Access data with Samsung Data Recovery
Considering the limitations using Kies to get back data to your Samsung with a cracked screen, you could try the second way to use Android Data Recovery to recover your files on Samsung. This Samsung data recovery tools enables you to retrieve deleted or lost files even if your phone screen is cracked or broken. It is highly compatible with all Samsung phones, like Samsung Galaxy S8/S7/S6/S5/S4/S3/S2, Note 5/4/3/2 and more.
It also lets you recover the deleted files from your Samsung tablets easily. Here you could download this software to help you find back lost data on your cracked screen Samsung.
Step 1Install Samsung Data Recovery to your PC or Mac. Double click it to launch this software.
Step 2Plug your Samsung phone to PC/Mac, and select data type that you want to recover like messages, contacts, pictures, videos, etc. click "Next" to scan your phone.
Step 3After scanning all data type, choose one type to view the details, and select the wanted items, click "Recover" save deleted Samsung data to PC/Mac.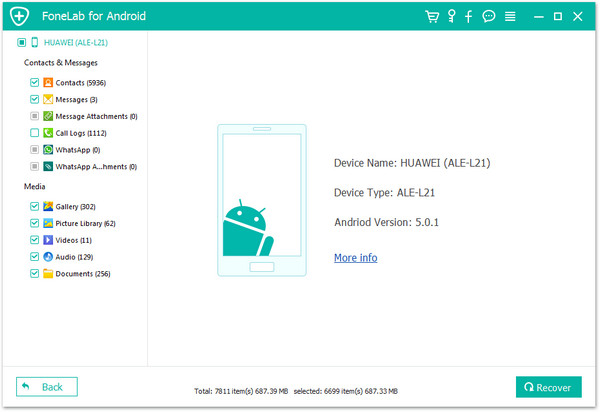 1. Compared with Samsung kies, this software also lets you save the restored data on computer. The only difference between them is that this program lets you back up Samsung data completely including the deleted items.
1. This software is not only to recover data from Samsung with broken screen, even retrieve data from other Android phones like LG, HTC, Sony, etc.
3. If you only need to recover contacts, messages, and call log, then you can get its free version. If for more items like pictures, videos, and audio, you need to get Pro version. In its latest update, this software supports to recover deleted WhatsApp chat history, videos and images.
Part 3. Recover data from broken screen or password-forgotten Samsung
If your Samsung phone screen is cracked and cannot input the password to unlock the screen and tap "Trust", then you need more steps to fix your phone and extract the data from the broken screen Samsung. Broken Android Data Extraction is for you.
Step 1Launch FoneLab for Android on your PC, and select "Start" to enter the fixing feature of your phone, so that you can do not need to tab your screen.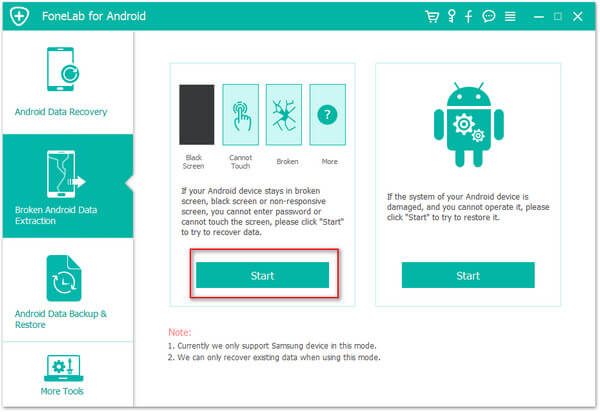 Step 2Select your phone name and model and click "Confirm" > follow the three-step guide in the interface to enter the download mode and click "Start" to wait this software to fix your phone.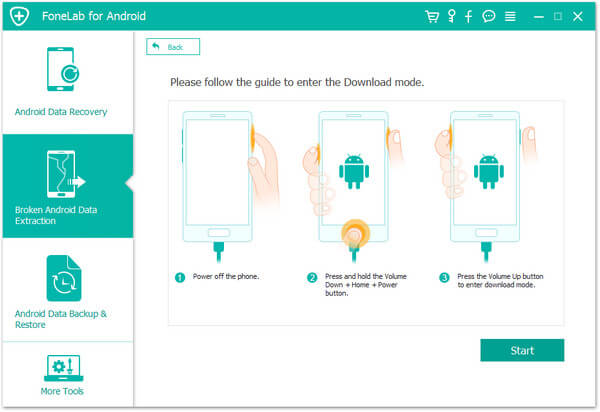 Step 3After fixing your phone successfully, this program will scan your phone data directly. You can checkmark the data on your Android phone and click "Recover" to extract the data from your broken-screen phone.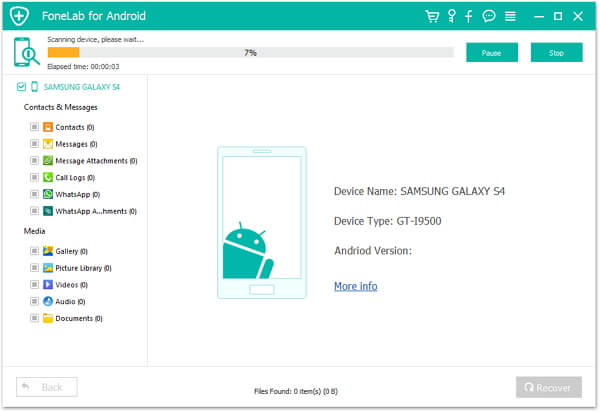 1. This feature is only available for Samsung Galaxy Note 3/4/5, S4/5/6/7, and Tab Pro 10.1.
2. You can follow the steps to extract the data from your screen-cracked Samsung phone, or password-forgot phone.
3. You can only back up the existing data on your Samsung phone to PC. For the deleted items, you have to turn to Part 2 for help.
You can learn the steps from the video below:
In this post, we provides several ways for you to access data if your Samsung phone screen is cracked. If you have any other good idea, welcome to tell us.