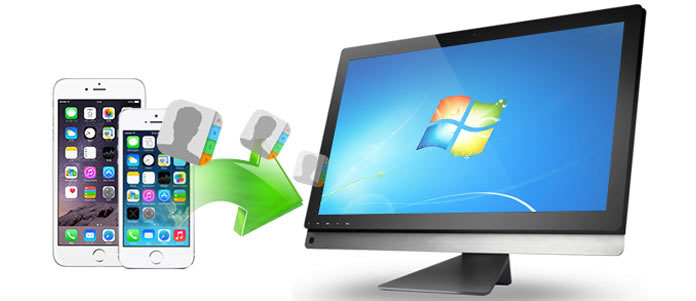 Nowadays, mobile phone becomes much smarter and plays an increasingly important role in our life. iPhone, as a leading force in smartphone, is becoming so intelligent that knows more and more about you. However, you may lose your iPhone for various reasons. Your iPhone, together with everything on it, is gone forever. In this case, we expect that the first thing you want to do is to get back the contacts from that iPhone. However, you need to back up your iPhone contacts in advance. So, you might want to know how to back up contacts from iPhone.
There are a number of options to back up iPhone contacts. Someone will choose iTunes backup or iCloud backup to keep their iPhone contacts. Someone will back up the contact lists from iPhone to Gmail or Outlook. Some will back up iPhone contacts to computer. In this article, we will focus on the latter two options to back up iPhone contacts. That is to say, you can learn how to back up contacts on iPhone without iTunes or iCloud.
Part 1. Backup contacts on iPhone with FoneTrans
Apart from backing up iPhone contacts to the mobile space, such as iCloud, Google, or Outlook, many iPhone users are more likely to back up their contacts to PC or Mac. However, transferring contacts lists from iPhone to computer is not a simple drag-and-drop action via USB. You need to use a professional tool to back up them to your computer. Here, we recommend you a useful and reliable application to back up contacts to computer.
FoneTrans is a powerful and professional application to back up everything on your iOS device. With FoneTrans, you can back up contacts from iPhone to computer, iTunes, or other iOS devices with one click. Besides, you can use FoneTrans to back up other contents, involving Media, Playlists, Photos, Books, SMS, etc. More importantly, Aiseesoft FoneTrans enables you to restore contacts easily and quickly. Here is the detailed way.
Step 1Download and install FoneTrans to your Computer.
Step 2Launch the application and connect your iPhone to computer via USB.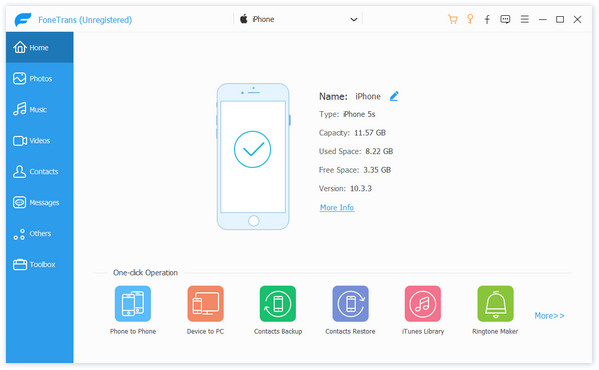 Step 3Click Contacts on the lift column and back up your iPhone contacts.
After click Contacts, you are allowed to edit all contacts in your iPhone in the right window. Click Backup/Restore in the top of window and choose Backup from drop-down menu to back up your iPhone contacts.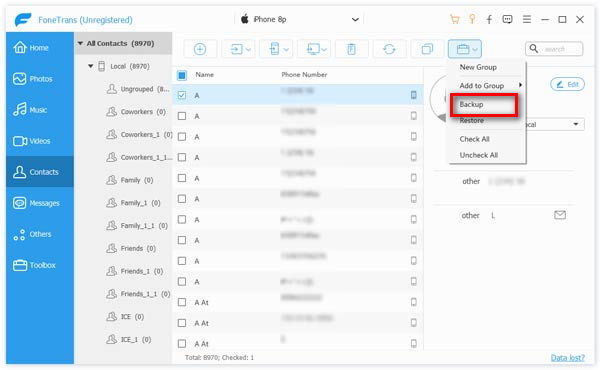 Step 4FoneTrans does more things to your contacts on iPhone.
Before or after backing up iPhone contacts, you can add/delete contacts, import/export contacts from (or to) Outlook, Windows Address Book, CSV file, or vCard file, and de-duplicate contacts in iPhone with FoneTrans.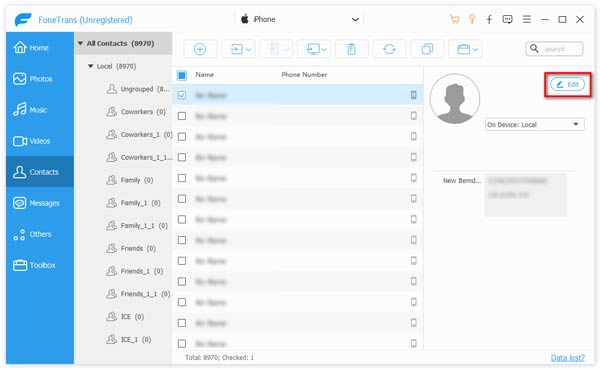 If you don't want to edit your contacts before/after backing up, you can back up your iPhone contacts to computer with one click of Backup Contacts in the bottom of main interface of application.
Part 2. Backup contacts on iPhone with Gmail or Outlook
On your iPhone, go to Settings > Mail, Contacts, Calendars > Outlook/Gmail > log in Outlook/Gmail account (Google account forgot? Recover Gmail account) > enable Contacts, then your iPhone contacts will be backed up to Outlook or Gmail. And when you log into your Outlook or Gmail account on a new iPhone, you can sync and retrieve the iPhone contacts from Outlook/Gmail backup to your new iPhone. Certainly, you can also recover your iPhone contacts backup to a new Android phone.
After backing up iPhone contacts to outlook, you can keep reading here to export contacts from Outlook.