The Easiest Way to Recover Deleted iMessages from iPhone X/8/7/6/5/4
Summary: Can you recover deleted iMessages? This post shows you how to find old iMessages on iPhone/iPad/iPod and effective ways to retrieve deleted iMessages on Mac, PC and iOS devices, even you don't have an iTunes or iCloud backup.
"So, being the noob I am, I thought that a good way to free up space on iPad was to delete ENTIRE THREADS of messages every few weeks or so. I assumed that they were stored in the iCloud and I could just go back and get them anytime. Clearly, I have recently realized how mistaken I was. Now I really want to access some old iMessages. How to find deleted iMessages?"
"Is there any easy way of getting deleted iMessages back? The truth is, I don't have any iTunes or iCloud backup for the message recovery. Any help?"
"I deleted some text messages on my Mac. But after that, I noticed that all messages from a specific contact were gone. Can I retrieve deleted iMessages?"

As the safest and the most economical way to communicate (sending text message, photos and videos) with your friends and families, iMessage is almost your first choice when you are in the Wi-Fi or cellular data connection. Unlike other message services, iMessage enables you to send free text/image/video messages among Apple users, without a text message plan from network service providers.
However, for various reasons, you may mistakenly delete the iMessage histories with your friends and families, or lose old iMessages by accident. Many users are talking about this on Apple's discussion community. Now we are back to the key point, how to recover deleted iMessages?
Best Deleted iMessages Recovery
Surely, the best way comes first! Whether you have a suitable iTunes/iCloud backup or not, when you want to restore deleted iMessages, you can rely on the professional iPhone Data Recovery. It has the capability to recover all types of iOS data like messages, call logs, contacts, photos, videos, audio and more.
FoneLab - iPhone Data Recovery
For Mac
iPhone Data Recovery is the powerful iMessages recovering software which provides three ways for you to retrieve deleted iMessages with ease.
Recover deleted iMessages from iPhone/iPad, iTunes and iCloud backup.
Restore deleted iMessages including text contents, emojis and attachments.
View old iMessages and select specific conversations to recover.
Retrieve any frequently-used iOS file like contacts, call logs, pictures, videos, audio, notes, etc.
Highly support all models of iPhone, iPad and iPod touch.
This article will share you the easiest way to recover deleted iMessages from iPhone, iPad and iPod touch. To do that, you need to use iPhone data recovery software, FoneLab. It can recover iMessages from iPhone and iCloud easily for you.
Part 1. How to recover deleted iMessages from iPhone without backup
With the recommended iMessages recovering tool, only 2 steps, you can handily get your deleted iMessages back! It must be the easiest way to recover deleted iMessages. This method doesn't require an iTunes or iCloud backup. Now you can check the detailed steps about how to undelete iMessages.
Step 1 Download iPhone iMessage recovery software
Install and run this deleted iMessages recovery on your computer. Connect your iOS devices (iPhone, iPad or iPod touch) to it via USB cable. Close your iTunes if it runs automatically.
Step 2 Scan your devices and recover iMessages from iPhone, iPad and iPod touch
If you are using iPhone X, iPhone 8 Plus, iPhone 8, iPhone 7 Plus, iPhone 7, iPhone SE, iPhone 6s Plus, iPhone 6s, iPhone 6 Plus, iPhone 6, iPhone 5s, iPhone 5c, iPhone 5, iPhone 4S, iPad 4/3/2/Air, iPad mini/mini 2 and iPod touch 6/5, after connecting your iOS device, the iPhone iMessage recovery software will recognize the device automatically. Follow the steps on the interface, you can easily go to the scan interface like the picture shows below. Then click Start Scan to begin scanning your iOS device.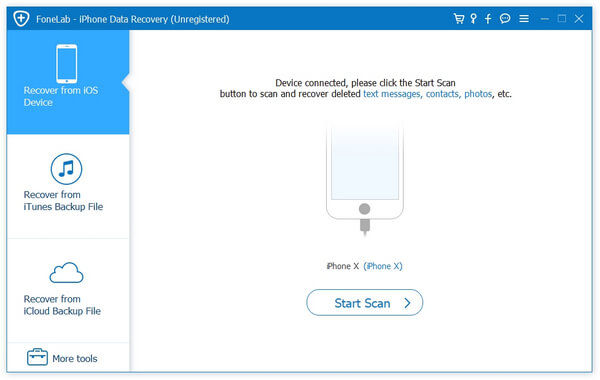 If you are using iPhone 4, iPhone 3GS, iPad 1 and iPod touch 4, you need to download a plug-in before the software scans your device. It is easy to enter the scanning mode and there is no danger to do that if you follow the instruction on the software.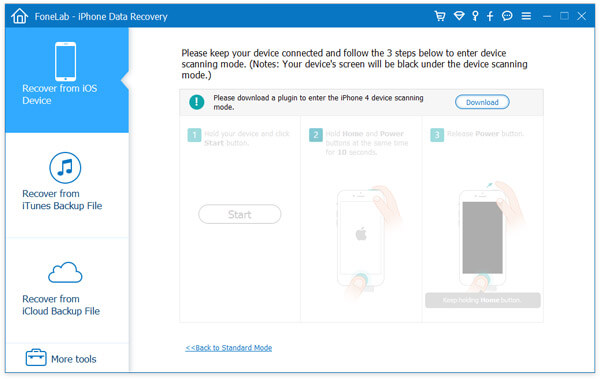 After you successfully enter the scanning mode, it will scan your device automatically.
Choose Messages option on the left list, here you will find all deleted iMessages, Text Messages and MMS from any of your contacts. Then you just need to view and select the deleted iMessages you want to retrieve.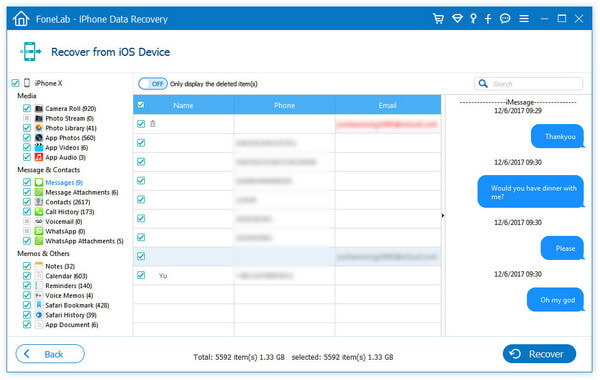 Just click the Recover button to recover the deleted iMessages from iPhone. This solution shows you how to directly recover deleted iMessages on iPhone. You can also use it to retrieve lost messages on iPad or iPod touch.
Check how to view old iMessages and recover them from the video below:
Part 2. How to restore iMessages from iCloud backup
As long as you have turned on the iCloud backup feature and connected your iPhone with Wi-Fi network, your messages would have been backed up to iCloud service. You can restore deleted iMessages on iPhone from iCloud directly, at the cost of wiping the existing data on your iOS device. Do you want that? Of course not!
If you want to restore messages conversations from iCloud to iPhone without wiping the existing data, you need a third-party iCloud recovery tool. FoneLab is a recommendable option again. It helps you restore deleted iMessages, including texts, pictures, videos and other message attachments from iCloud backup without erasing your iPhone data.
Step 1 Sign in to your iCloud account
Switch to Recover from iCloud Backup File on the left menu of Fonelab interface. You can enter your Apple ID and password to log in your iCloud account. Fonelab will fully respect your privacy seriously and never record any personal information.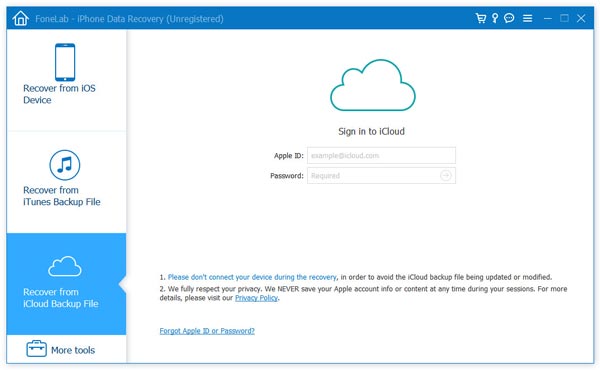 Step 2 Download the backup file from iCloud
There may be many backup files in this iCloud account, you need to download the right one which carries the deleted iMessages.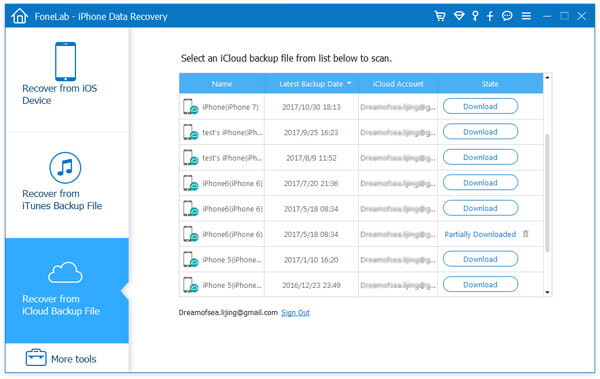 Step 3 Restore deleted iMessages from iCloud
Scan the downloaded backup file. Click Messages on the left list, you will find all the messages. Check one by one you want to retrieve and click Recover to save on your computer in CSV or html format as you like.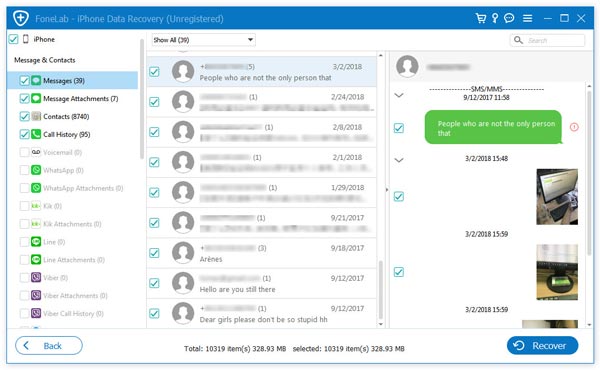 Part 3. How to retrieve deleted iMessages from iTunes backup
Similar to iCloud, iTunes can also be used to backup all kinds of iOS data on iPhone, iPad or iPod touch. When you connect your iPhone and run iTunes, you may often backup your iPhone data with iTunes. If you have backed up iPhone to iTunes on Mac or PC, you may be able to recover your iMessages from iTunes backup.
Step 1 Choose and scan iTunes backup
Launch iMessage recovery software, this time you need to select Recover from iTunes Backup File mode. All iTunes backup files you ever made on this computer will be listed in the interface. Select the backup where deleted iMessages are stored and then click Start Scan to start the scanning process.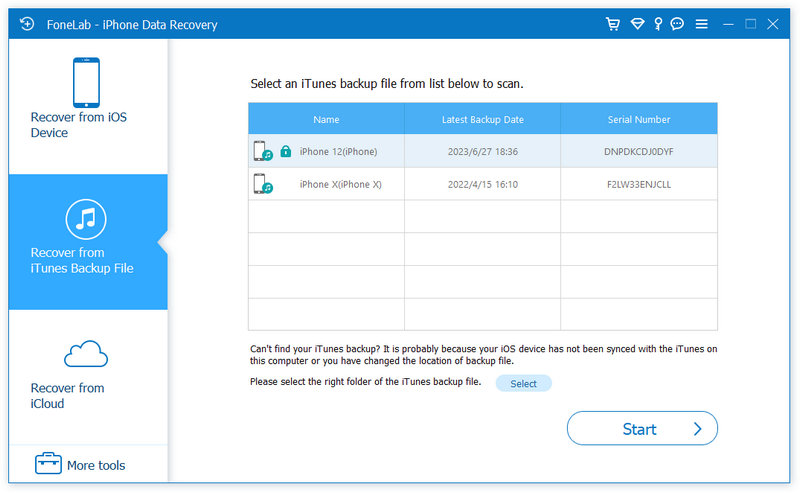 Step 1 Recover deleted iMessages from iTunes
After scanning, all iOS data categories and number of files will be listed on the left control. Click specific category on the left, and you can check detailed information of each data on the right panel.
Click Messages option and then view the iMessages on the preview window. Click Recover button to get back all selected texts to PC/Mac.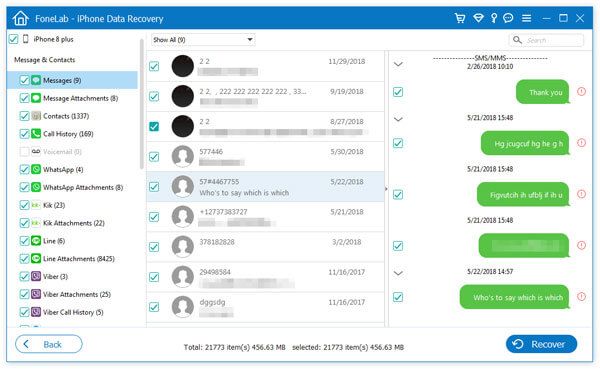 Part 4. Regular way to restore deleted iMessages with iTunes
With the method above, you can easily retrieve deleted or lost iMessages from iPhone/iPad/iPod touch. In fact, there is also a regular way for you to recover deleted iMessage conversations with iTunes. But one thing you should know first, this solution will sync your iPhone with the iTunes backup you chose. It will overwrite the data on your iPhone. So you may lose lots of new data.
Step 1 Launch the latest version of iTunes on your computer and connect your iOS device to it with USB cable. It will automatically recognize your iPhone. And you will see an iPhone icon appear in the top left-hand corner.
Step 2 Click on the iPhone icon and then click Summary on the left list.
Step 3 On the right Backups window, choose Restore Backup...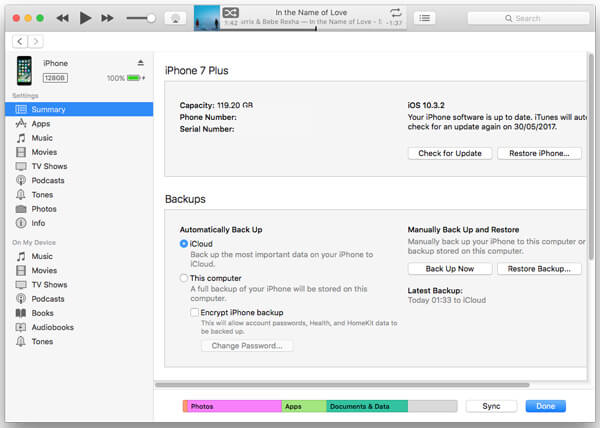 Step 4 Choose a suitable backup which covers your deleted iMessages and restore iPhone from it.
All iOS data on your iPhone will be replaced by this iTunes backup file. If you frequently back up your iPhone with iTunes and have a new backup, this can be a good solution for you to retrieve deleted old iMessages.
Part 5. How to recover deleted iMessages on iPhone (Erase all iOS data)
As you have known that, iCloud allows you to recover deleted files from one backup you ever created. This method will replace all existing data on iPhone with the selected backup. Under most circumstances, it is not a first option. But if you don't care too much about new files and only want to find deleted iMessages back, this part will show you how.
Step 1 Unlock your iPhone and open Settings app. Tap your Apple account to enter the Apple ID interface. Tap iCloud > iCloud Backup to check if the latest iCloud backup carry these deleted messages.
Step 2 If you have a suitable iCloud backup, go to "Settings" > "General" > "Reset" > "Erase all Contents and Settings" to remove all existing data on your iOS device.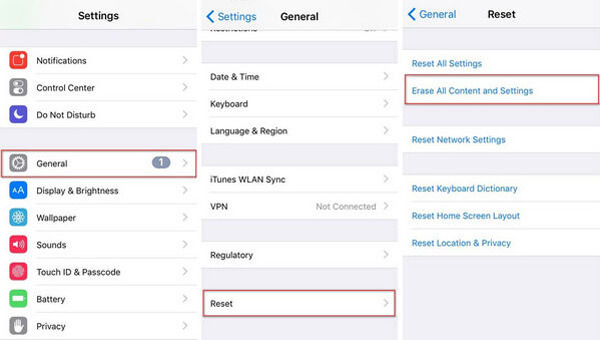 Step 3 After erasing iPhone data, you will be taken to the setup screen and asked if you want to set it up as a new phone or to restore it from a previous backup. Here you need to choose Restore from iCloud Backup.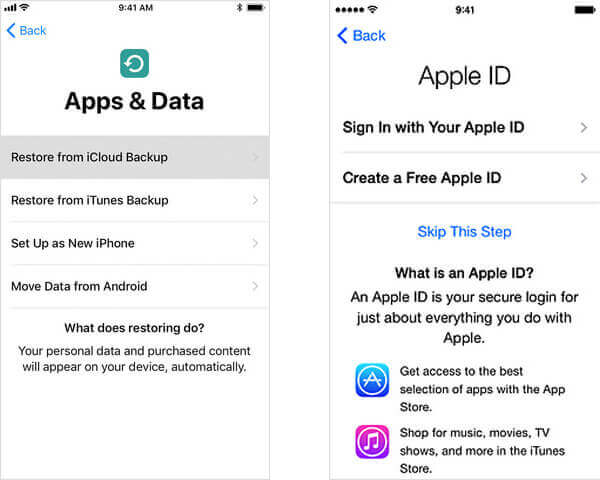 Step 4 Log into iCloud by using your Apple ID and password. Then select the latest backup to restore deleted iMessages from this backup. Make sure your iOS device is under a good Wi-Fi network connection. It will take a long time to complete the whole process.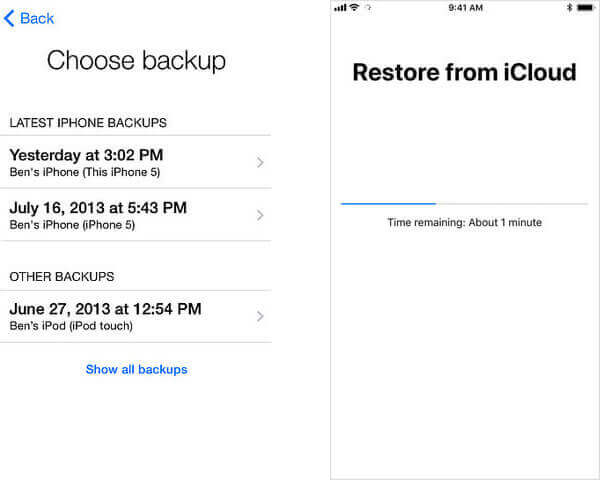 Part 6. How to restore deleted iMessages from iCloud (Official site)
How to see deleted iMessages?
When you accidentally deleted iMessage on iPhone, iPad or iPod, if you only need to view these deleted iMessages, you can find them back from the iCloud official site.
Step 1 Navigate to https://icloud.com and log into it with your Apple ID and password.
Step 2 If you have ever backed up iPhone messages to iCloud, you can see the Text Message icon. Click on it.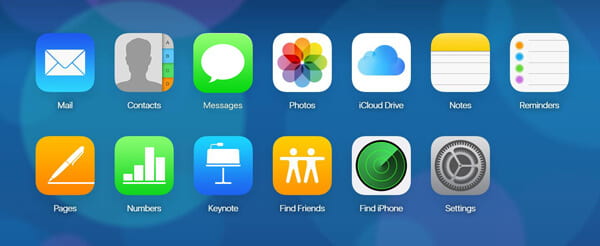 Step 3 When you enter the message window, you can find and view old iMessages and deleted messages you are looking for.
The above steps enable you to access deleted iMessages. If you still want to restore them, you can keep on reading.
Step 4 Now back to your iPhone and open Settings app. Tap your Apple account and choose iCloud.
Step 5 Turn off Text Messages and then choose Keep on My iPhone.
Step 6 Turn on text messages again and then tap Merge.
After this process, these deleted messages will be back to your iOS device. The premise is that you can find deleted iMessages on the iCloud official site.
Part 7. New iMessages features in iOS 10 and iOS 11
It seems like that iMessage is just a small app which provides simple messaging service. But Apple pays many attentions to iMessage and continuously adds new features to it. Along with the release of iOS 10 and iOS 11, many exciting new features can be found in iMessages. This part will give you a comprehensive introduction about these new features.

Drawing directly: Text more personal messages over iMessage.
Predictive emoji: More emojis and written text can be converted to emoji.
More interesting sticker: Make your conversation more funny.
Connect apps: Easy to access your favorite apps without leaving Messages.
Apple Pay: Send and receive Apple Pay cash through iMessages.
Link previews: Show a main image and description of the source website.
Play games: Find and play games that can be played within iMessage itself.
Send reactions: Apple offers a list of six different reactions in iMessage.
Animations: Change message appears or displays background effects in the chat.
Invisible ink: Hide private messages or photos from being seen by others.
Tapback: Get quick respond to a message without typing any texting.
Part 8. Simple introduction of iMessage and its advantages
iMessage is Apple's built-in messaging service which enables you to send texts, images, sounds, videos, locations and more to anyone else using Apple device. Text messages (MMS), SMS and iMessages can all be sent via Messages app. If you are using iMessage, you can send lots of free messages through Wi-Fi or cellular connection.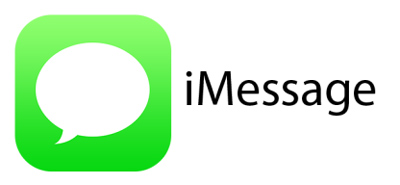 Compared with common text messages like SMS or MMS, iMessage has many unique advantages.
• iMessages are sent over Wi-Fi or cellular connection, they are totally free and unlimited.
• Beside texts, you can send images, contacts, videos, audio, locations, etc. via iMessage.
• iMessages can be sent back and forth on iPhone, iPad, iPod touch and Mac.
• iMessages allows you to make bubbles slam, loud, gentle, or turn whole screen to balloons, lasers, fireworks, confetti or shooting stars.
We mainly talk about how to recover deleted iMessages in this page. A professional iMessage recovery tool is recommended to help you access these old iMessage conversations. 6 effective methods are offered, you can choose your preferred one to restore lost messages. What's more, we give you a simple introduction of iMessage and some new features on iOS 10 and iOS 11. Hope you can easily retrieve your deleted iMessages after reading this post. If you still have any question, you can leave us a message.