The Cheapest and Quickest Hard Drive Recovery Solution for Beginners
No matter who you are or what you are doing, data loss may cause many serious problems. It will be a huge disaster for people who lost important files before making a backup on the hard drive. You can see many data loss situations, like mistakenly deletion, formatted partition, RAW hard drive, crashed computer and other hard drive problems.
Fortunately, you can get the most time-saving and easy-to-operate computer hard drive recovery tool here. By the way, you may recover lost files that disappeared a long time ago by using the hard drive data recovery software. Now, let's read together to figure out how to recover files from a hard drive step by step.

Hard Drive Recovery
If you are facing the same situation, you are at the right place. This post will recommend the best hard drive recovery software to help you recover the deleted/lost files from hard disk. Even the hard drive is crashed or erased, you still have a big chance to find data back.
Part 1: Frequently-asked Questions about Hard Drive Recovery
If you have no idea what hard drive recovery is, you can get a clear impression from the following paragraphs. These are hot questions about the hard drive recovery process and related questions. Just read and check.
Question 1: Can Files Be Recovered from a Failed or Wiped Hard Drive
Hard drive recovery is the process of recovering lost or deleted data to its last known good configuration. The moment you delete the file, it still exists in the original place. You can use the third-party hard drive recovery software to find back your data. Be aware that you need to perform hard drive recovery after factory reset or other data loss scenarios as soon as possible. Otherwise, the deleted file may be replaced by newly-saved files permanently.
Question 2: How Much Is Hard Drive Recovery
Actually, the average hard drive recovery cost varies from zero to thousands of dollars. There are 3 main solutions to recover data from hard drive. For instance, you can buy a hard drive recovery kit to recover data from a damaged hard drive.
If there are no physical damages in your hard drive, you can recover hard drive data with hard drive data recovery software by yourself. You can also get data off a hard drive in a short time easily. What's more, you can find the disappeared or hidden files on your computer after a quick scanning.
There are also many online hard drive recovery services you can choose, like DriveSavers, Gillware, SalvageData, etc. However, the hard drive recovery service costs hundreds of thousands of dollars in most cases. There is no such a 100% guarantee that you can recover data from a damaged or failed hard drive long time ago. Thus, it is not your first choice for hard drive data recovery.
Question 3: Which Is the Best Hard Drive Recovery Software
You can see many available hard drive recovery software for Windows or Mac on the market. Then here comes the question, which data recovery software you should choose? EaseUS Data Recovery? Wondershare Data Recovery? Or others?
Well, here are some factors you need to consider before you get the best hard drive recovery software in 2021, like price, OS support, refund policy and more.
Part 2: How to Recover Data from a Crashed or Formatted Hard Drive Safely and Quickly
Aiseesoft Data Recovery is exactly the easy-to-use and powerful hard drive recovery software you are looking for. You can recover almost all files from internal and external hard drive. Different from traditional data recovery methods, you can scan, preview and choose which file to recover selectively. Thus, you can keep other files safely while complete the hard drive recovery process in a short time.
Furthermore, the built-in Search engine and Filter function can help you find the certain file quickly. You can search for the name, path, or extension to solve the problem in seconds. Moreover, the Preview window is also useful. You can check whether it is the specific file you want to recover from a hard drive.
If you want to complete hard drive recovery with some selected files only, you can use the Quick Scan mode to save time. For people who want to find all deleted files, you can use Deep Scan mode to get more possible results. Of course, it takes more time to complete deep scanning on the hard drive. Generally speaking, you can use Data Recovery to recover data from the hard drive without further damages quickly and easily.
Main Features of the Hard Drive Recovery Software
1.Recover hard drive data including documents, images, videos, audios, emails and more files in different formats.
2.Perform hard drive recovery due to data system damage, partition loss, RAW partition, RAW hard drive and many other hard drive problems.
3.Wide support of internal and external hard drive types and brands, such as Seagate, Western Digital, Kingstone, SanDisk, etc.
4.Get powerful search functions to find and preview the detailed information of each hard drive data.
5.Run Fast Scan and Deep Scan modes to access all deleted and existing files on the selected hard drive based on your need.
6.The hard drive recovery software is fully compatible with Windows 1-/8.1/8/7/Vista/XP (SP2 or later) and Mac 10.7 and above (macOS Sonoma is supported).
Step 1 Launch Hard Drive Recovery
How to Find and Preview What You Lost to Complete Hard Drive Recovery
Step 1 Select the hard drive and file type to scan
Free download, install and run the hard drive recovery software. Make sure the partition you want to recover is recognized by the hard drive recovery tool. Then choose the data type before "Image", "Audio", "Video", "Email", "Document" and "Others".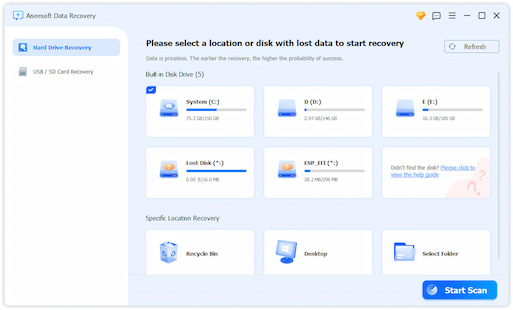 Step 2 Wait for the hard drive scanning results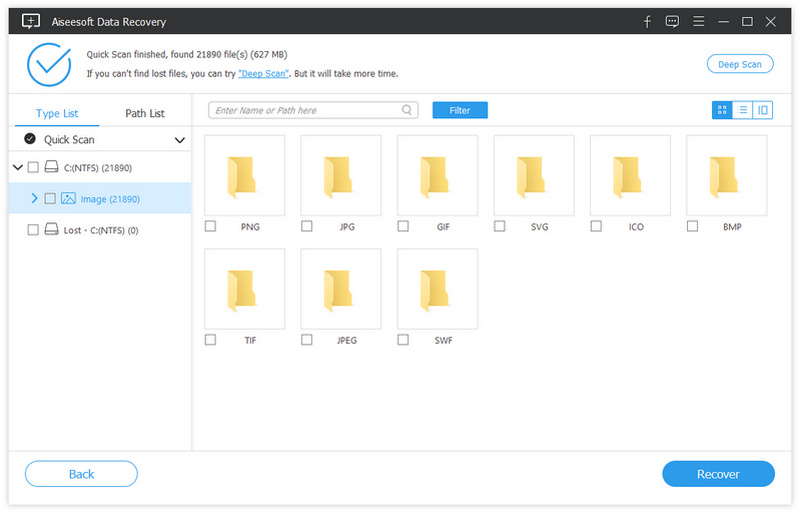 Step 3 Find and preview the lost file
You can see all recoverable files displaying in categories. Just open the folder and find your deleted or lost files. You can double-click it to enter into the Preview window. If you cannot see the file, you can type its name or path in the Search engine at the top. In addition, you can also click "Filter" and get groups of files with the same extension or created date.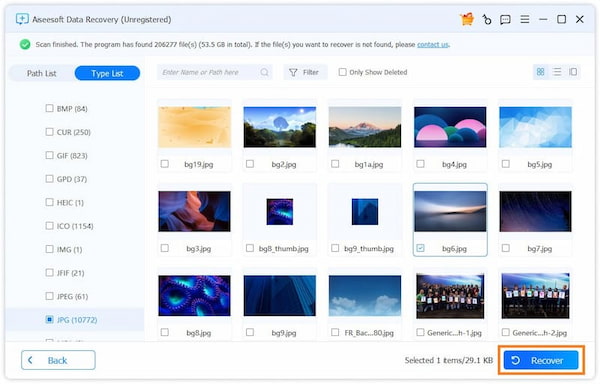 Step 4 Complete the hard drive recovery process
Mark before the file you want to recover. At last, click "recover" to recover data from your corrupted hard drive. Once the hard drive data recovery ends, you can choose "Open Folder" to locate the destination folder quickly.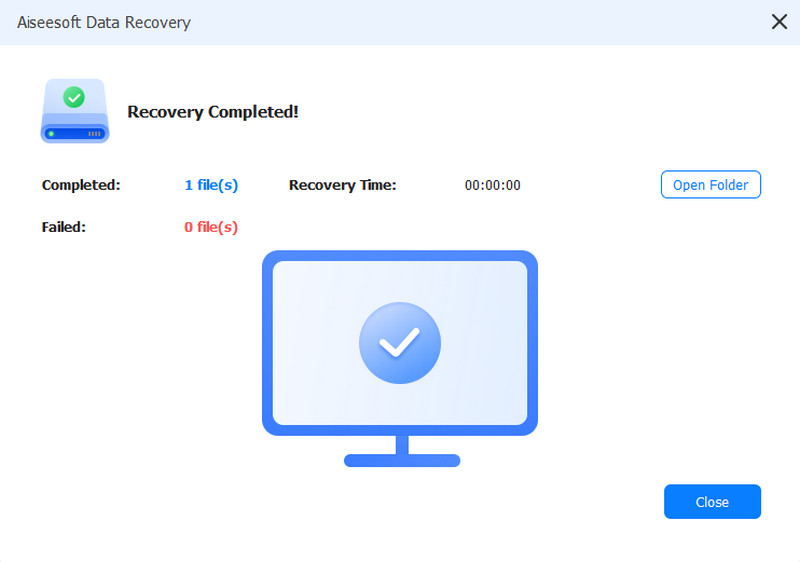 Be aware that you should not set the output folder to the same data loss path in case of data overwritten. The data recovery software is much cheaper and quicker to rescue lost data then other tools. What's more, you can complete the format drive recovery and partition recovery process with similar steps mentioned above too. In brief, you can recover hard drive data with an affordable price at home by yourself.
Conclusion
Actually, there is no need to search "the best hard drive recovery service near me" on the Internet. You can download the hard drive recovery free trial to have a try first. If it works, you can purchase a license code to activate the account for the full hard drive recovery service. From then on, you can recover data from any hard drive or removable device selectively and permanently no more than $30.