20 Best Free Video Makers with Music and Effects
Video has gradually become a new favorite for social media. When you make videos with music and pictures, these videos are convincing and resonating with users. Free video maker is the low-hanging fruit for beginners, but choose the desired one is rather difficult. To get a list of the features, extract audio files, cut and join different video clips, and add video frames and effects is just a small part of the free video-making program. You should also get familiar with the capabilities of these programs instead.
How to choose a desired one from hundreds of free video makers? If you just need to edit some small video clips on smartphone, you can select video maker app or online video maker. As for large video files with multiple effects, video maker software for computer should be the only choice. The post shares 20 best free video makers with music and effects, which you can get all functionalities without limitations. Just free download video makers listed in the post and get the desired one with ease.
Free Video Maker
Part 1. Free video maker software recommendation – Aiseesoft Slideshow Maker
Aiseesoft Slideshow Maker is an easy-to-use and friendly Free Video Editing and Making Tool, which helps you make slideshow video with video and photo. This Slideshow Video Maker gives you the template to create a slideshow video with the cool themes. You can also easy to add background music to the video. Thus you can use it to make a wedding slideshow video, travel slideshow video, party slideshow video for your family and best friends.
Add videos and photos to the Slideshow Video Maker to create slideshow for free.
Make your personalized video style with multiple theme templates.
Create the slideshow video with background music to enhance the romantic atmosphere.
Just a few steps to finish the video slideshow making, you can free download to have a try.
The advanced version of Slideshow Maker is Aiseesoft Slideshow Creator. It is able to make stunning videos in two different modes, ready-made theme to design video in few clicks and DIY own theme with large resources as profession. It is a versatile video maker with photos and effects, which makes your precious memory alive.
Stunning ready-made themes to make slideshow automatically.
Different style themes to design videos according to your requirements.
Multiple materials to DIY an outstanding theme style.
Explore more editing tool to make slideshow movie shine.
Easy to use video maker to get videos within a few clicks.
Here's the video about making slideshows for you. Click it to check.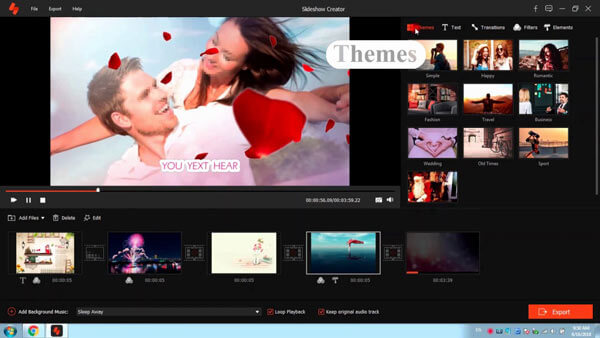 The Comparison on Slideshow Creator and Free Slideshow Maker
| Functions | Slideshow Creator | Free Slideshow Maker |
| --- | --- | --- |
| Add video and photo | Yes | Yes |
| Ready-made theme to choose | Yes | Yes |
| Add background music to video | Yes | Yes |
| Rotate photo and video | Yes | No |
| Make fast & slow motion video playback | Yes | No |
| Edit videos with contrast, saturation, brightness and hue | Yes | No |
| Crop video frame | Yes | No |
| Clip video file | Yes | No |
| 31 transitions modes to choose | Yes | No |
| 32 kinds of filter effects to choose | Yes | No |
| 37 selections of elements to choose | Yes | No |
| 31 types of text effects to choose | Yes | No |
| Free Download | Download Slideshow Creator | Download Slideshow Maker |
Part 2: 4 Best free video makers for computer
In order to get a stunning social video, you have to import a large number of resources. As for the case, free video maker for computer should be the first choice.
1. iMovie
iMovie is the default free video maker, which is available for Mac and iOS. iMovie offers Trailers and theme features, you can create professional trailer with the videos from project. There are different editing features to get the desired results for videos in timeline.
Pros
Support 4K resolution movies in high quality.
Green screen control to soften the effects added to your movie.
Use multiple fonts, titles, transitions and shortcut effects.
Add photos to movie to create an animated type of slideshow.
Cons
Cannot save the project file for further editing.
Support 18 video clips with limited features.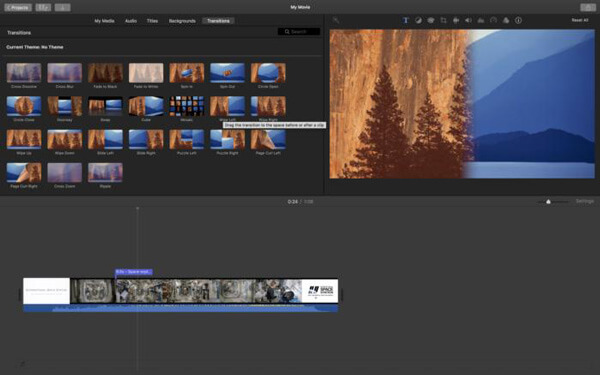 2. Windows Movie Maker
Windows Movie Maker is a free video maker comes standard with any Windows computer. There are several special effects to make videos with photos for the beginners. Moreover, you can get common workflow elements of the professional editing system.
Pros:
More than 130 effects, transitions, titles, and credits.
Amazing themes, fun transitions to create home movies.
Extra video plugin are available to make the free video maker better.
Intuitive interface that is easy to navigate for beginners.
Cons:
Edit only one audio and video track at a time.
Project files are not compatible with different versions.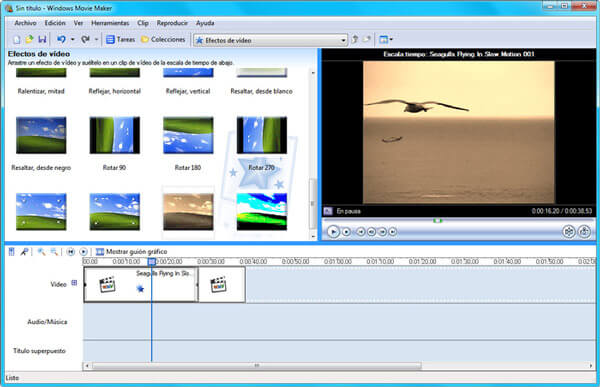 3. OpenShot
As for some simple task, Openshot is the recommended free video maker. It is an open source program that is available for Linux, Mac and Windows. You can access to different video effects and even 3D animations. There are more than 70 languages available for users around the world.
Pros:
Clean interface that is uncluttered and simple to understand.
Unlimited tracks for watermark, video, audio track and more.
Control the videos with reverse, slow down and speed up.
Cons:
Difficult to use, accustom some major features for editing.
Simple editing without composition.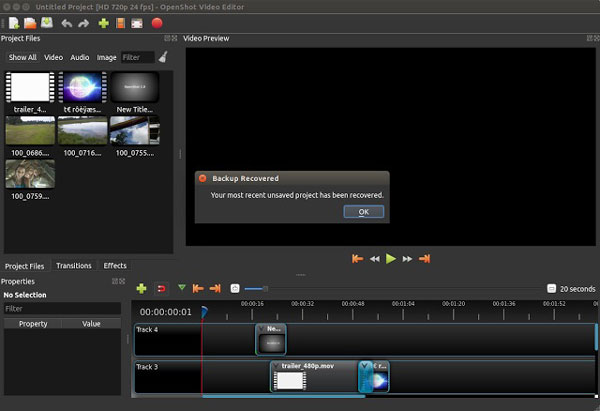 4. VSDC Free Video Editor
VSDC Free Video Editor is a non-linear video maker, which enables you to access any frame and scene at any time. It also helps you replace an original clip or segment with a new one in different size. Just select from a large amount of video filters to create and edit your own video.
Pros:
Large number of video effects and audio effects.
Masking to hide, blur or highlight elements.
Create charts and 3D diagrams with the free video maker.
Cons:
Need to upgrade to the paid version of saving files.
Difficult to use the program with the unclear interface.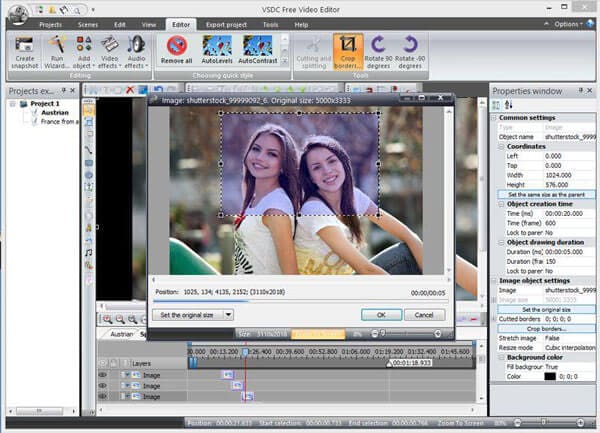 Part 3: Top 5 free video maker online services
As for online free video maker with photos and music, you should pay special attention to the bandwidth of the Internet and size limitation. Most of the free video maker online services require extra money for storage capacity.
1. YouTube Video Editor
Just turn the RAW footage into social video should be a nice solution. The free online video maker has a single-track timeline to edit video clips, remix video files and add basic transition. After that you can share the videos to YouTube directly.
Pros:
Easy to make multiple videos and audio files online.
Free online video maker for YouTube in high quality.
Multiple projects to change the look of the video files.
Cons:
Limited video editing features and transitions.
Difficult to get video and audio within multiple tracks.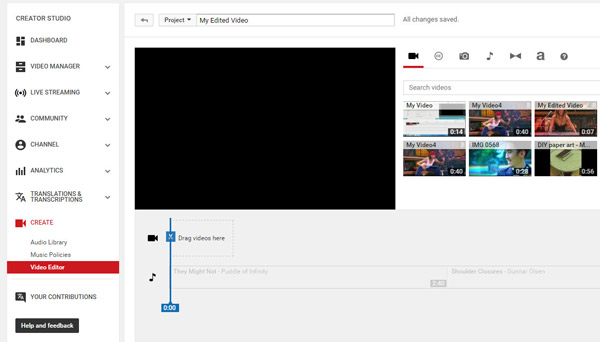 2. Kizoa
Kizoa is an online video making solution with photos, videos and music files. You only need to load the photos from the online stock of the program. Besides making video slideshow with photos and music, you can also make collages and burn slideshow to DVDs.
Pros:
Free online video maker for 1GB storage capacity.
Support 4K videos to create movie in ultra high definition 2160P.
Multiple video themes to make videos in easy process.
Cons:
It takes a high price to upgrade to Premium and Pro version.
Cost lots of time to make video with the flash based website.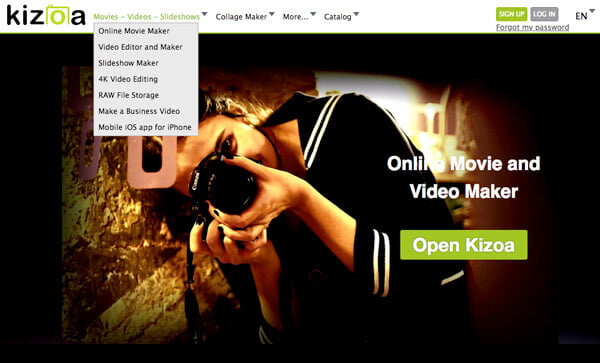 3. Movie Maker Online
What is the easiest method to make a video online? Movie Maker Online should be the choice. Just choose the music, titles, texts, videos and filters online, you can make a video automatically or design your own video slideshow within few clicks.
Pros:
Semi-intelligent mode to process the video automatically.
Load photos from free stock photo collection to make movies.
Count the duration of all items and put clips in the prescribed manner.
Cons:
Difficult to adjust the parameters according to requirements.
The free video maker online suits for simple task only.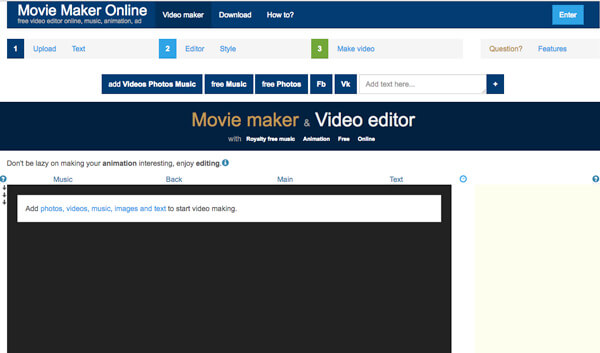 4. Wevideo
Wevideo is a free video online maker for personal use. Just use the program to capture, create, view and share movies at up to 4K resolutions with stunning playback everywhere. Just use the Google account or Facebook account to login the online video editor to get the desired videos.
Pros:
Advanced video editing features to make videos.
Use JumpStart to make the uploading process fast and easy.
Mix and match more than 600 formats of audio, images, graphic and video.
Cons:
Subscribe the service with a high price for premium or business.
Difficult to export the video files in high quality with free account.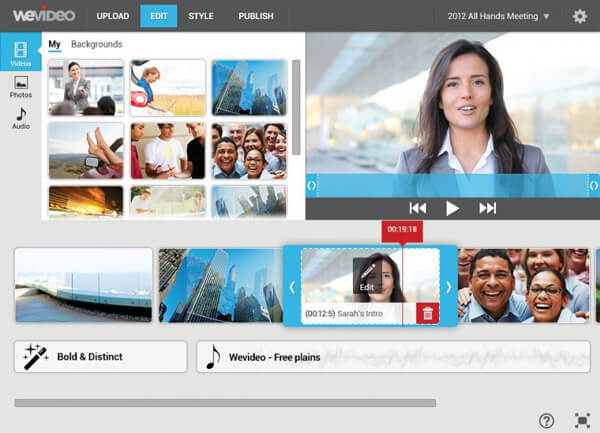 5. Mash
In order to create video slideshows from photos, text and special effects, Mash is a simple, fast and funny online video maker. It is another easy platform for some simple task; you can get multiple resources directly from the online program to get the desired video.
Pros:
Library for videos from world's prominent organization.
Free provided music from experts to make great videos.
Easy interface to make video online for free.
Cons:
Limited video effects that might not be appealing.
Cannot export video files in high quality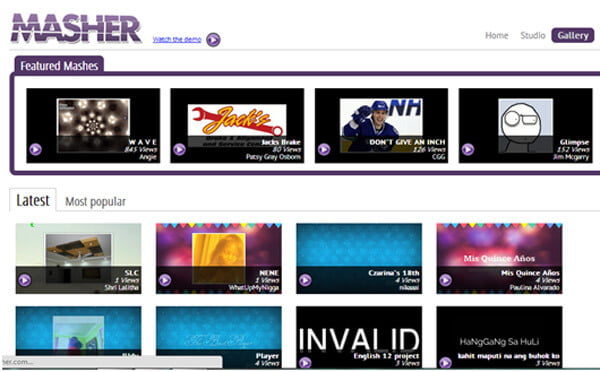 Part 4: Top 10 free video maker Apps for smartphone
When you take some video clips with smartphone, you might want to get a Hollywood movie directly from iPhone or Android phone. Find the top 10 free video makers to arrange video clips, apply movie effects and share to social media websites.
1. Adobe Premiere Clip
Price: Free
Available: iOS and Android devices
With the free video maker Adobe Premiere Clip, you can create and edit amazing videos on mobile device first. After that you can sync to Premiere Pro CC on computer with professional tools for further editing.
1. Automatically sync the projects and media between different devices with Adobe CreativeSync.
2. Add titles, transitions and slo-mo effects and adjust lighting to make the video prefect.
3. Share videos to social media websites, such as Facebook, Twitter and YouTube directly.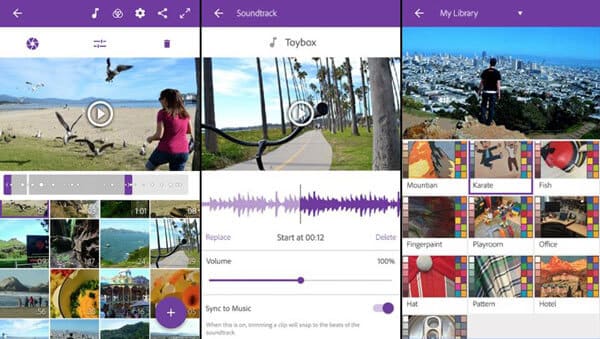 2. PowerDirect Video Editor
Price: Free
Available: Android devices
PowerDirect Video Editor of CyberLink should be another professional video maker for free on Android devices. Most of the features are available for free, you can also upgrade to full version to remove watermark and Ads.
1. Green screen features to make the filter customized according to the video filters.
2. More than 30 different effects and transition to make the whole video stunning.
3. Export or extract videos files in 1080P or 4K resolutions for different social media websites.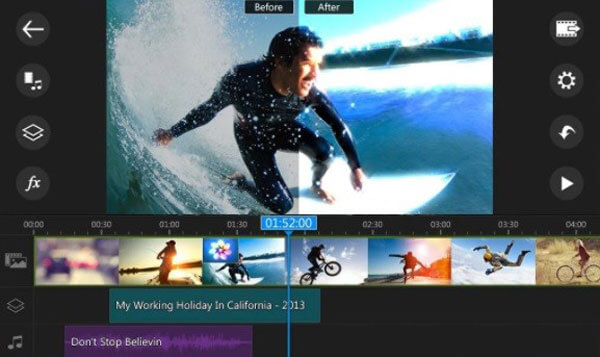 3. Quik
Price: Free
Available: iOS and Android devices
Quik is a versatile free video maker for smartphone, which you can add images, videos, and music to make video within clicks. It has a list of great features, such as remove portions of a video to get the desired capture moment automatically.
1. Auto-sync music should be an excel feature compared to the other free video makers.
2. 24 different presets to put together a complete video from some shobby video footage.
3. Select a video link and the app will automatically cut and transition.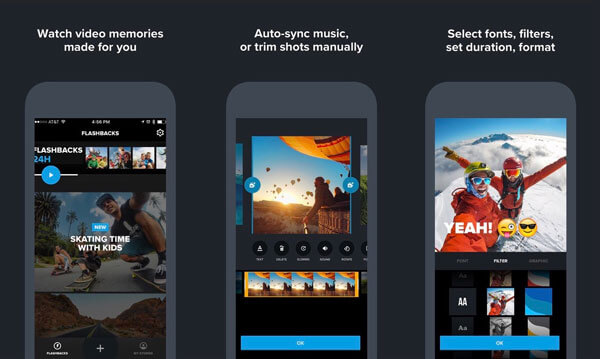 4. Magisto
Price: Free
Available: iOS and Android devices
Magisto is the free moviemaker to recreate your favorite scene or music video. You can get all the necessities to make a video of your story on Android or iPhone. Then share the video story to social media outlets in good quality. The free video maker App has more than 90 million users worldwide.
1. Integrate a music player that choose the best sounds that best fit each particular image.
2. Cross channel video content hosting and distribution.
3. Generate cool videos by shooting real-time or pulling footage from the device gallery or Google Drive.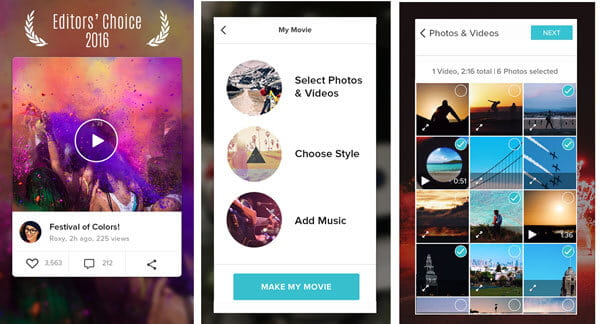 5. Horizon Camera
Price: Free
Available: iOS and Android devices
As for free video makers for portrait, Horizon camera is the recommended one. It is able to open the Horizon app, record video, and have no worries about recording with the camera in vertical or horizontal mode.
1. Support horizon mode in 1920×1080, 1280×720, 640×640, 640×480 and 480×480.
2. Record in landscape mode at up to 2K resolutions, even if you zoom in and zoom out by tilting your device.
3. 60 and 120FPS slow motion that you can activate with a simple tap and hold, and eight real-time video filters.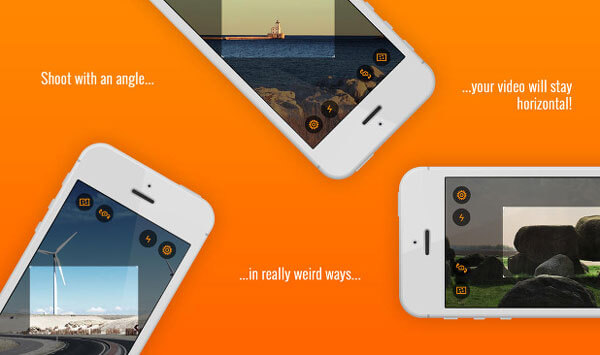 6. VideoShow
Price: Free
Available: Android devices
VideoShow is another free video maker without time limitation. Just add themes, effects, texts, music files, filters, emoji, GIF files and everything you want to make a stunning video simply and beautifully.
1. Capture features to add videos taken by Android phone directly.
2. 50 different themes to make free video slideshow for different purposes.
3. Add various item on video files, such as sticker, image, GIF files, text and more in different position and duration.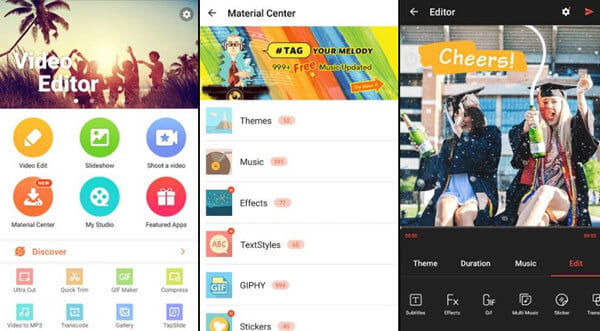 7. VivaVideo
Price: Free
Available: iOS and Android devices
VivaVideo has some excellent editing features to make professional videos. The free video maker has all the basic editing features, such as trim, merge, split, speed control and reverse.
1. Inbuilt slow motion video maker and slideshow maker.
2. Support multiple capture options, such as basic, selfie, FX, funny and more.
3. Hundreds of video effects range from stickers and filters to animated clips and subtitles.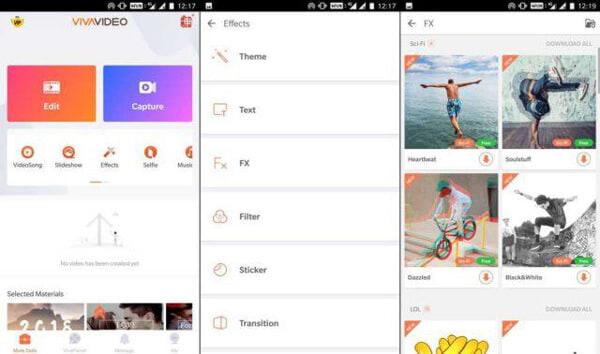 8. Stop Motion Studio
Price: Free
Available: iOS and Android devices
Just as the name of the free video maker, Stop Motion Studio provides some terrific stop action movies with unique features. You can use the Lego to make a movie in a funny way.
1. Use the Grid and Onion Skin control to help you position-animated object.
2. Multiple editing features to crop, rotate or mirror the image.
3. Dozen of stylized filters to add extra touch of creativity and apply filter effects on the movies.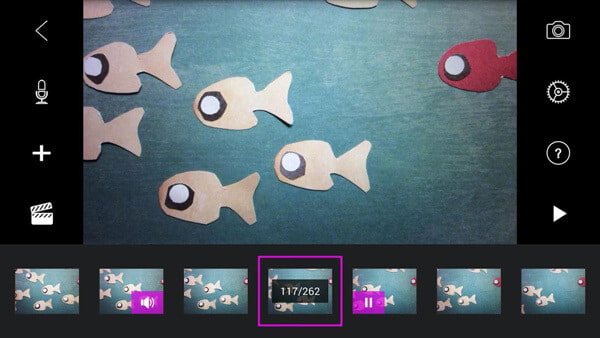 9. Hyperlapse
Price: Free
Available: iOS and Android devices
Hyperlapse is a new time-lapse app of Instagram, which enables you to shoot up to 45 minutes. The free video maker only has one record option. When you get the video, you can range from 1X to 12X in speed.
1. Make time-lapse video on smartphone in a dead simple way.
2. Advanced shooting techniques to create stunning videos.
3. Built-in stabilization to make sure shots maintain at a smooth and balance look as you move around.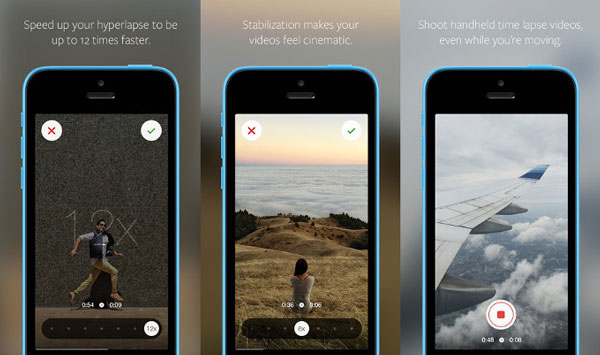 10. Action Movie FX
Price: Free
Available: iOS devices
Do you want to make movies for super hero? Action Movie FX is the free video maker to add action movie style visuals to your videos. You can enjoy the missile attack and car smash action effects for free.
1. Just record a target for the movie; the free video maker will do the rest.
2. Select a certain point that you can add the effect to where you want.
3. Add realistic sound that provides a real sense to the video you are making.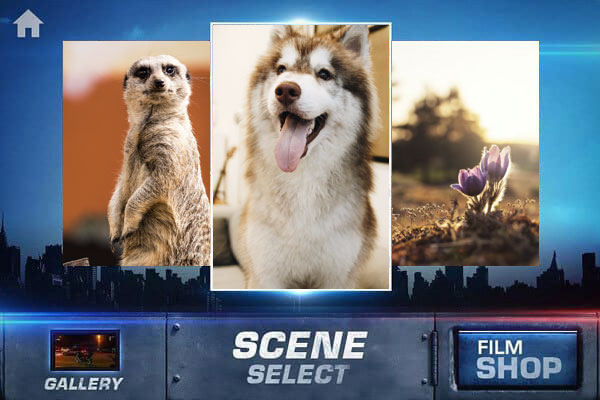 Conclusion
When you have some excellent video footages, how to make a video for free? It should not be a difficult question to answer after reading the article. Just choose a suitable free video maker to design one excellent video of your own. Whether you need to make video online, smartphone or computer, you can always get the most outstanding program accordingly. If you have any other query about these free video-making programs, you can share more comments in the article now.