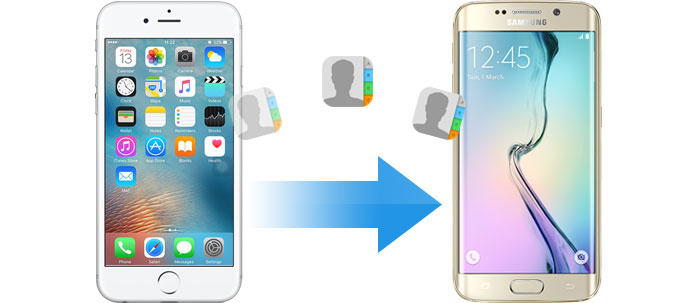 Under many circumstances, you need to transfer contacts between different devices. It will be easier if the two smart phones are equipped with same system. For instance, transfer contacts from iOS to iOS, or from Android to Android. However, you may also have a demand to transfer iPhone contacts to Android phone. If you are just facing the situation and don't know what to do, keep reading this article, and we will list three methods to help you export contacts from iPhone to Android.
Not like the old days, when you want to transfer contacts to a new phone, you have to type them one by one, including names, phone numbers, address and other detailed information. If you have a lot of contacts in iPhone, it will waste too much time. Now we will talk about three more effective ways to help you transfer contacts.
Method one: Transfer iPhone contacts to Android with iCloud
iCloud can back up your iPhone data automatically, so it's very convenient to transfer contacts with iCloud. Here are the steps:
Enter the "iCloud.com" and login Apple account on your computer.
Click the "Contacts" icon and then select the contacts you want to transfer.
After that, click "settings" button on the lower left corner of the interface, and then choose "Export vCard..." to save selected contacts, and click "OK". Your computer will download a vCard file including the selected contacts.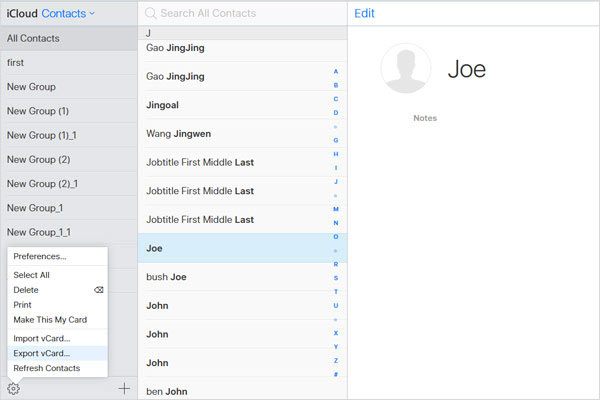 Connect Android phone to the computer, copy the VCF file to the local storage.
Click "Contacts" > "Menu" > "Import/Export" > "Import from storage", and then your Android phone will automatically detect the VCF file.
Enter the "Choose vCard file" window, select the VCF file and click "OK".
Just a few seconds, you can see all the transferred contacts on your Android device.
Notes:
In case you set iCloud not to back up your iPhone contacts, you should first check it on your iPhone.
1. Unlock your iPhone, click "Settings" and choose "Mail, Contacts, Calendars".
2. Click "iCloud", the toggle for "Contacts" should be turned on. If not, you need to turn on the "Contacts".
3. Your iPhone will prompt you to "Merge" your device's contacts with iCloud, click "Merge".
Method Two: Use Gmail to transfer contacts from iPhone to Android
If you have a Google account and often use Gmail, you can rely on Gmail to help you to export iPhone contacts to Android phone. First, you should get contacts from iCloud to PC.
After you download the VCF contact file to computer, head up to Gmail.
Log in your Google account and click "Next".
Select "contacts" and click the "More" > "Import" > "Choose File".
Select the vCard file and click "Import" again.
After a while, the contacts will be automatically synced to your Android phone. If there are a lot of duplicate contacts, you can click "Find & Merge Duplicates" button to remove them.
Method Three: Migrate iPhone contacts to Android with iPhone Contacts Transfer
When you want to transfer contacts from iPhone to Android with the methods above, you have to first copy iPhone contacts to computer, and then move them to Android phone. Is there a way to directly migrate iPhone contacts to Android? Here we recommend you the professional FoneCopy to do that. First, you should download and install it on your PC.
Connect your iPhone and Android phone
Launch it on your computer, and then connect both of your iPhone and Android phone to your PC via USB cable. The powerful iPhone contacts transferring software will quickly recognize your iPhone and Android device and load the basic info in the interface.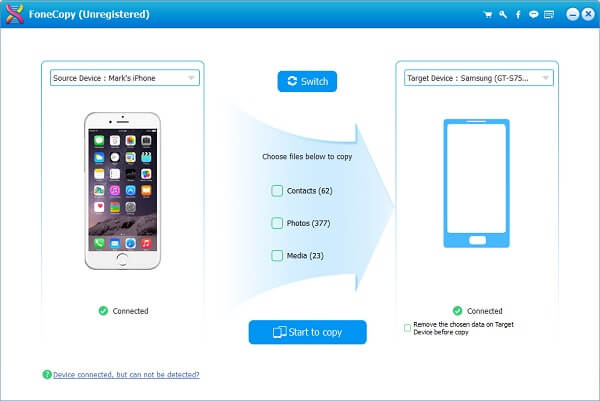 Transfer Contacts from iPhone to Android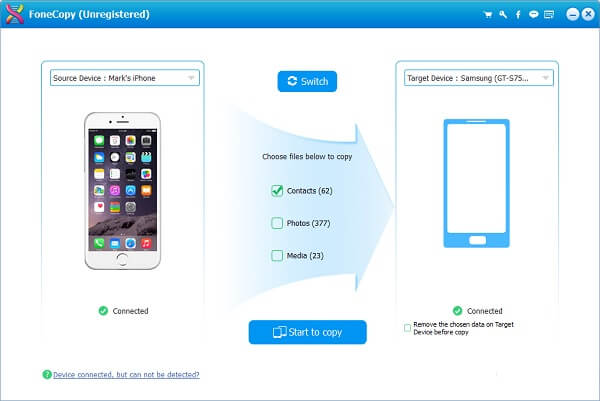 It provides with 3 kinds of data you can transfer from iPhone to Android device. If you just want to move contacts from iPhone to Android, you can only mark "Contacts". Then click "Start to Copy" button to start the contacts transmission.
In this way, you can handily complete the contacts transferring. The process of transferring contacts from iPhone to Android is so simple that you don't even need to think.
1. This program can automatically remove the duplicate contacts for you, so after transferring, you can only get the different contacts on your iPhone and Android phone.
2. The software will copy data from the left phone to the right phone. So if you connect Android phone in the left and iPhone in the right, then it will sync Android photos to iPhone.
3. Besides contacts, it also allows you to share photos and other media data between iPhone and Android device.
The most important thing to do is always back up contacts to your computer with vCard file and it is compatible with both iPhone and Android phones. So you will never lose your contacts. In this article, we mainly talk about three methods to transfer contacts from iPhone to Android, if you have a need to transfer or back up your contacts, hope our methods could be helpful to you.