"I have an iPhone 5s, and I have deleted my iPhone 5s Call history by mistake recently. Now I want to restore my deleted Call history from my iPhone 5s on my Mac computer, can you give me some advice about how to view my deleted call history from my iPhone 5s? If I can recover those deleted items, it will be better. My iPhone is iPhone 5s, iOS 9.2" – From Apple discussion
The above question is from Apple discussion. Though iPhone has come to iPhone SE, and iOS is upgraded to iOS 9.3, but the problem of deleting iPhone call history may happen to every iPhone user. Clearing iPhone is very common for you to free up your iPhone. However, it is annoyed if you want to call back from the call history, but you found you have accidentally cleaned recent call logs and didn't save new contacts from call history in time. And for some of you, the worse thing is that you did not make any iTunes or iCloud backup. At this point, you may feel helpless. What would you do to view, even recover your iPhone call history/log? This article will show you three options to see and retrieve deleted iPhone calls history, recover call history from iPhone directly, restore iPhone call log from iTunes backup, and get back deleted call history from iCloud to iPhone.
Option one: How to view recover call history on iPhone 7/SE/6/5/4/3GS without backup
When you have deleted calls from your iPhone's call-log history that you didn't want to delete, you don't have to be anxious. In fact, once calls are deleted from your iPhone (iPhone 7/SE/6s Plus/6s/6 Plus/6/5s/5c/5/4S/4/3GS), the deleted data are still located on your iPhone before you write new data into it. So what you need is to keep your iPhone original without adding or deleting any items, and find a call history app to view and retrieve deleted iPhone call history. iPhone Data Recovery will help you exactly. It will help you to see and recover the deleted call log (incoming calls and outgoing calls) from your iPhone directly if you did not make any backup duly. Firstly, free download this iPhone call history recovery tool to your computer or Mac.
Step 1 Scan iPhone
Install and launch this program on your PC, and connect your iPhone to computer via a USB cable. Click "Start Scan" button under "Recover from iOS Device" mode to scan all your lost call logs.
For iPhone 4/3GS users, follow extra 3 steps guided by the program to scan the deleted call history.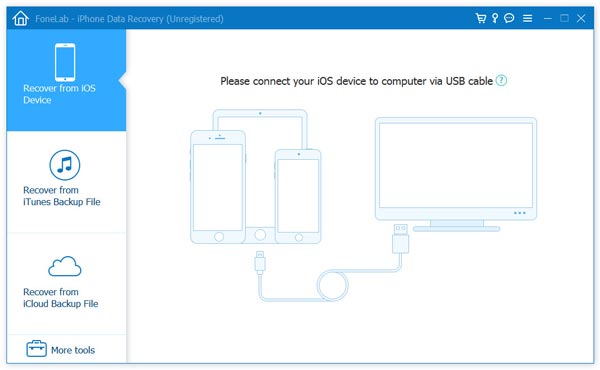 Step 2 View and recover deleted iPhone call history
After finising the scan, select "Call History" category on the sidebar to view the deleted and existing call history. Tick the call logs you want to recover in the right pane, click "Recover" button to undelete your call history. Once it's done, click "Open" button to get the exported file in HTML file.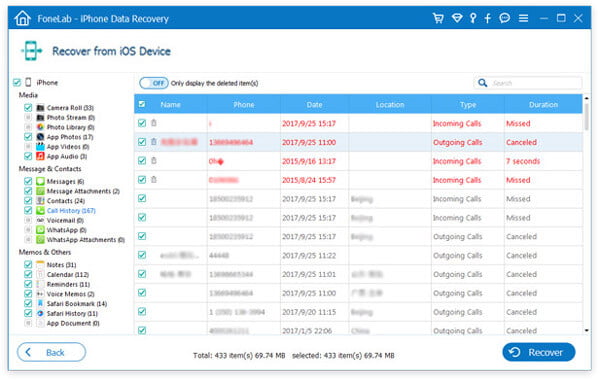 This option is the best choice if you have no backup, then you could use this app to directly scan your iPhone and see, even recover the deleted call history to your PC or Mac.
Option two: How to view and restore deleted call history on iPhone from iTunes backup file
If you have made iPhone backup to iTunes on your computer or Mac, then you could choose to recover from iTunes backup file. As you know, iTunes backup is stored as library file, which means, you can only see music file on iTunes, but cannot check contacts on iTunes, or view call history, messages on iTunes. And if you restore iPhone from iTunes, you will find all your iPhone backup data will be back to your iPhone, and remove your existing data on iPhone. So for viewing your iPhone call history conveniently, and recovering your call logs optionally, we share you a better way to restore your iPhone call history form iTunes only. Still what you need is the app, iPhone Call History Recovery.
Step 1 Scan call history on iTunes
Launch this app on your PC, Choose the second recovery mode, "Recover from iTunes Backup File", choose your wanted iTunes backup, click "Start Scan" to scan your iPhone backup from iTunes on this computer.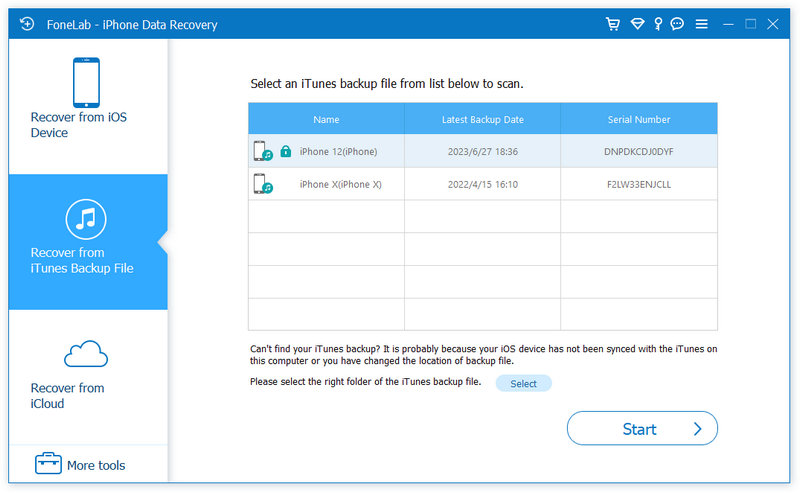 Step 2 See and restore call log from iTunes
After this app scanning the iPhone backup on iTunes, you will find all iTunes backup data will display in the interface. Click "Call History" to view and check what call log you want to get back, select the ones you want to restore, click "Recover" to download the restored call history from iPhone to PC.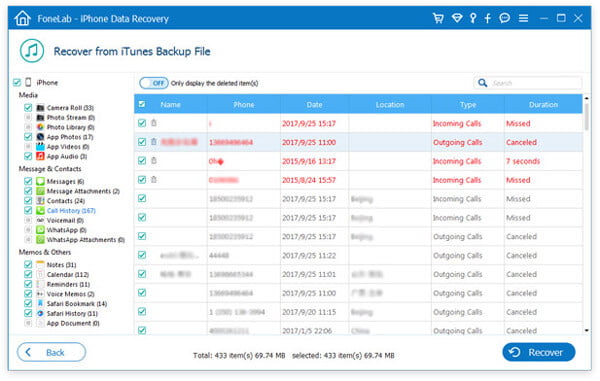 Tip: If you have updated iTunes backup after mistakenly deleting, your lost call logs will be gone permanently.
Option three: How to view and retrieve deleted call log on iPhone from iCloud backup file
Compared to iTunes backup with USB cable to connect PC, some of you may choose to back up iPhone to iCloud via WLAN easily. So if you are one of them to back up your iPhone call history to iCloud, instead of iTunes, then you are able to get the solution three to find your deleted iPhone call history from iCloud. Also iPhone Call History Recovery will help you achieve it.
Step 1 Scan iCloud call log
Run this software again on your PC, choose "Recover from iCloud Backup File", sign in your iCloud account, download the newest backup of your iPhone call log, select "Call Histoy" in the pop-up window, click "Next" to scan your iPhone call history on iCloud backup.
Step 2 View and retrieve call history from iCloud backup
Once this app finishes the scanning process, you will find "Call Histoy" display on the left side, click it, and get a view of the deleted call history. Select single or multiple call history (if you have), click the "Recover" to recover your deleted call log.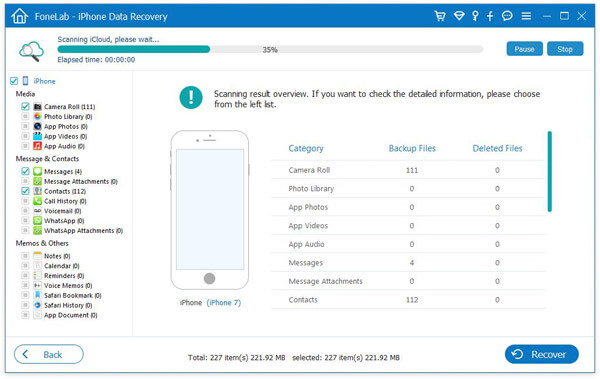 iPhone Call History Recovery is powerful enough to view and recover your deleted call history in three options. Whether you have no backup to recover call history form iPhone directly, or your iPhone is damages to retrieve call log from backup, you are capable of referring this article. Moreover, you are allowed to view and recover your call history on iPad or iPod with this iOS call history recovery utility.
Certainly, if you also get an Samsung Galaxy Note 7, you can also recover call log from Android.