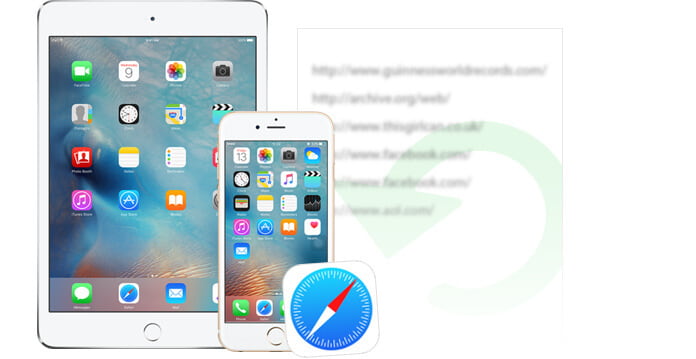 "Oh, God!!! I hate my finger. It clears all my Safari history by a slide when I view my Safari settings on my iPhone 5. Can I do to recover Safari history on iPhone 5?" This is a question from an Apple user.

"What can I do? When I browse some search materials with Safari, I hit the pop-up upgrade to iOS 10 accidentaly, and sadly, my iPhone is upgraded to iOS 10. But my search history on Safari is gone. The iPhone history contains many important materials about my project. But Apple can do nothing for me to retrieve the Safari history with my iPhone 7. Someone can help?" – A question from Yahoo Answer.
Safari is the built-in browser for iPhone or iPad user to access the internet. Safari enables you to search the internet from its web browser; you could also delete or keep Safari history for your future use. On iPhone or iPad, you will also find your important Safari history for a second or third viewing on your iPhone or iPad. However, if you delete search history on Safari on iPhone accidentally, what would you do to retrieve the history on iPhone Safari? Keep reading this essay to find the answer.
How to restore browser history on Safari on iPhone iPad
How to view old history on Safari
Before you retrieve your lost or deleted Safari history, some may have no any idea how to see the iPhone history on Safari. On iPhone, tab "Safari", hit the icon like a book to enter your marks interface. Where you could view your "Favorites", "History" and other bookmarks. Tab "History", and you will see all Safari search history list. Choose one, and tab it to open history on Safari.
How to recover deleted Safari history on iPad iPhone 7/6/5/4
If you delete Safari history on your iPhone or iPad, no worries, restore Safari history from your iCloud backup or iTunes backup. However, if you forget to back up Safari history or bookmarks, still calm down, and recover Safari history from your iPhone or iPad with the Safari History Recovery. This Safari helper is a powerful Safari recovery to restore Safari bookmarks and history on iPhone 7 Plus/7/6s Plus/6s/6/5/5c/5s/4S or iPad. Firstly, free download this Safari helper here, and what you need are one USB cable, your iPhone or iPad which you want to recover Safari history from, and three steps as below to make it.
Step 1 Run Safari History Recovery
After downloading this program, install and launch this software on your computer. If you get a Mac, then you need to download its Mac version to your Mac for a try.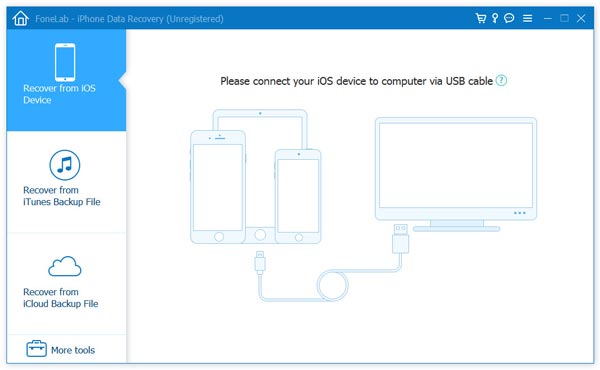 Step 2Scan iPhone iPad
Plug your iPhone or iPad into PC, and choose "Recover from iOS Device" > "Start Scan". It will take minutes to scan all your iPhone data including photos music, Safari, etc.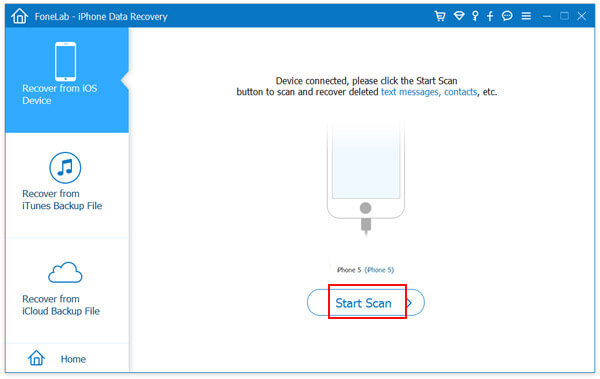 Step 3View and Recover Safari history
After completing the scanning process, click "Safari History" from the left sidebar, all the deleted (marked red) and existing (marked black) Safari history appear on the right side. Choose what Safari history you want to restore, click "Recover" to restore deleted history on Safari on iPhone or iPad.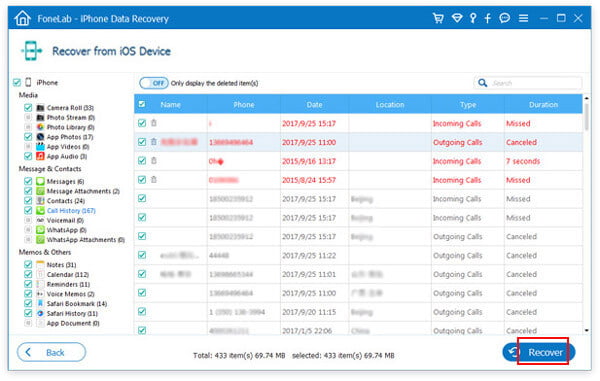 1. After you clear iPhone or iPad history on Safari, you should do nothing with your iPhone or iPad. Every operation (like taking a photos, or browse another web page, etc.) on your iPhone will overwrite the deleted data on your iPhone or iPad. So for making sure the recovery result from iPhone or iPad history on Safari, you need to keep this point on your mind.
2. If you want to recover deleted Safari bookmarks, just click "Safari Bookmark" > "Recover" to recover deleted Safabi bookmark on iPhone.
3. After recovering your deleted Safari history, you will find the restored iPhone Safari history on your PC in the format of HTML. You could open iPhone iPad Safari history on your Mac or PC directly by clicking it one by one.
How to make safari history backup on iPhone iPad with iCloud
From the above description, you must have known that it is easy to clear all Safari browsing history or cache with one tab, but it takes you some time to recover deleted or lost Safari history, so it is very necessary for you to make backup for your Safari history on iPhone or iPad. Before you back up Safari history, you need to get your iOS device connect Wi-Fi. Here we take Ipad as an example.
On your iPad, tab "Settings" > "iCloud" > Make sure "Safari" is "ON" > "Backup" > Slide "iCloud Backup" to "ON" > Tab "iCloud Backup" to sync your Safari history and bookmarks to iCloud. In future, you are able to restore iPad Safari bookmarks and history via iCloud.