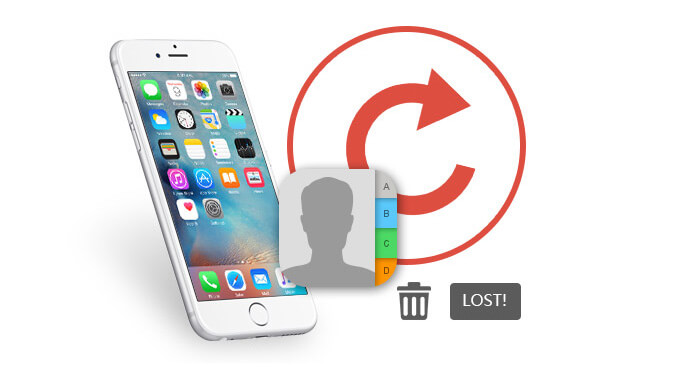 With the increasing development of science and technology, smart phone has played an important role depending on its powerful and useful functions. Among all the smart phone users, there are a large proportion of people like to use iPhone. However, it is common that the contacts disappeared for some reasons and people may lose their iPhone contacts forever, even though Apple Inc has done a good job in protecting people's iPhone data.
So when you lost your iPhone contacts, or your iPhone contacts were deleted, how do you deal with it? Do you have any good way to get iPhone contacts back? If not, you may need my solution to restore contacts.
The first solution: Detailed steps to recover contacts on iPhone directly
The professional software to retrieve your iPhone contacts
As the best iPhone contacts recovery, iPhone Data Reocvery is amazing at recovering iPhone contacts and backing up iPhone data to computer. It also assures you the safe environments to protect your personal information. We provide three solutions for you to get your contacts back to your iPhone.
Download and install this iPhone Data Recovery and have a try.
After installing iPhone Data Recovery on your computer, you need to connect your iPhone to computer via the Apple USB cable. The app will detect the iPhone automatically. For those iPhone users who did not connect iPhone to computer before, you should tap "Trust" on your iPhone for the next step.
Attention:To avoid data overwriting by iTunes synchronization, you cannot start iTunes while program is running.
Click Start Scan to enter the recovery interface.
After your iPhone appeared in the interface of this iPhone contacts recovering software, tap "Start Scan" to scan your iphone.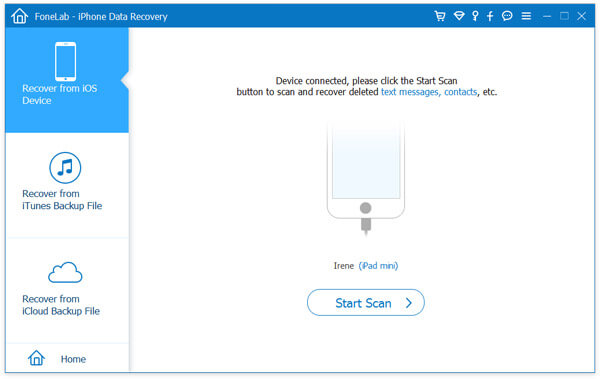 Select Contacts on the left list, you will get all deleted contacts showing on the main interface.
When the scanning is done, you can see all the deleted or existing Phone data on the left menu, just choose "Contacts" to check all deleted/existent contacts on iPhone.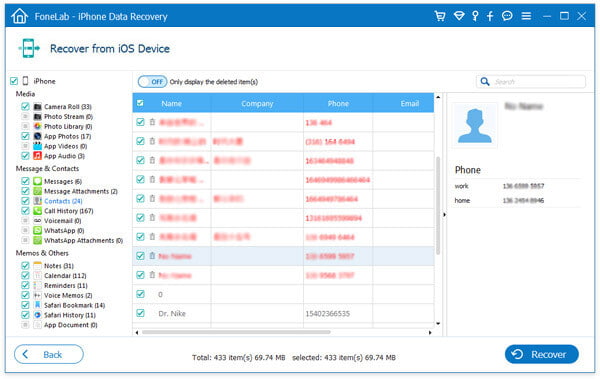 Select the contacts you want to retrieve.
You are allowed to preview the contacts on the above interface and choose which one you want to retrieve to your iPhone. Of course, you are also able to choose all contacts with one click.
Click Recover to get your contacts back within minutes.
If you have synced your iPhone contacts to iTunes, you can also use this recovery software to get them back from iTunes.
1Click Recover from iTunes Backup File.
2Choose the latest one and click Start Scan.
3Click Contacts from the left control panel to view.
4Select the ones which you want to recover back to your iPhone, and then click Recover to save contacts to computer.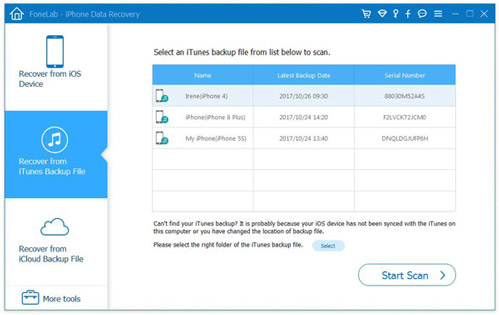 The third solution: Get back iPhone contacts from iCloud
Still, if you have use iCloud to backup iPhone contacts, then here you could use the third recovery mode of this program to get back the lost or deleted contacts.
Note: Plesase make sure that there is a internet connection on your computer
1Sign in your Apple ID to iCloud when you navigate to Recover from iCloud Backup Files.
2Choose the one which you want to backup, click Download and choose Contacts > Next to scan the iCloud backup.
3After the downloading process, you can clcik "Contacts" to view the contacts details.
4 After checking the contacts that you want to restore, click "Recover" to get the deleted contacts to save on your PC.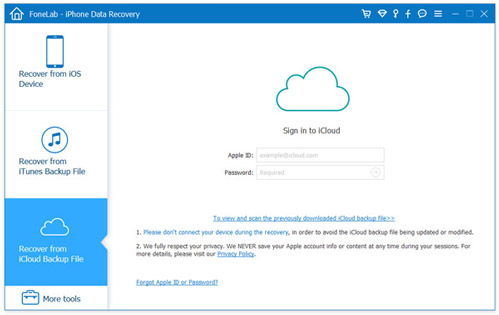 The disadvantages of using iCloud when your iPhone contacts gone
When sharing my way to restore iPhone contacts, I'd like to say that iCloud is not recommended for you to get the iPhone contacts back. Why? The disadvantages of iCloud are as below:
◆ The whole process is too complicated, whether backup iPhone contacts to iCloud or get contacts from iCloud
◆ The limitation of network environment. If there is no Wi-Fi, you are unable to get back any iCloud contacts.
◆ It is not easy for people to develop the good habit of backing up contacts through iCloud.
◆ The insecurity of iCloud: You have to take the risk that your iCloud account may be stolen by the ID theft specialists. Once it happened, the result will be out of your control. All data in your iPhone will disappear in the next second!
For the purpose of protecting your iPhone contacts as well as the vital information in your iPhone, we do not recommend iCloud to be your necessary tool for restoring and backing up iPhone contacts, especially for those iPhone users who prefer saving their credit card number and other information to contacts for checking for convenience. So it is necessary for you to get a safe and easy-to-use iCloud alternative to recover all iPhone data, including contacts.
When your contacts on your iPhone are missing, please stop cleaning anything on your iPhone with any third-party cleaning software. Don't answer calls and receive text messages. What you need to do is to turn off your iPhone for avoiding any more information overlap.
You should backup your iPhone regularly
For saving your iPhone contacts, you should develop the good habit to backup your iPhone on computer regularly. iPhone Data Recovery is a good chioce. On the one side, you can transfer all contacts to computer for avoiding some potential risk. On the other side, if you are going to change a new iPhone, you can directly import the contacts to the new iPhone with one click.