How to Delete Bookmarks from iPhone
It is really annoying that when you want to find one bookmark added lately, you have to scroll down to the bottom and get it as you've added a lot of bookmarks on your Google Chrome, Firefox, Safari or other browsers. How inconvenient! That's why many people want to manage, even delete their bookmarks on iPhone.
Here we will tell you how to delete bookmarks and manage bookmarks without effort. And 2 methods provided for you to remove bookmarks, you can choose one of them according to your need.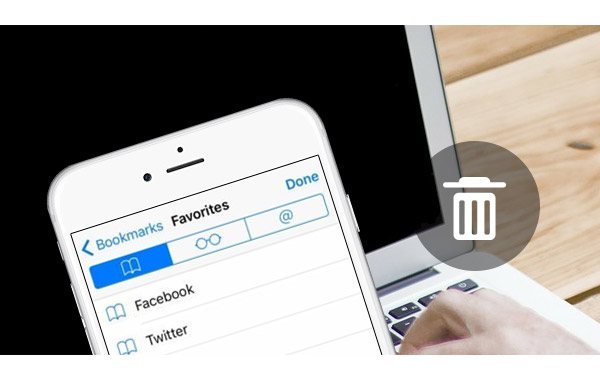 Delete iPhone Bookmarks
Method 1. How to delete bookmarks from iPhone directly
How to delete "Favorites" on Safari? How to remove bookmarks on Safari? If you don't have many bookmarks and "Favorites" on your Safari, Google chrome, Firefox and other browsers, you can delete them from iPhone directly. That means you have to clear bookmarks one by one.
Step 1 Open your browser and find your bookmarks
After open your Safari, Chrome or Firefox on your iPhone, tap bookmark icon and all the bookmarks you have added will be shown here.
Step 2 Delete bookmarks directly
Tap "Edit", and select the bookmark you want to remove, and then tap the red minus icon, next, click "Delete" to remove bookmark. If you want to delete more, just do this again.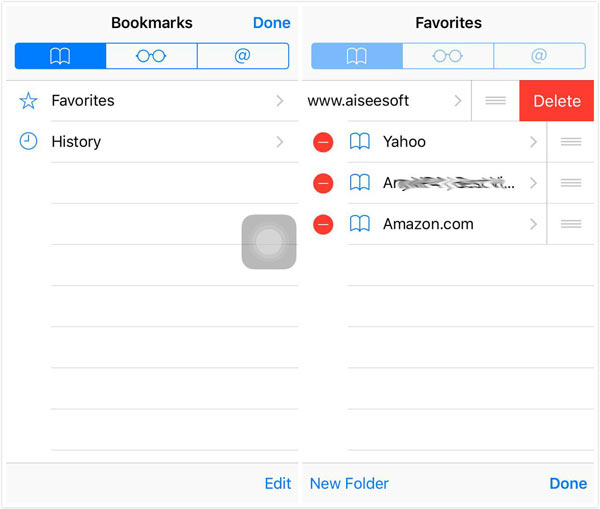 Method 2. How to delete bookmarks completely with FoneEraser
Sometimes, if you have too many Google bookmarks to manage them orderly, we recommend you should not waste your time to delete bookmarks one by one from iPhone directly. Also, if you get a new iPhone, and prepare to sell your old iPhone, you have to erase all the bookmarks and your iPhone in case of privacy disclosure.
So maybe FoneEraser is the suitable iPhone clearer for you to delete bookmarks thoroughly. With FoneEraser, you can:
◆ Support to delet, add and edit bookmarks on iPhone, iPad, and iPod touch.
◆ Erase all kinds of contents and settings permanently to protect your privacy and make your information safe.
◆ Three erasing levels for you to delete bookmarks and iPhone in different degrees.
◆ Support multiple iOS devices, including iPhone X/8/7/6/5/4, iPad, iPod.
Now, let's see how to delete bookmarks with FoneEraser. Just Download and try it for free!
Step 1 Connect iPhone with computer
After downloading and installing FoneEraser on your computer, use USB cable to plug your iPhone into computer and run this bookmarks clearer. Wait a moment, and FoneEraser will recognize iPhone automatically.
Step 2 Choose the level to delete bookmarks
When your iPhone name shows in the interface, click "Erasing Level" to choose the level to get rid of bookmarks and iPhone.
Step 3 Delete bookmarks on iPhone
Click "Start" to delete all the bookmarks and other contents on your iPhone completely.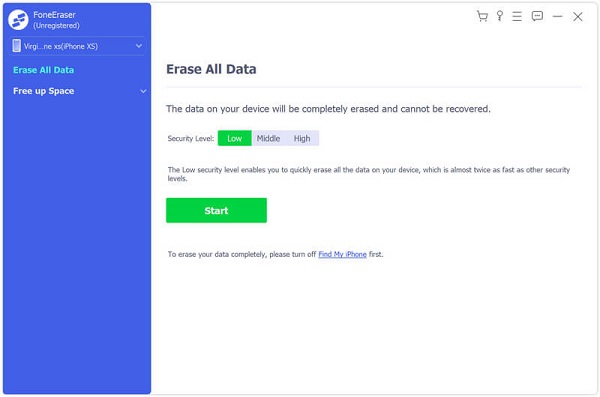 1. You may get the notice "Storage almost full" on device, please click "Done" to continue.
2. To avoid erasing undone, please don't disconnect device during erasing.
3. Except for bookmarks, other important content will be erased. If you want to back up all your iPhone files, you can use FoneTrans, one iOS transfer to export data from iPhone to computer.
You can watch the video to learn more about iPhone Eraser:
Now, 2 ways to delete bookmarks on iPhone have been shown to you. And you can choose one of them to clear bookmarks on iPhone, including your Google, Firefox, and Safari bookmarks. Of course, if you have better ideas, you can tell us through your review.