Broken Android Data Recovery: Fix a Bricked Android Phone
It is great for Android users to play their phones with new ROMs, kernels or other features. However, the Android device may turn to brick if there is something wrong during the operations. When you unfortunately get a bricked Android phone, it will be so inconvenient. What is bricking your phone? Will your data be lost then? How to fix a bricked Android device? This guide is going to introduce you with an easy-to-use solution to fix your Android phone.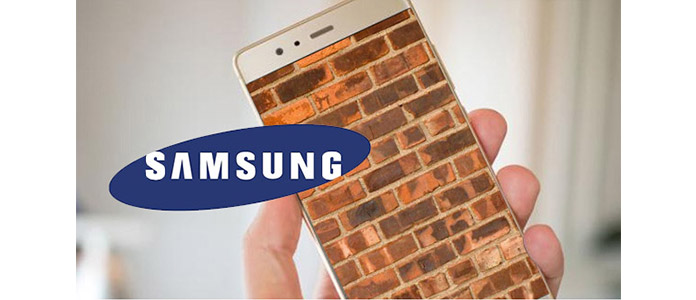 Fix Bricked Android Phone
Part 1. What is bricking your Android phone
When your Android device get bricked, it will be like the oblong of plastic and metal scrap, other than as a paperweight. But are you sure the device is bricked? Brick occurs commonly when you're rooting with a new operating system ROM or unluckily installing an malicious app, but the situation isn't very difficult as you might think.
Signs of Android device getting bricked
➤ The Android device is stuck on the boot loop.
➤ The Android device is disabled to shut off or stuck on the vendor logo.
➤ You Android device gets a white screen of death or black screen of death.
➤ The device reboots endlessly.
➤ Any other situation when your phone won't turn on in any way, shape or form.
Bricking can be classified into two types, hard brick and soft brick. You can check the description below and tell which bricking type your Android device belongs to.
Hard brick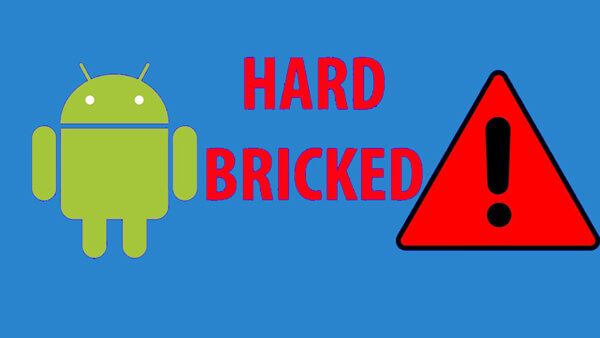 Hard brick will let your Android phone turn to be no signs of life. You never power on the device and there shows no vendor logo anymore. It will be a completely expensive brick. Installing a malicious or inappropriate firmware should be the main reason, which will starting up with an incorrect flashing procedure.
Soft brick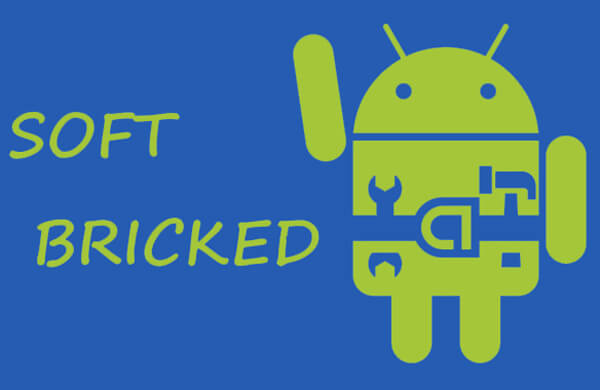 Soft brick usually takes up when the device fails to boot correctly and let it be stuck on the vendor logo, boot animation, restart endlessly, or get a white or black screen of death. Some of the major reasons for soft bricking are invalid or corrupt firmware installation, flashing bad scripts, trying to root the device, or flashing a custom recovery image to a device with a locked bootloader. Don't be panic, soft brick can be recoverable.
Part 2. What we can do for soft brick fix
Soft brick can be solved. You are in the right place. Broken Android Data Extraction is able to help you out, regardless of whichever situations introduced below when Android device is likely to get a soft brick. And in the next part, we will detailedly recommend the perfect Android recovery tool.
#1. Soft-brick while flashing stock ROM
If you ever did something wrong while you was flashing a stock ROM or the device powered off while flashing procedure, the Android phone might get bricked. Sometime the Android mobile phone will be stuck on the boot loop after installing or performing a new ROM.
#2. Soft-brick while rooting Android phone
The instructions about rooting Android phone should be read and obeyed carefully. If there are some wrong operations during the rooting process, your Android phone might get soft-brick. Also, it also caused when some essential programming codes are deleted.
#3. Soft-brick while using apps requiring root access
While you are using an app which requires root access, soft brick might occur. When such app asks your root permission, you may simple grant it. Then the device may turn to be a brick when you reboot your phone.
#4. Soft-brick while installing custom ROM
Custom ROM installment failure can lead to soft brick of Android device. Moreover, your phone get bricked for loose USB connection or poor battery power during installing custom ROM.
#5. Soft-brick while updating Android's firmware
Sometimes your Android device get bricked when updating firmware. It takes up when your has low battery life or due to network connection issues. You need to make sure the battery power is up to at least 80% before updating firmware of your android device.
#6. Soft-brick while factory data reset
Factory reset of your Android phone might also result in soft brick. Sometimes, your rooted android device might soft-brick after you performing a simple factory reset.
#7. Soft-brick while multi-tasking
Soft brick can occur when you are performing multi-tasking. When you operate multiple tasks at a same time on your Android phone, the device will be heating and then get bricked. Usually this soft-brick issue takes up with inferior Android devices or when you launch more apps in your android.
Part 3. Best solution to deal with a soft-bricked Android phone
To better get your bricked Android phone back to normal, you are introduced with Broken Android Phone Data Extraction, the world's first-classed Android tool from any broken Android devices. It is able to recover contacts, photos, videos, messages, call logs and more from the broken Android phone or tablet. The software works best with Samsung Galaxy devices.
Main features:
◆ Fix frozen, crashed, black-screen, virus-attack, screen-locked phone to normal.
◆ Recover and extract messages, contacts, call history, WhatsApp, photos, etc. from broken Android phone.
◆ Support almost all Samsung phones like Samsung Galaxy S, Samsung Galaxy Note, etc.
Samsung Series
Models
Samsung Galaxy Note
Note 3, Note 4, Note 5
Samsung Galaxy S
S4, S5, S6
Samsung Galaxy Tab
Tab Pro 10.1
Supported Files
Contacts, Messages, Message Attachments, Call Logs, WhatsApp, WhatsApp Attachments, Gallery, Picture Library, Video, Audios, Documents
How to use Broken Android Phone Data Extraction
Step 1Launch the program and select "Broken Android Phone Data Extraction" mode from the left column. As for your soft-bricked Android phone, here we choose "Fix Device" button.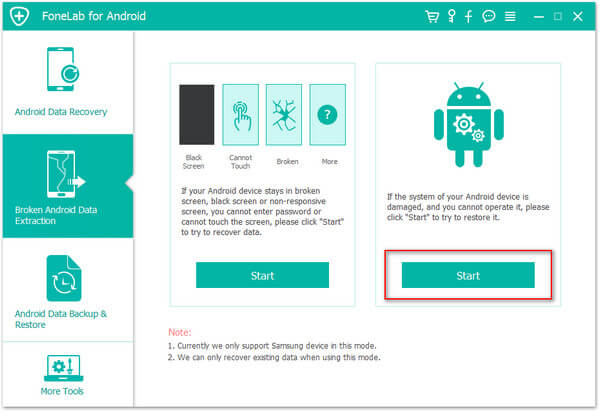 Click the "Start" button when you forget the password, want to fix broken-screen phone, or when your Android phone screen turns black or non-responsive.
Step 2When you choose "Fix Device", you should select the main issue you are encountering when your Android phone is stuck in the startup screen/download mode/FoneGo interface/black screen or others. Then click "Next".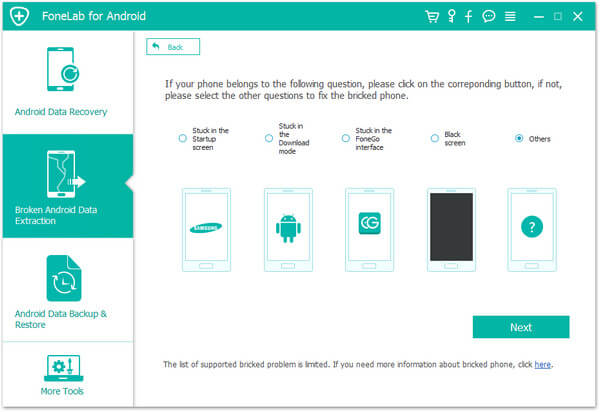 Step 3On the new window, choose the device name and model of your Android phone. Currently, the program works with Samsung devices in Galaxy S, Galaxy Note and Galaxy Tab series. Click the "Confirm" button.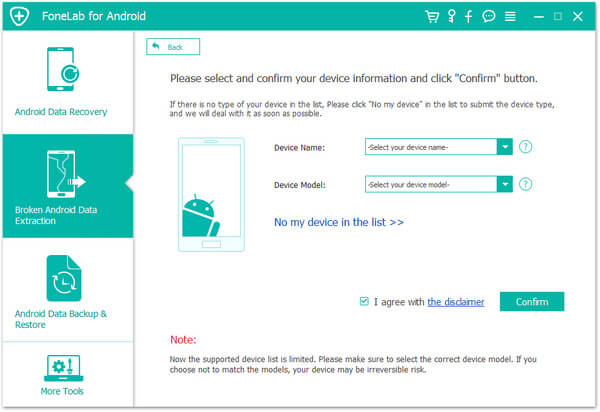 Step 4Follow the simple guide to let your Android phone enter Download Mode. Power off the phone > press and hold three keys: "Volume Down", "Home" and "Power" > press the "Volume Up" button to enter the "Download mode".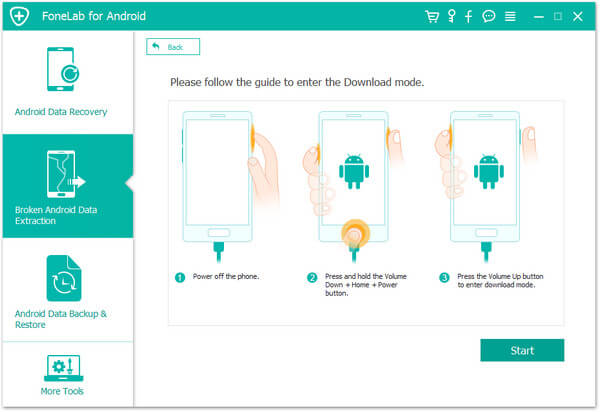 Step 5The program will download recovery package and then reapair the broken Android system. When it is finished, you can use "Android Data Recovery" feature to access and scan your Android data, including the deleted files.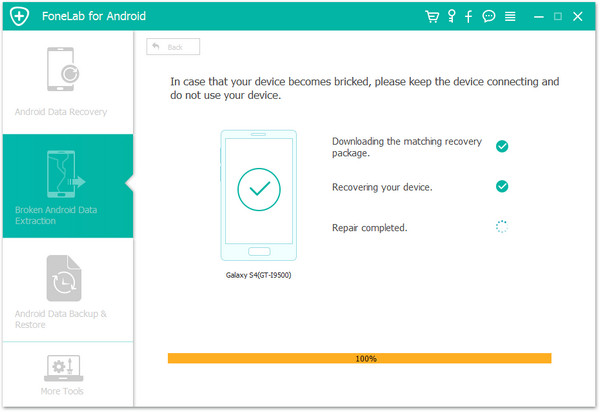 You can learn the steps from the video below: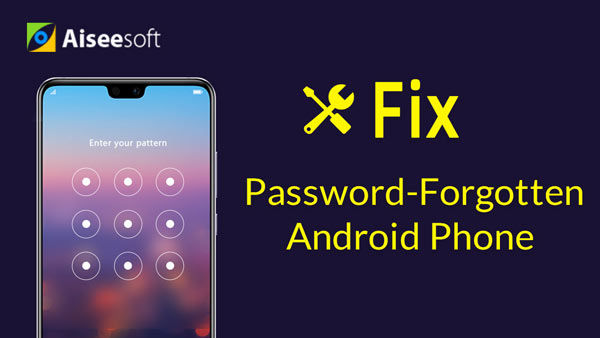 Part 3. Leave feedback of your bricked Android phone
If there is no types of your device in the list, you are able to leave your mobile information (device brand, device name and device model) and the issue you are encountering now, we will sincerely do our best to deal with your problem as soon as possible. Or you are able to contact our support team at: support@aiseesoft.com. Our customer service staff will give you a response within one (1) business day.