Deal with Broken Android: How to Fix It and Access Your Files
We've all experienced a phone slipping off our fingertips or falling off the table, bed, or wherever. Unfortunately, your screen was broken. At this moment, you must be in a panic, for nowadays, we can hardly live without our cell phones. We need to navigate between apps and view messages through our screens. Breaking the screen is a devastating blow to the use of cell phones. Amid all the chaos, you need to deal with your broken Android as soon as possible and try to save your device's data.
Here we provide step-by-step guidance to teach you how to fix the broken screen on an Android phone and the best tool to access your phone files.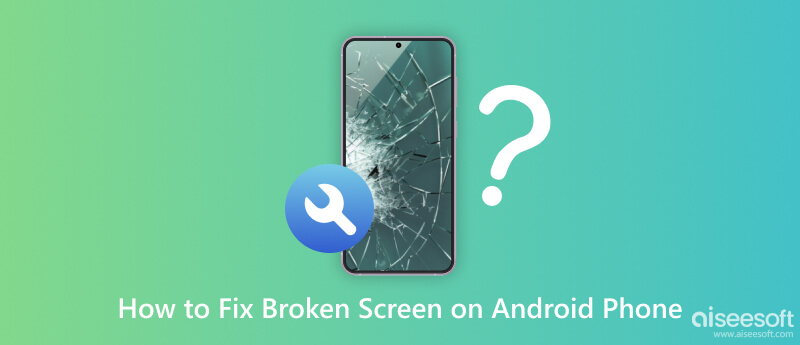 Part 1. What You Should Do First When You Break Your Phone
After finding your screen is broken, do not panic. Calm down. To minimize your losses, you need to take some action first.
Check Your Broken Screen Insurance
The physical damage, like a broken screen, is not covered under the free service repairs by the manufacturer. However, every time you buy a new cell phone, you may find an option named screen insurance. You need to spend a small amount of money to get one to guarantee that you can get a free broken phone screen replacement. Check if you have broken screen insurance or not. If yes, just come to the nearest service center and get your broken Android screen replaced.
Watch Out for Tinny Glass Pieces
When you break your phone, your first reaction must be to pick it up and check if some glass pieces fall on the ground. You must be extremely careful at that time because some tiny glass pieces may hurt your fingers. To protect your hand, you can wear gloves or other equipment to ensure our safety before you pick up your broken Android phone.
Part 2. How to Fix a Broken Screen on Android Phone
Although Android phones have sturdy screens, they can still be broken anytime. After all, phone screens are made of glass. When you have broken your phone screen, in order not to affect your use, you need to fix them as soon as possible. Here we recommend several ways to fix your broken Android screen. Choose one that suits you the best.
Way 1. Fix the Screen Yourself
If your phone is not so badly injured, you may deal with it all by yourself. A new glass screen protector might be a good choice if the glass is only cracked and does not affect the use of the phone. It can ensure your fingers do not hurt and protect your screen from more damage. Otherwise, packing tape and super glue can fix and heal some small cracks.
If the touchscreen still works, but the glass is damaged badly, you can try to replace it yourself. It will cost you $10 to $20. You can buy the tools depending on the type of your phone.
Way 2. Contact Manufacturer
If your broken Android is still under the manufacturer's warranty, try to contact and ask for help. The price for fixing a broken screen varies depending on your device's type. It cannot be denied that the average cost is more expensive than a third-party repair shop. But your phone will enjoy the most professional repair. Also, you do not need to worry about your device being swapped for parts.
Way 3. Third-Party Repair Shop
If you live far from the manufacturer's service center or your Android is pretty old, you can go to a third-party repair shop. The price might be cheaper than that in the service center. They can fix your broken phone quickly; you do not need to wait in line and be stuck without a phone. Some shops also promise that you can call them anytime the repaired parts are not working.
Part 3. How to Access Files on an Android Phone with a Broken Screen
Except try to fix your broken Android, you should access your files and transfer them as soon as possible. So that you can minimize your data loss whether you have fixed your old phone or bought a new one. Here we offer the top ways to help you.
Way 1. Cloud Backup
If you want to view your data on another device, log in to your account, and you can check your files on the Cloud.
Here are the steps to guide you.
Step 1:
Tap the
Settings
icon on your screen, and choose
Cloud
.
Step 2:
Turn on the options you want to keep on the Cloud, such as
Messages
,
Contacts
,
Notes
, etc.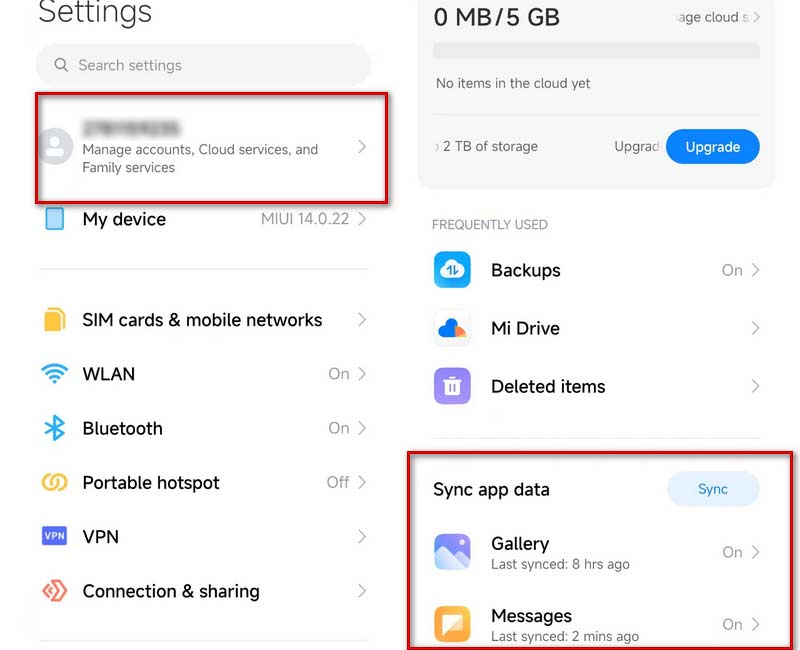 If you want to view your data on another device, just log in your account on it, and you can check your files on the Cloud.
Way 2. SIM/SD Card
Some files can be saved to the SIM or SD card you use. If you save your contacts or other messages to your SIM card, insert it into another device. Then you can recover contacts and messages on the new device. Also, if you use an SD card, you can remove it from the broken phone and insert it into the new phone to check your files.
Way 3. Broken Android Data Extraction
Aiseesoft Broken Android Data Extraction is the best tool to help you normalize crashed, frozen, or broken Android phones and extract your data for backup. This software allows you to rescue your phone's data from your broken phone and SD card with one click. With Broken Android Data Extraction, you will not worry about the safety of your device. All data on your phone will be kept original, and you can view the details and select data to save on your computer. Just download it from the link below and protect your files. Note that this software now only supports Samsung devices.
Here are the steps to help you use it.
Step 1:
Download Broken Android Data Extraction and install it on your computer. Choose
Broken Android Data Extraction
.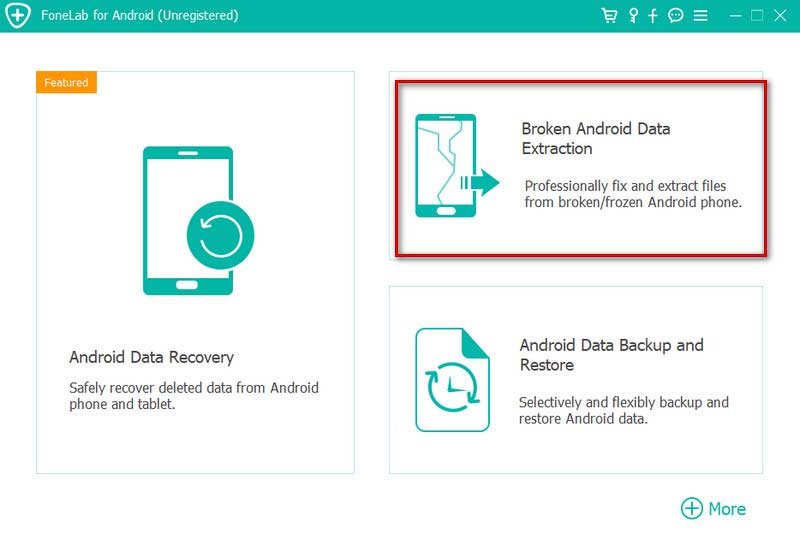 Step 2:
Connect your Android phone to the computer via a USB cable. Let the software automatically detect your device.
Step 3:
Choose a section depending on your phone, and select
Start
.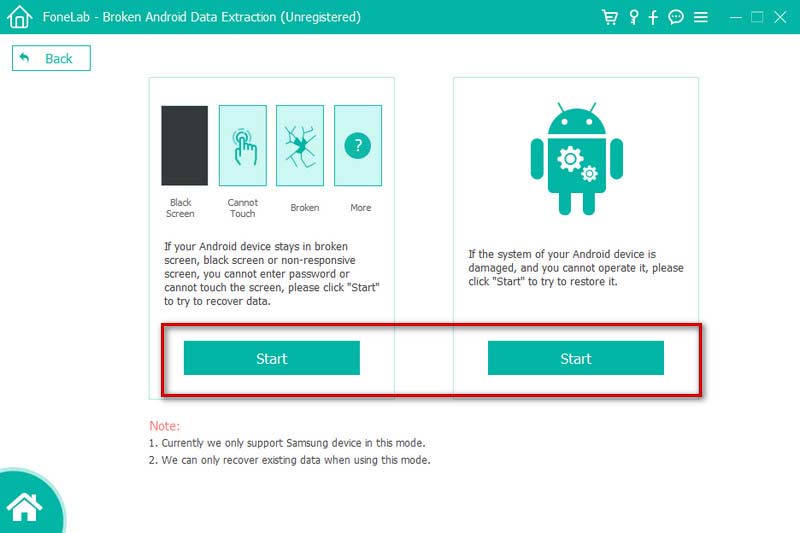 Step 4:
Select your Samsung phone name and model.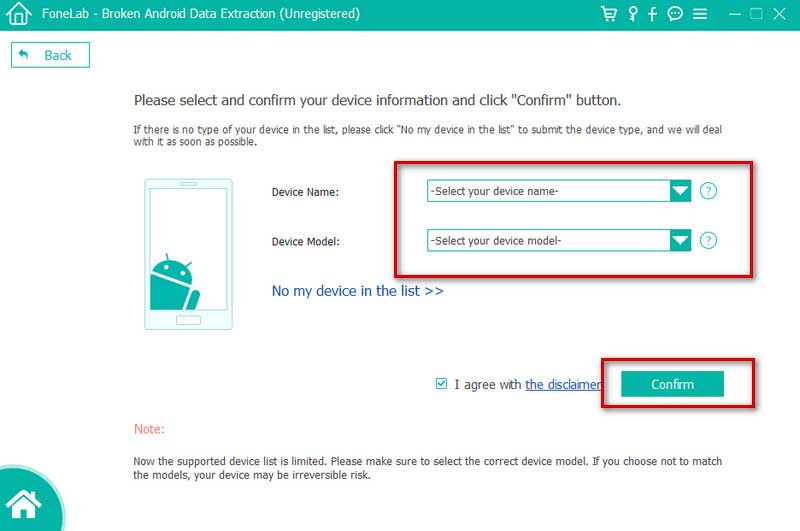 Step 5:
Follow the three steps to enter the Download mode. Click
Start
to fix your device.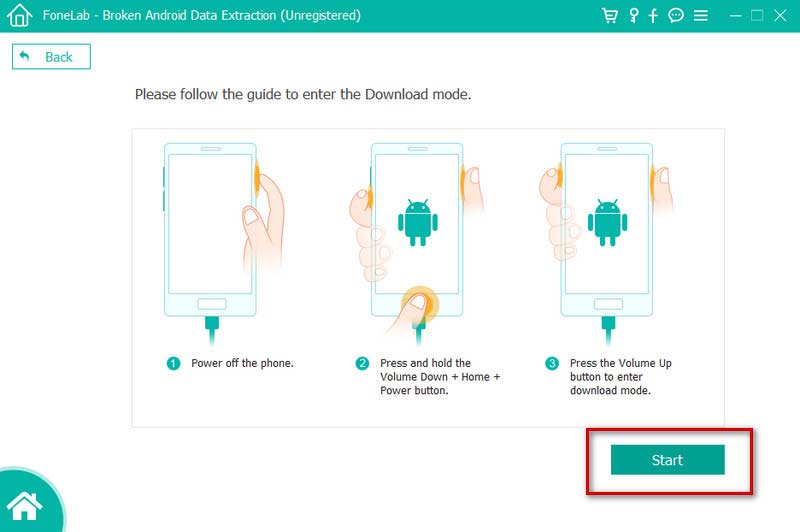 Part 4. FAQs About Broken Android Phone
Will liquid glass help a cracked screen?
Liquid glass is thin and almost invisible. Using it on your phone screen can help to prevent screen breaks. But if your screen is already cracked, it will not help much.
Is it bad to leave a cracked screen?
Although a cracked screen may not affect the use of your phone, it is so risky that it can explode at any time. A little external force can make it destroyed. It is best not to delay. Once you find the breakage, fix it as soon as possible.
Should you put a screen protector over a cracked screen?
You can choose to add a screen protector on your phone, of course. But we must admit that such a piece of glass can create a screen touch delay problem, and the phone's picture quality may also be low.
Conclusion
Breaking a phone screen can happen to everyone, which can greatly impact your life. Whatever the extent of your screen damage, we have a solution to match it. If you want to extract data from your broken Android, we also have the best tool to help you. We hope our assistance can help you solve your problems soon.

Leave your comment and join our discussion