(Easiest Way) How to Recover The Deleted Contacts on My Android Phone
In old times, it would be troublesome when people wrote down the number and name of every contact on the address book for fear of losing the important information. Since cell phones like iPhone, Android phones and more become popular, people may prefer to create contacts on devices instead of address book. Mobile phones save us much time in saving contacts, but other problems arise. What if you lose your phone? If you delete them intentionally or accidentally, how can you restore the deleted contacts? In this article, we will provide three solutions for your trouble of recovering contacts on Android.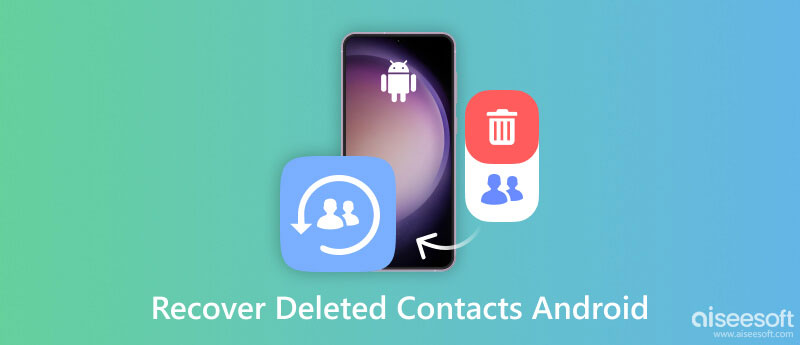 Solution 1. Check if Android Contacts Are Deleted or Lost
Before you cry out for losing Android contacts accidentally, you need to make sure if you have completely deleted or lost your contacts on Android. Not every phone is perfect, neither is Android phone. You can look for deleted Android contacts from your SIM card. Or you can go to Contacts on your phone > Find the Menu button on the right bottom (three vertical dots) > Contacts to display > Slide All Contacts to ON if it is OFF to show all contacts on Android. At this point, you may feel surprised to find the "deleted" contacts on Android memory again. For some reasons, your Android phone default settings may make you misunderstood.
Solution 2. Recover Deleted Contacts from Android Directly
Though both iPhone and Android phone has backup or synchronization function, over half of us don't have the habit of backing up contacts on our Android phone or iPhone. Besides, something unexpected may happen any time. It's frequently asked that I hadn't backed up my contacts before I lost my Android phone or contacts, how can I get my contacts back? If you did not sync contacts with Google, or you delete the contacts on android over 30 days, then you may have no idea to restore the contacts to your Android phone. So here, if you lost Android contacts but don't have a backup, we introduce a secure program, Android Data Recovery, to restore the deleted Android contacts.
Providing that you don't lose your Android phone and the deleted data is not overwritten by new data, the software can help you retrieve the deleted contacts. It is also able to recover contacts after factory reset for Android phone. You just need to free download this Android Contacts Recovery app on your computer and soon you will find the deleted contacts and get them back. The detailed steps when using this Android contacts recovery are listed as below.
Download and install Android data recovery. Launch on your computer.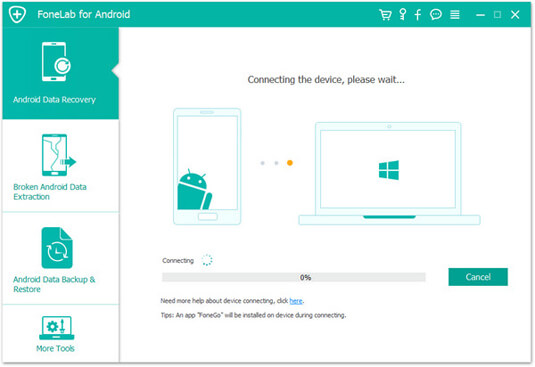 Step 2.
Connect your Android phone
Connect your Android phone to computer via USB cable. The phone will be detected automatically by the computer. If you haven't installed the device driver on your computer, you need to download it first.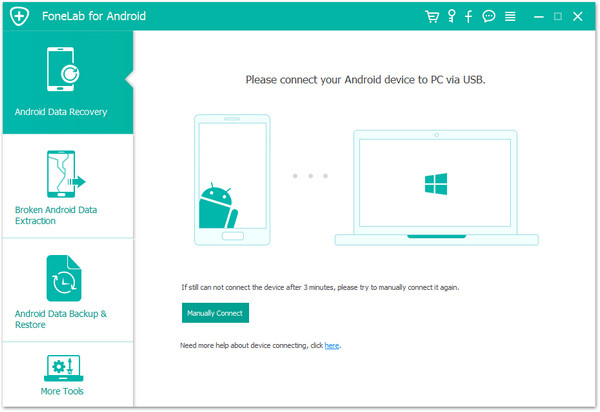 Step 3.
Open USB Debugging mode on your Android phone
Android Data Recovery will detect your Android version and direct you to enable USB debugging mode on your phone so you can manage your phone on computer. After that, click OK on your Android phone.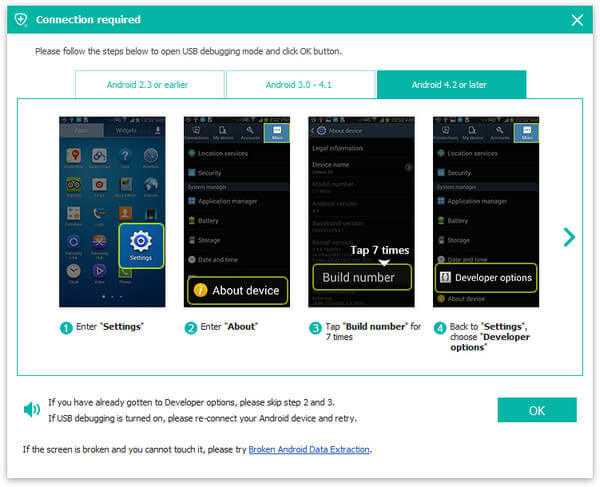 Step 4.
Select contacts to recover
You need to select the type(s) to recover before recovery. This app also allows you retrieve deleted text messages or recover lost photos/videos on your Android phone. Here you just select Contacts. Then click Next. At this step, it will need you to install the FoneGo application and grant the permission to allow this software to scan your phone data and root your Android phone automatically. If you want no rooting, you may want to know how to recover android files without rooting.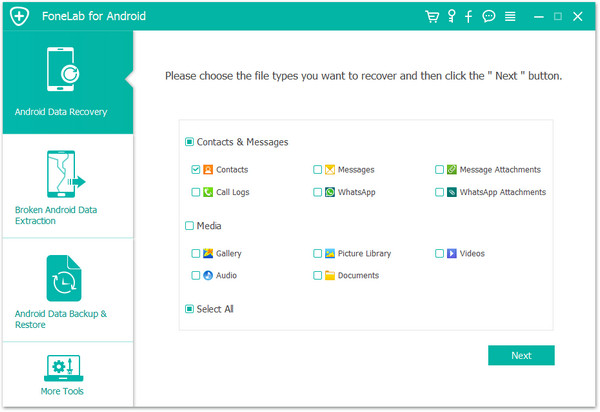 The free Android contacts recovery tool will take seconds to scan the contacts. Click Contacts and you can find all the contacts in your phone. The deleted ones are marked in red. Check the contacts you need and click Recover, soon you will get the deleted contacts back in your computer.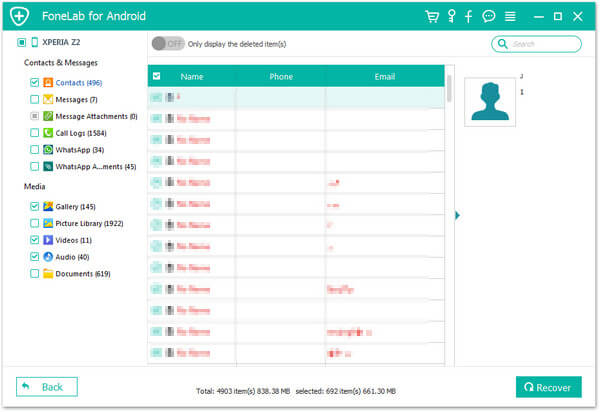 You can learn the steps from the video below: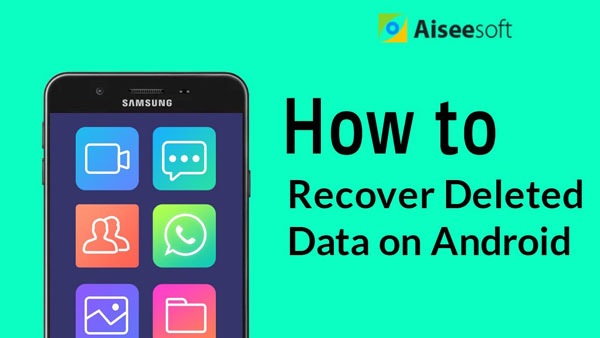 Solution 3. Retrieve Deleted Contacts on Android from Google Contacts Backup
If you have a Google account and always back up Android contacts to Google Drive, then you are fortunate to restore your Android contacts by syncing Gmail to Android.
First, you have to make sure you have synced Android contacts to Google Drive. Then you could follow the method to recover the deleted contacts on Android. You can choose one of the situations to do it according to your actual situation.
Situation one: If you deleted your Android contacts, and do not keep your Android phone syncing with Google account. Then you are able to recover lost or deleted Android contacts from Gmail with the following guide:
Step 1.
Log in your Gmail on the web, click
Inbox
>
More
>
Export
to export Android contacts backup on Gmail to your PC saved as vCard File (VCF). (Gmail forgot? Start
Gmail recovery
here.)
Step 2.
Plug Android phone to PC via USB cable. Drag the exported contacts VCF file from Gmail to your phone.
Step 3.
On your Android phone, tab
Contacts
App >
Menu
>
Import/Export/
>
Import from storage
to choose the VCF file of the contacts backup in step 1 > Click
OK
to recover your deleted contacts on Android.
Situation two: If you delete contacts on Android phone, and meanwhile you turn on the syncing button of Google account, then you will delete your Android contacts on Gmail backup, too. But you can also find a way to recover the deleted contacts.
Log in your Gmail, click Inbox > Choose Contacts from the drop-down list of Gmail > Click More to enter the interface of Restore Contacts > Select the deleting time to recover deleted contacts from Android phone and click Restore. You can choose 10 minutes ago, 1 hour ago, or a customized time. But you have to restore your deleted Android contacts within 30 days.
You are required to repeat the three steps of this situation one to restore your deleted contacts from Gmail to Android.
For more details about how to recover deleted Android contacts from Gmail, you can refer to restore contacts from Google to Android.
FAQs About Recover Deleted Contacts on Android
Why did I suddenly lose all my contacts?
This happens from time to time. You may have made a mistake in setting up the display of your contacts. For example, you've set it to show only contacts on the SIM card, and contacts stored elsewhere are being hidden.
How do I get all my Android contacts on my SIM card?
Go to the Contact App on your home screen, and tap Settings. You will find Import/Export contacts in the menu, tap it, and Export to SIM card. Choose the contacts you need to transfer to your SIM card and tap OK. Generally speaking, SIM cards can store up to 250 contacts, and the latest SIM cards can save 500. So please be aware of the number you are transferring.
How can I recover deleted contact on my iPhone?
If you have set up to backup the data on your phone, including contacts, to iCloud, you can retrieve the deleted contacts directly through iCloud. You can recover them directly on iCloud on your phone or go to icloud.com on your computer and sign in to your Apple ID to recover deleted files.
Does deleting a contact delete the conversation?
Deleting a contact does not clear the call history or messages between you and that person. The contact you delete will appear directly in your message history as a number without any notes. They can still be reached normally.
Can I recover deleted contacts from my SIM card?
If you have backed up your contacts to a Google Contacts or Cloud drive like iCloud, you can restore them anytime. If you don't have a backup, you can try using some data recovery tool to help you recover the data on your SIM card.
Conclusion
In this article, we introduce you how to recover deleted contacts on Android and one of the most useful data recovery tools to assist you. Following our detailed steps, we are sure you can get back your lost data without any hassle. We hope our content can help you solve the problem completely. If you have a better method or opinion you want to discuss with us, please feel free to leave your comments.

Leave your comment and join our discussion