Tutorial to Mirror Videos with Windows Media Maker, VLC, iMovie
"I want to learn the dance in a music video, but it is difficult to follow with opposite direction, is it possible to mirror the video?" We found that there are many questions about mirroring videos on forums. No matter what reasons, you can flip or mirror videos using a video editor. To help you understand how to mirror videos, we are going to tell you the multiple solutions to get what you want on Windows, Mac or online. Whenever you need to flip a video or create video mirroring effect, just pick your favorite tool and follow our guides. You will discover that it is easy to mirror a video.

Mirror Video
Part 1. How to mirror a video on computer
Today, many people have multiple digital devices, such as Windows PCs and MacBook Pro. To mirror video crossing platforms, you will need a video editor compatible with both Windows and Mac, such as Aiseesoft Video Editor. Its key features include:
1. Mirror videos horizontally or vertically in one click.
2. Keep original video quality during mirroring.
3. In addition to mirror video, provide plentiful video editing tools, such as rotate, clip, crop and more.
4. Enhance and optimize video quality after mirroring.
5. Stylize videos with plentiful video effects, watermark and text.
6. Support editing all video formats, including HD and 4K videos.
7. Available to Windows 10/8/7/XP/Vista or Mac OS.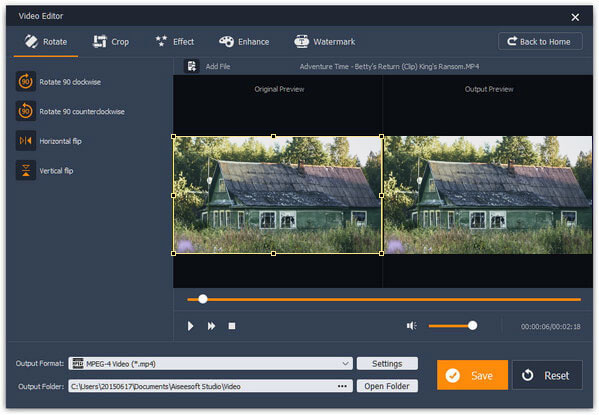 Step 1 Install the best video mirroring tool on your computer
Download and install Aiseesoft Video Editor on your computer. There is a dedicated version for Mac. Launch it when you need to mirror videos. Choose "Rotate" on main interface.
Step 2 Mirror video in one click
When the video editing window presents, click the "Horizontal flip" or "Vertical flip" option on left sidebar to mirror the video immediately. Then preview the mirrored video on right panel.
Step 3 Save the resulting video
Finally, pick a proper format in the "Output Format" dropdown list, and drop a destination in the "Output Folder" box, then click the "Save" button to export the resulting video.
Part 2. How to mirror a video in iMovie
iMovie is one of the best video editor for Mac computers. And it is an easy way to mirror videos on Mac.
Step 1 Run the iMovie application, create a new project and import the video you want to mirror into the project.
Step 2 Hovering your cursor on the video clip, you will see a "menu" icon marked with a gear. Click the menu icon and then choose "Clip Adjustments" to open the Inspector dialog. Click the button next to "Video Effect" label in the "Clip" tab. Click "Flipped" on the video effect list and then hit "Done" to mirror the video.
Step 3 Preview the mirrored video in built-in player. Go to "Share" > "Export Movie". Drop a name in the "Save As" box, pick a folder in the "Where" dropdown option. Once click the "Save" button, the output to your hard disk.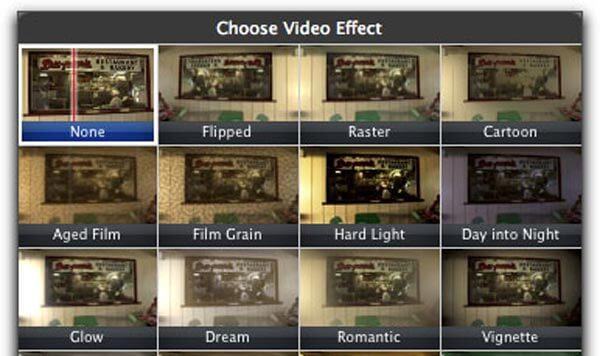 Part 3. How to mirror a video in VLC
VLC Media Player is not only a multimedia player, but also a video editor and video ripper.
Step 1 Start VLC program and go to "Media" > "Open File" to add the video file to mirror into the media player.
Step 2 Open the "Tools" menu and select the "Effects and Filters" option. On the popup window, go to "Video Effects" tab and then select "Geometry" tab. Tick the checkbox in front of "Transform" and pick "Flip Horizontally" or "Flip Vertically" from the dropdown menu.
Step 3 To add mirror video reflection effect, go to "Advanced" tab and check the box of "Mirror" option. Click the "Close" button to back to media player window.
Step 4 Finally, go to "Media" > "Convert/Save", press "Add" in "File" tab to add the mirrored video, click Convert/Save and follow the onscreen instructions to save the result permanently.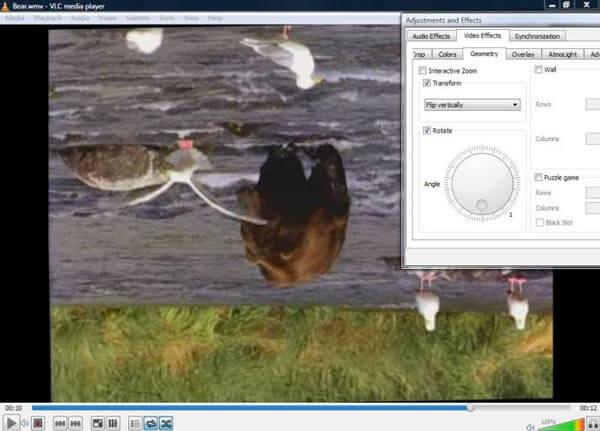 Part 4. How to mirror a video on YouTube
Though YouTube Video Editor offers several basic video editing features, such as rotate, it cannot mirror videos. But there are several online video editors have the ability to mirror YouTube videos without downloading.
Step 1 Visit www.aconvert.com in your browser, choose "Video" on left sidebar and select "Rotate" on top ribbon.
Step 2 When the rotating video window opens, paste the address of the YouTube video you want to mirror into the "URL" box. Pick the "Vertically flip" or "Horizontally flip" option from the "Transposition" dropdown list.
Tip: This online video editor supports to edit a video up to 200MB.
Step 3 Click the "Submit" button to start mirroring video and wait for the process to finish. Then you can share the resulting video to your YouTube account or download to hard drive.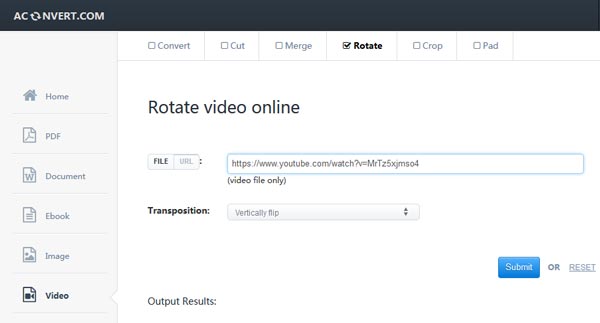 Part 5. How to mirror a video in Windows Movie Maker
Though Windows Movie Maker was discontinued officially, it is still available to Windows PCs. And it is also an easy way to mirror videos.
Step 1 Open WMM on your computer, and click the "Add Videos and Photos" button in "Home" tab to open the video to mirror.
Step 2 If you want to mirror a clip of the video, you can use the "Split" tool in "Edit" tab to trim video clip first. Go to the "Visual Effects" tab and find out the "Mirror" section. Click the "Mirror Horizontally" or "Mirror Vertically" option to mirror your video.
Step 3 In the end, click "Save Movie" and then select "Recommended for this Project" to save the mirrored video as a new file. This way will not interrupt the original video file.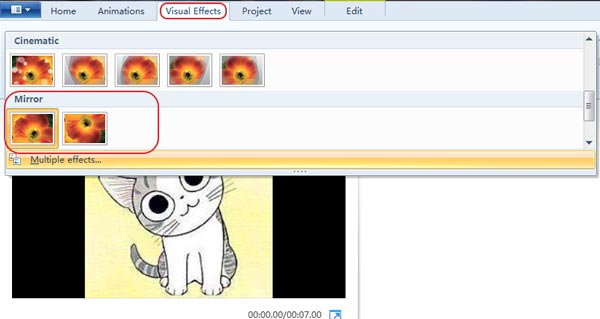 Conclusion
In this tutorial, we have shared multiple ways to mirror videos on Windows PCs and Mac computers. iMovie is a versatile video editor developed by Apple. Though you cannot flip or mirror a video with one click in iMovie, the process is not as difficult as you thought. And our guides could help you to complete it smoothly. For Windows PCs, Windows Movie Maker is a good choice to mirror videos with the Mirror effects. If you have VLC Media Player on your computer, it is able to mirror your video directly. All you need to do is to follow our guides. If you need a simple tool to mirror videos, Aiseesoft Video Editor is the best option. The biggest advantage is to protect video quality during mirroring videos. Plus, it is rather easy to use, especially to beginners.