6 Best Video Stabilization Tools on Windows, Mac, Android and iPhone
It is said that a picture is worth a thousand words, then a video must be worth millions of words. It is true that video is the better way to record wonderful moments than images and texts. However, it is another story, if the video is shaky. And this problem is common when you capture videos using mobile phone. Is it possible to stabilize videos after recording? Yes, all you need is a video stabilization application. Though there are many action cameras and advanced smartphones on market excellent on stabilization and waterproofing, you might find that video stabilization applications are necessary as well.

Video Stabilization
Part 1. What does it mean to stabilize a video
According to Wikipedia, to stabilize a video means a technique that reduces blurring and shaking associated with the motion of a camera or other video capture devices during recording. Generally speaking, this technique will compensate for pan, tilt or rotation of the camera.
In other word, stabilizing a video will remove blurring and shaking from the video and make it smoother. Though there are many video editors on market, only a few has the capacity of video stabilization, partly because this feature is complicated and needs advanced technology.
Part 2. Video stabilization software
In this part, you can learn multiple best video stabilization applications in detail.
Aiseesoft Video Editor
Aiseesoft Video Editor is one of the best video stabilization software. Its key features include:
1. Reduce shaking and stabilize the video in one click.
2. Enhance the shaky video using advanced algorithm.
3. Keep original quality during vide stabilization.
4. Offer a wide range of video editing tools, such as crop, flip, rotate and more.
5. Optimize videos for portable devices and social media.
6. Decorate videos with video effects, watermark and text tools.
7. Compatible with all video and audio formats, including 4K videos.
In a word, it is the easiest way to stabilize videos on Windows 10/8/8.1/7/XP and Mac OS.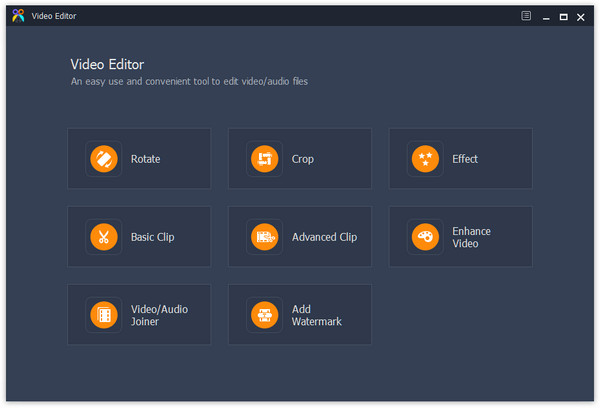 iMovie
For Mac users, iMovie is one of the best video stabilization editors. Its main features include:
1. The built-in Stabilizer is able to remove shaking and blurring from videos automatically.
2. Though the interface is not intuitive, it is easy to use.
3. The storyboard and timeline allows you to edit the video professionally.
4. And there are a lot of project templates for making home-made video professional looking.
5. It offers extensive video editing features as well, such as trim, crop, reverse, split, rotate and more.
6. After video stabilization, you can share the result to other devices, like Apple TV, iPad, iPhone or iPod touch.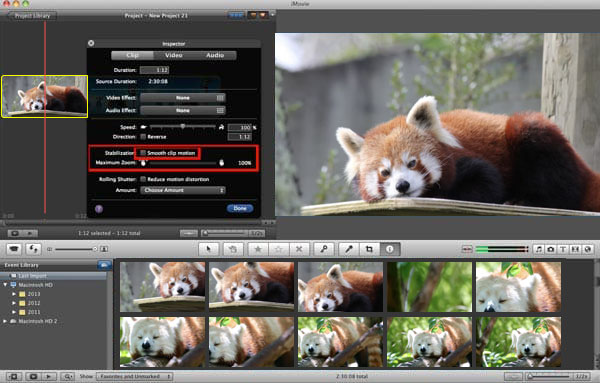 Adobe Premiere
Adobe Premiere is a professional video stabilization application. Its basic features include:
1. The Warp Stabilizer allows you to change various parameters and stabilize a shaky video.
2. In addition to video stabilization, it offers almost all video editing tools, from rotate to reverse, from adjustment to filters.
3. The custom interface permits users to redesign according to personal habits.
4. There are a lot of transitions and effects to make result video smooth and striking.
5. And you can extend this video editor via third part plugins.
6. As a professional video editor, it is compatible with all video formats, including 360-degree videos and VR files.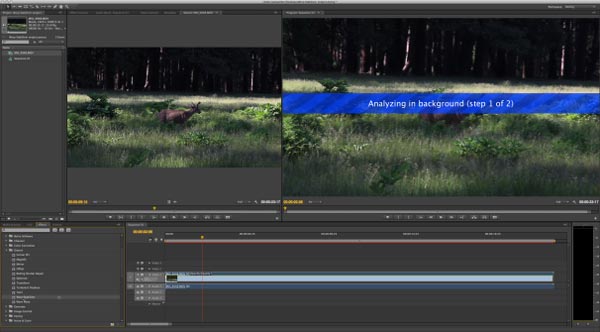 Video Smoother Stabilizer
Video Smoother Stabilizer is a dedicated tool to stabilize videos on Android. Its key features include:
1. Stabilize videos on Android devices for free.
2. Fill in the black areas caused by video stabilization using previous and future frames automatically.
3. Keep original resolution, audio and frame rate during stabilization.
4. Support MP4, 3GP, AVI, MPG, SWF, MKV, WMV and other commonly used video formats.
5. Compatible with Android 6.0 and later versions.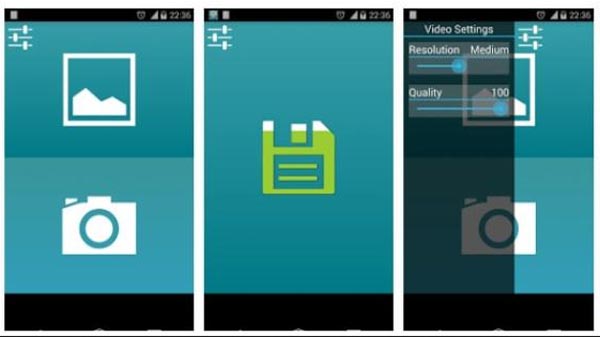 Emulsio - Video Stabilizer
Emulsio is an excellent video stabilization tool for iPhone. Its main features include:
1. Compensate horizontal, vertical and rotational camera motion.
2. Allow you to choose the stabilization strength.
3. Preview the stabilizer effect by playing the original and stabilized video simultaneously.
4. Keep the original video quality as much as possible.
5. Available to iPhone 8/7/6/6s/5/5s/5c/4s and various iPad models.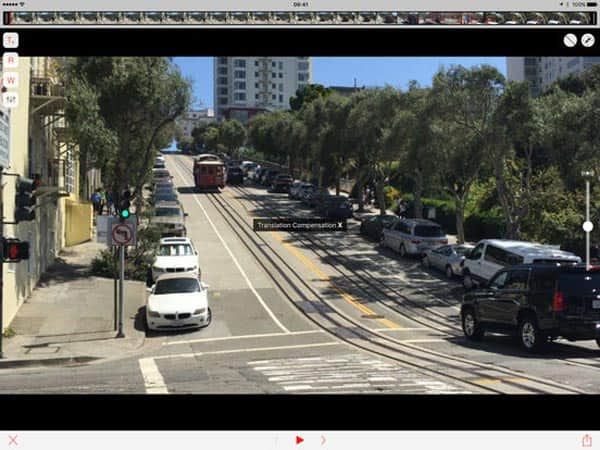 FFmpeg
For Linux users, FFmpeg is a popular video editor that has the ability of video stabilization. Its features include:
1. It uses program language to de-shake videos.
2. This video stabilizing editor supports almost all multimedia formats, like AVI.
3. It is an open-source project, so everyone could use it without paying a penny.
4. If you are familiar with program language, FFmpeg could do a lot of things related to video editing, such as crop, split, reverse, rotate, enhance and more.
5. It is not only available to Linux, but also compatible with Windows and Mac OS.
Part 3. How do you stabilize a video?
To help you understand how to stabilize a shaky video in one click, we will show you the step by step guide below.
Step 1 Install the best video stabilization application
Download and install the latest version of Aiseesoft Video Editor on your PC. If you are using Mac, there is a dedicated version for Mac. Launch the video stabilization software and select "Enhance Video" from the Home interface.
Step 2 Stabilize video in one click
When you go into the video enhance window, click "Add File" on top ribbon to import the shaky video. Then tick the checkbox in front of the "Reduce video shaking" option on left sidebar, and preview the stabilized video and the original one.
Note: You can try to select multiple options, such as "Upscale resolution", to enhance your video.
Step 3 Export the stabilized video
Pick an appropriate format from the "Output Format" dropdown menu, and drop a folder in "Output Folder" field to save the result, then click the "Save" button to export the stabilized video to your hard drive.
Conclusion
In this post, we have shared several video editors which can offer excellent video stabilization features for Windows, Mac, Linux, Android, and iPhone. With these video editors, you can remove shaking and blurring from imperfect videos. They all have some unique features, such as automatic video stabilization. You can discover your favorite tool based on the introductions above. If you need an easy-to-use video stabilizer application, we will recommend Aiseesoft Video Editor, because it supports to de-shake video in one click.