How Can I Set up Daydream on Android
Have you ever seen the screen saver on your personal computer when it is docked? There are always fun animations, interesting slideshows or beautiful landscapes filling the whole screen, at the same time serving as a password protector. As people use smartphones more frequently, some may ask, "Is there any screensaver's counterpart on Android? If any, how can I set up Daydream?" As a matter of fact, the so-called Daydream is exactly the cool screensaver for Android users, which has been overlooked by most customers. When your Android devices are charging or docking, you phone can transfer into the mode of Daydream on the premise that you have set up the Daydream function. Likewise, you are free to set your own Daydream time and the style of Daydream.
In this article, the question of how to set up Daydream will be discussed at length. What about another counterpart of screen saver for iPhone/iPad? This question will also be dealt with. At last, I will recommend an app for Android for a better experience of using Android.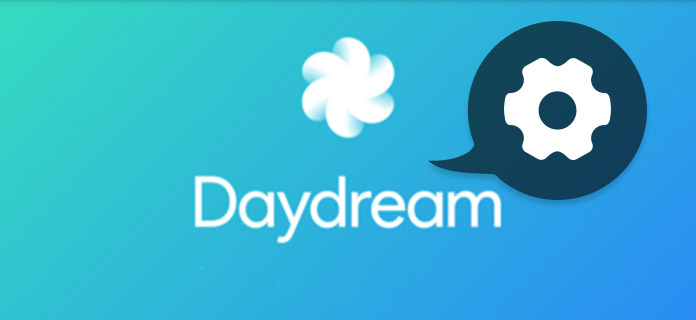 Set up Daydream
Part 1. How to set up daydream on Android?
With a few steps, you can set up Daydream easily:
Step 1 Find the "Setting" button
To set up Daydream, turn on your Android device on the Home Screen. And find the gear-like "Setting" button. There's another measure: Swipe down the bar on the top of the screen to open the notification. You will find the gear-like "Setting" button on the right corner at the top.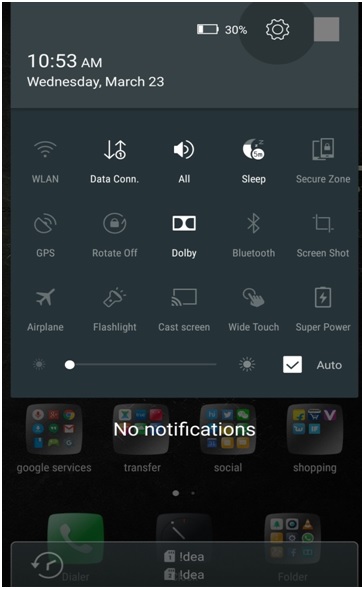 Step 2 Enter the "Display" area
Drag down until you notice the "Display" button, click and enter. There are several parameters you can adjust, including setting up Daydream. Tap "Daydream", under which you can find the note "Off".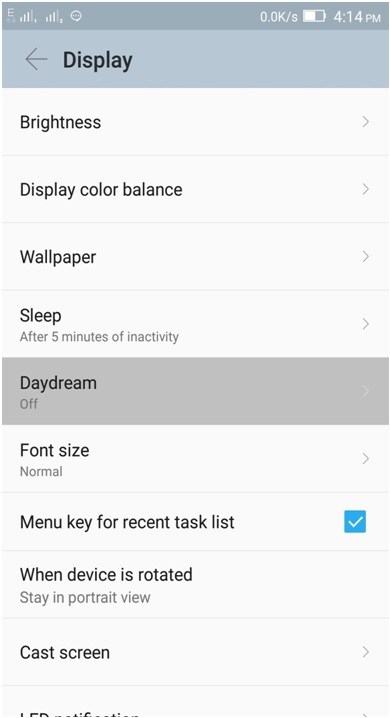 Step 3 Set up the Daydream
An almost blank page with a line noted "To control what happens when the phone is sleeping during charging, turn Daydream on" will appear. Tap the grey switch to turn into the Daydream mode.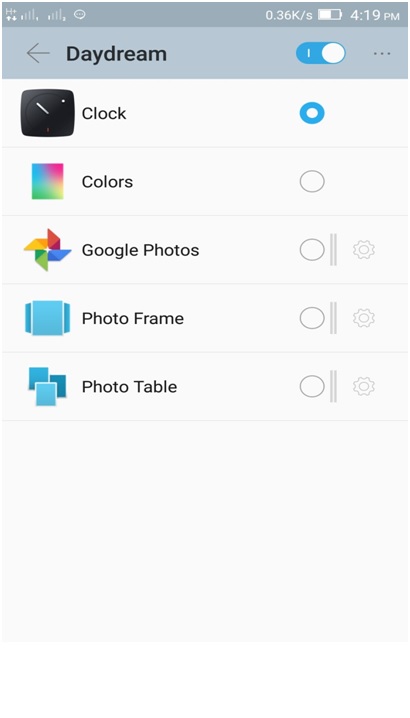 Step 4 Choose the app during setting up Daydream
After turning on the Daydream mode, more settings will come forth in this page, which covers Clock, Colors, Google Photos, Photo Frame, Photo Table and so on. Choose one to do more settings.
Step 5 Select the photos you want during Daydream
In most cases, the default setting of Android devices is displaying Clock during charging, docked or either. Here I will teach you how to select photos or animations you want during setting up the Daydream time.
First, tap the "Photos" instead of Clock and click the setting button next to the circle button as the picture showed below. Then, among the options, choose a specific album or collection.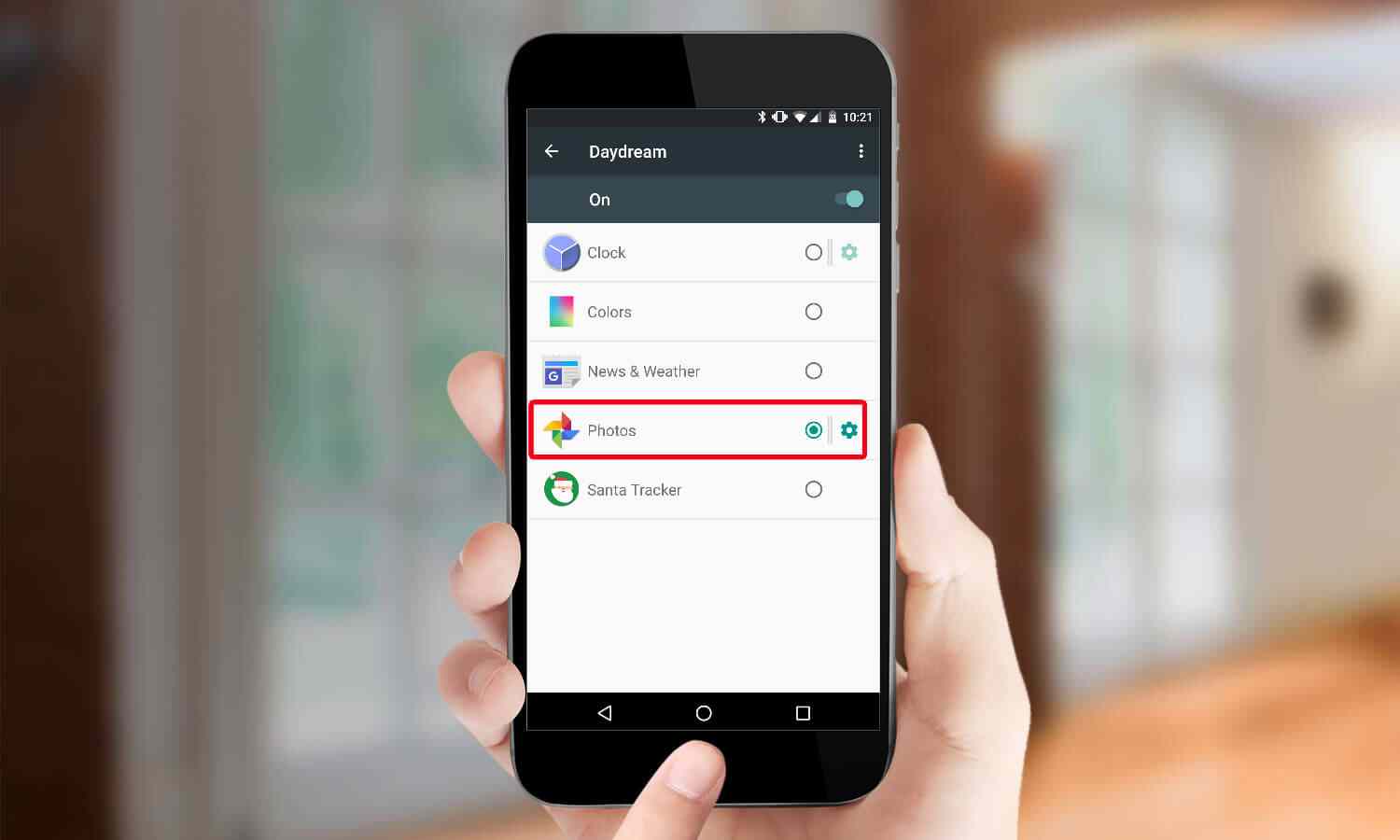 Step 6 Set up the Daydream time
Go back to the Display area. On the right corner at the top, tap the three-point button. Choose the second line "When to Daydream".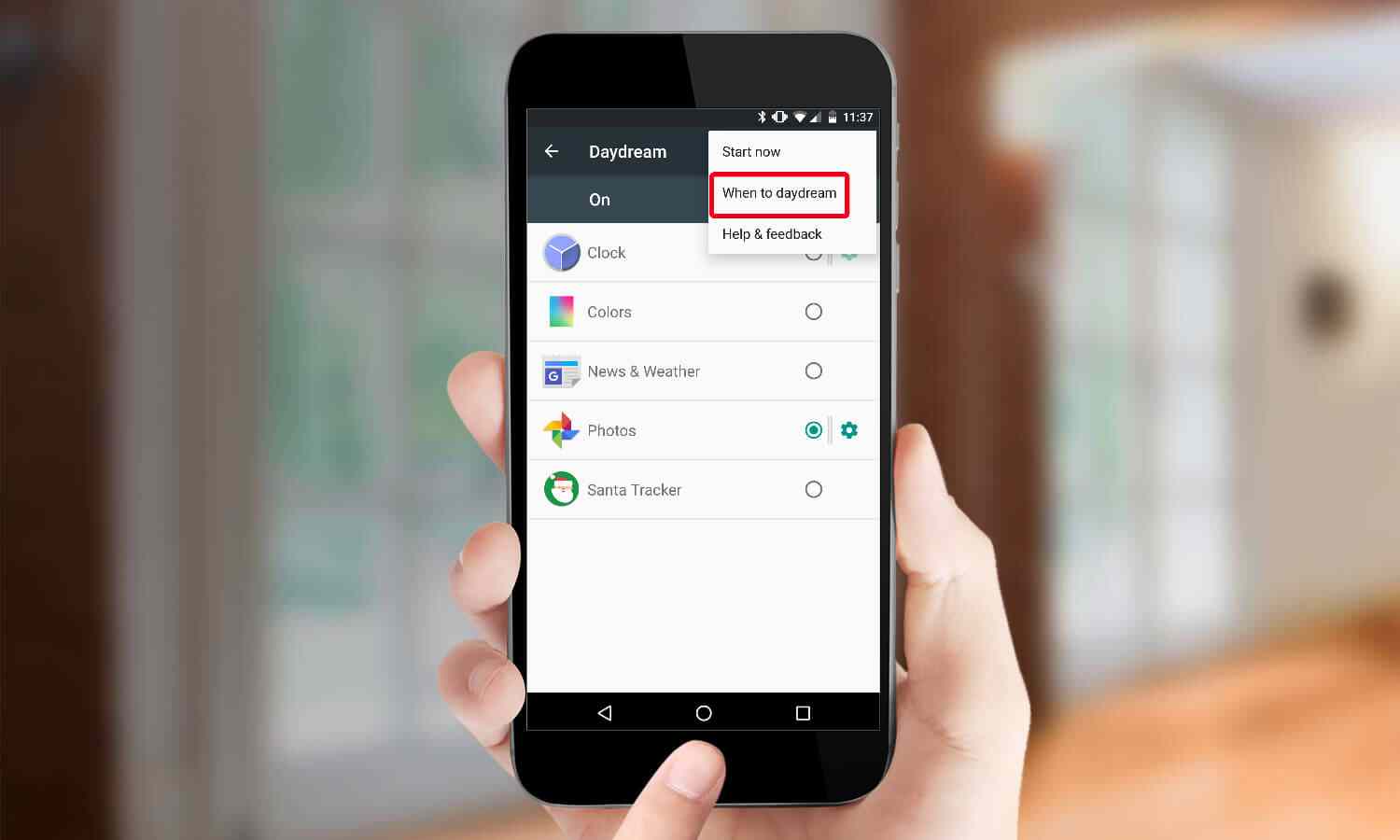 And 3 options will emerge, including "While docked", "While charging", "Either". You can have your choice.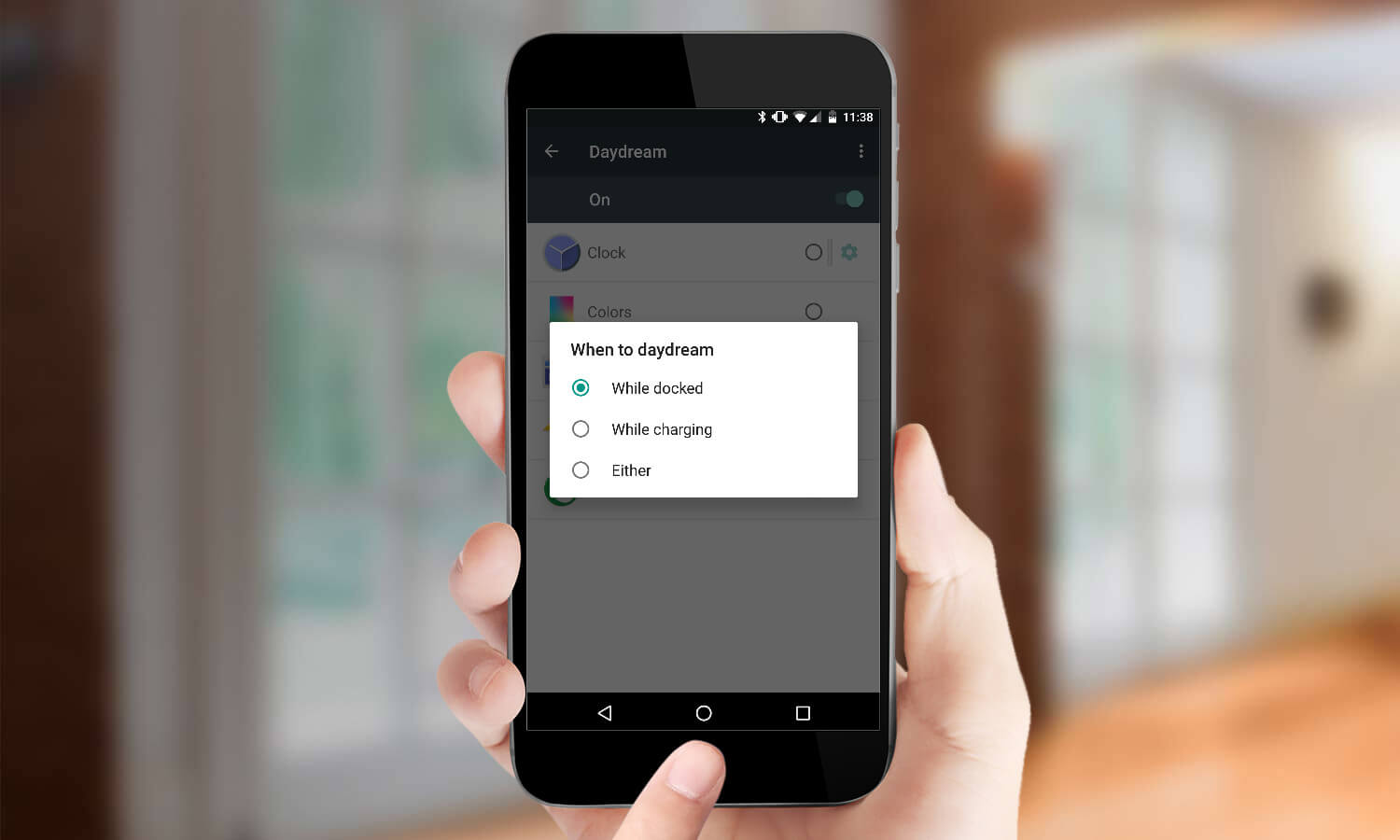 Step 7 View the Daydream
After finishing all steps of setting up Daydream presented above, go back to the Home Screen. Try to charge your Android device to launch Daydream.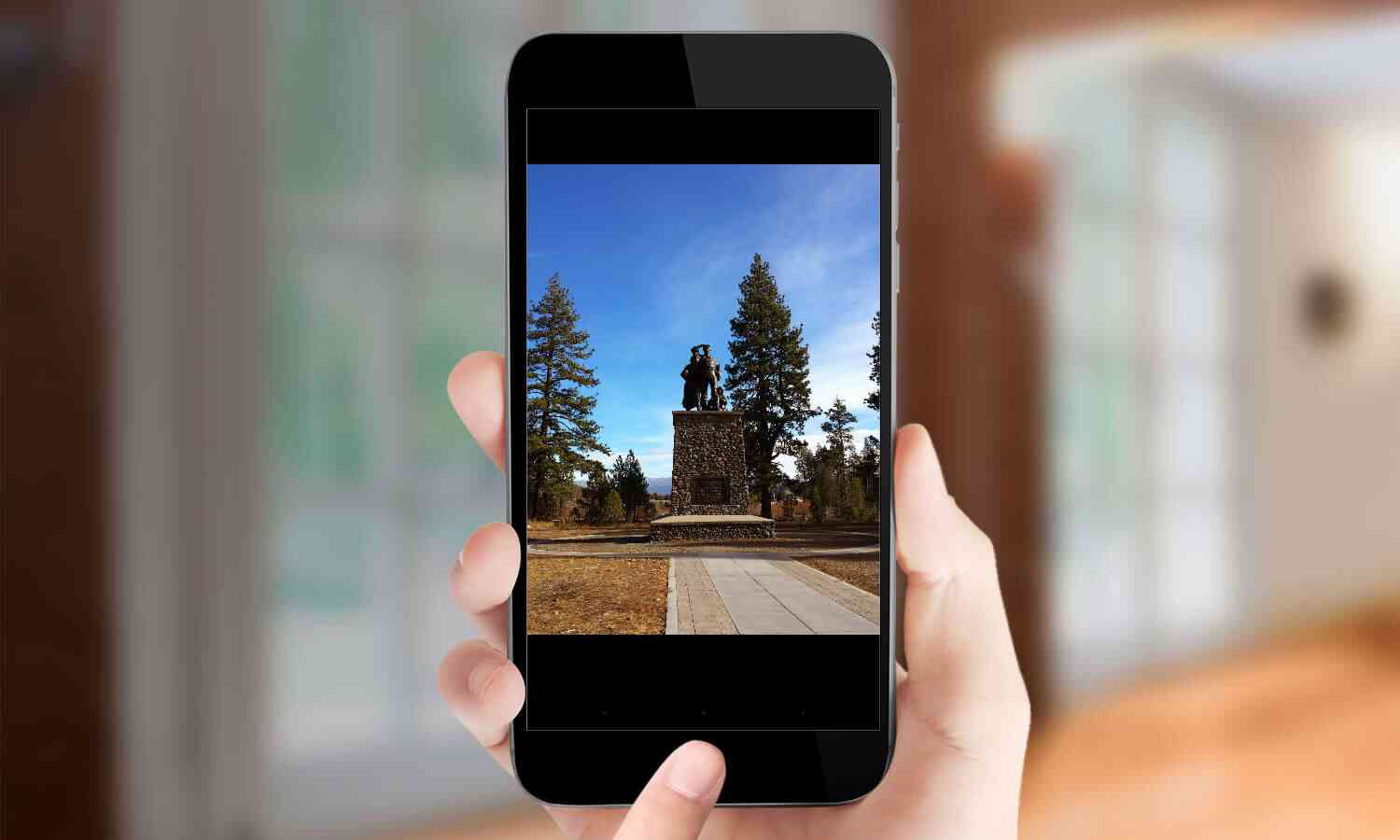 Now, all the steps have been shown above. In fact, it is easy to set up daydream as long as you follow the steps closely.
Part 2. Can I put an iPhone in Google Daydream?
Having read the tutorial of how to set up Daydream on Android devices, someone may ask, "What if I want to set up Daydream on my iPhone or iPad?", or "Is there any ways to set up Daydream on my iPhone or iPad?" As we all know that, iPhones or iPads are not the Daydream ready phones. So, you are allowed to set up Daydream on iPhone/iPad, though, with a few limitations. And it is feasible to download Carboard apps on the Google Play Store, while the specific Daydream apps are not able for you to download, though.
Part 3. Recommendation: FoneLab for Android
After knowing a cool but hidden feature – setting up Daydream for Android devices, it is also an overriding importance for you to learn how to protect data on your Android. In respect of protecting data, recovering deleted photos, videos, text messages or other files seems helpful. Therefore, I want to introduce the FoneLab for Android to you.
FoneLab for Android is a versatile software that can back up important data to your computer or Mac, and restore volumes of text messages, music, videos, photos back onto your Android. FoneLab for Android is the ultimate option to get rid of the problem of data loss. Still worried about how to deal with accidental deletion text messages or contacts? Have no idea of what to do about the lost documents? Download FoneLab for Android, and with a few click, your lost data will be back completed soon.
Main features:
1. Recover photos and images without resolution loss.
2. Chat history and attached photos or videos can be restored.
3. Compatible with almost all Android devices, such as Samsung, Huawei, Sony and so on.
4. Manage your important data for spare data.
5. Back up the existing data without rooting your Android devices.
6. It also has the counterpart of iOS system.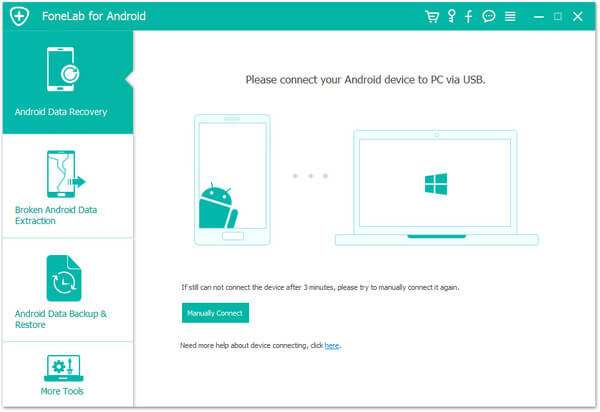 Conclusion:
The function of setting up Daydream can be regarded as cool, which makes your charging time fun. And the detailed steps about how to set up Daydream are rather simple and easy to follow. If you are ready to have your Daydream setup, just follow the steps described above. In addition, to protect your Android data well, you are advised to use the FoneLab for Android to back up and restore deleted data. Just have a try.