An Ultimate Guide on How to Sharpen A Video Easily and Quickly
Technology has made our life easier and more efficient. Nowadays we are able to shoot videos with smart phones anytime and anywhere. But even though we have the best device and under the best lighting conditions, there will still be some problems with our videos, such as the exposure or out-of-focus issue. This kind of video needs further editing like sharpening to be more focused and clear. I believe that most people all over the world have the habit of editing photos and videos to make them better, before they upload them to social networks. So how to sharpen video and what kind of video editor is good to choose? This article will tell you the answer.

Part 1: Adobe Premiere
Compatibility: Windows, Mac
Adobe is one of the most experienced companies in video-editing software production. Adobe Premiere is an advanced video-editing program that has good usage on video sharpening. It has various editing features and customizable effects to help you edit and enhance your video. So when you need to sharpen a video, Adobe Premiere can do a good favor.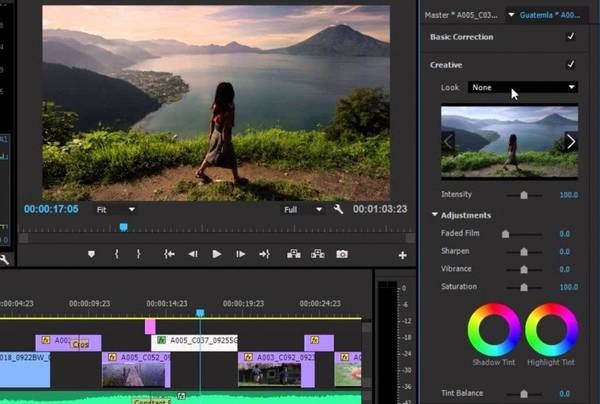 How to sharpen a video with Adobe Premiere?
Step 1 Install and run Adobe Premiere.
Step 2 Import the video you want to sharpen and put it on your timeline.
Step 3 Find the Lumetri Color effect, then drag-and-drop it to your video. From "Effect Controls", click on the Lumeri effect and add masking to the video part that you want to emphasize.
Step 4 Hit "Adjustments" and move the sharpening slider from left to right to adjust the sharpening level according to your demands.
Part 2. Samurai Sharpen
Compatibility: Windows, Mac
As its name suggests, Samurai Sharpen is a video editing tool especially designed to sharpen videos when your video is a little soft or out-of-focus. You are allowed to sharpen videos quickly with tools designed to let you easily isolate specific areas of the footage and only sharpen those areas.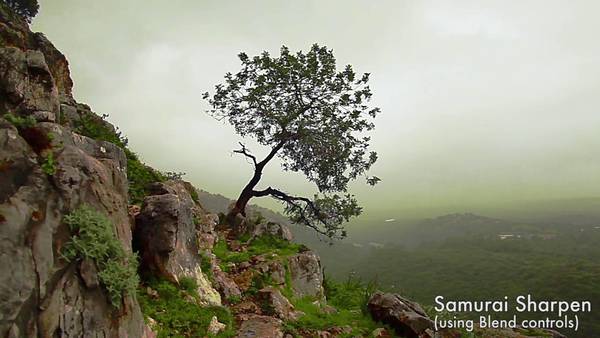 There is a Plugin Demo for you to try all the tools and functions of Samurai Sharpen. You can fully understand how this video sharpening tool works before purchasing it. Note that the only difference between a purchased product and the demo is a watermark. But I think it has little influence if you want to experience the powerful sharpening feature of Samurai Sharpen. There are also different kinds of tutorials available to help you learn how to use Samurai Sharpen to enhance and sharpen details in your footage.
Part 3. After Effects
Compatibility: Windows, Mac
After Effects is another video editing application developed by Adobe. It is mainly used in the post-production process of filmmaking and television production. Apart from its basic video editing tools, you can also use it as an audio editor and media transcoder. What's more, it is also a good alternative to video sharpening software since it contains the powerful feature to sharpen the blurry part of a video.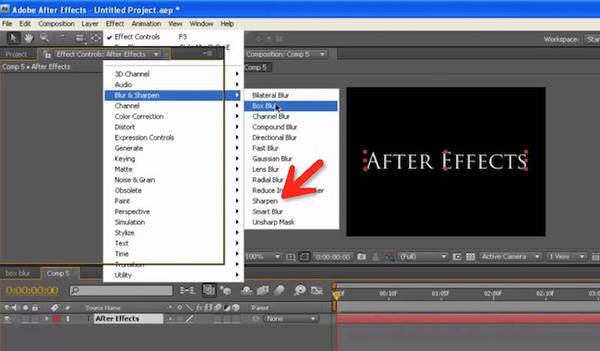 How to sharpen video with Adobe After Effects?
Step 1 Install and run After Effects.
Step 2 Import your video clips by clicking the Create New Composition button.
Step 3 Click the Edit button, click on Duplicate and rename the first layer with the name you prefer.
Step 4 Now disable the layer you just renamed by turning off the eye icon. Navigate to Layer > New > Adjustment Layer then drag it down so it's in the middle of the two. Highlight the Adjustment Layer and search for Levels under Effects & Presets.
Step 5 To sharpen your video, drag the slider under Histogram to the right. Meanwhile, you can set the value of exposure and saturation on their corresponding tabs and select a subject you like with the Pen tool. Once done, press on the "F" key and adjust the feather mask. Finally, hit the eye icon to apply the "Unsharp Mask" effect at 200%.
Part 4. Sony Vegas
Compatibility: Windows and Vista
Sony Vegas is a professional video editor which aims at producing high-quality HD videos. It has flexible interface and smooth editing. There are several windows that enable you to preview your media and current work, as well as a timeline to organize various video and audio tracks. Last but not least, it also has a strong ability to sharpen videos.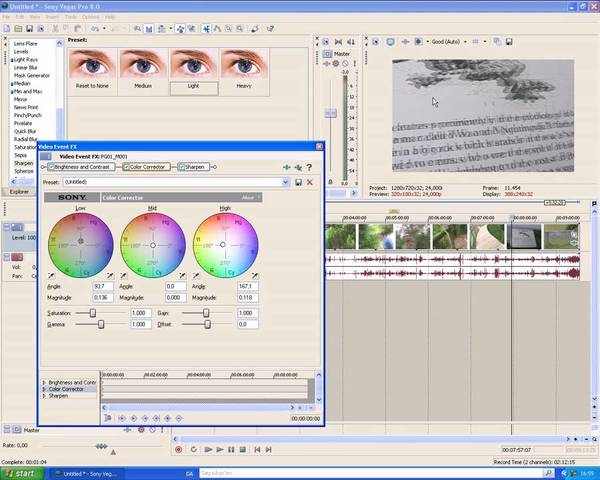 How to sharpen video with Sony Vegas?
1. Install and run Sony Vegas.
2. Drag the video needs to be sharpened to the timeline of the Sony Vegas.
3. After the video is loaded, proceed to Video FX and scroll down to find the Sharpen effect. Then drag it to your video and a new window will pop up to let you choose the controls for the effect.
4. Drop down the preset and choose the sharpening level among Light, Medium and Heavy. There is also a slider available with which you can set the intensity of the sharpening as you like.
You may be interested in: Sony Vegas VS Adobe Premiere.
We have recommended 4 video sharpening programs above. To be honest, none of these video editors are free. If you have the need to sharpen video but you don't plan to spend too much on it, Adobe Premiere can be a good option. It's $19.99/month. Besides, Samurai Sharpen is also a professional video editing tool with powerful video sharpening feature. It's cost $99, which is much economical and affordable compared with Sony Vegas, which is $599, let alone there is no Mac version available for Sony Vegas. After Effects is $239.99, which is also a bit expensive. It also requires users to have intensive knowledge of video editing if you want to use it to sharpen video smoothly.
Anyway, you can try each video sharpening tool mentioned above one by one and pick the best one for yourself. We will keep updating this review if we find more cheaper and useful video sharpening tools in the future.