5 Best 3D Video Editors
Now, most social media platforms allow users to post short videos. According to a recent survey, people share hundreds of millions of video clips to Facebook and other websites. In result, your videos may be submerged like most video clips. That is why more and more people look for new video technology.
3D video is one of appealing video types. Google even has added a 3D channel for the most popular online vidoe site. However, 3D video is so professional that most video editing software cannot process it. In this article, we are going to identify and share 5 best 3D video editors.

3D Video Editor
Part 1: What is 3D video editor?
3D video, standing for three-dimensional video, is a motion video that enhances the illusion of depth perception, hence adding a third dimension. A 3D video editing application has the capacity to process 3D videos using special technology. Since 3D videos have more dimensions than standard videos, you have to use dedicated 3D video editing software to process them.
Part 2: Top 5 3D video editors
There are hundreds of video editors on market; however, only a few is able to deal with 3D videos. In this part, you can get 5 top 3D video editors.
Top 1: Aiseesoft Video Converter Ultimate
Aiseesoft Video Converter Ultimate is the highly-recommended 3D video editor for both Windows and Mac users.
Convert standard videos to three-dimension videos in one click.
Import videos from optical discs and local hard drives.
Offer extensive video editing tools, like crop, clip, merge and more.
Support over 1000 multimedia formats and portable devices.
Keep the original video quality when editing 3D videos.
All in all, Video Converter Ultimate is the easiest way to make and edit 3D videos on Windows 10/8/8.1/7 and Mac OS X.
Top 2: Adobe Premiere Pro CC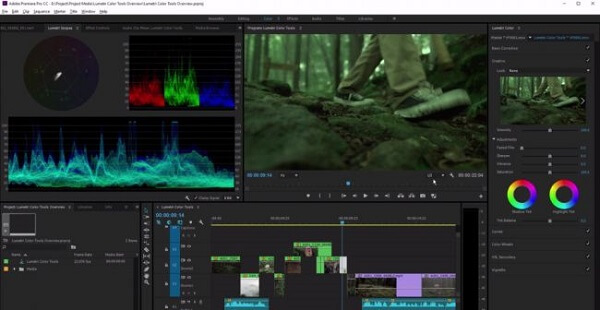 Main features:
1. Integrate plentiful video editing tools for designers, bloggers and film makers.
2. Add support for 3D videos, 360 virtual reality content, 4K, and HDR videos.
3. Work on almost all video and audio formats, including HEIC, Sony Venice v2, etc.
4. Extend your video editing platform between mobile and desktop via cloud.
Pros
1. As a professional 3D video editor, Premiere Pro CC has a clear and flexible interface.
2. It contains lots of video editing tools.
Cons
1. Premiere Pro CC is an expensive pro-level video editor and not suitable for average people.
2. It requires professional hardware and takes much time to process videos.
Top 3: Corel VideoStudio Ultimate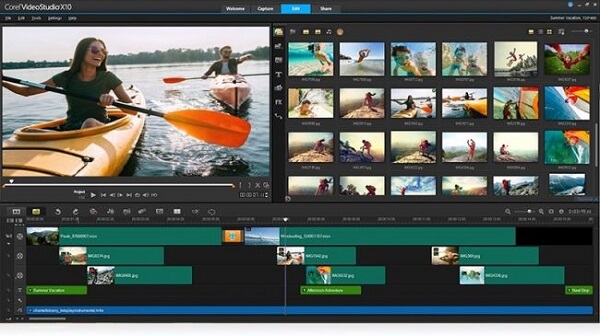 Principal features:
1. Built-in a lot of pro-level tools to edit standard and 3D videos.
2. Split screen into several parts and load multiple images in one frame.
3. Support 3D videos, 4K, 360-degree VR videos and Ultra HD videos.
4. Correct action-cam lens using advanced algorithm.
Pros
1. The feature of multipoint motion tracking is powerful.
2. The 3D video editing software works on plentiful output formats, including HTML5 videos.
Cons
1. It takes long time to render a 3D video.
2. Users can only edit videos on up to 20 video tracks.
Top 4: CyberLink PowerDirector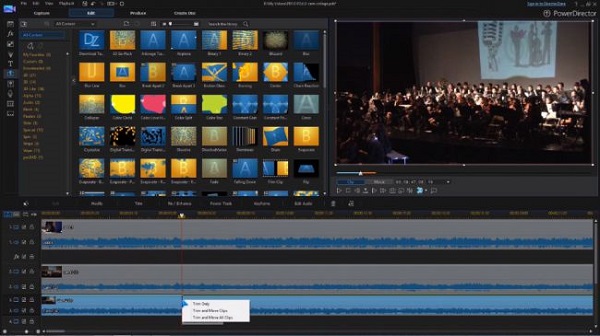 Basic features:
1. Edit 3D videos, 360-degree footage, 4K and Ultra HD videos easily.
2. Stabilize motion, object tracking and titling, and more.
3. Change the video's viewing angle by adjusting the X, Y and Z rotation.
Pros
1. The interface is intuitive and easy to navigate.
2. This video editor uses advanced editing control over 3D footage.
Cons
1. The color matching feature is weaker than other best video editors.
2. You cannot find trimming in source panel or any other place.
Top 5: Pinnacle Studio Ultimate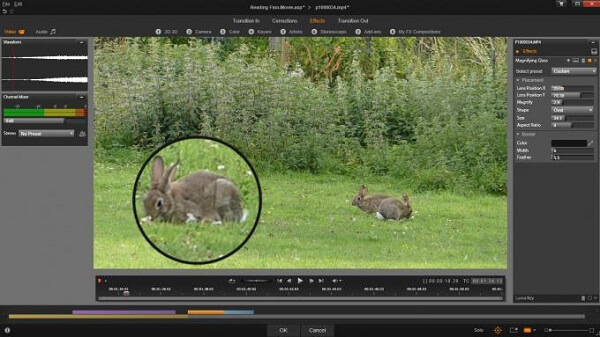 Attractive features:
1. Enhance motion tracking, 3D videos and 360 footage support.
2. Built-in color correction, color wheels, and color-grading tools.
3. Mark multiple in and out points using the four point editing tool.
4. Contain plentiful effects for 3D video and 360 footage.
Pros
1. This 3D video editor performs fast rendering in our test.
2. It includes oceans of video effects.
3. Users are allowed to add tagging on 3D videos for sharing on social media.
Cons
1. Users reported that it crashes occasionally, especially when editing 3D and 360-degree videos.
Part 3: How to edit 3D video
We use Video Converter Ultimate as the example to show you how to edit 3D videos simply.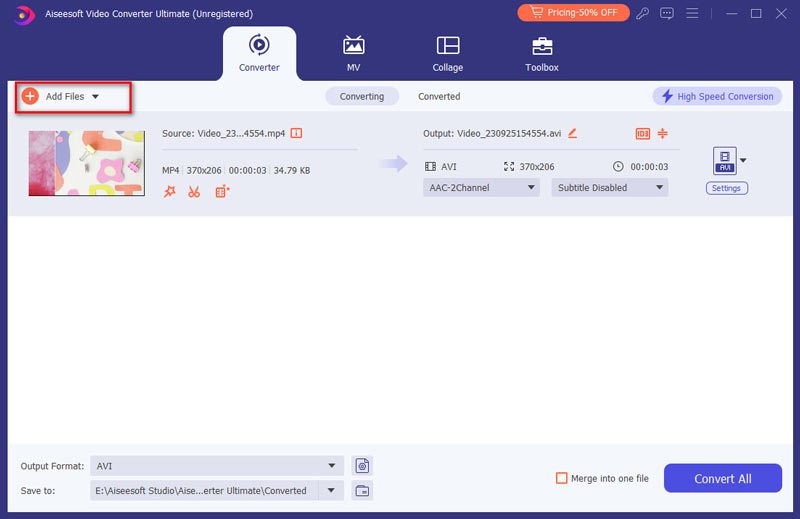 Step 1 Install the easiest 3D video editor
There are two versions of Video Converter Ultimate, one for Windows 10/8/8.1/7 and the other for Mac OS X. Get the right version and install it on your computer. Then start the 3D video editor and click the Add File menu to import the videos you want to edit.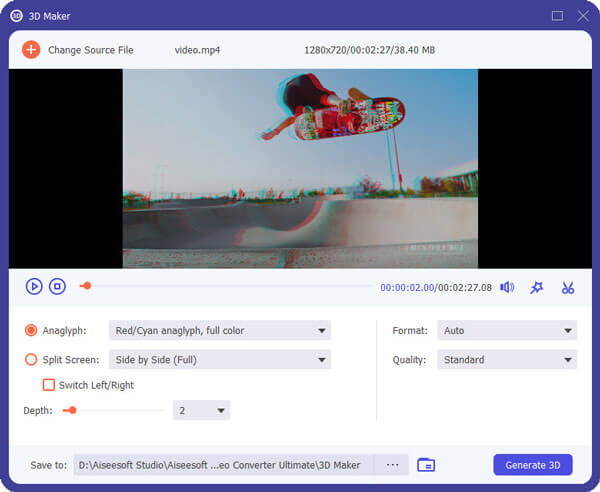 Step 2 Edit videos and turn it to 3D mode
Select one of the video in the media library panel, and hit the 3D menu on the top ribbon. That will open the 3D video editing window. Check the box next to Enable 3D Settings. Then you can adjust other options to get the desired effect, like Anaglyph, Depth, and more. Click the Apply button to confirm the changes.
Tip: If you want to edit the video before changing it to 3D mode, press the Edit menu to open it in the video editing window.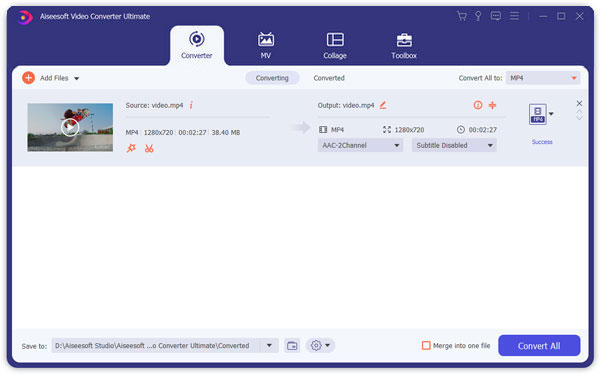 Step 3 Export 3D videos
After going back to the home interface, locate the bottom area. Pick up a proper video format or target device from the Profile dropdown list. Hit the Browse button and select a specific location to save video outputs. Finally, click the Convert button to export the 3D videos.
Note: You can find other custom options in the Profile Settings dialog by hitting the Settings button.
Conclusion
Based on the sharing above, you might grasp at least 5 ways to edit 3D videos on Windows and Mac computers. If you want to attract attentions on social media, the 3D video is a good option. Our reviews are based on lab testing and hundreds of users' reports. You can read our reviews and discover a proper 3D video editor to make awesome videos. If you have more questions related to 3D video editing, please leave messages below this post.