Top 4 Methods to Delete Unwanted Apps on iPhone 7/8/X to Release More Space
It is always a headache issue on how to free up more space for iPhone. Hide, offload, delete or clean up Apps on iPhone is an easy thing to get more space for iPhone. But few new iPhone users, or even the Apple fans have a full knowledge about the ultimate guide for it. Besides, Apple released a new version of iOS 12, which enables you to delete some of the build-in iPhone Apps now.
The article lists top 4 methods to delete Apps on iPhone 7/8/X. When you need to remove all the data and documents, or remain the important files and clean up all unwanted files, you can always find a solution. If you want to get rid of some unwanted Apps or clear up more space, you can check out the solutions from the article now.

How To Delet Apps On iPad iPhone
Part 1: How to delete and uninstall Apps on iPhone 7 with "X" mark
If you download an App by mistake or remove an App that you don't like, you can simple press the "X" to delete Apps on iPhone. But as for iPhone 7/8/X or above versions, when you press too firmly, it will launch the "Quick Actions" menu.
Step 1 Tap and hold the App you want to delete, when the App start to shrink, you can find an "X" at the upper left corner of the App.
Step 2 Press the "X" to delete the App on iPhone 7. There is a popup message that "Deleting this app will also delete its data". If you want to remove the App without problem, you can confirm the action with the "Delete" button.
Step 3 If there is a "Done" option, you need to click it. You can always go back to the Apple store and download the App again if you delete the App by mistake.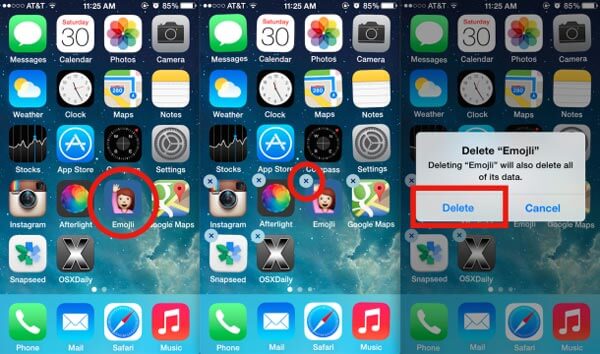 Will the data of iPhone be removed completely? Once you click the "X" icon to delete Apps on iPhone, the app itself is still tied to your Apple ID. You do not have to purchase it again if you re-download the application. It is the easiest method to remove Apps from iPhone. Most of the iPhone users are familiar with the method only.
Part 2: How to delete Apps on iPhone 7 in a batch of processes
When you need to delete multiple Apps on iPhone or other iOS devices at the same time, you can also go to "Settings" to remove them in batch. As for the case, you can know the size for the deleted Apps and contents. It should be a convenient method to free up more spaces for your iPhone. Here is the detailed steps you should know.
Step 1 Go to "Settings" > "General" > "Storage & iCloud Usage", select the "Manage Storage" option to manage all the applications within a batch of processes. Due to the different operation systems, you might find slightly differences for the names of the options.
Step 2 Check out the list of applications on your iPhone 7, you can find the detailed information about the data usage. After that you can choose "Delete App" or "Offload App" option to release up space.
Step 3 When you choose the "Delete App" option, you can go through a list of apps in a batch of processes. Moreover, you can release the size of space according to your requirement for an update of iOS or others.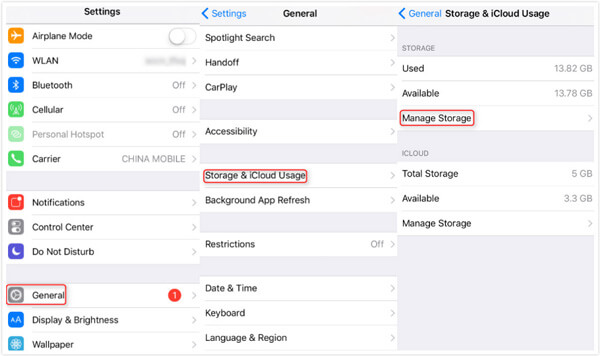 Part 3: How to offload an unused iPhone 7 app to free up space
Actually you do not always to delete Apps on iPhone in order to release up more space. If you have difficult to choose the Apps to delete, you can offload them first.
Step 1 Just go to "Manage Store" with the same process. When you click the App you want to remove, you can find the "Offload App" option. You can get the information for both "App Size" and "Documents & Data".
Step 2 Choose the "Offload App" or "Offload Unused Apps", you can enable the option to delete the Apps on iPhone, but keep its document and data. When you have some important files created by these apps, you can choose the option.
Step 3 When you want to get back the deleted files, you can simply re-download them from App Store. In the way, you can remain the files safely when you release up space for another purpose.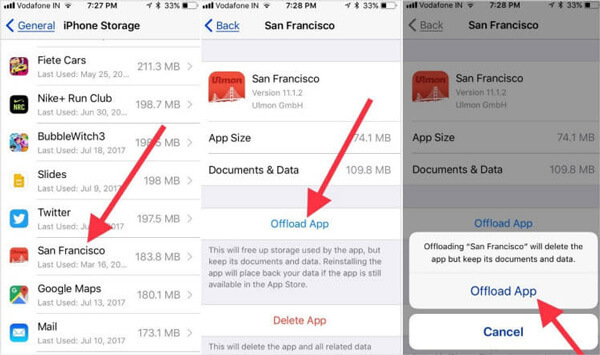 Part 4: How to delete iPhone 7 Apps permanently
What should you do if you need to clean up all iPhone Apps for others, or resell the iPhone 7 on Amazon or EBay? It is difficult to delete Apps on iPhone 7 one by one. Even if you delete them in batch, others still have chance to get the information from the iPhone. If you need to ensure everything in the App is removed, some professional iPhone erasers are required to get rid of these recoverable files.
Aiseesoft FoneEraser is an ultimate utility to clean up iPhone content and settings permanently and thoroughly. What is more, if you want to delete some App with virus on iPhone, you can also find the anti-virus feature to get rid of unknown virus for iPhone. When you delete iPhone Apps and other settings with Aiseesoft FoneEraser, you will bring the iPhone to a brand new condition.
1. It will erase a variety of iPhone content, including iPhone Apps, contacts, text messages, call histories, notes, TV shows, music video, etc.
2. Wipe out all iPhone 7 content and settings and ensure your files on iPhone 7 are unrecoverable, which protect your private information without leakage.
3. 3 different erasing mode to meet your personal requirements, low level to overwrite and delete all Apps with a short time, or a thoroughly overwriting to get your device started with a clean slate.
4. Not only for delete Apps on iPhone, you can also use the program for iPad or iPod on different Windows operation systems.
Step 1 Before you start the erasing process on iPhone 7, you should know that the program would wipe out all iOS contents and settings. After that you can download and install the program on your Windows, launch the program to get rid of the applications and other data.
Step 2 Connect iPhone 7 to your computer with the original USB cable. The program is able to detect the iOS devices automatically. Moreover, you can also connect several iOS devices with the computer to remove Apps simultaneously.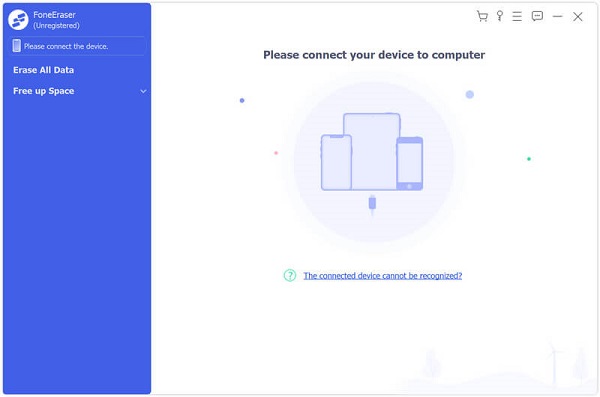 Note: As for iOS 6 or lower versions, you need to unlock the iPhone beforehand. iOS 9 or above versions, besides unlocking the iPhone, you have to tap "Trust" on your device before connection.
Step 3 Choose the desired erasing level to delete Apps on iPhone 7. There are 3 different levels to erase your content and settings. Low level only enables you to overwrite all data on device with zero files, which cannot be recovered. As for the Medium level, it will remove the junk files as well. The High Level applies the U.S.Dod 5220.22-M standard. It is recommended to back up all the files before erasing.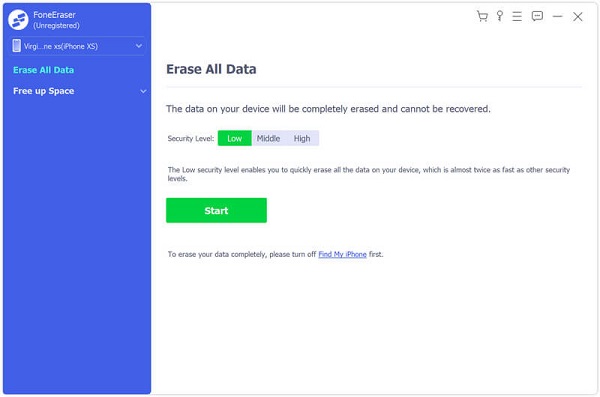 Step 4 Delete Apps on iPhone 7 without track
Click the "Start" button after choosing the erasing level. It will remove the Apps on iPhone 7, junk files as well as the other settings and content. Once complete, you have completed the whole process of erasing everything on your iOS device.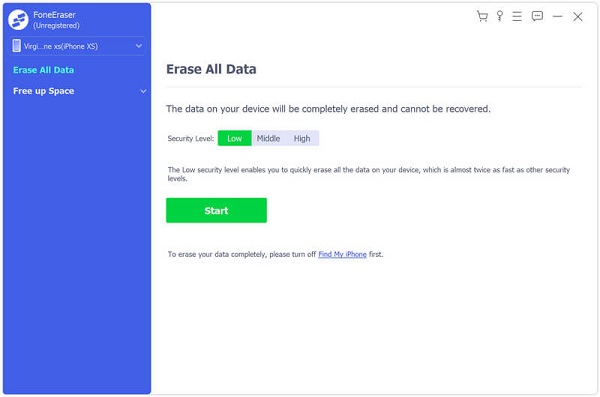 The default solution to delete Apps on iPhone 7/8/X is the Low level, you can click the "Menu" on the upper right corner to choose another level. You can also make general settings for your preference, such as set local path and format for saving exported erasing history.
Part 5: Tips about delete the build-in iPhone Apps
"When I delete Apps on iPhone, I remove the Weather App by mistake. As far as I know, the build-in app cannot be removed. What should I do to get the files back?"
Can I delete the build-in Apps on iPhone? Actually you might find some build-in Apps useless, such as the "Podcasts", "Reminder", "iTunes Store". When you upgrade to iOS 12 or later, you can delete some apps on iPhone now. If you are still using iOS 10, you can remove build-in apps from Home screen on your device, but you cannot delete them.
Just use the same process to delete build-in Apps on iPhone with "X" mark, but it will affect the other system functionalities. Here are the tips you should know when you want to delete the build-in Apps on iPhone.
1. The contacts information will remain in iPhone App even if you delete the Contacts App.
2. When you delete the FaceTime app, you can get FaceTime calls in the Contacts and the Phone App.
3. If you delete the Apple Books, Maps, Podcast and Music Apps, these apps will no longer available with CarPlay.
4. Once you delete an App on iPhone, it will be removed from your Apple Watch as well.
5. When you need to delete Stocks or Weather App, you will not receive the notifications in Notification Center on iPhone.
conclusion
If you need to delete an App on iPhone 7/8/X, you can simply find the "X" icon to remove the App together with its content. When you need to release up more space for an iOS update or other purposes, you can remove the Apps in Settings of your iPhone. Of course, if you have some important files within the unwanted iPhone, you can use the Offload feature to delete the App on iPhone only. In order to clean up your Apps, Aiseesoft FoneEraser should be the ultimate program you should take into consideration. It will remove all the contents and settings to ensure the safety of the private information.
You can also find the latest updates for iOS 12 related to delete some default or build-in application. When you want to remove these applications, you have to pay attention to the potential problems. The article is an ultimate guide about how to delete Apps on iPhone 7/8/X, if you have any other query for this, you can leave more detailed comments, the article will update with the required information later.