5 Best Solutions to Make Samsung Messages Backup
Summary: In case important data loss on your Samsung phone, you may consider backing them back. This post will show you how to easily make Samsung messages backup to deal with various issues. 3 best SMS backup apps are recommended to help you back up different messages on Samsung Galaxy S9/S8/S7/S6/S5/S4/S3 and Note phones.
"I am a Samsung Galaxy S8 user and always using the SMS Backup & Restore app to back up all types of text messages on this Android phone. But recently, I noticed that this message backup app can't detect and backup the T-Mobile RCS messages. Is there any good alternative to make the Samsung phone messages backup?"
"I want to backup text messages on my Samsung Galaxy S6 but don't know how? Is there any trust-worthy Android backup app? It will be great if there is an official Samsung data backup service. Any help?"

Unlike photos, videos and other files on your Android device, messages can't be directly transferred between Samsung Galaxy phone and computer. So when it comes to Samsung messages backup, you may have no idea how to do it, and which Android data backup app you should use.
Basically, you get two ways to back up your Samsung messages, sync way and transfer way. You can make Samsung messages backup by syncing with Samsung Cloud or Google service. Or you can transfer text messages from Samsung phone to computer through Smart Switch.
It's very necessary to make various Android data backups regularly. Now you can take the following guide to back up Samsung messages.
Regular way to make Samsung messages backup with Samsung Cloud
Before you back up Samsung messages and other data to Samsung Cloud, you need to register a Samsung account. Then you can follow the next steps to backup your text messages.
Step 1 First, you need to log into you Samsung account. You can tap on Settings > Cloud and Account > Accounts > Samsung account to sign in your personal account. Also, you can create a new account here.
Step 2 Back to Cloud and Account option and choose Samsung Cloud. Here you can choose Messages (SMS) in the Backup Settings.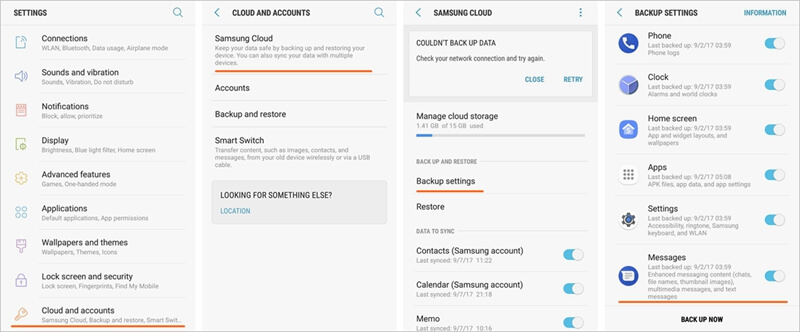 Step 3 Tap on Back up now to start making Samsung messages backup. You can turn on the Auto Back Up feature to automatically backup messages on your Samsung Galaxy phone.
Professional way to back up text messages on Samsung Galaxy phone
If you want to back up messages on your Samsung device to computer, you should pay more attention to this part. Here we sincerely recommend the powerful Android Data Backup and Restore to help you make Samsung messages backup. It has the capability to back up various Android files like contacts, messages, call logs, pictures, videos, audio and documents in one click. Moreover, it enables you to view these data and selectively restore Android files.
Step 1 Free download, install and run this Samsung messages backup software on your computer. Connect your Samsung Galaxy S9/S8/S7/S6/S5/S4/S3 or Note series to it with USB cable. When you enter the main interface, choose the third option Android Data Backup & Restore.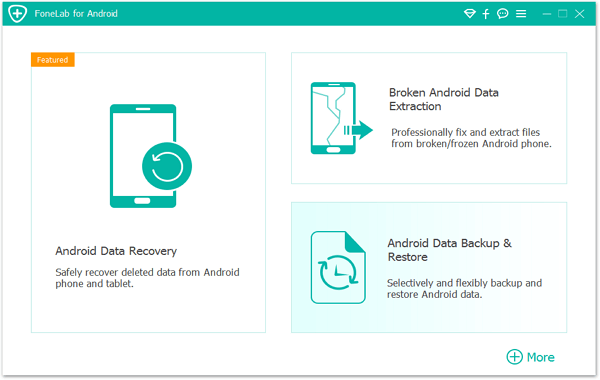 Step 2 Two data backup solutions are provided for you, Device Data Backup and One-click Backup.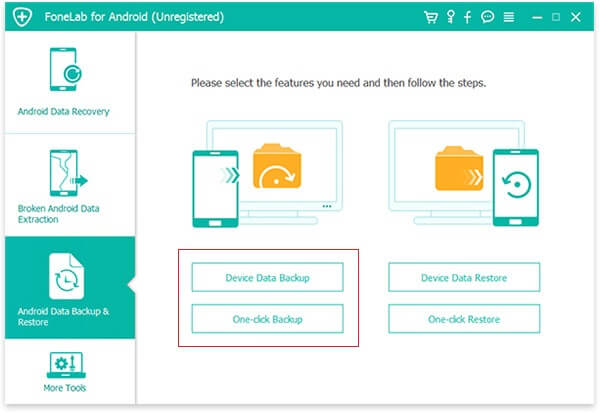 If you choose "Device Data Backup" option, you can select specific data types you want to back up. Any frequently-used data type is supported, such as messages, contacts, call logs, images, videos, audio and more.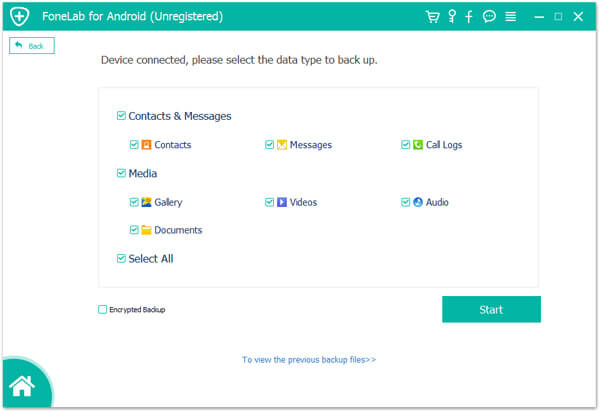 You can back up all your Android data in one click by using the "One-click Backup" feature.
Step 3 Click Start button to make your Samsung messages backup right away. You are allowed to pick a suitable destination file folder for the SMS backup. Then click on OK button to complete the whole backup process.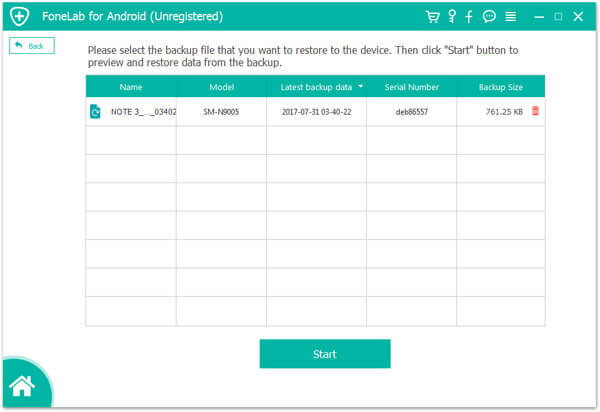 How to back up text messages on Samsung with Samsung Kies
Besides Samsung Cloud, you can also rely on the Samsung Kies to back up your valuable text messages. Samsung Kies is another official freeware which provides a simple way to transfer Samsung files, manage data and get new apps.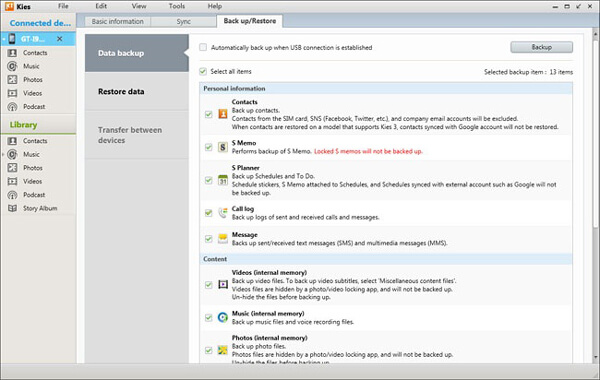 Step 1 Download and launch Samsung Kies on your computer. Connect your Samsung Galaxy phone to it with USB cable. It will automatically detect the Android device.
Step 2 Click on the Backup/Restore option on the top bar. Then choose Data backup > Message > Backup to start the Samsung messages backup process.
How to move Samsung messages with Smart Switch
Smart Switch offers a quick way to sync and transfer various Android files on Samsung device. It allows you to easily move data from old Samsung device to new one. In addition, it makes it very simple to back up messages, contacts, photos and more from Samsung Galaxy phone to computer.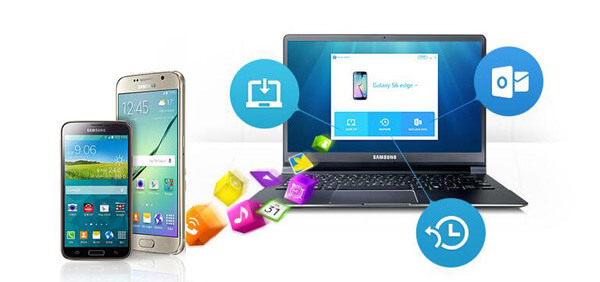 Step 1 Install and run Samsung Smart Switch on your computer and connect your phone to it. You will be required to allow access permissions. Tap Allow on your phone.
Step 2 Pull down the notification shade by swiping down from the top bar. Then tap the notification for other USB options.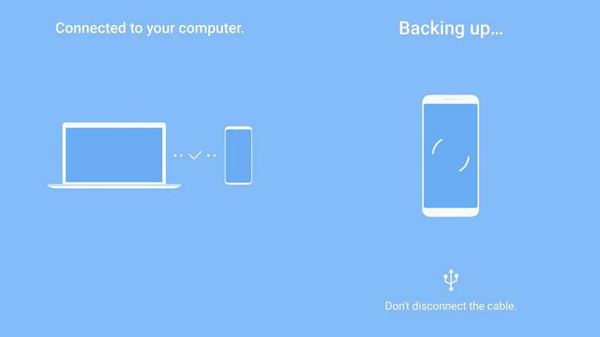 Step 3 Tap the Transfer files option to make Samsung data backup on your computer.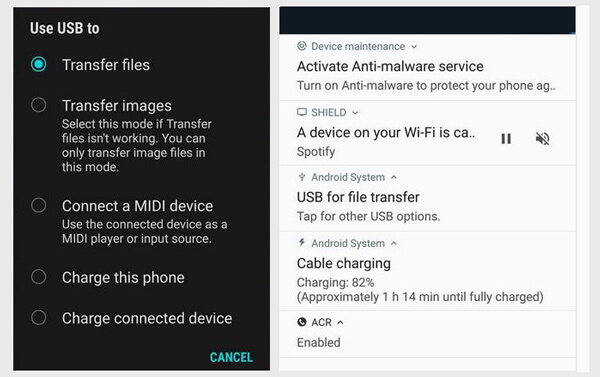 Back up Samsung text messages with SMS Backup & Restore app
If you want to back up your Samsung text messages to SD card, you can use the SMS Backup & Restore app. SMS Backup & Restore is one most popular Android data backup apps which can help you export SMS from Android.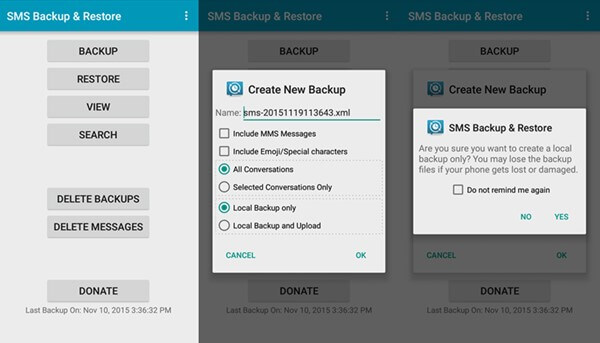 Step 1 Find SMS Backup & Restore app in Google Play Store and install it on your Samsung phone.
Step 2 Tap its icon to open this text messages backup app. Then tap on BACKUP option.
Step 3 You will see a pop-up Create New Backup window. Here you can enter the backup name. Then select the specific conversions you want to back up. Finally, tap OK to start export text messages from Android.
We have talked about the Samsung messages backup in this post. You can easily find your preferred method after reading this post to back up text messages on your Samsung Galaxy phone. Leave us a message if in the comment if you still have any puzzle.