What's the difference between MP3 and FLAC?
FLAC stands for Free Lossless Audio Codec, a compressed audio file that maintains the same quality as the original source despite often being less than 50 percent of the original file size. Simply put, they sound better and require less space. It is an open format with royalty-free licensing and first emerged in 2001 as an open-source alternative to other lossless formats emerging at the time. When it comes to sheer audio fidelity, FLAC typically surpass MP3 and other common audio formats like AAC. It offers bit-perfect copies of CDs but is not just restricted to CD quality listening. Furthermore, FLAC takes up about six times the disk space that an MP3 file does, retaining more information and leading to an audible boost in quality.
MP3 is a lossy format that uses psychoacoustic modeling to reduce the size of audio files by up to 90%, which makes it a very convenient, versatile and popular way to store music. You can easily download and email MP3s because they are so small. Nearly all audio devices and multimedia players support MP3 playback, while only a handful of them currently support FLAC playback.
How to Convert
Want to listen to music in FLAC format on your mobile device? Apple iPhone and other iOS devices don't support FLAC format natively. A good choice is to convert FLAC tracks to MP3. Aiseesoft Total Video Converter allows you to convert any FLAC file to MP3 format.
Step 1 Install and launch Aiseesoft Total Video Converter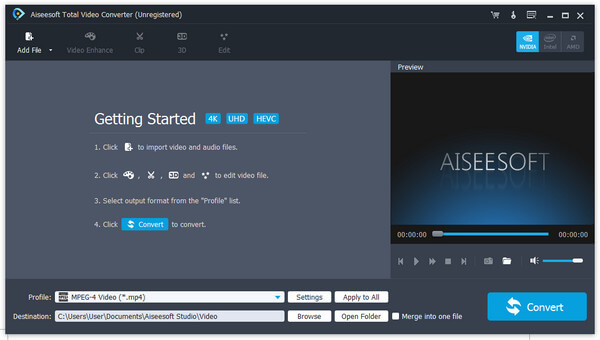 Step 2 Click "Add File" button, choose FLAC file you wish to convert from the pop-up window and then click "Open".
Step 3 Click Profile button at the bottom and choose MP3 from the drop-down list.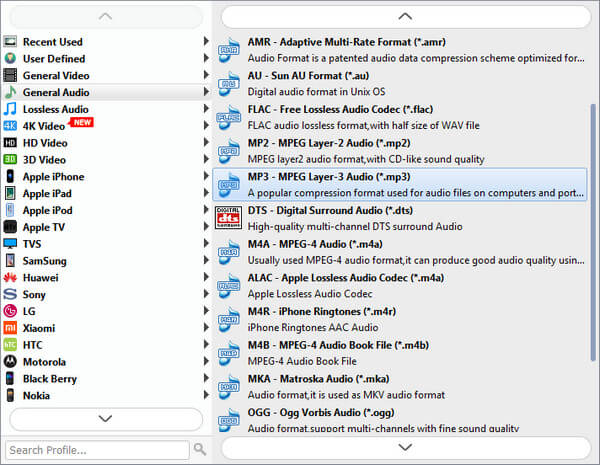 Step 4 Click "Convert" button to start the FLAC to MP3 conversion.
Click Settings button. You can change the parameters of Encoder, Sample Rate, Channels and Audio Bitrate for better audio quality.