How to Play a DVD on Your Mac
As safe and easy way, DVD Disc has been used to save recorded family movies and collect splendid moments, like weddings, party or baby's growth. According to the Mac and the player circumstance, there are two possible headaches when playing a DVD on Mac: One is that the Mac has DVD Drive but hasn't proper DVD player software and the other is that the Mac has no drive. Here are two parts in this tutorial:
Part 1: Play DVDs without a DVD Drive
Part 2: Play a DVD on Mac with DVD Drive
Part 1: Play DVDs without a DVD drive
Since all new Macs no longer feature DVD SuperDrives, there's no physical DVD drive for you to play DVDs. However, you can use Apple USB SuperDrive, an external DVD drive that connects to your MacBook Pro with Retina display, MacBook Air, iMac or Mac mini with a built-in USB cable. If you want to play and watch your homemade DVDs on Mac without a DVD drive, you can use Aiseesoft Mac Video Converter Ultimate, which lets you easily converting your home DVDs to video files in any popular video format.
Follow the tutorial below and convert your home DVDs to playable videos for your QuickTime or other player software.
1. Click here to download Aiseesoft Mac Video Converter Ultimate.
2. Start the installer and install this application on your Mac following the instructions. When it is complete, you will see the interface below.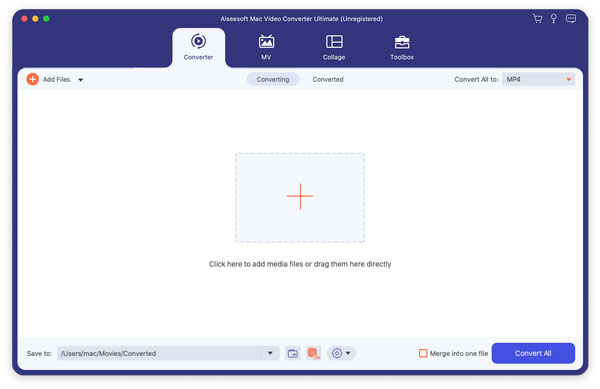 3. Click "Load Disc" button in the toolbar, select your home DVD in the open window and click "OK" button. The DVD video files will be listed on the left panel. Click the profile drop-down button and select "Apple InterMediate Code(AIC)(*.mov)" from the drop-down list as the output format.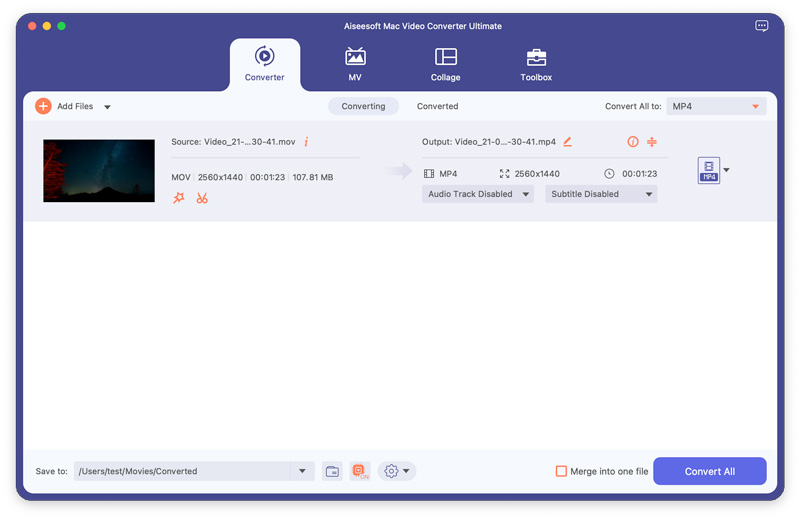 4. Click "Convert" button to start the conversion. When it's done, click "Open Folder" to find the converted video files.
Part 2: Play DVDs with a DVD drive
Play DVDs with VLC on Mac
VLC is part of a remarkably sophisticated suite of VideoLan applications available for a wide range of operating systems, ranging from Linux to Windows and, of course, Mac OS X.
Download and install VLC and open it, then select File > Open Disc. Click on the Disc tab, click on DVD, select the device, and click OK.
Or select File > Open File..., select your VIDEO_TS folder, and voila! You're watching your vfideo.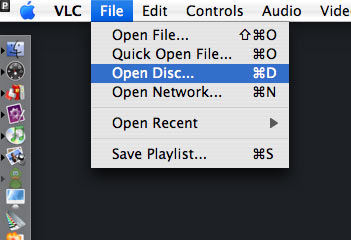 Play DVD with Apple DVD Player
Apple DVD Player is the default DVD Player on Apple Mac OS X. It supports playing DVDs authored by DVD Studio Pro and iDVD, including HD DVDs. The following is step-way guide for you to play a DVD with DVD player on Mac.
How to Play DVD: When the DVD is inserted, the DVD menu will be displayed on the screen. To play the movie, you need to select a DVD menu by clicking the items you want to play and then click play button.
How to reture to DVD Menu item: If you want to get back to the DVD menu list, you can press the Menu button.
Resume playing: You can click Play on the Controller or press the Space Bar to make the playing resume.
How to quit: Pressing Command-Q on your keyboard to quit the playing mode.
The software allows Mac users to easily download online videos and convert videos and homemade DVDs into playable formats compatible with devices.