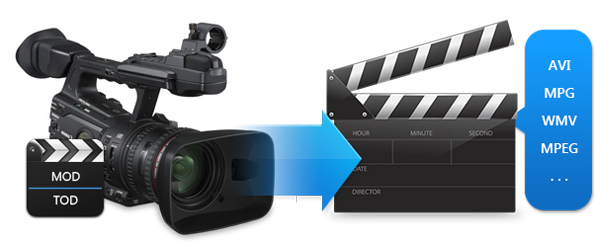 If you have some MOD/TOD videos and want to play them smoothly on more portable devices, you should get some clear knowledge of what is MOD and TOD video first. This article shows you the basic conception of MOD format and you will get the best and simplest way to convert your MOD/TOD files to other popular video formats for playing on more devices like smart phones and PS3.
What is .mod and .tod video
According to the glossary from Wikipedia, MOD and TOD are recording formats for use in digital tapeless camcorders. And these two video formats are comparable to HDV, AVCHD and XDCAM EX.
You may know it or not, MOD format is tapeless video formats developed by Panasonic (MOD only), Canon (MOD only) and JVC (both MOD and TOD) for some models of digital camcorders.
Different from the VOB format, MOD file format is recorded to a hard disk or SD memory card rather than DVD and type. As MOD file format is similar to MPEG2 format and is capable of containing both SD (standard definition) and HD (high definition) video, a great number of camcorder manufacturers are glad to take this format as the first choice. There are also many camcorder manufacturers choose TOD as the video format for it can full 1080i high definition.
Under most conditions, SD (Standard Definition) video is saved in MPEG program stream container files, and the extension is MOD, while HD (High Definition) video is saved in MPEG transport stream container files, and the extension is TOD.
And now, you have got the introduction of MOD and TOD. However, if you want to play these video formats, you should know more. More what? The following guide is what we mainly want to talk about. You need to convert the MOD and TOD video formats to other popular video formats. And the precondition is finding a proper MOD Converter. Here we will show you the best Free MOD Converter and the simplest way to convert MOD and TOD to MP4, AVI, WMV and other video formats you want.
What is the best MOD Converter
The product we will introduce in this post is Aiseesoft Free Video Converter. As we know, Aiseesoft is a famous brand for its exquisite products and superior services. So even though this is a free product, it has a well guarantee for solving the problems you may meet during converting. With this free MOD video converter, you can convert MOD to AVI, MOD to MPG, MOD to MPEG, MOD to WMV and to other video formats. If you have more than one MPD files, you are able to batch convert with importing these MOD files to this software at the same time. In addition, you only need three steps to finish the MOD/TOD conversion on your computer.
How to convert MOD/TOD video to AVI, MPG, WMV and other formats
The following is a step-by-step guide on how to handle the conversion. Free download this free MOD file converter on your computer and have a try.
Add files
Click Add File button to add MOD video files. Or you are able to drag and drop the MOD or TOD videos you want directly.
Set output video format
Click the drop down button from Profile to select the output video format such as AVI, MPG, MPEG and WMV. You can click the Settings button to set parameters of your output video such as Frame Rate, Bitrate to get the best video quality as you want.
Click the Convert button to start the conversion.
And you will get the converted video within minutes with the CUDA or AMD acceleration technology.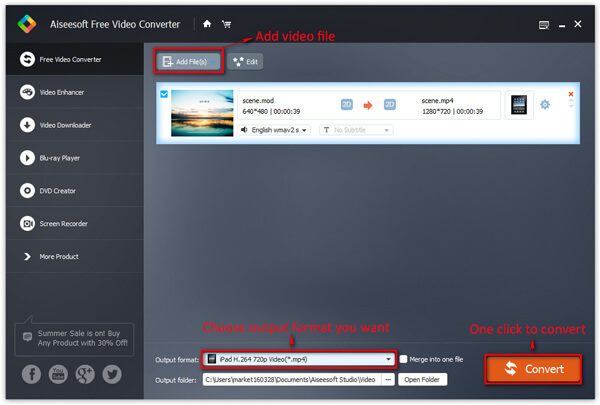 1. How to join Mod/Tod videos
If you want to merge several Mod/Tod videos into one file you can choose them and click the "Merge into one file" to do it.
2. How to split your Mod/Tod video
The "Clip" function also serves as a video splitter. You can set the "Start Time" and "End Time" to set the time of the clip or you can directly drag the slide bar to the accurate position. After cutting your Mod/Tod videos into small clips you can upload them to YouTube, Myspace and more to share your video with other people of the world.
3. How to crop your Mod/Tod video size
With "Crop" function in Edit you can crop the black edge of your video and you can also drag the line around the video image to adjust your video to your mobile devices. With it you can enjoy and share your DV with other people anytime and anywhere.
4. How to save your favorite picture
You are able to preview the video before converting. And if you like the current image of the video when you play with this software, you can use the "Snapshot" option to save the image, and the image can be checked with "Open" button next to "Snapshot".
Moreover, if you want to convert MOD to your iPhone or iPad, just read this post: How to convert MOD to iPad.