How to Delete a Game from Game Center
Sometimes you will find that you can still receive the game notifications even you have uninstalled these games from your iPhone, which could be a big bother. Actually it is because each game app has a single settings item that you can sign out of Game Centers, and there is not actually disable features in Game Center.
In order to avoid such a situation mentioned above happening again, this tutorial will tell you an efficient way to delete Game Center on your iPhone. Please read on and learn the detailed steps.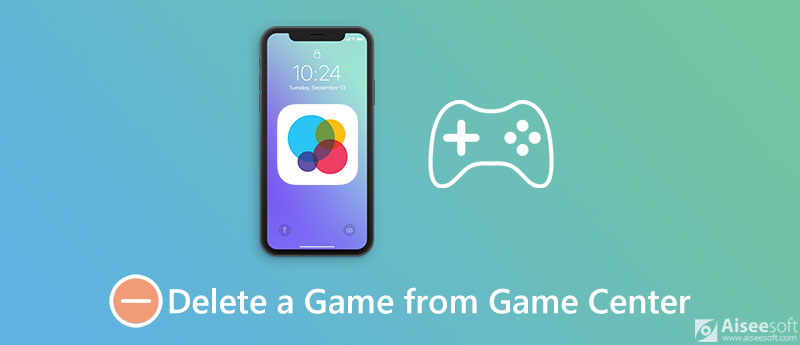 Part 1: How to delete a game from game center
If you are willing to delete a single game from the Game Center, not delete the whole Game Center, you can make it easily by following the steps below:
Solution 1: Uninstall the game app to delete it from Game Center
Step 1: Open General option
Launch Settings app on iPhone, tap on "General" option, then choose " Storage & iCloud Usage" option.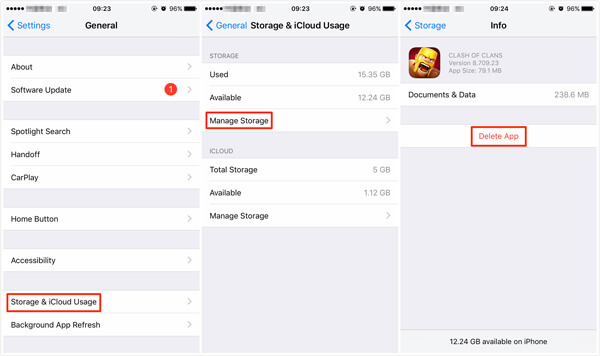 Step 2: Select a game app
Hit on "Manage Storage" option, and locate a game app that you are going to delete in the lists of game apps.
Step 3: Delete game from Game Center
Tap on the specific app to get its detailed info. Then tap on the "Delete" button to remove it from Game Center.
Solution 2: Delete a game from Game Center via iPhone Eraser
When you manually delete a game app from Game Center, actually there are still many app files and data remained in your iPhone. To permanently remove this app, you need to use a powerful erasing tool. FoneEraser should be a nice choice for you to take into considerations.
FoneEraser is one of the most useful and professional utility to remove any game app from Game Center, clean up app cache and temporary files, and even help you remove everything on your iPhone permanently, including game apps, text messages, photos, videos, password, videos, call history and so on.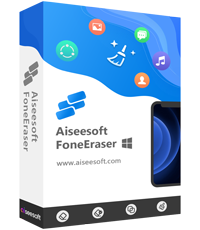 Downloads
Delete games from Game Center in one click.
Clean up image cache, invalid files, temporary files, and large media files to free up more storage space.
This software offers you three erasing levels optionally to delete a game app from Game Center.
Apeaksoft iPhone Eraser provides 100% promise to erase all files and data without zero recovery possibility.
It will remove all the data and settings from your iOS device with one click safely and securely, with no personal information tracked.
Here are the step-by-step guides about how to remove a game app from Game Center:
Step 1: Download the program on computer.
Download and install iPhone Eraser in your computer from the official website. And this software is available for both Windows and Mac.
Step 2: Connect iOS device to computer
After launching iPhone Eraser, connect your iPhone to the computer via a USB cable. wait for a while until iPhone Eraser detects your device.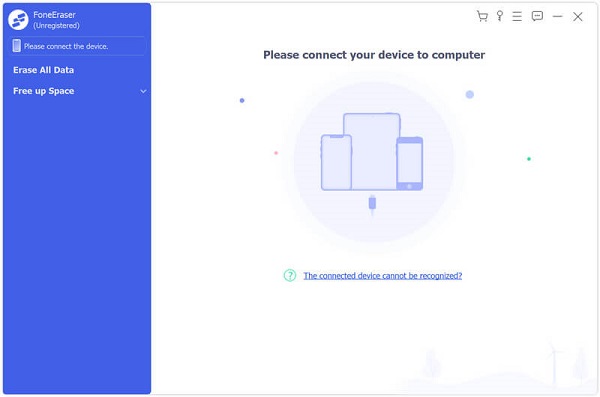 Step 3: Delete games from Game Center
From the left panel, go to
Free up Space
, then choose
Uninstall Applications
. Now you can find your games app from this list and then click on
Uninstall
button behind the app to remove it from your device.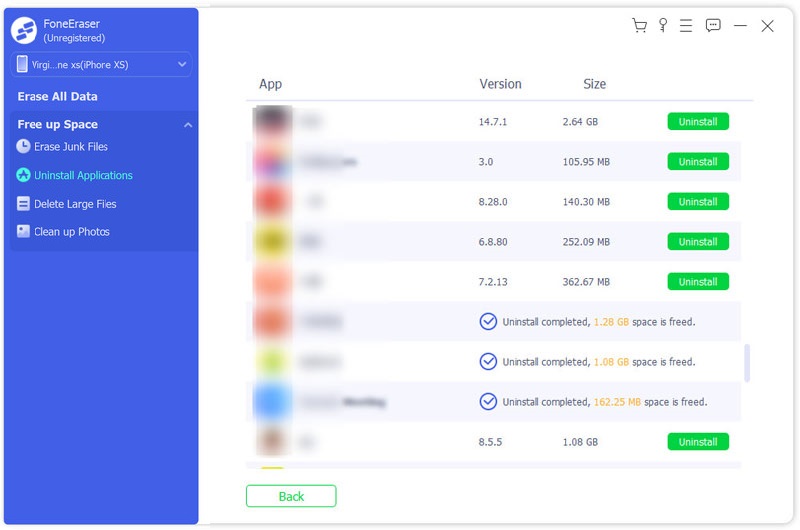 Part 2. How to delete game center on iPhone
Game Center is developed by Apple, aimed at help you sync your game process data, achievement, and online multiplayer. If you are not interested in these features come with Game Center, follow the step-by-step instructions to delete your Game Canter on iPhone:
How to remove Game Center on iOS 11
Step 1: Open Settings app
Launch Settings app on the home screen of iPhone, scroll down the page and tap on Game Center from the lists.
Step 2: Turn off Game Center
In the "Game Center" page, tap on the toggle near Game Center and switch it from Green to White to remove Game Center on your iPhone.
Step 3: Disable all features
Wait for a couple of seconds until the feature is disabled. Now you will find that all the features associated with Game Center are erased.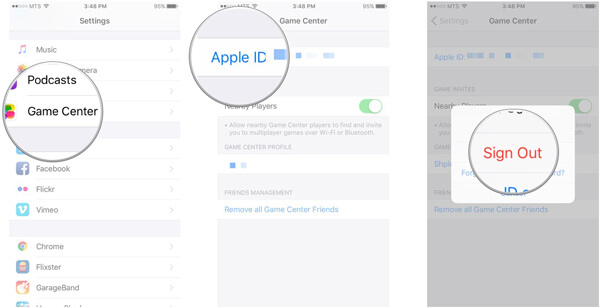 How to disable Game Center in iOS 10/10.1/10.2/10.3
If you are running iOS 10 on your device, you are lucky enough that you can get rid of Game Center without deleting it from your iPhone. This is because that Apple has ended the existence of Game Center as an individual app, so there is no Game Center at all in any iOS device running on iOS 10/10.1/10.2/10.3.
How to delete Game Center on iOS 9
If you are running iOS 9 or earlier, it is unfortunately that you are not allowed to delete any apps preloaded on iOS 9 and earlier, including Game Center, iTunes Store, App Stores, Calculator, Clock and Stocks app and etc. thus, the only way to get rid of Game Center in iOS 9 and earlier device it to hide it when you are not able to delete Game Center.
Step 1: Open Game Center in Settings
To actually modify Game Center settings, launch Settings on the main screen of iPhone, scroll up and choose Game Center under iTunes U.
Step 2: Sign Out Game Center
Then tap op the "Apple ID" in the top of Game Center page, and type with your Apple ID and passwords, then hit on the "Sign Out" option.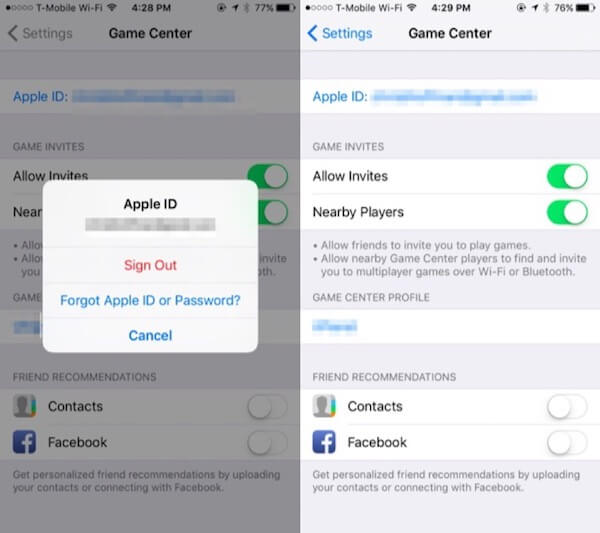 Step 3: Hide Game Center
To hide Game Center instead of deleting it, come back to the home menu, and create a new folder on your iPhone. Then drag the Game Center app into this unwanted folder. You can move this new created folder to the last screen of iPhone to hide it completely.
Part 3: FAQs of Deleting a Game from Game Center
How do I remove a game from my Game Center on Mac?
Open the Game Center application on your Mac. Tap the Games tab in the toolbar area at the top. Identify a game you'd like to remove from Game Center under the My OS X Games heading, right-click it (Option-clicking will do as well) and choose Remove from the contextual menu. In a dialog that pops up, click Remove to have the item removed from Game Center.
How can I delete all game data from my Game Center?
Since the release of iOS 10, all of your Game Center data is now stored in iCloud. To remove all of your game's data, tap on Settings, then Apple ID Profile. Find iCloud and, tap on Manage Storage. Then, look for the game in the list of apps that iCloud backs up data for and tap it. Select Delete Data. Note that this will delete all data for this game from all Apple ID connected devices.
Can I disable Game Center notifications?
You can block Game Center notifications by following these steps:
Go to Settings, tap Notifications near the top, then scroll down to the Game Center app in this list, and disable the Allow Notifications slider.
Conclusion

Leave your comment and join our discussion