The Easiest Way to Record Gameplay on Xbox 360
I have an XBox 360 and would like to record videos from various games I play to post on the web. Let me start by asking, what is the easiest way to do this (under $300)?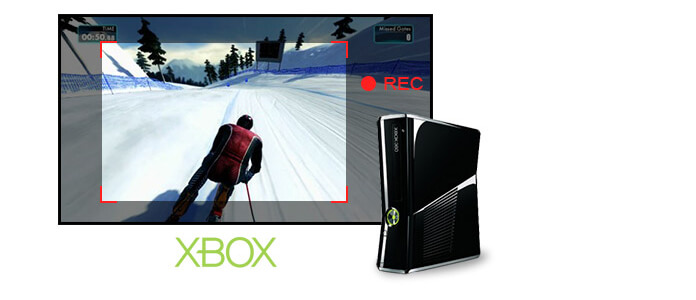 This is a question from Yahoo answer. Before answering this question, we need to make it clear what Xbox 360 is, and why and how people record Xbox 360 gameplay.
Part 1: What Is Xbox 360?
Xbox 360 is a home video game console developed by Microsoft. As the second console in the Xbox series, Xbox 360 features an online service, Xbox Live. That means, apart from the trial games on Xbox, you are allowed to play or download (through Xbox Live Arcade) games online with Xbox Live. Playing Zumba fitness, Zomnie games, X-Men, Zoon Tycoon, Watch Dogs, Diablo 3, etc. on Xbox 360 is easy for you. Moreover, you are allowed to purchase stream music to Xbox 360, and pay money to watch movies (WMV, H.264 and MPEG-4) and television programs (720p HD) on Xbox 360. Additionally, you are able to stream media from PC for more pleasure. For meeting your demands, wireless controllers, hard drive storage expansion, Xbox with Kinect bundles, etc. have been released. TechRadar deemed Xbox 360 as the most influential through its emphasis on digital media distribution and multiplayer gaming on Xbox Live. Also, Microsoft has stated they plan to support the Xbox 360 until 2016. The Xbox One, the successor to Xbox 360, is also backwards compatible with the Xbox 360. But You can not put Xbox One games on Xbox 360 for playing. At this point, it is a pity for a number of Xbox 360 enthusiasts.
Part 2: Why Do You Want Xbox to Play Games?
Launched in 2005–2006, Xbox 360 has sold 84 million as June of 2014. Initial 14 games in North America and 13 in Europe, Xbox has sold over a million copies of Call of Duty 2 for 2005. In 2006, Blue Dragon sold out quickly with over 10,000 pre-orders. The 2007 Game Critics Awards honored the Xbox 360 platform with 38 Nominations and 11 Wins. Xbox 360 games gains a worldwide popularity.
Xbox 360 uses the triple-core IBM designed Xenon as its CPU, with each core capable of simultaneously processing two threads, and can therefore operate on up to six threads at once. Graphics processing is handled by the ATI Xenos, which has 10 MB of eDRAM. Its main memory pool is 512 MB in size. All such technical specifications of Xbox 360 fascinate game players. And some games have been classic for players.
Part 3: How to Record Xbox 360 Gameplay?
For keeping the classic gameplay images for future use or just a simple memory recall, or just uploading the gameplay for sharing or making money, many users want to record Xbox 360 gameplay. However, Xbox 360 only allows you to play it on PC or TV, but it does not show you any direct way to record it. How to record your Xbox 360 gameplay? Keep reading to get the solutions.
Method one: Recording Xbox 360 gameplay with phone or camera
If you are a school student without making money, the quick and cheap way is to use your brother's phone or VHS camera. You have to hold out the camera or phone in front of television to record the gameplay on Xbox 360. If your Xbox 360 freezes during gameplay, then you have to turn to others for help. The quality is 720p HD video on your TV, but when you play the recorded Xbox 360 gameplay on your PC, do not cry for the blurry screen. You have to admit this way is the bottom-line way.
Method two: Record Xbox 360 gameplay with Game Capture
If your pocket is full, and you are willing to spend money on your favorite Xbox gameplay, then you can consider purchasing a professional Xbox 360 video capture. Those Xbox 360 gameplay recorders are easy to use with its guides. But there are many such captures, so you need to sort them out. The following table of Xbox 360 gameplay captures is for your reference. Before you decide to get one, you need to know what your needs are. The portability? In-game chat? HD quality? Recording on a Windows or Mac system? Compare the features and find the best one Xbox 360 gameplay capture for yourself.
Comparison of Xbox 360 gameplay recorders
Recoders
Price
Advantages
Disadvantages
Hauppauge HD PVR 2 Gaming Edition

$152.98
1. Three different versions are available for you.
2. HD PVR 2 is compatible with Mac.
3. Windows users can stream and edit the recording.
4. Record in-game chat and 5.1 channel audio.
5. Record through HDMI or composite cables.
1. The non-Plus version requires a $30 software download.
2. HD PVR 2 for Mac is only for capturing.
3. Require a power cord instead of drawing power via USB.
Roxio Game Capture HD Pro

$94.95
1. Record Xbox 360 gameplay with 720p or 1080i HD quality.
2. Stream live Xbox 360 gameplay to Twitch simply and directly.
3. Output a multiple of formats like MP4, AVI and WMV.
4. Power the game capture right through a USB cable.
1. Do not include all the bells and whistles.
2. Only have the Windows version.
Elgato Game Capture HD

$149.95
1. Simple but powerful to record Xbox 360 gameplay.
2. Output MP4 with full 1080p HD video.
3. Compatible with Windows and Mac version.
4. Portable with small size is easy to record Xbox 360 gameplay anywhere.
5. Flashback recording allows you to rewind your gameplay back an hour.
There's no SD option for older console capture.
AverMedia Live Gamer Portable

$143.99
1. Record the gameplay on the road, on PC or Mac.
2. Capable of recording 1080p encoded H.264 video.

Recording on the road needs to insert an SD card.
Blackmagic Intensity

$189.05
1. High-end input and editing hardware.
2. Input HD/SD with numerous formats and resolutions.
3. Up-convert real time SD to 1080p or 720p HD.
4. Work with either Windows or Mac optionally.
1. Need to pay a premium price for some functions.
2. The Shuffle has only Windows version by now.
3. Requires USB 3.0.
Such professional Xbox 360 gameplay recorders are good to record gameplay if you are willing the bear the price.
Method three: Record Xbox 360 gameplay with video grabber
If you only want to spend under $50, the the third way will be your favorite.
Firstly, you need to prepare the following details before you record Xbox 360 gameplay:
1. Xbox 360 and the game you want to record
2. An HDMI splitter (under $20 at Amazon)
3. Three HDMI cables
4. HDMI video grabber (under $20 at Amazon). In the following steps, we take AV.io HD as an example.
5. A computer with with Open Broadcaster Software (OBS) (free)
6. An USB 3.0 cable
Step 1 Connect Xbox One to your TV through the splitter
Connect your Xbox 360 to the input port on your HDMI splitter, then use a second cable to connect from one of the splitter's output ports to the TV's HDMI input port.

Step 2 Connect the video grabber
Connect the third HDMI cable to the other port of HDMI splitter. Use the other end of this cable to DVI adapter that came with your AV.io HD. Plug the other end of the cable with adapter to DVI-I port on the top of AV.io HD. Then use the USB 3.0 cable to connect computer (USB 3.0 port) and AV.io HD.

Step 3 Launch the capture software
Choose any software from OBS that supports UVC inputs. Launch it on your computer.
Step 4 Configure the capture software
Click the "Settings" button on the bottom right side of the main interface of OBS to set base resolution, encoding, audio, recording format, etc. Then click "OK" to save your configuration changes.
Step 5 Add AV.io HD as a Global Resource in OBS
Click "Global Source" > "Add" > "Video Capture Device" > Specify a name like "V.io HD from Epiphan Video" > Click "OK" > Find "V.io HD Video" from the "Device" drop-down > "OK".
Step 6 Add video grabber to your computer screen
Right click on the "Sources" > "Add" > "Global Source" > "AV.io HD from Epiphan Video" > Click "OK".
Step 7 Record Xbox 360 gameplay
If you are ready to start recording, then you could click "Start Recording" on the bottom sight side of the interface. Also, you are allowed to preview the captured gameplay by clicking "Preview Stream" to make sure everything is working exactly as you wish. Click "Stop Recording" to finish your Xbox 360 gameplay recording. You will find your recorded video by clicking "Settings" > "Broadcasting Settings".
With limited video output formats here, if you want to convert it to other video formats, then you could download a free video converter to realize it.
Best Online Gameplay Recorder
If you want to record online games with high resolution for playback, we recommend you Aiseesoft Screen Recorder - the best Game Recorder. With its simple interface and easy-to-use functions, it helps many people capture gameplays while playing on computer. It also enables you to record online videos, podcast, webnairs, lectures, Skype calls, online conference, etc.
Aiseesoft Screen Recorder
Capture online games, videos, conference, Skype calls, online music and more.
Record streaming audio, online audio, microphone voice with high sound quality.
Provide "Blu-light" real-time HD video encoding tech to ensure excellent image & sound quality.
By now, you have finished the whole recording of Xbox 360 gameplay. If you like, you are able to upload videos for simple sharing. Also, if you get a channel, you could stream your Xbox 360 gameplay live to your audience. Certainly, if you find other live gameplaying videos, you could also save them on your computer.
Part 4: FAQs of Recording Xbox 360 Gameplay
How do I record my Xbox 360 screen with a USB?
Connect the HDMI cable to the "In" port of the capture card, and link the "Out" port to your computer. Plug the USB cable to connect it to capture card and computer. Then you can set a proper recording resolution, and start recording your Xbox 360 video.
How to record Xbox 360 gameplay with iPhone?
You can use ReplayKit gameplay recording app to record Xbox 360 gameplay. Just select "Record Screen & Microphone" or "Record Screen Only".
How do I record long videos on Xbox?
You can change the length of the recorded video clips. Just go to Settings > Preferences > Game DVR & Streaming, and choose a longer time for recording.
A little complicated, right? If you want to record Diablo3 gameplay, you can get an easier way.