How to Delete Auto Backup Pictures from An Android Phone
Android is one of the most popular operating systems among smartphones all over the world. Android phones are highly favored by young people due to its strong operating system and affordable price. However, the easily-occupied storage space is a problem always bothering Android users.

Many Android users use Google cloud service to backup the data in their phone. Auto-backup is one of the good features of Google cloud service, which helps to sync all the data in your Android device to Google Drive automatically. However, not all Android users want to back up all their data to Google Drive automatically without selection. This article will mainly introduce the method to delete auto backup pictures on an Android phone.
Part 1. What is auto backup
If you bought an Android phone and set up a Google account, Google will backup your pictures(actually all data in your Samsung) to Google Drive automatically and you will find Google photos album in photo gallery. This folder will save the photos you take with your phone and those downloaded online.
The auto backup feature should have been a highlight of Google backup service, but when it comes to that all of your pictures, no matter your favorite ones or the ads photos automatically downloaded, and even failed photos, will be backed up by Google and saved in your phone permanently, you will be mad about this auto sync service. If you have made up your mind to delete all the auto backup pictures of Picasa or Google account, please follow with us.
Part 2. How to delete auto back up pictures on Android
You need to know that Google not only sync all the pictures on your Android to Google Drive, but also create an album in your gallery and save all the auto backup pictures in it. Therefore, it uses your storage without notification. If you discover this fact and delete photos in your device, they will still be available in the auto backup folders in your gallery. To delete the auto backup Google photos, please follow steps as below: (Google Photos stuck on backup?)
Step 1 Go to the Settings-Accounts, choose your Google account and uncheck all Sync options, including Sync Picasa Web Albums. It will stop the photo sync feature.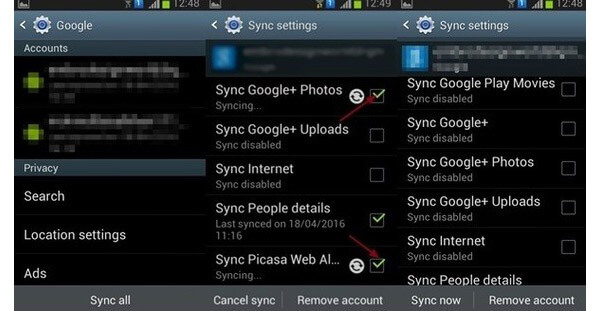 Step 2 Clear cache data of your Gallery and delete all the auto backup photos.
Go to Setting-Application/Apps-Gallery.
Click "Clear data" to remove all auto backup pictures from Android.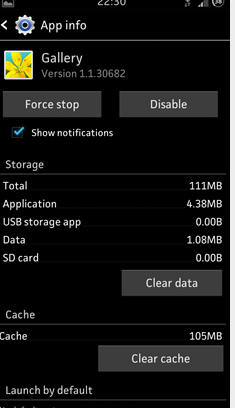 Part 3. Turn off auto backup on Android
The permanent method to free yourself from the auto backup trouble is to turn off the auto backup function on your Android phone. We have to admit that the auto backup function helps us to sync all the data in your Android phone to Google Drive, which will make a copy of our data in case we delete some of them by mistake or accident. When we are faced with data loss, the advantage of auto data backup will be highlighted. However, as we have mentioned above, most Android users don't want each of their photos to be synced online, especially some personal or private pictures. At this point, the Google auto backup feature may be a disadvantage, let alone the privacy problem is always a hidden worry for Android users.
So you need to consider whether you need the auto backup function or not.
If you determine to give up the Auto Backup, please do as below:
Go to "Settings" and find "Auto Backup" to enter the Auto Backup Menu.
There is an on/off option on the top right corner. If you want to stop all auto backup service, choose "off" directly. If you only want to stop photo auto backup, you can also uncheck "Backup photos" to disable photo auto backup.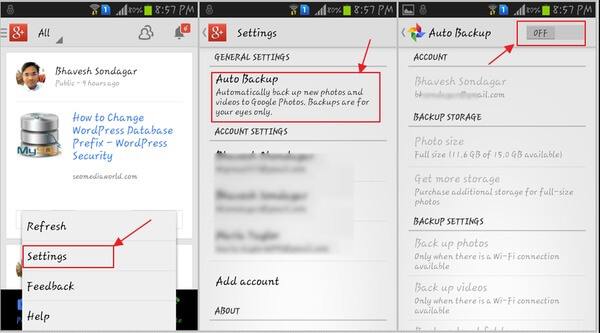 Extend Reading: Best Alternative Android Backup Program
If you are suffered from the disadvantages of Google Auto Backup service and want to look for an alternative to backup your Android data, Aiseesoft FoneLab for Android-Android Data Backup & Restore will be your best choice. It provides a simple way to backup and restore all types of files on your Android device.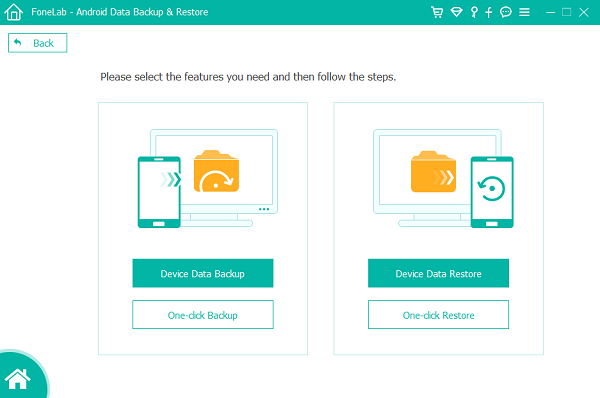 Advantages of Android Data Backup & Restore
Simple interface and easy to use.
The biggest advantage of this Android data backup tool is that it enables you to backup your data safely and selectively. You are able to set up a password to protect your important and private backup.
If you delete some data from your Android phone by mistake, you are able to find them back with the "restore" function of this Android data management tool.
You are allowed to preview all your backups and choose the one you want to restore.
We need to admit that the Google cloud services provided by Google for its users are of great help, such as Google Drive and Google Photos. They free up the storage space of our Android phones to enable us to use our smartphones more smoothly. However, as Android is an open operating system, everything you access in mobile browser will be saved on your phone without notification. Thus Google will backup these ads and icons automatically. Therefore, the disadvantage and inconvenience of Google Auto Backup show up gradually.
With the methods we provide above to delete auto backup pictures on Android, Android users can still use the Google cloud service to backup Android data manually if you don't want to give it up. Or you can have a try with its best alternative, Android Data Backup & Restore, to backup and restore your Android Data in a more painless way. Feel free to choose the most suitable way according to your demand.