How to Backup Your Android Phone to Google
Google has launched many kinds of Google backup services according to its users demand to make their phone data safe. To date, Google has brought 5 different backup and sync products to market, they are: Google Drive, Google Photos, Google Cloud, Google Backup and Sync, and Google One.
In this review we will make a comparison of the five Google backup and sync services and show you how to use them.
Part 1. Google phone backup services
1. Google Drive
Google Drive is a file storage and synchronization service developed by Google in 2012. Google Drive is like any cloud storage service, its main purpose is to expand your ability to store files beyond the limits of your hard drive. It enables you to backup and sync any file such as your documents, photos, music, videos etc. from your android phone to your computer.
Pros:
1. Google Drive will automatically sync all your data in your android phone and your computer, which means as long as your devices are linked to your Google account, they will receive the updates and show changes you have made.
2. Google provides 15 GB free storage for its individual users as long as you have a Google account.
3. You can have access to everything easily from any computer or mobile if you have internet connection, since Google Drive is a cloud-based application.
4. Google Drive is more than a good Google phone backup tool. You can also share files and folders with your friends or colleagues to view, download, and collaborate on easily and quickly.
Cons:
1. Please note that the 15GB free storage is shared with Google Drive, Google Photos and Gmail. So if you run out of the 15GB free storage space, you need to pay for more storage.
2. Google Drive is weak in its security and privacy. It doesn't give you any way to really secure file shares, even though password protection is not available.
2. Google Photos
Google Photos is a photo sharing and backup service developed by Google. This Google photos backup and sync service offers its users free and unlimited storage for photos up to 16 megapixels and videos up to 1080p resolution. You can backup and sync photos and videos from your smartphone to Google Photos in order to release more space on your phone. (Google Photos stuck on backup?)
Pros:
1. Google Photos is able to analyze photos automatically. It can identify various visual features and subjects.
2. You can search your photos easily with three factors: People, Places, and Things.
3. One of the Strength of Google Photos is that you are able to share your entire library with your friends easily.
3. This Google photos backup and sync service is available in both Android and iOS apps, computer apps and website. You can use this service across all of your devices.
Cons:
1. For higher than 16-megapixel images, free storage isn't unlimited.
2. There is no desktop app available, only a web interface available. It's also lack of powerful photo-editing tools.
3. Another big weakness is still the privacy problem. Many people are concerned that employees at Google can browse their entire library at will.
4. You can only backup and sync photos and videos with Google Photos.
3. Google Backup and Sync
In 2017, Google announced its new downloadable software, Backup and Sync. This Google backup and sync tool is mainly made to replace Google Drive and Google Photos desktop app. It aims to help users more easily to backup and sync Android phone files and photos to Google. The Google Drive and Google Photos app for PC and Mac have been shut down completely in March, 2018. So now you if you want to use the desktop app, you need to install Google Backup and Sync. Google Backup and Sync has combined all the older apps' functions into one experience, so you have no need to use two different software for similar purpose of backing up files from your Android phone to Google Cloud.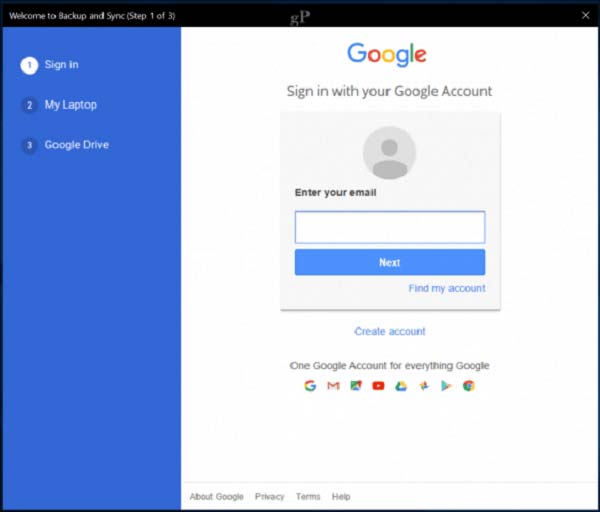 Pros:
1. The interface of Google Backup and Sync is pretty simple and straightforward.
2. You can sync folders both from your phone to Google or from Google drive to computer.
3. It's able to backup other folders from your phone to Google, not only Google Drive folders. It may be the biggest advantage of this new Google backup and sync app. Now you are able to backup any files including both of your files and photos/videos with it easily.
4. The 15GB free space is still available.
Cons:
1. There is a file size limit on images and videos. You probably cannot backup your images or videos with a large size.
2. If you run out of the 15GB free space, you need to pay for more space. Additional storage starts at $1.99/month for 100 GB. Or you can get 1 TB For $9.99 / month. You can get a slight discount if you choose to pay yearly.
4. Google One
Google One is new version of Google Drive storage, which is released in May, 2018. The Google backup and sync function of Google One may be similar to Google Drive, the difference is on the additional services in Google One. The biggest difference lies in the storage matter. If you have the need to buy extra storage, the cost will be more economical.
The 15GB of free storage is still available, as for the paid part, the difference is as below:
1. There's an all-new 200GB tier that costs $2.99/month
2. The $9.99/month plan now comes with 2TB instead of 1TB
3. Anyone on an existing 1TB plan will be upgraded to 2TB for free automatically.
The other new function available in Google One is its Family Plan. Google One will add family storage to share data. Up to five members can be added to a family plan, the members can be your family members or roommates. But please don't worry about the data privacy. Each of the members will have their own private storage, the account owner won't be able to see or access the files that the "family" members upload to Google.
Last but not least, Google One is also providing special "perks" for Google One users. That starts with 24/7 technical support via live chat. You are able to get fast access to "experts for help" whenever you have difficulty in using any Google service. This service cost $24 per year. Credits for its Google Play store and deals on hotels found via Google Search are also available.
Part 2. How to backup Android phone to Google
To backup your Android phone with Google backup and sync tools, Google Drive and Google Photos will be the best choice.
Use Google Drive to backup files in Android phone
Step 1 Download Google Drive app in your Android device. In "My Drive", you will see:
a. Files and folders you upload or sync.
b. Google Docs, Sheets, Slides, and Forms you create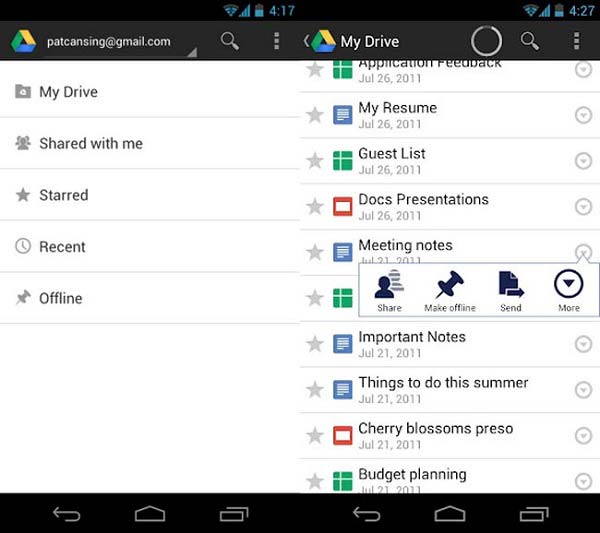 Step 2 Upload or create files
You can upload files in your Android phone to Google in order to backup them.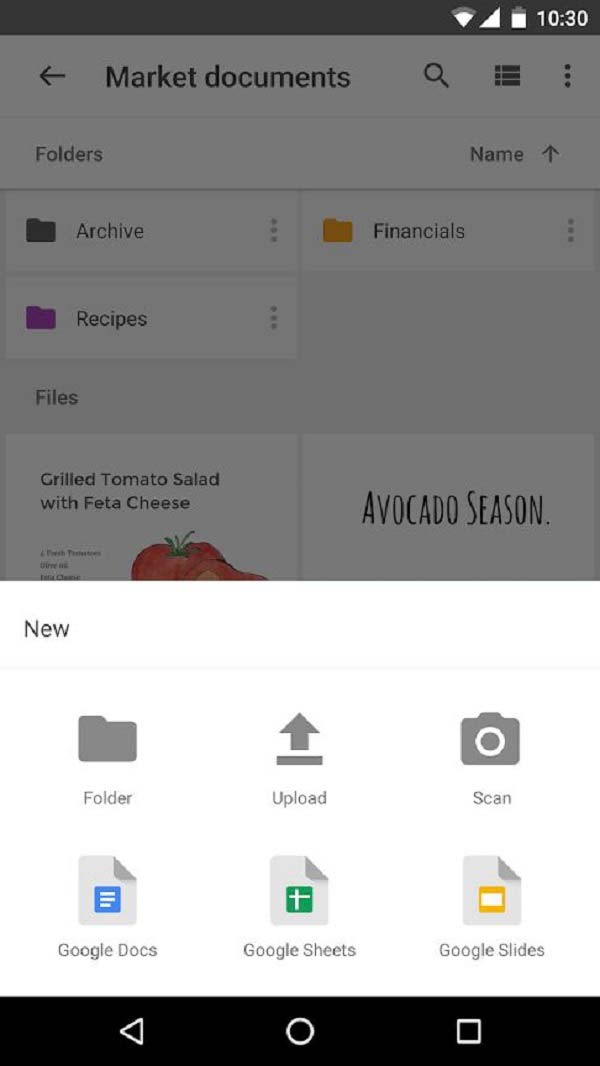 Step 3 You can share and organize your files, so others can also view your files and make a comment on them.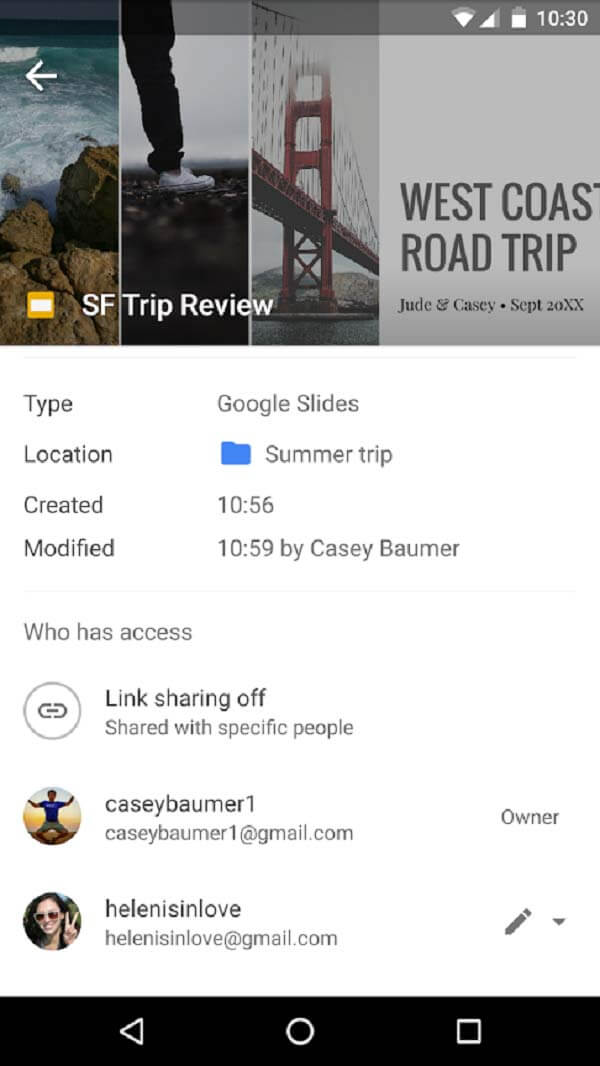 Use Google Photos to backup photos and videos in Android phone
As we have explained that you cannot backup videos and photos with Google Drive, you need to recourse to Google Photos if you want to make a copy of your photos and videos.
Step 1 Download Google Photos app and install it on your Android phone.
Step 2 Turn on "backup&sync" and select the photo quality for your uploads.
There will be unlimited storage space for your photos if you agree to backup your photos in compression copies. If the pictures are larger than 16 megapixels, Google Photos will downsize them to that size. (The originals on your computer or mobile device will not be altered.) Videos are capped at 1080p resolution.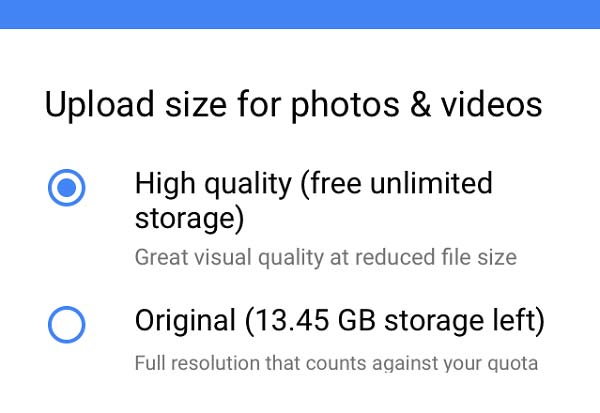 Step 3 Edit your photos
Google Photos provide various editing tools for its users. Basic Adjustments includes tools for Light (brightness), Color and Pop (which adds more contrast). Photos includes a separate Blue color slider to adjust the look of sky and water.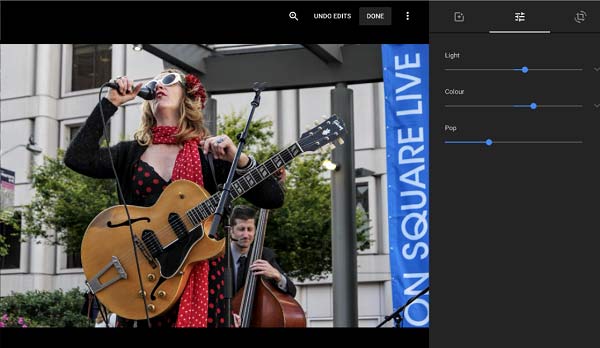 Step 4 Share your photos with someone
You are able to share a single photo or video by tapping on it and selecting the upload icon on the lower left of the screen. You can also click the Get link button to generate a unique URL for your selections that you can paste into an email, text or other message. Anyone with the URL can view the photos associated with it.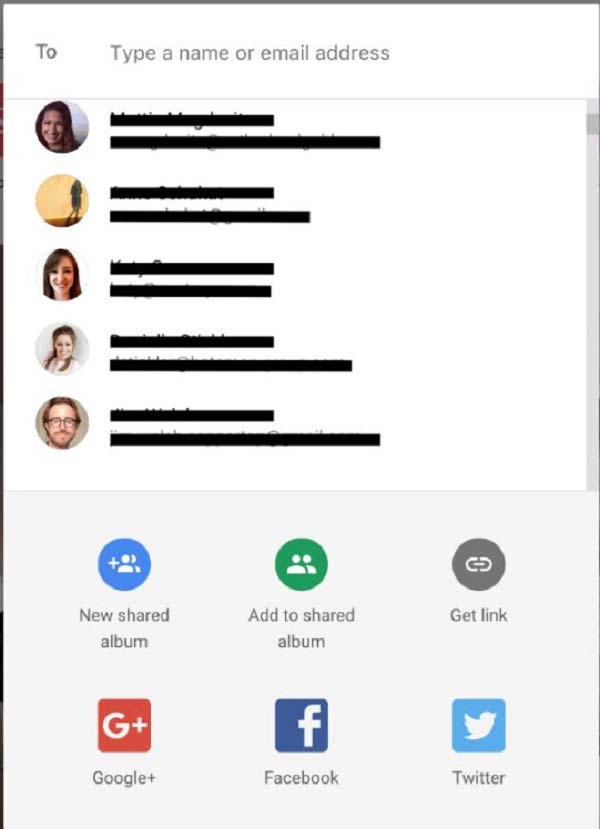 It seems that it's inconvenient to backup all the data from Android phone to cloud with Google backup and sync tools. Cause you have to use two different programs in order to backup both files and photos as well as videos.
Is there any way to backup all the files in Android phone easily and conveniently?
Backup Android with the best alternative to Google Backup
Aiseesoft Android Data Backup & Restore will be the best choice for you. It provides a simple way to back up and restore all types of files on your Android device. You are allowed to preview data in detail before restoring data from backup. Moreover, you can selectively back up and restore Android data without hassle on PC and Mac.
Pros:
1. Easy-to-use and safe. You are allowed to set a password to protect your important backups.
2. You can selectively backup the data in your Android phone.
3. If you delete some data from your phone by accident, you are allowed to restore them from your backup. And you are able to preview all the detailed data before restoring data from backup.
4. It is compatible with not Windows and Mac.
Compared with all the Google backup and sync tools mentioned above, this android data backup program is more convenient to use. You don't need to switch between two different programs in order to backup all the files to Google. What's more, there is no storage limitation for Aiseesoft Android Data Backup & Restore. You will not be charged for extra service.
Want to make backup a convenient work? Try this alternative program of Google backup and sync tool, it will surprise you!