How to Completely Remove McAfee Firewall and Associated Files on Mac
"How can I completely remove an old non-functional McAfee virus protection from my MacBook Pro?" According to a recent survey, some users found that a ghost of the firewall app still appears at the top of the screen after uninstalling McAfee on Mac. Apparently, the hidden components are still on the hard drive and won't be deleted with the traditional way. This guide will share with you 100% working ways to get rid of the unwanted antivirus app.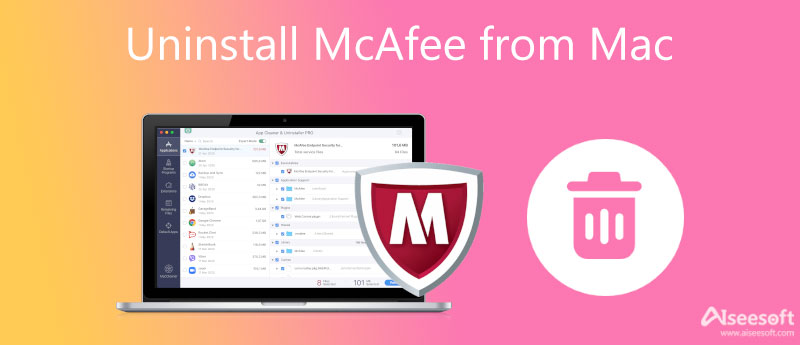 Part 1: What Is McAfee?
McAfee is a virus scanning tool that many Mac users have downloaded since it is free of charge. Once you install the antivirus app, it will preload when you power on your machine. It gives users a sense their computers are protected. In addition to detecting malware in real-time and scanning viruses, users can get more features, such as:
1. Protect Wi-Fi networks and other wireless networks.
2. Detect phishing and prevent money loss.
3. Hide your address with a virtual private network.
4. Improve computer performance.
5. Manage passwords and accounts.
6. Identify theft protection.
7. Keep personal files safe on Mac.
Why Would You Delete McAfee from Mac?
First of all, Mac is safe enough and McAfee is not indispensable at all. As Apple keeps improving the Mac system, the built-in firewall components are enough to protect your machine. McAfee is useless now.
Moreover, the firewall app is annoying and that is why so many users attempt to delete McAfee from Mac. It pops up notifications frequently. Plus, it preloads automatically once you turn on your machine.
Furthermore, the developer makes sure the McAfee app surfaces other services on Mac. That makes Mac computers and laptops slower and slower.
Last but not least, McAfee is expensive. Although it is free to download, the subscription costs $89.99 per year.
Part 2. How to Mirror iPad Screen to Mac
If you just throw the McAfee into your Trash folder, it won't uninstall the app but just delete the icon. Moreover, you cannot find a McAfee uninstaller. Instead, you need to follow the steps below to delete McAfee from Mac completely.
Step 1:
Connect your Mac computer to a good network. Open the
Activity Monitor
from the Applications folder. Select all processes related to McAfee, and click the
Quit
button.
Step 2:
Next, open a
Terminal
window. Make sure that you log in to your machine with an administrator account. If you are a user account, enter
login admin[name]
, and press the
Return
key on your keyboard to switch to an administrator.
Step 3:
Perform the command line below to uninstall McAfee on Mac:
For McAfee v. 4.8: sudo /Library/McAfee/cma/uninstall.sh
For McAfee v. 5.x: sudo /Library/McAfee/cma/scripts/uninstall.sh

Step 4:
Nothing would happen when deleting the app. Then run your Finder app, go to the
Applications
folder, drag and drop the McAfee icon into the Trash folder.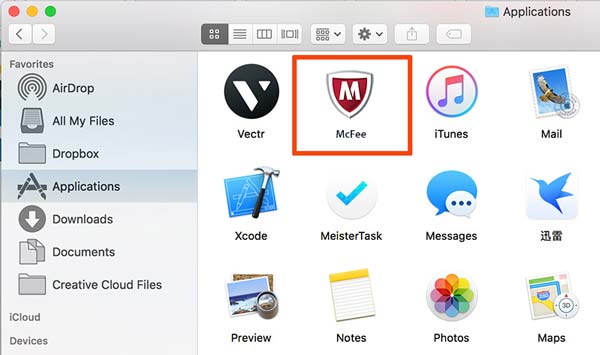 Step 5:
You also need to go to the
Library
folder in Finder, and delete files and folders about McAfee manually.
Part 3. Advanced Way to Uninstall McAfee
It cannot be denied that McAfee removal is not a simple job for Mac users. Not to mention manually deleting the hidden components. Aiseesoft Mac Cleaner is the easiest option for average people to remove McAfee from Mac.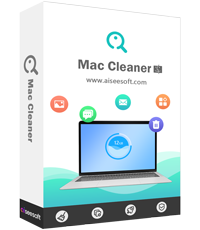 154,940 Downloads
Aiseesoft Mac Cleaner – Best McAfee Uninstaller
Uninstall McAfee with associated files at the same time.
Protect your personal files and data while uninstalling apps.
Support app deletion with one click.
Available to almost all Mac machines.
How to Uninstall McAfee App from Mac
Download and install the Mac Cleaner when you need to uninstall McAfee from Mac. Then launch it and click the Toolkit to enter the next window. Then choose the Uninstall option on the toolbox and enter the main interface. Now, click the Scan button to start looking for the apps installed on your Mac including McAfee.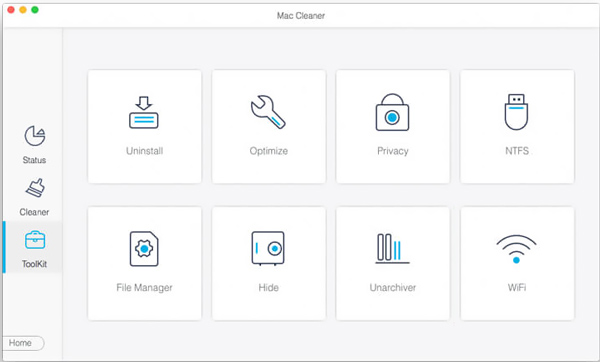 Step 2:
Delete McAfee from Mac
When app scanning is done, click the View button to enter the cleaner window. Browse the apps that you installed on your Mac in the app panel until you find McAfee. Select it and you will see all relative files and folders on the right side. Tick the checkbox next to Select All at the top of the panel, and click the Clean button to initiate uninstalling McAfee from Mac immediately. All you need to do is wait for the process to finish. Then close the app and you won't be bothered anymore.
Note: In addition to helping you delete McAfee on Mac, Mac Cleaner also works as an alternative. It can scan and delete viruses, malware, and more on Mac easily.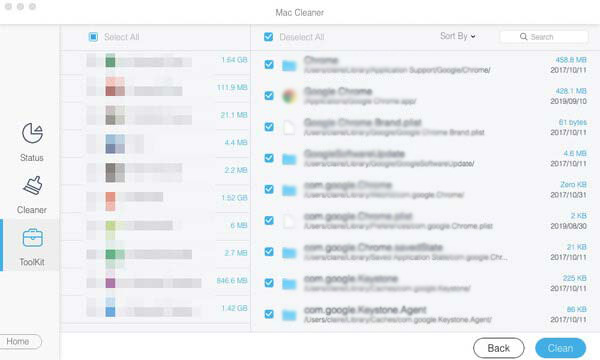 Part 4. FAQs about Uninstalling McAfee
1. Why I cannot uninstall McAfee?
Firstly, you need to quit all processes of McAfee before uninstalling it on Mac. As a firewall app, it runs once you power on your computer. When an app is running, you cannot uninstall it completely. Moreover, you have to delete all associated files after uninstalling them.
2. Should I uninstall McAfee from Mac?
The answer is determined by your situation and purpose. As a firewall and antivirus app, McAfee can help you protect your computer and documents. However, if the app slows down your machine, you'd better remove it.
3. Should I uninstall McAfee from Windows 10?
According to Microsoft, Microsoft has added strong protection on Windows 10 including the built-in firewall and more. Therefore, McAfee seems redundant on Windows 10. Moreover, it is annoying that the third-party app is above all other apps. It also makes your laptop slower and slower.
Conclusion
This article talked about how to uninstall McAfee on Mac so that you can improve the performance and get rid of the notifications which keep popping up. You can remove the third-party firewall app manually. Furthermore, Apeaksoft Mac Cleaner can streamline the workflow and completely delete McAfee. More importantly, beginners can learn it in seconds and use the McAfee uninstaller without any technical skill. If you encounter other problems, please feel free to contact us by leaving your message below this post.

Leave your comment and join our discussion