Top 3D Animation Software List in 2020
3D animation has been more and more popular in contemporary art, one obvious proof is that more and more big films adopt 3D technology. So what's 3D animation? Generally speaking, 3D animation is digitally modeled and manipulated by an animator, it uses computer graphics to make objects look like they are moving in 3d-dimensional space. Artists use 3D animation software to build the objects. You can know more basic knowledge about 3D from this quick guide of 3D intro.
No matter you are a professional or amateur in animation, in order to be a qualified animator, you should at least have full knowledge about how to use 3D animation software to finish you creativity. So the first thing you need to do is to choose an easy but powerful 3D animation program. Here we will recommend 7 best 3D animation tools for you, free and paid software both available.

Part 1. Best free 3D animation software
1. Blender
OS: Windows, Mac, Linux
Price: Free
Blender is a free and open source but professional 3D animation program. It's powerful in 3D modeling, rigging, animation, simulation, rendering, compositing and motion tracking, even video editing and game creation.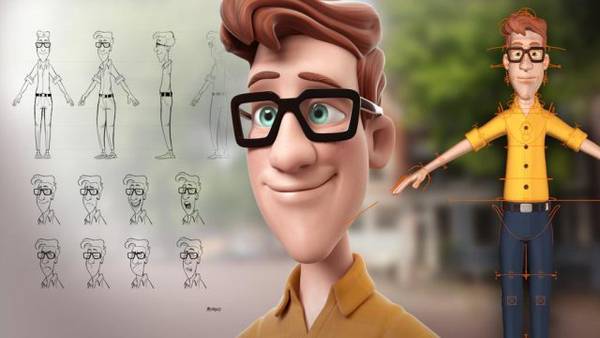 Pros:
Blender is totally free to use for any purpose, forever.
It has a built-in path-tracer engine that provides stunning ultra-realistic rendering, which is called Cycles.
The comprehensive array of modeling tools make create, transform and edit your models a breeze.
It's good to use Blender to make short films, advertisements, TV series and feature films because it has high quality rigging and animation tools.
Cons:
Blender is less useful in architecture and furniture design.
It's not suitable for beginners because of its heavy use of shortcuts to execute commands.
2. Wings 3D
OS: Windows, Mac, Linux
Price: Free
Wings 3D is also an open source and completely free 3D modeler. It uses traditional (standard) polygon modeling techniques, so what you learn from this software is applicable in other content-creation packages, which makes it a good starting point for beginners who want to learn how to model for animation, games and film.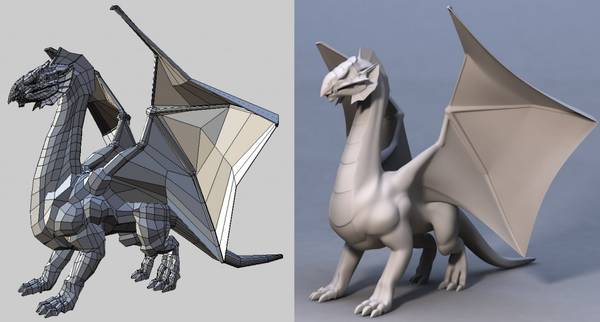 Pros:
This 3D software offers a wide range of modeling tools, customizable interface, and a built-in AutoUV mapping facility.
Wings 3D supports for common 3D export formats like .obj.
It supports for various languages including English, Chinese, Italian, Japanese, Swedish, etc.
Cons:
The biggest disadvantage of Wings 3D is that it has no animation feature.
The feature of this 3D modeler is single, it doesn't offer features beyond the basics.
3. SketchUp
OS: Windows
Price: Free for online version
SketchUp is an intuitive 3D modeler, it's originally developed by Google and now owned by Trimble. It's practical in architectural design. Like Blender, SketchUp has received much praise due to its ease of use and speed. This 3D animation software can be accessed with desktop pro version, app version and free online version.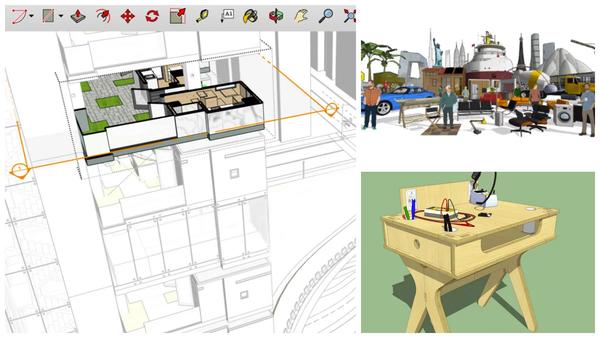 Pros:
The free Online version of this 3D animation software can help you make anything you can imagine without downloading anything.
There is 10 GB of Trimble Connect cloud storage available, so you can share your projects and collaborate with your team.
Large library of models available.
Cons:
It may be a problem if you imported 3D models created in other programs.
Except SketchUp free online tool, other software version should be paid to use.
Its official website is a little confusing and complicated. If you want to download its desktop software, you need to create an account and answer some questions at first.
4. Clara.io
OS: Windows, Mac
Price: Free
Clara.io is a free web-based 3D modeling tool. It caters to most 3D animation needs for it is capable of basic modeling techniques like extrusion, beveling, slicing, cutting, and looping. Unlike most online tools, Clara.io doesn't require any browser plugins to get it going. It is used by more than 80,000 users worldwide because of its polygonal modeling and skeletal/keyframe animation.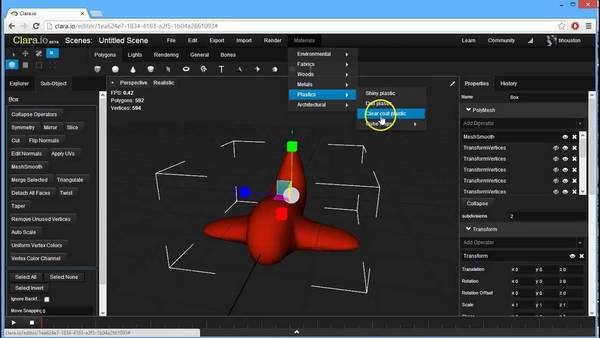 Pros:
This online 3D animation software is easy to use and is best for beginners.
Its 3D animation and rendering features has exceeded expectations for a browser based suite.
This free 3D animation software enables you to embed your 3D models and 3D animations into websites.
Clara.io has powerful modeling tools, including sub-object editing, a ton of mesh tools, subdivision surfaces, modifiers/operators, UV editing. Its performance has also been optimized.
Con:
There is no desktop version available.
Part 2. Best paid 3D animation software
5. Aiseesoft 3D Converter
OS: Windows, Mac
Price: 30-day free trial; $24.50/Year; $34.30/Lifetime
Aiseesoft 3D Converter is dedicated to beginners. It's easy to use and possesses many feature. It allows you to convert 2D videos to 3D, turn 3D to 2D as well as change 3D modes between 3D files.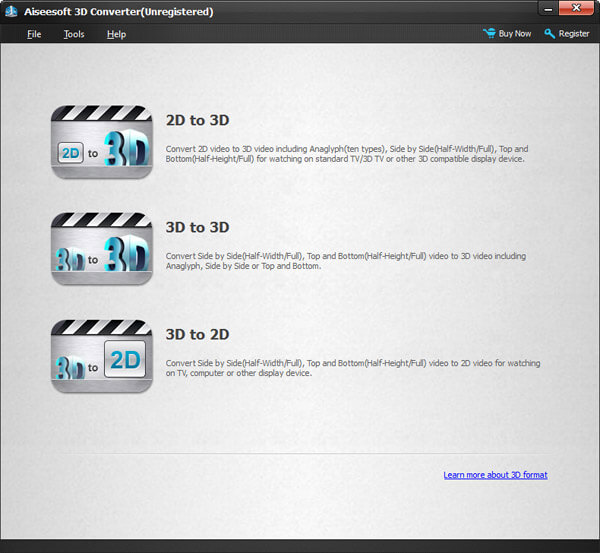 Pros:
You are able to convert 2D files to 3D and enjoy them with VR devices, or convert 3D to 2D in order to play them on common device easily.
This 3D animation software supports for five 3D modes- Anaglyph 3D, Side by Side (Half-Width) 3D, Side by Side (Full) 3D, Top and Bottom (Half-Height) 3D and Top and Bottom (Full) 3D. You can switch between these modes according to your need.
You can modify 3D output video and audio settings like video resolution, video bitrate, frame rate, encoder, aspect ratio, zoom mode and audio channels, sample rate, encoder, audio bitrate, etc.
It's compatible with most popular 2D and 3D players.
Con:
If you want to make 3D animation, this 3D software is not suitable for you.
6. Autodesk Maya
OS: Windows 64-bit, Mac
Price: 30-day free trial; $1,050/Year
Autodesk Maya is one of the best and professional 3D animation software. It can be the industry standard of computer animation. It's a paid 3D program with various powerful features of animating, modeling, coloring, simulation, and rendering. If you are a professional in 3D animation, this is the program you should focus on.
Pros:
As a professional and powerful 3D animation program, it doesn't mean that Maya is difficult to use. On the contrary, it's an uncomplicated tool but can create complex technical effects for animators.
Maya possesses high-level animation editing feature, perfect accuracy and control. What's more, its performance has been improved in a wide range of areas which makes Maya more responsive in ways that most users will notice in their day to day work.
Cons:
30-day free trial is available. The full version of Maya costs $1,505/year. Which will be a huge burden for most users.
7. Cinema 4D
OS: Windows, Mac
Price: 42-day free trial; $3,695
Cinema 4D provides you with a fast and easy-to-use 3D animation solution. It has intuitive interface and outstanding community, which make it more friendly to beginners. This 3D animation software is used widely in advertisements, television, and other motion graphics because of its high speed.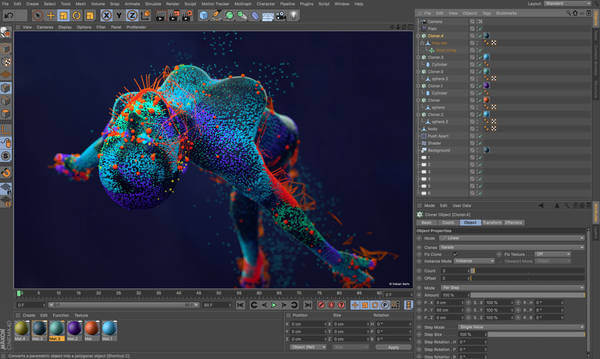 Pros:
There are extensive library of preset scenes, material, and objects in Cinema 4D.
This 3D animation software has tight integrations to Adobe After Effects, Adobe Illustrator, CAD applications and supports for industry-standard exchange formats.
Cons:
Cinema 4D is massively expensive with the price of 3,695 USD for the full version. And if you want to use its free trial, you need to fill out a form on its website at first, then you will be redirected to the download page, which is a little inconvenient.
There are fewer quality tutorials to learn this 3D animation tool because it's not as widely used as Maya.
Conclusion
If you are looking for free 3D animation software with professional and powerful features, Blender must be you best choice. If you are looking for an easy 3D converting tool, Aiseesoft 3D Convert must be the best option. If you work in a big animation company and has much budget for a full version of 3D animation tool, Autodesk Maya and Cinema 4D can both be taken into consideration, you can make decision according to your specific demands.