Adobe PDF Editor Free Download and PDF File Edit
"I download Adobe Acrobat Reader to my Windows desktop. Now I receive the PDF file from my partner, and want to make some changes in the PDF file. But Acrobat X Pro seems no editing features. How can I use Adobe Reader to edit the PDF file?"
Adobe Acrobat Reader is the free PDF reader available for desktop and mobile platforms. You can use it to view, print and annotate the PDF file. For using this reader to edit PDF file, you need to purchase its commercial license. In this page, we will show you how to edit a PDF file with Adobe PDF editor.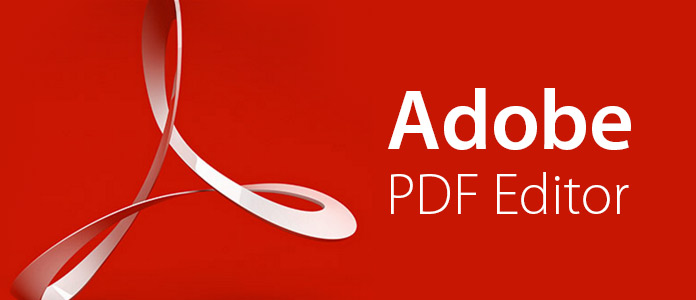 Part 1. Adobe PDF editor editing feature versions
For using the editing features, you need to select the correct version of Adobe Acrobat. Check the plans and pricing of Acrobat to find the most matching version, Adobe Acrobat Pro DC of $14.99/month, to enjoy all editing functions.
Editing features of Adobe PDF editor
1. Convert PDF to Microsoft Office formats.
2. Find, replace, copy, paste, add and edit text in a PDF file.
3. Reorder pages.
4. Scan paper to PDFs.
5. Reflow text across a page.
6. Add new lines to existing bulleted or numbered lists without formatting.
7. Automatic spell-check.
8. Clean up document photos to remove backgrounds and adjust perspective.
9. Preview and correct suspend text recognition errors.
10. Interact with PDFs, and create PDF files.
11. Collect and capture signatures.
Part 2. How to download Adobe PDF editor
This way of taking screenshot is unique for Samsung phone. You just need a gesture of palm swipe shortcut to take a screenshot.
Step 1 You need to sign up an Adobe Acrobat account for free days' trial of Adobe Acrobat Pro DC.
Step 2 Download the exe. File to your computer. Double-click the installer to complete. If you install the old version before, then the previous version will be uninstalled.
Download Acrobat Pro DC for Windows:
http://trials3.adobe.com/AdobeProducts/APRO/Acrobat_HelpX/win32/Acrobat_DC_Web_WWMUI.exe
Download Acrobat Pro DC for Mac:
http://trials3.adobe.com/AdobeProducts/APRO/Acrobat_HelpX/osx10/Acrobat_DC_Web_WWMUI.dmg
This software will detect your computer system information and download the matching version to your computer.
This PDF editor is compatible with the following system:
Microsoft Windows Server 2008 R2 (64 bit), 2012 (64 bit), or 2012 R2 (64 bit); Windows 7 (32 bit and 64 bit), Windows 8, 8.1 (32 bit and 64 bit), or Windows 10 (32 bit and 64 bit).
Mac OS X v10.9, Mac OS X v10.10, Mac OS X v10.11, or macOS v10.12.
Android, iOS.
Online browser:
Microsoft Windows 10 using Internet Explorer 11, Firefox, or Chrome
Microsoft Windows 8 using Internet Explorer 10 or later, Firefox, or Chrome
Microsoft Windows 7 using Internet Explorer 8 or later, Firefox, or Chrome
Microsoft Windows Vista using Internet Explorer 8 or 9, Firefox, or Chrome
Mac OS X v10.9 or later using Safari 7 or later, Firefox, or Chrome.
Part 3. How to edit a PDF with Adobe PDF editor
Step 1 After downloading, install and run the Adobe PDF editor on your Windows or Mac computer. Here we will take the Mac version as the example. Click "File" to import the PDF file into this program.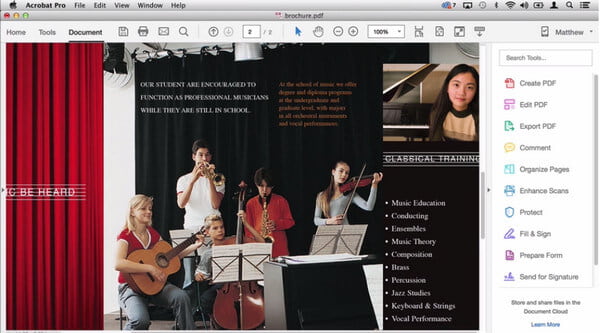 Step 2 Click "Edit PDF" to enter the editing interface for the PDF file.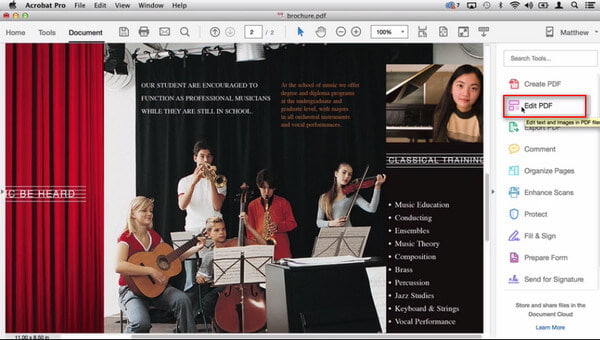 Edit text
Click "Add Text" to start to add text words to the PDF file. Here you could adjust format (font, size, alignment).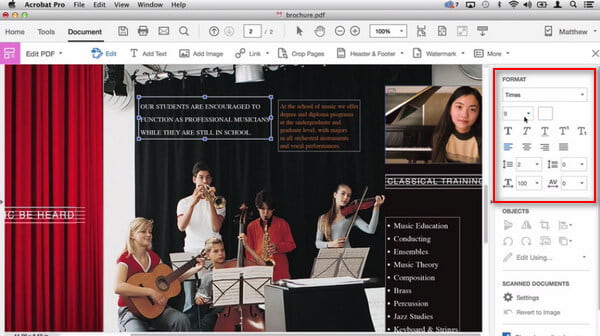 Edit image
Click the image that you want to edit, then you could use the "OBJECTS" feature to flip, rotate, crop, replace the image you selected. Or use Adobe Photoshop to edit the image further.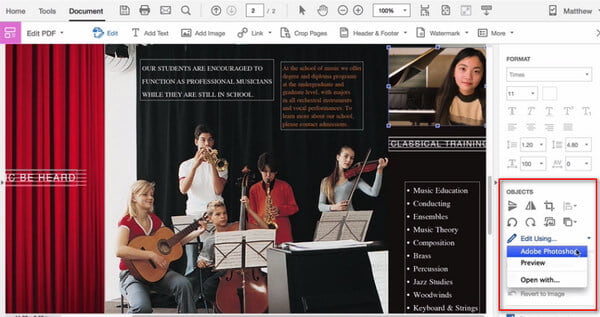 Edit link
Click "Link" to add/edit web link, or remove the web links, also you could append all links or view web links.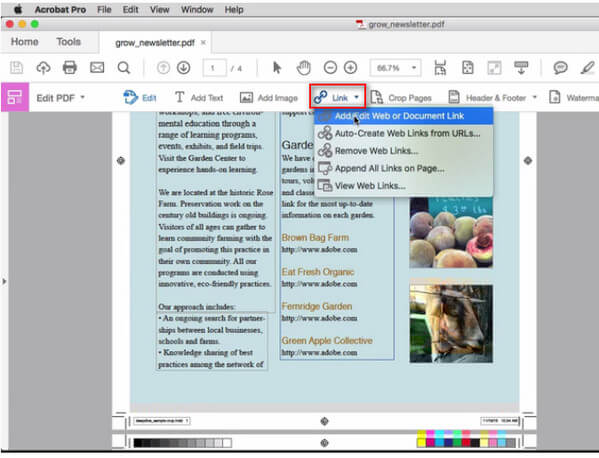 Crop pages
Click "Crop Pages" to start to crop the PDF pages. You could set the page range, margin controls, and page size value freely.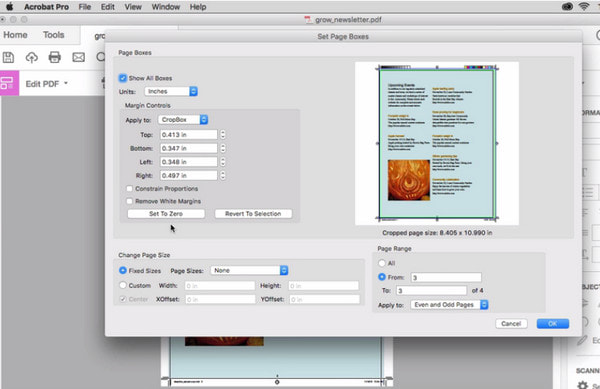 Edit footer and header
Click "Header & Footer" to add, update or remove header and footer.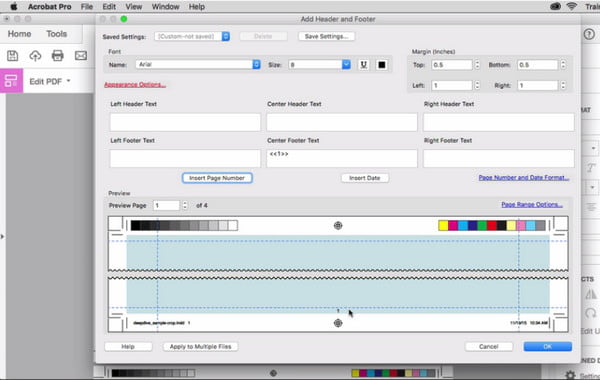 Edit watermark
Click "Watermark" to add, update or remove watermark. You can set the text or image, adjust the size, capacity, range page, position, etc. to add the watermark.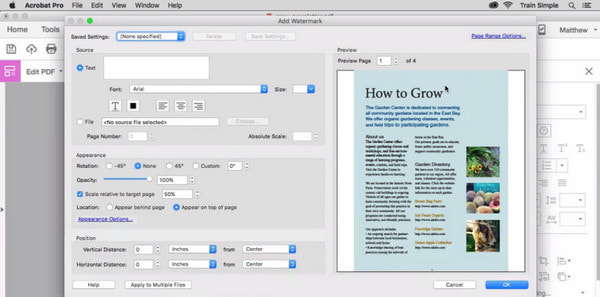 Save to cloud
After you make all editing changes, you could save the edited PDF file to cloud. Click "Document" > "Save As" > "Document Cloud" to store the edited PDF there.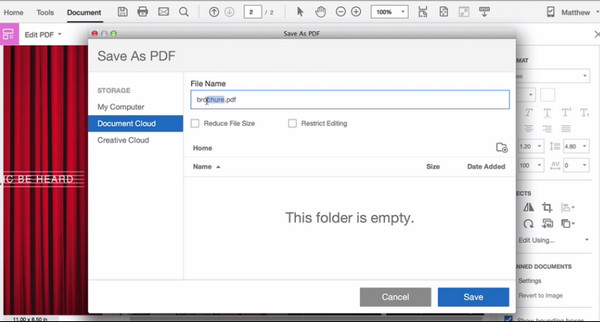 For more editing features, you will be able to click "More" to enjoy them.
Part 4. Adobe PDF editor alternatives
Adobe Acrobat Pro DC is not the professional PDF editor. Editing feature is one of its powerful PDF features (Create PDF, Export PDF, Comment, Enhance Scans, Protect, Fill & Sign, Prepare Form, etc.), so it is inevitable for you to regard it as the perfect PDF editor. Also, the price of this PDF editing program is high-end for all features, not for only editor. So if you seek for a professional PDF editor, then Adobe Acrobat Pro DC may will not be an ideal option. Get the Adobe PDF editor alternatives will be necessary.
Foxit PDF editor, also named as PhantomPDF, is the professional PDF editor, which enables you to edit paragraph, text, image, PDF pages, etc. easily. Go through this post to learn more about Foxit PDF Editor as the Adobe PDF editor replacement.
Here, you may can conclude that Adobe PDF editor is not the real PDF editor, but the Adobe Acrobat software that possesses the editing feature to help you edit the PDF files. Hope this page will dive in a deeper knowledge of Adobe PDF editor download, tutorial and alternative.