Download and Review of PDF-XChange Editor
When PDF-XChange Editor is mentioned, you may be feel familiar but unfamiliar. Why? As the PDF editor, it is not as famous as Adobe Acrobat Pro DC, but it always come to your vision or ear from others' recommendation. As for its detailed information, like, how to download PDF-XChange Editor full version? PDF-XChange Editor gets its Mac version? What is the review of PDF-XChange Editor? ... Find out the solutions in the following descriptions.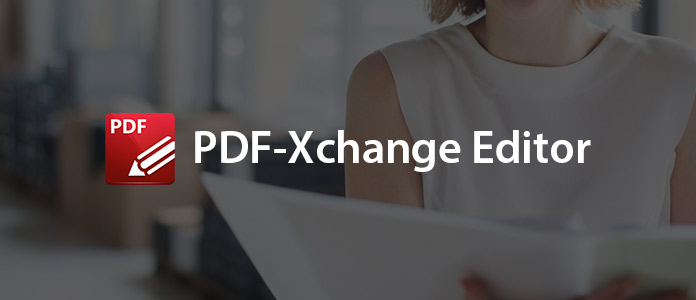 Part 1. What is PDF-XChange Editor
PDF-XChange Editor is The PDF editor that help you to create, view, edit, annotate, OCR support and digitally sign PDF files and more on Windows 10/8/7/Vista.
PDF-XChange Editor is the freeware for you to use. It has the standard and Plus version to enjoy the different editing features.
As its website claims that around 85% of the features require no license to use.
Approximately 15% of the advanced features will place a trial watermark on output if used without a license.
PDF-XChange Editor Plus license ($54.50) includes ability to create and edit fillable forms compared with the standard version ($43.50).
Now, let's check the editing features of PDF-XChange Editor:
Edit PDF documents, like document enhancing features, navigation panes, pages editing, etc.
Add comments and annotations to PDF documents.
Edit existing content like highlight, strikeout, underline, insert text, remove content with redaction, measure dimensions, etc.
Create, print, email, share PDF file via Dropbox, Google Drive, etc.
Secure documents with 128/236 bit AES Encryption.
OCR technology to convert image-based/scanned files to PDF.
Part 2. How to download and use PDF-XChange Editor
Download PDF-XChange Editor
You can download PDF-XChange Editor or its Plus version to your Windows 10/8/7/Vista computer.
You can download PDF-XChange Editor for free trial, and after its free trail expired, you need to purchase it and input the serial number to activate it.
Download PDF-XChange Editor here:
https://www.tracker-software.com/product/pdf-xchange-editor/download?fileid=549
Download PDF-XChange Editor Plus here:
https://www.tracker-software.com/product/pdf-xchange-editor/download?fileid=546
Tutorial of PDF-XChange Editor
Step 1 Run this software on your computer, and click "Open" to import the PDF file that you want to edit to this program.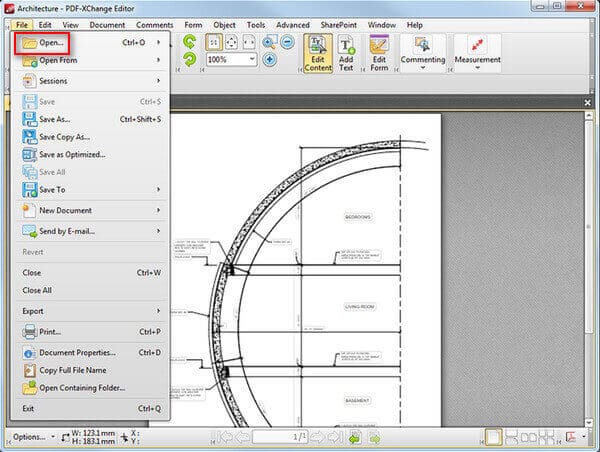 Step 2 Click "Edit" to start to get the editing features like Find, Search, Properties, Export Settings, Import Settings, Preferences, etc.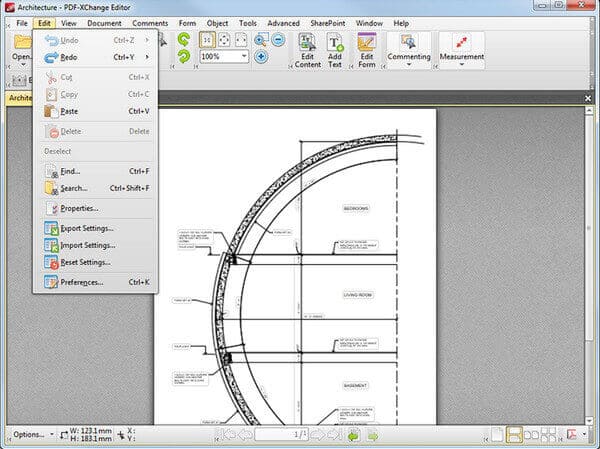 Step 3 After you make all settings, you could click "File" > "Save As" to the wanted formats on your computer.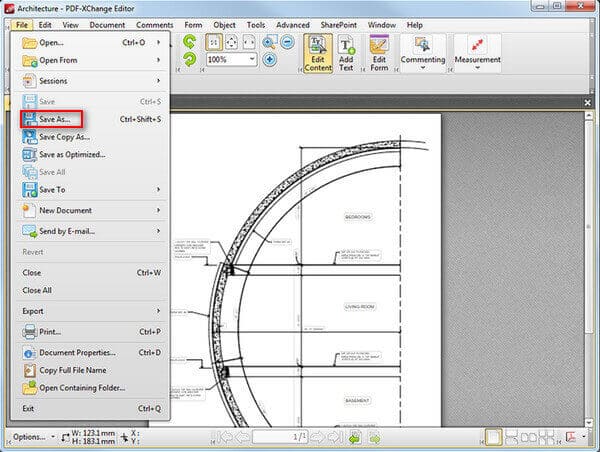 Part 3. Review of PDF-XChange Editor
The review of PDF-XChange Editor is from most users online, and it does not speak for ours.
Pros:
1. This PDF editing software loads reasonably fast.
2. It support printing PDF files.
3. Extensive annotation is supported for editing.
4. You can fill and save Adobe PDF forms.
5. It can extract text and image.
6. It magnifies text.
7. It manages PDF document properties and security.
8. This software is powerful to support OCR image based PDF files.
9. It provides you the ability to search the text contained in the file.
10. Powerful free PDF viewer with many annotate, shapes, comments, signatures features. Good and fast interface.
Cons:
1. Some advanced features like page modification, digital signatures, are included but not free, and once such features are sued, it will be watermarked.
2. The installer installs PUP.Optional.Spigot, which is not easy to remove.
3. All the crap that gets into your computer.
4. A number of additional programs that infest themselves are installed concurrently without much control by the user.
5. Its intermittent hiccups and hangups has been the worst in my life time using PCs. This is a disgracefully unstable program.
6. Don't quick the automatic install.
Part 4. PDF-XChange Editor alternatives
From the above reviews, you may know that PDF-XChange Editor is not perfect for you to edit a PDF file for free. You could still find the PDF-XChange Editor replacements to edit the PDF file on your Windows computer.
Here we find two PDF-XChange Editor alternatives for you, Adobe PDF Editor and Foxit PDF Editor.
Adobe PDF Editor is regarded as the best PDF editor and viewer, but it will costs you much, while Foxit PDF Editor is the medium-end PDF editor, which will provides you various editing features with a better price.
You can check this two PDF editors by yourself here:
Adobe PDF editor review
Foxit PDF Editor review
Here you could come to an end of this page that PDF-XChange Editor is a helper for you to edit the PDF file with basic editing features. For more advanced editing functions, you can also realize it via this program, but you may pay more.