Top 8 Ways to Use AirPlay for Windows 10/8.1/8/7/XP/Vista
AirPlay is the wireless media streaming technology developed by Apple. It allows users to send music, photos, videos, podcasts, and other multimedia contents between Apple devices. For instance, you can stream videos from MacBook to Apple TV via AirPlay.
Nevertheless, Apple restricts most of its best features to its own products, including AirPlay. That may make PC owners upset, and wondering whether they can use AirPlay on Windows.
The answer is a bit complicated depending on your conditions.
Fortunately, you can learn everything you need to know about how to use AirPlay for Windows in this post.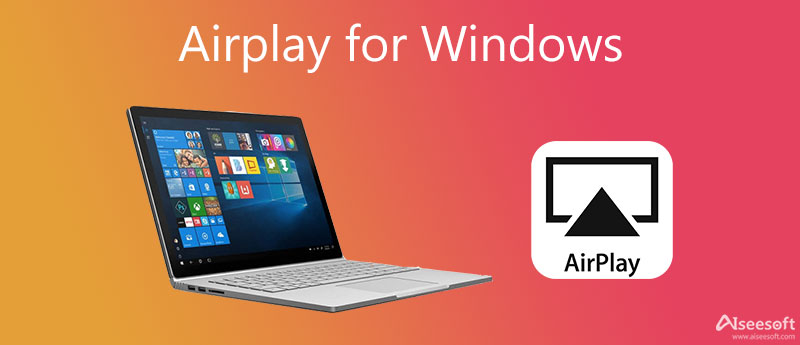 Part 1: Can you use AirPlay for Windows?
First of all, AirPlay offers two main features, streaming multimedia contents and mirroring one device's screen on another.
The good news is that you can use AirPlay on Windows for streaming.
What you need is downloading iTunes for Windows and an AirPlay compatible device.
It requires you to connect the two devices to the same Wi-Fi network and utilize iTunes to stream music on Windows to the recipient device, like wireless speaker; however, if you want to get more advanced AirPlay features, you will need extra software.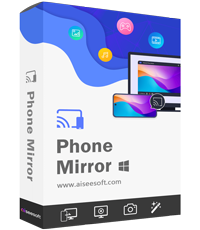 154,940 Downloads
High-quality screen mirroring of smartphones to computers or TVs.
Provide screen adjustment to make screen mirroring full screen.
Real-time show all phone screen content without lagging or buffering.
Enable users to draw, take screenshots, and include audio in the recording.
Step 1:
Download the software on your PC or laptop, then launch it to start screen mirroring the full screen of your phone. Choose the
Android/iOS
operating system supported by your phone, then locate the PC or laptop's name for searching.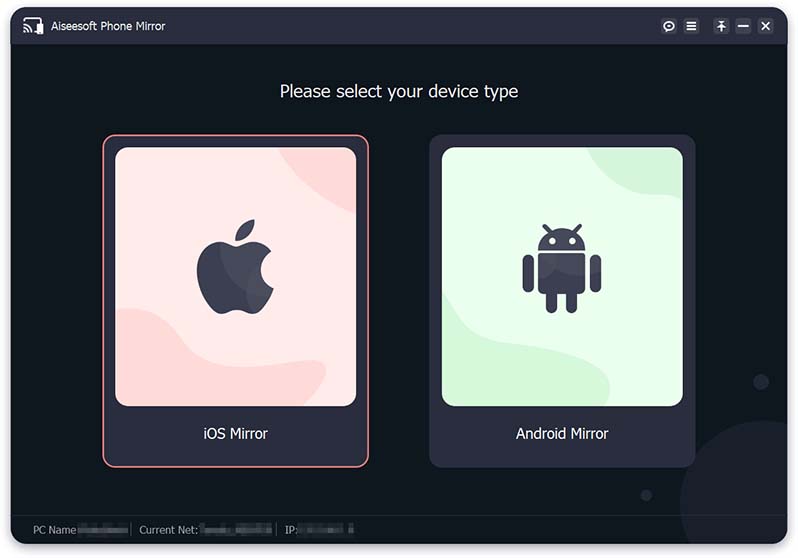 Step 2:
If you are using an iOS device, launch the
Screen Mirror
feature on your device and locate the same device's name indicated from the Phone Mirror. Tap it to make screen mirroring on full screen.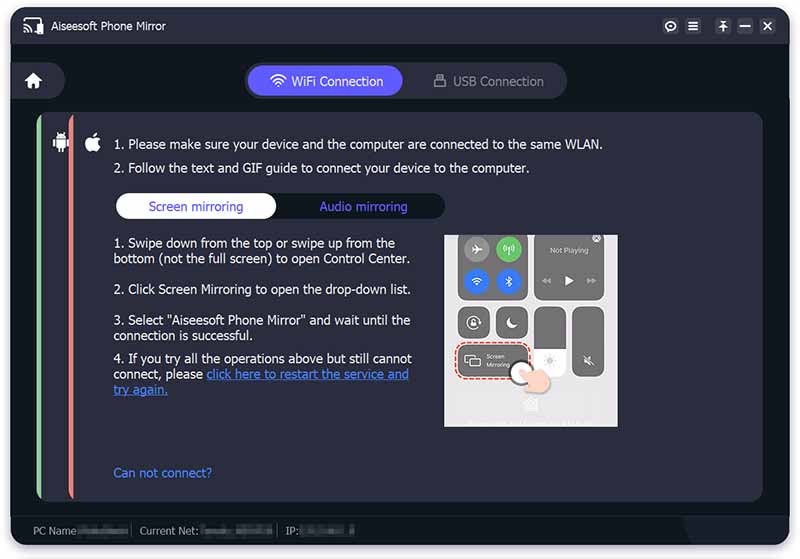 Step 3:
Once you have successfully connected your phone to the software, you can record the screen content. First, you can adjust the
Output
settings for a better screen recording. Here, you can change the Sound System option, video format, and even set the minutes to stop recording. Then click the
Record
button.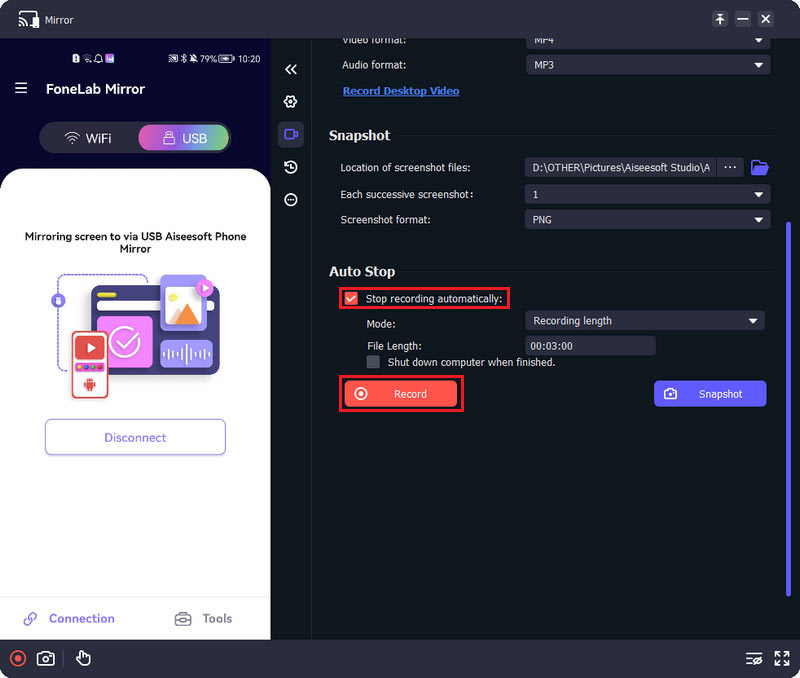 Note: If you are using an Android phone, you need to download FoneLab Mirror to connect your phone to the software.
Part 2: Windows software for AirPlay mirroring
Another important feature of AirPlay is to show entire screen of your iPhone, iPad or Mac on the Apple TV. To achieve the same thing on Windows, you can try the software below.
Aiseesoft Phone Mirror
To mirror your mobile device to PC, Aiseesoft Phone Mirror will be your handy mirroring application. With it, you can easily share your iPhone or Android screen with your computer. So, you can fully enjoy the videos on your iPhone's screen with a large a screen from your computer.
Key Feature
1.Mirror iPhone and Android on a computer with high resolution.
2.Make real-time recording during mirroring.
3.Suitable for different scenarios, like game live streaming, meeting, etc.
4.Available for both iOS and Android devices.
Pros
One-click to start and stop mirroring.
Supports wireless and wired sharing
QR code scanner helps you connect the correct devices.
Amazing picture quality.
Cons
You'll need to download it on the computer.
Apeaksoft iOS Screen Recorder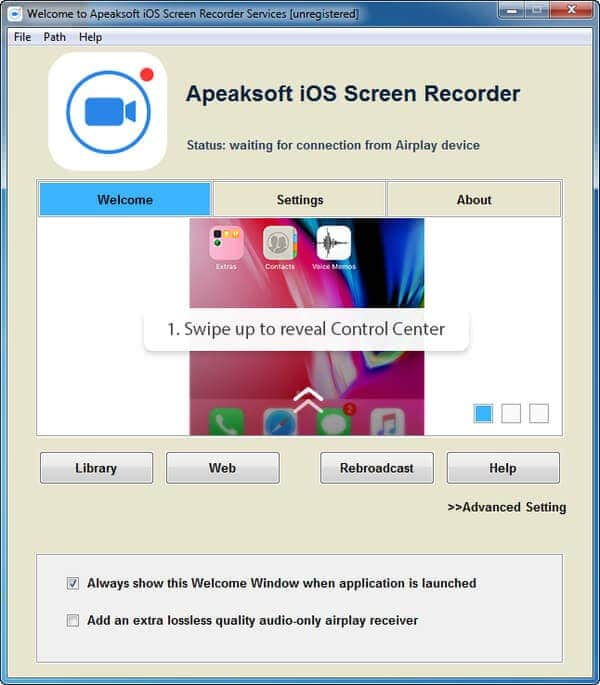 As an alternative solution of AirPlay on Windows, Apeaksoft iOS Screen Recorder (https://www.apeaksoft.com/ios-screen-recorder/) offers more benefits, like:
1. Mirror whatever on your iOS screen to your PC wirelessly.
2. Record the screen of iPhone, iPad or iPod on your computer simply.
3. Utilize hardware acceleration technology to minimize lag.
4. Use hotkeys to control the process.
5. Export HD videos in MP4 after recording.
6. Support all models of iPhone, iPad and iPod Touch.
Pros
It is compatible with iOS 12 and earlier.
The video output quality is great.
Cons
It is a paid application, though the price is affordable.
AirServer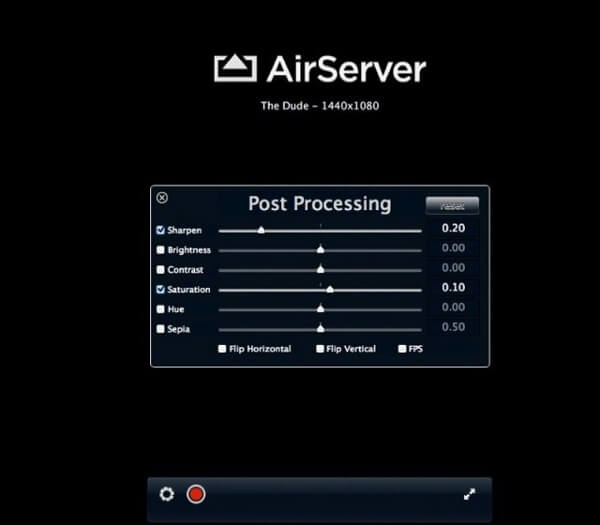 Principal features:
1. Turn your PC into a universal mirroring receiver.
2. Mirror to the same screen using AirPlay and Miracast at the same time.
3. Cast iPhone screen to your PC with no lag.
4. Offer the screen recording option when mirroring.
Pros
This alternative to AirPlay for Windows is not restricted to iOS devices and Mac.
AirServer can display more than 8 connections simultaneously.
Cons
The configuration is pretty complex and easy to make beginners confused.
AirMyPC for Windows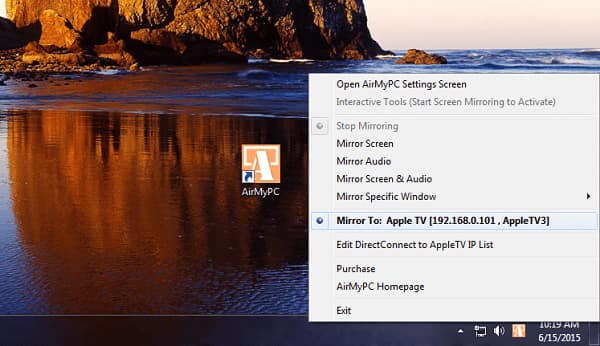 Principal features:
1. Mirror your PC screen to iOS devices, Apple TV or Chromecast.
2. Cast photos, videos and music from PC to another device wirelessly.
3. Send desktop screen and computer speakers separately or simultaneously.
4. AirPlay webcam and microphone to your TV.
Pros
This alternative for AirPlay on Windows is easy to navigate.
Everything is mirrored via wireless.
Cons
You have to purchase the application and add-ons.
X-Mirage for Windows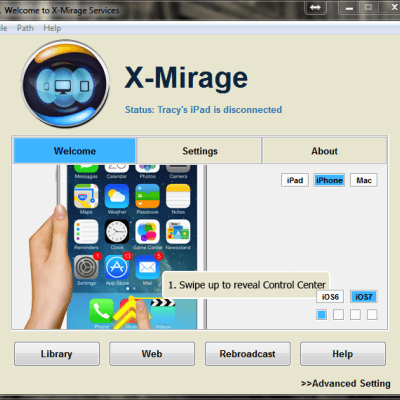 Main features:
1. Mirror iPhone, iPad and iPod screen to any PCs.
2. X-Mirage streams contents between iOS devices and Windows.
3. Record screen and audio from iOS on PCs.
4. Cast multiple iOS devices to your PC at the same time.
Pros
The AirPlay alternative for Windows supports one-click recording.
The interface is straightforward.
Cons
The Windows version is different with the one for Mac, though the price is the same.
Part 3: AirPlay for Windows to stream media
AirPlay has the capacity to stream contents besides music between devices. However, without third-party software, you cannot use this feature of AirPlay for Windows.
Squirrels AirParrot 2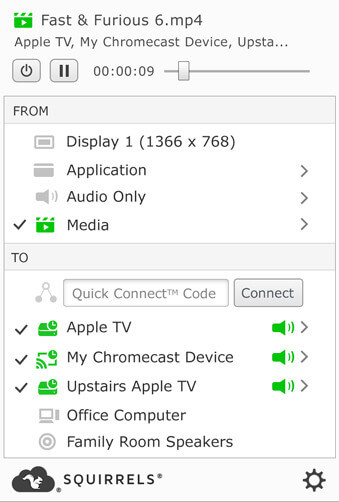 Key features:
1. Stream media contents in 5.1 surround sound without losing quality.
2. Support to send stuff to any AirPlay devices or Chromecast machines.
3. Work in the background, like stream video from PC to iPhone X while browsing the web.
4. Compatible with Windows Vista and later.
Pros
This AirPlay alternative for Windows supports a wide range of devices.
The interface is intuitive.
Cons
To stream contents to PC, you will need to install Squirrels Reflector 2 on the recipient device.
Tubecast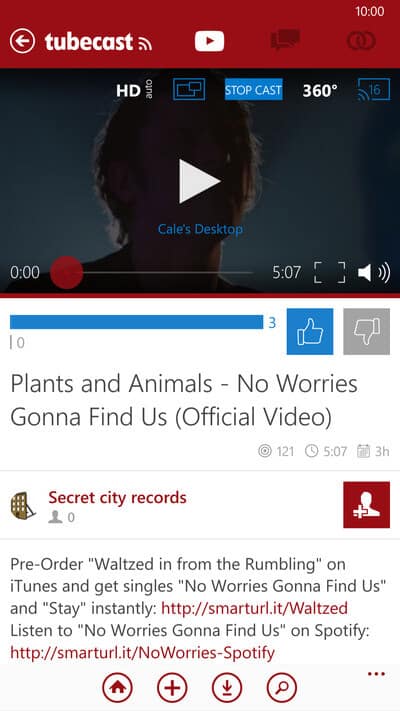 Main features:
1. Stream videos to smart TVs, Xbox, Apple TV, Chromecast devices, etc.
2. Compatible with Windows 8.1 or above.
3. Offer a mobile app for Windows Mobile, like Windows Phone 8/8.1/10.
Pros
This AirPlay alternative for Windows supports almost all YouTube videos.
The video quality is pretty good on the recipient device.
Cons
It is only available to YouTube videos.
You cannot use it on Windows 7 and older.
Airfoil for Windows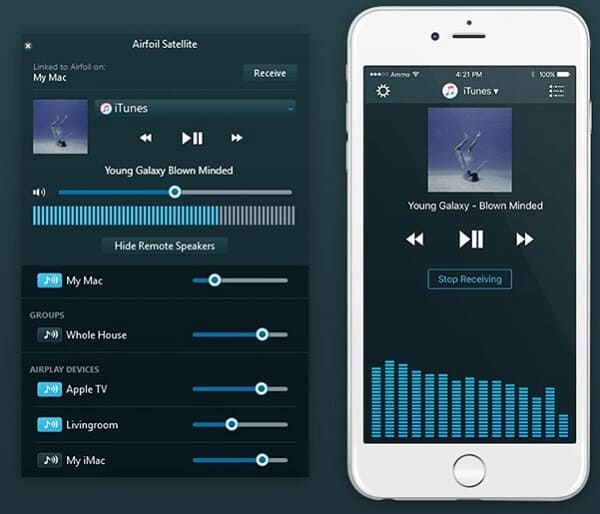 Basic features:
1. Output an app's audio from Windows to AirPlay destination and more.
2. Support more than one recipient device at the same time.
3. Co-work with iOS devices, Windows 10 and Airfoil Speaker on Android.
4. Stream your voice from microphone to receiving devices.
Pros
The replacement of AirPlay for Windows provides plentiful custom options.
It does not require extra recipient apps.
Cons
It is more expensive than other software.
TuneBlade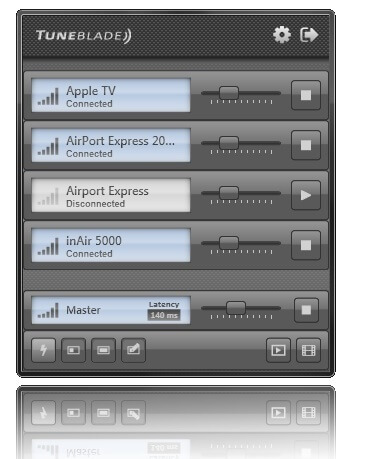 Attractive features:
1. Stream music from PC to an AirPlay-enabled device.
2. Divert the audio output of your PC to one or more devices simultaneously.
3. Offer a free and a pro version.
4. Work with VLC Media Player and pipe audio to an external speaker.
Pros
The workflow of this AirPlay alternative for Windows is pretty simple.
It is able to optimize the performance and reduce buffering time.
Cons
The free version will disconnect the streaming every 10 minutes.
Part 4: FAQs of AirPlay for Windows
1. Can I use AirPlay on Windows 10?
Yes, you can. Airplay is the Apple's technology for streaming media wirelessly. It can mirror your iOS device screen and iTunes to Apple TV under the same Wi-Fi network. For using AirPlay on Windows 10 computer, you just need to install iTunes on Windows 10 and get a AirPlay compatible device.
2. How to fix AirPlay icon missing in iTunes on Windows?
The problem that AirPlay icon missing in iTunes on Windows may be caused by the Internet issue. You should open Control Panel on Windows computer, choose Network and Internet, then select the View network status tasks under Network and Sharing Center section. Choose the active network and click Properties button at the left-bottom corner. Make sure Internet PROTOCOL VERSION 6(TCP/IPv6) unchecked, and then click OK. After that, just restart iTunes and use the Home Sharing feature again to enable AirPlay to work on Windows computer.
3. Is AirParrot free?
No. AirParrot is not free. You can download it for a 7-day free trial. After that, you should pay $14.99 to purchase and activate it.
Conclusion
As mentioned previously, extra software is required whether you want to stream videos between PC and Apple devices or mirror iPhone screen to Windows. Based on your post above, you might grasp at least 8 methods to achieve the task. Firstly, if you just want to stream music from your PC to AirPlay-enabled devices, iTunes is a good option.
For more advanced features, you can read our reviews and discover your favorite tool. All reviews are based on our lab testing and users' reports.

Leave your comment and join our discussion