X Mirage – AirPlay Server to Mirror Data from iPhone iPad iPod to Computer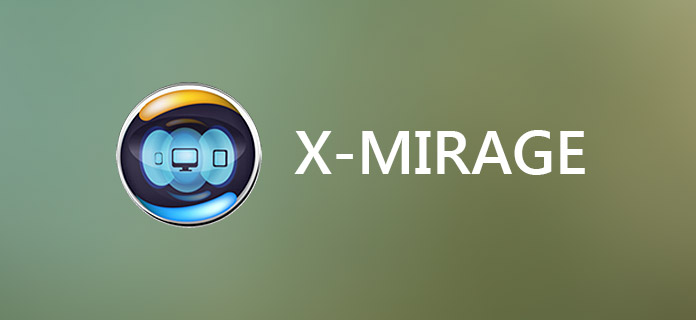 AirPlay is the practical tool to mirror your iOS device to Apple TV for a big screen. However, it fails to let you mirror from iOS device to computer. So X Mirage appears. It is the AirPlay helper to mirror iOS device to computer. Learn more details in this tutorial to mirror iPhone to computer (Windows and Mac).
Part 1. What is X Mirage
X Mirage defenition
X Mirage is the AirPlay server to help you maker iPhone iPad iPod screen mirror to computer (macOS High Sierra and Windows 10 supported). It can stream photos, movies, music, slideshow AirPlay-enabled app and games from iOS devices to computer. When you get more than one device, you could also get multiple devices screen mirror on the computer, which more like split screen.
M Mirage is not free. The price is $16.
Extend reading: You can read this post to learn more about AirPlay.
Download X Mirage
You can download X Mirage to your computer (http://www.x-mirage.com/download.html). Different iOS version will require downloading different X Mirage versions. iOS 6, 7, 8, 9, 10, 11 are highly supported.
X Mirage requirements
Check the following list to see what iOS devices are supported:
Airplay Sender
➤ iPad 2, iPad 3, iPad 4, iPad Air, iPad Air 2, iPad mini, iPad mini 2, iPad mini 3, iPad mini 4, iPad Pro;
➤ iPhone 4S, iPhone 5, iPhone 5C, iPhone 5S, iPhone 6, iPhone 6 Plus, iPhone 6S, iPhone 6S Plus, iPhone 7, iPhone 7 Plus, iPhone 8, iPhone X;
➤ iPod touch (5th generation), iPod Touch (6th generation);
➤ iMac (Mid 2011 or later), Mac mini (Mid 2011 or later), MacBook (Early 2015 or later), MacBook Air (Mid 2011 or later), MacBook Pro (Early 2011 or later), Mac Pro (Late 2013 or later) with OS X Mountain Lion v10.8 or later.
Airplay Receiver
➤ Mac running OS X 10.6 and later, PC running Windows XP and later or Windows XP, Vista, 7, 8, 10 Compatible with iOS 10/9 and Windows 10.
Network
➤ Devices and X-Mirage are on the same Wi-Fi network;
➤ Wireless 802.11n or Ethernet is highly recommended.
Best iOS data recovery software you may want to know:
iPhone Data Recovery
For Mac
iPhone Data Recovery is a professional tool specially designed for iOS device users to recover lost/deleted data from iPhone/iPad/iPod safely and easily.
Back up all frequently-used iOS files from iPhone/iPad/iPod to PC/Mac.
Retrieve and export lost data from any iOS device, including iPhone X/8/7/6/5/4.
Get back data from your iTunes backup.
Restore lost data from iCloud backup when you forgot iCloud password.
How to use X Mirage to mirror iOS devices to computer
Step 1 Download X Mirage to your computer (Windows or Mac). Here we will take X Mirage on Mac for an example. You can use its registered version, or trail version on your computer.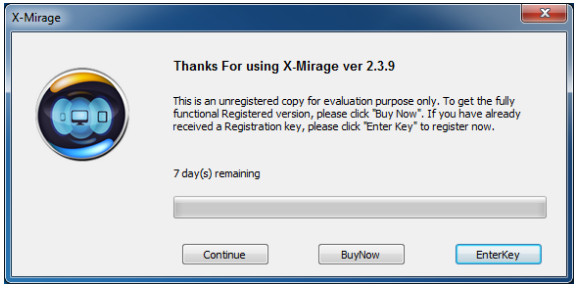 Step 2 Select the AirPlay sender, iOS version. Under "Settings" tab, you can set AirPlay display size, airplay name, password, etc.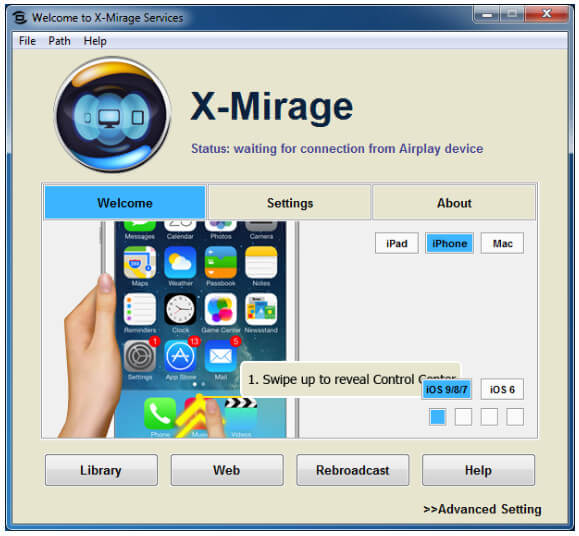 Step 3 On your iOS device, swipe from bottom to up to open "Control Panel" to turn on "AirPlay" to select "X Mirage XX's PC" or "X Mirage XX's Mac" to start to mirror your iOS device to computer.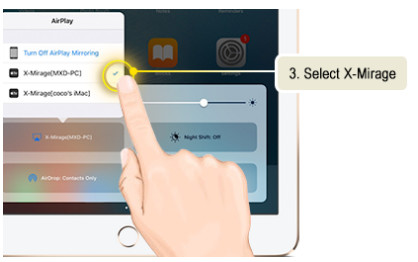 1. Make sure your iOS device and your computer are the same Wi-Fi network.
2. If the AirPlay icon doesn't appear, restart your Wi-Fi router, iOS devices and your Mac. Turn off the firewall in "System Preferences" > "Security & Privacy" or configure it to allow X-Mirage connection.
3. X-Mirage fails to mirror iPhone to TV, and you need to use the USB cable to connect iPhone to TV for sharing iPhone screen.
X Mirage alternatives
Other apps also enable you to mirror iOS devices to Mac or PC. You can find some X Mirage alternative apps, like Reflector Director or Reflector 2, Mirror Assist, etc. They work similarly. You can try it by yourself to find the best one.
Check this part to learn to use Reflector 2 to mirror iPhone to computer.