10 Best VR Movies
As YouTube and other video platforms released channels for virtual reality contents, the library of VR movies is growing by the hour. Today, most VR contents are created by professionals since the production cost are high. However, the quality of VR contents is still various.
In this post, we are going to focus on identifying the best VR movies. Then all you need to do is to read our recommendations carefully and download your favorite VR movies for viewing at any time.

Best Vr Videos Movies
Part 1: 10 best VR movies 2020
Here is our pick of the best VR movies and videos.
Top 1: Colosse
https://www.youtube.com/watch?v=sF3FT2GWnHQ
Colosse is a real-time VR video offering storytelling experience. Unlike the traditional movies, you are not a viewer but the character in the story.
Top 2: From Nothingl
https://www.youtube.com/watch?v=CWtNZnQ34pM
This VR video is the first Stereoscopic Fractal experience for VR devices such as Oculus Rift and Gear VR. The unique style of video and audio is impressive.
Top 3: Surge
https://www.youtube.com/watch?v=YZwLOomhcsI
If you are a music fan, you should not miss it. Surge is a VR music video that allows audiences to listen to the music as well as enjoy the music video in the immersive environment.
Top 4: Walking New York
https://www.youtube.com/watch?v=f0-89v4Fk-M
Walking New York was created by The New York Times Magazine. Anyone can be New Yorker and stroll through most memorable walks in the city via this VR movie.
Top 5: Millions March NYC
https://www.youtube.com/watch?v=N9cZRfp6mOA
This best VR movie was produced by the famous director Spike Jonze. The story was told with a first person type narration in order to present the life of black people.
Top 6: White Room: 02B3
https://www.youtube.com/watch?v=FAv2V1_2LHY
White Room: 02B3 is not only a VR video, but also a test. It was shot using a cutting-edge camera system in order to capture the complete room in 360 degrees.
Top 7: Butts
https://www.youtube.com/watch?v=GoH-ebJLvtU
The Butts is a short VR video about trust, love and learning the meaning of being truly free, but it is not suitable to everyone. Audiences have to sign in the age to view it.
Top 8: ODYSSEY VR: A Spacetime Trip
https://www.youtube.com/watch?v=53exljAYaaI
This VR video offers an immersive trip through some kind of space. It takes viewers to several different environments.
Top 9: IT: FlOAT
https://www.youtube.com/watch?v=FHUErvVAeIw
This VR movie is not a new story, but the remake of the famous horror story written by Stephen King. If you prefer to horror film, you should try the immersive experience.
Top 10: Ashes To Ashes
https://www.youtube.com/watch?v=865i1Ans9UY
This VR video uses a special way to tell a story about how a dysfunctional family deals with the death of their father.
Part 2: How to download VR videos
There will be more and more VR movies and videos available on YouTube and other platforms. However, you can only view them online but not download them to your computer for playing later. Aiseesoft Free Media Downloader could meet your needs.
How to download VR videos
Step 1 Install the Media downloader on your computer
Download and install Free Media Downloader on your computer and open it from your desktop. Next, start your web browser and search for your favorite VR movie.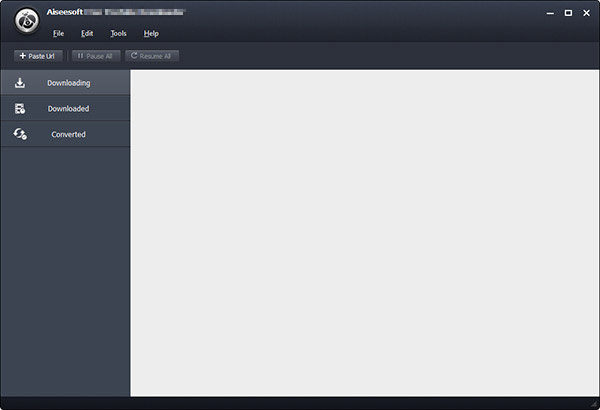 Step 2 Extract video files from URL
Navigate to the desired VR video and copy the address of the video. Click the Paste URL menu on top of the window, and then press Ctrl + V keys to paste the address into the box next to URL. Hit the Analyze button to extract video files from the address and then select the video file you want to download.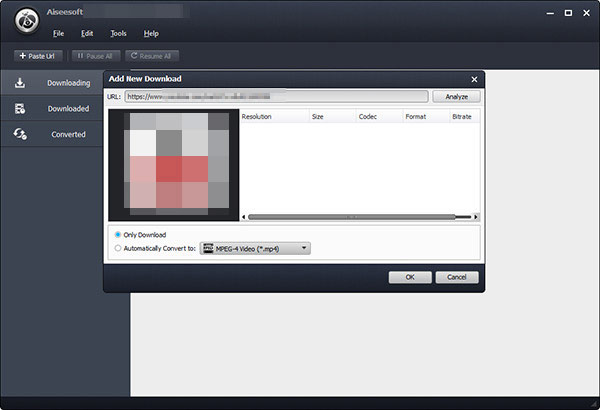 Step 3 Download VR videos in a single click
Locate the bottom area and select Only Download. To transcode the video format, select Automatically Convert to and pick up a proper video format from the dropdown list. Once click the OK button, the downloader application will do the rest work.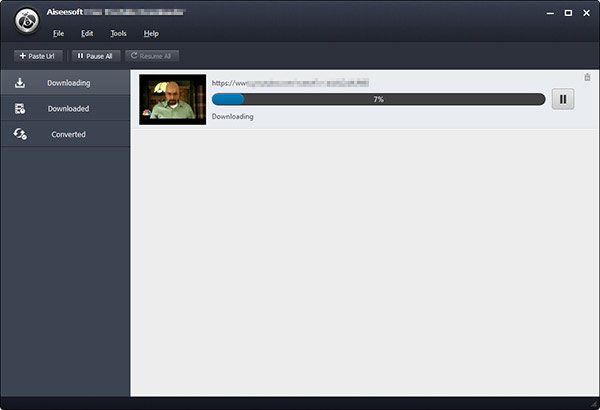 Note: If you need to download multiple videos, repeat step 2 and 3 to grab them in batch.
conclusion
We have identified and shared 10 best VR movies in the post above. If you want to enjoy the immersive experiences, they are the good starting points. You can read our introductions and discover your favorite video.