Kizoa Online Video Maker: Ultimate Review with Key Features, Tutorial and Alternative
Just got some memorable photos for graduation or wedding party? It is time to make a photo slideshow and share it with friends. Kizoa is one of the best video makers online with music and effects. What is more important, you can also edit the photos, personalize the videos, and add music effects directly with the online service.

When you login Kizoa to make slideshow online, you have to subscribe the service to get more storage space, add photos in RAW format, or export videos in a higher resolution. Learn more detailed information from the Kizoa review before making a final decision.
Part 1: Key Features of Kizoa Online Video Maker
Kizoa has everything you want to make a stunning photo slideshow. More than an online video maker to create slideshow with photos, videos and music, it also has slideshow maker, 4K video editing, RAW file storage, collage maker and more features. Moreover, it has an iOS version for you to make slideshows on iPhone.
Features:
Visitor mode and free mode to let visitor get familiar with the service.
Easy to make online videos via Kizoa with music and effects with drag-and-drop.
It is designed with settings for all the details, such as duration, speed, background color, size and more to make a slideshow.
Besides photos, video, GIF, texts, music and text, there are advanced backgrounds, intros and outros.
You can use basic photo editing features to add frames, filters and effects to photos before importing to online video.
Pros
1. Easy to customize most of the details, such as duration, size and position.
2. Multiple resources, including free photos, transitions, effects, texts, GIFs and music.
Cons
1. It takes hours to make a slideshow with the slow and cumbersome online video maker.
2. You have to monetize slideshow projects with more than one minute or remove the Kizoa logo.
3. The program crashes, freezes frequently, and even lost the work for various reasons.
4. Kioza has confusing options of the user interface.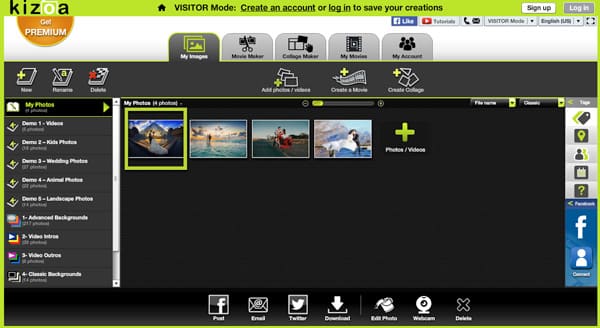 Part 2: How to Use Kizoa to Make Slideshow Online
When you need to make an online slideshow with photos and effects with Kizoa, you can use a Visitor account to get familiar with all the features, or login Kizoa with a free account. Here are the detailed processes to make slideshow online.
Step 1 Upload videos and images
Before making a slideshow online, you should upload all the videos and images into the online video maker first. If you find some useful tools for editing the photos, you can also get the desired images beforehand.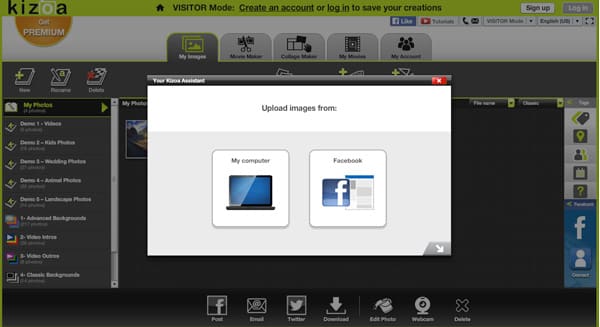 Step 2 Choose the video-making mode
Choose the "Templates" option to get a template and add your photos and videos, or "From scratch" option to follow your mode to make slideshow in endless possibility.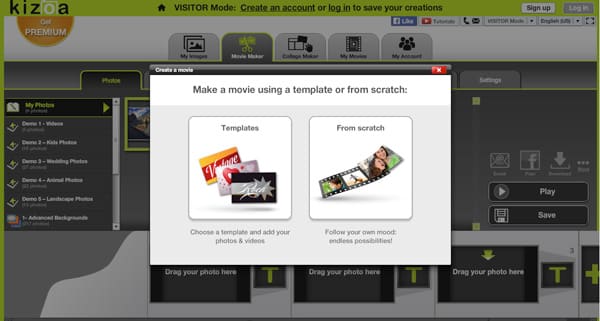 Step 3 Make slideshow from templates (optional)
Just take the "Templates" option as an example. After that select the files you want to import for the slideshow. You can also choose the videos, photos, animal photos and video intros into Kizoa. Click the "Next" button to make a slideshow automatically.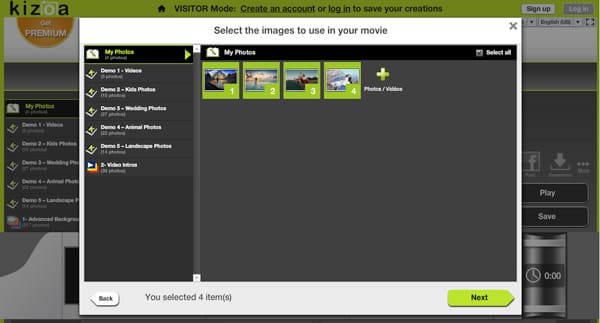 Step 4 Create slideshow from scratch
In order to design a slideshow for your own, you need to choose the "From scratch" mode instead. After that add transitions, effects, texts, GIFs, music and settings to make slideshow with photos and music.
Add Transitions on Kizoa: Browse the transitions and drag-n-drop the desired one to replace the original one.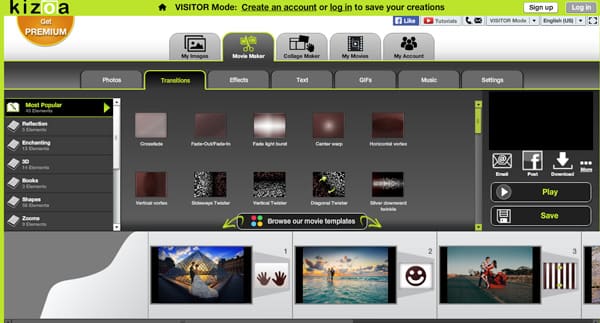 Add Image Effects on Kizoa: Once you add the effects to the photo, you have to adjust the slide duration.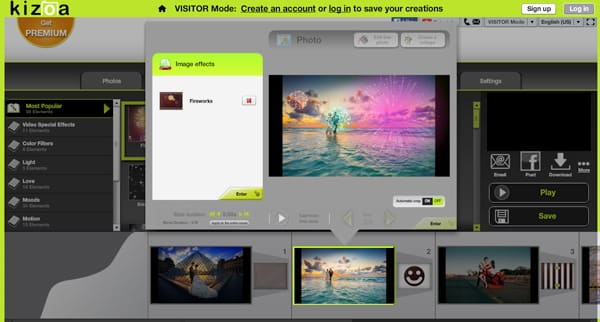 Add Text Effects on Kizoa: Choose a font style, enter the text, after that adjust the size, effects, color and position.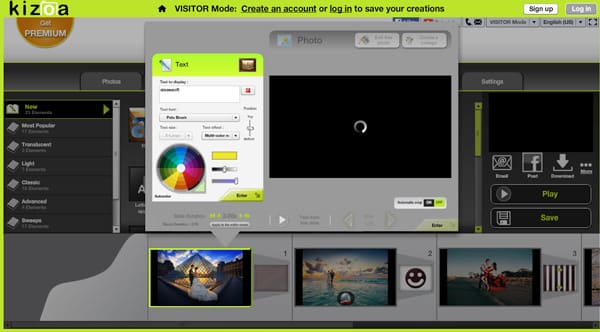 Add Music with KizPlayer: Find a music file from the library of Kizoa and add the music to the slideshow.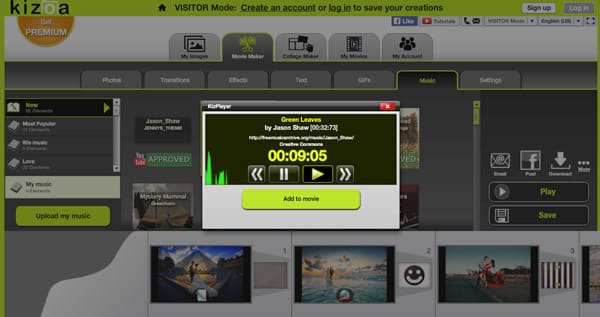 Part 3: Subscription Prices for Kizoa
Is Kizoa a free online video maker service? Yes, but there are lots of restrictions for the free service, even for the Kizoa support. When you need to become a Premium member or subscribe other services, you have to learn more about the Kizoa pricing and alternative online video maker services.
Because you have to use the network bandwidth to make a slideshow online, it should be a costly service for the online video maker. It is one of the most important reasons that you can find a few online free video makers.
| | | |
| --- | --- | --- |
| Preminum Video: | US$29.99 for lifetime | 10GB storage space, download movies at max 10 minutes in standard 600P resolution without logo and customer support. |
| Premium DVD: | $49.99 for lifetime | 100GB storage space, download movies at max 20 minutes in standard 600P resolution without logo, burn onto DVD, recipient to download creations, 30% off on prints and gifts, share to email, FB, blog, etc. and customer support. |
| PRO | $99.99 for lifetime | Unlimited storage space, download movies in a full HD 1080P without logo, image in Ultra HD 2160P, redirect slides to different URLs and configure loops on a blog, 50% off on prints and gifts, priority customer support and share to email, FB, blog, etc. |
| Photo Expert | $299.99 for lifetime | Unlimited storage space, download movies without time limitation, 4K resolution with no logo, expert settings and formats, photo in RAW formats, commercial license, reseller license, 30 minutes one-on-one training and priority customer support. |
Part 4: Best Kizoa Alternative Slideshow Maker for Computer
Is there a competitive alternative to Kizoa to get a stunning slideshow with photos and effects? Aiseesoft Slideshow Creator is the right choice to make slideshow video with photos, videos and music. Just as Kizoa, the slideshow maker has two different modes, ready-made theme to design video in few clicks and DIY own theme with large resources as profession. It is a versatile video maker with photos and effects, which makes your precious memory alive.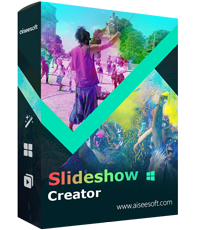 Downloads
Support most photo formats, video files and audio files in high quality.
Export slideshow video in 4K UHD, 1080P or even videos for smartphone.
Multiple materials to DIY an outstanding theme style.
Explore more editing tools to make slideshow movies shine.
Easy to use video maker to get videos within a few clicks.
Drag and drop photos, effects, texts and more elements to make slideshow within seconds in a stunning effect.
Competitive price to get a lifetime license for the excellent slideshow maker.
How to make video slideshow with Slideshow Creator
Step 1 Download and install Slideshow Creator from the official website. The program contains plenty of elements to beautify slideshow, which takes a period of time for downloading. After that launch the program to make slideshow videos.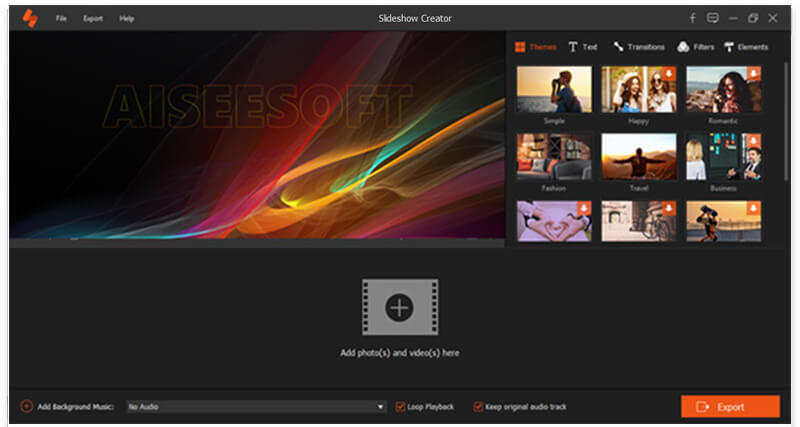 Step 2 Click the "Add photo(s) and video(s) here" to add photos and videos into the slideshow maker. Just follow the similar process of Kizoa to choose a "Theme" from the upper right corner. Double click the theme to apply the theme.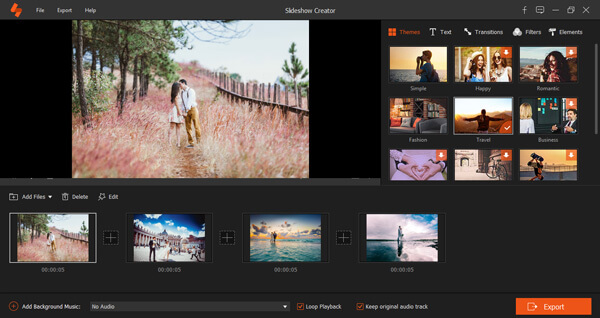 Step 3 Choose "Text" to enter the content, choose font, adjust size, set duration, set starting time, or even set different motions. Different from the online Kizoa, you can simply drag-and-drop the text into the desired position for the text with ease.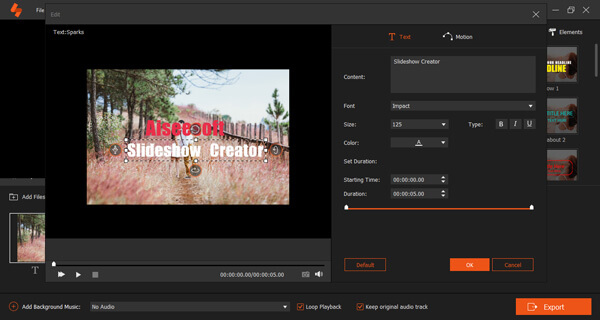 Step 4 Drag the transition effect for the desired photo or video and preview the effects. Of course, you can use the similar process to add filter and other elements to get the desired result.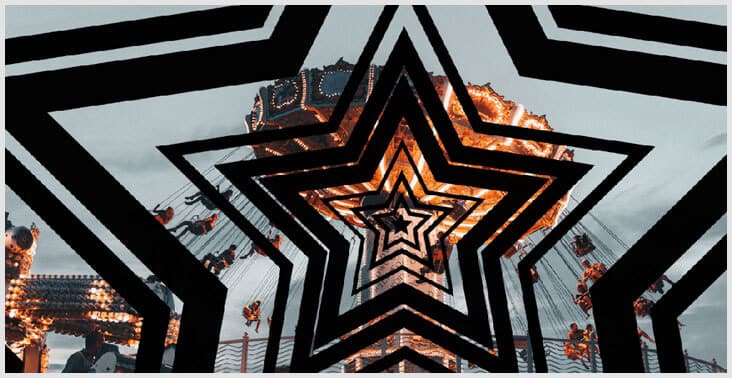 Step 5 Just click the "Export" button to export slideshow in 4K, 1080P or other solutions. Click the "Device" button, you can find a drop-down list to get videos for iPhone and other devices in suitable resolutions.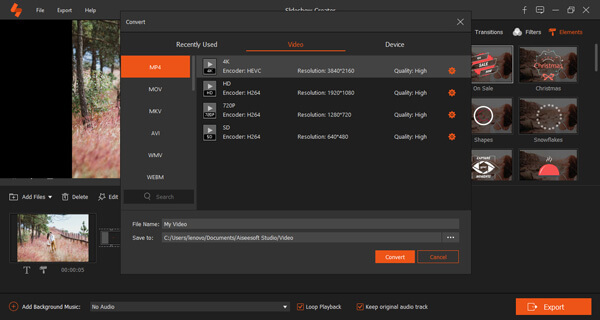 When you make slideshow with photos and music, you can click the "Add Background Music" button to load the music files. After that, you can check the "Loop Playback" or "Keep original audio track" to set music for the slideshow.
Here's the video about making slideshows for you. Click it to check.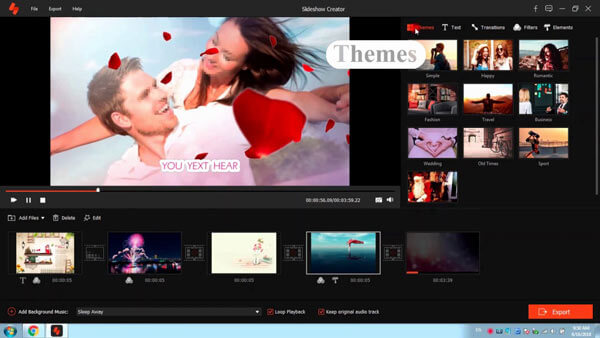 Conclusion
When you need to make a slideshow, Kizoa is one of the most popular online slideshow makers. The article just has a complete Kizoa review about its features, tutorial and alternatives. You can find the pricing for Kizoa and alternative online video makers before you make a final decision. Of course, if you just need to make a stunning slideshow, Aiseesoft Slideshow Creator should be the right choice. If you have any other queries about Kizoa, you can feel free to share your comments in the article now.