Best Instagram Video Maker to Create a Slideshow on Instagram
Summary: Want to make a slideshow on Instagram or create a picture slideshow for Instagram? This post will show you how to use Instagram multiple image posts and detailed steps of how to do a slideshow on Instagram.
Instagram is one of the most popular social media applications which provides a simple, fun, creative way to capture, edit and share images and videos. You can take Instagram as a great photo sharing site. While with the introduction of Instagram slideshow feature, it allows you to post up to 10 photos in a single post.
Compared to regular pictures, Instagram slideshow has a big advantage to tell a story. This kind of slideshow content once was widely used in ads. Now you can try it and make your own picture slideshow.

It's quite simple to do a slideshow on Instagram. But for many users, they still don't know how to use Instagram slideshow or make some slideshows for posting to Instagram. If you are one of them, just keep reading to find detailed method.
Part 1. How to make and post a slideshow on Instagram
As we mentioned above, it is very simple to do create the Instagram slideshow. First, you should ensure that you have this new slideshow feature in Instagram. You are suggested to update your Instagram app to the latest version. Then you can take the following simple guide to do a slideshow on Instagram.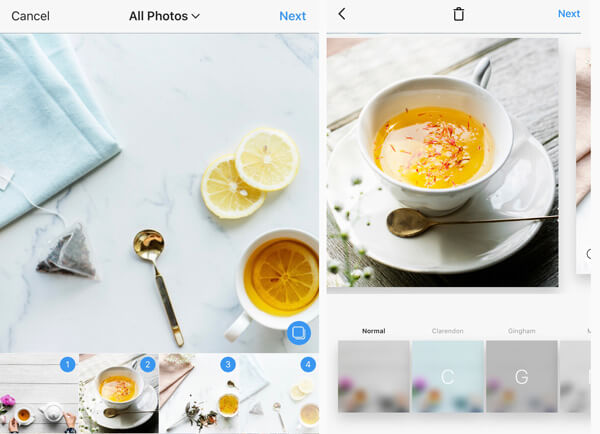 Step 1 Open Instagram app on your iPhone or Android phone, and then tap the + button just like posting a normal Instagram post.
Step 2 Camera Roll folder will pop up and show the recent photos for you to choose from. You will see a multi-selection icon on the bottom-right corner. Tap on it to turn on the Instagram slideshow feature. Then you are allowed to select multiple images (up to 10 pictures) or videos.
Step 3 After choosing all photos you need, tap Next to move to the next step.
Step 4 During this step, you need to edit your Instagram slideshow. Many filters are offered here. You can easily apply the specific effects to all photos and videos in slideshow by tapping one filter.
You can also choose one image or video for editing separately. Tap and drag specific picture to reorder the Instagram slideshow. When all editing works are finished, tap Next.
Step 5 Now you can enter a caption for your Instagram slideshow and tag other Instagram users. After that, tap Share to post this new created slideshow on Instagram.
Part 2. Top 3 slideshow maker apps for Instagram you shouldn't miss
With the method above, you can handily make a slideshow on Instagram. As you have already known, Instagram allows you to post video on its platform. So you may also have the need to create some interest slideshows which carries more photos and contents. Considering that, here we introduce you with three great slideshow maker apps for Instagram.
Aiseesoft Slideshow Maker - Free slideshow app for Instagram
Aiseesoft SlideShow Maker is a free and easy-to-use Instagram slideshow video maker. It enables you to combine pictures, videos, and music together and create your preferred slideshow for Instagram.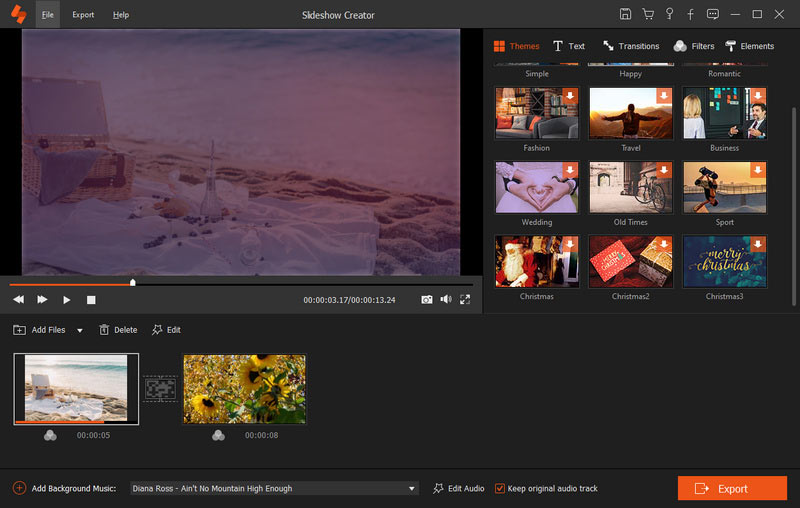 This Instagram slideshow video maker highly supports any frequently-used video and audio format like MP4, MOV, AVI, FLV, MKV, MTS, 3GP, MP3, MP2, AAC, AC3, WAV, WMA, M4A, FLAC and more. Moreover, it is compatible any popular image format like JPEG and PNG. In that case, you can handily make Instagram photo slideshows with any of your media files.
With a concise interface and optimized functions, Aiseesoft SlideShow Maker guarantees you a convenient Instagram slideshow creating process.
Aiseesoft Slideshow Maker
Aiseesoft Slideshow Maker is the professional but easy-to-use Instagram slideshow maker which can help you make Instagram slideshow videos with ease.
Offer three slideshow making modes: Easy Mode, Storyboard and Advanced Mode.
Add any slideshow music to your slideshows for Instagram.
Compatible with various music formats like MP3, MP2, AAC, WAV, FLAC, OGG, RA, WMA, AU, etc.
Support audio editing and audio effects adding for pictures.
Easily share the created slideshow to Instagram, YouTube and Facebook.
Here's the video about making slideshows for you. Click it to check.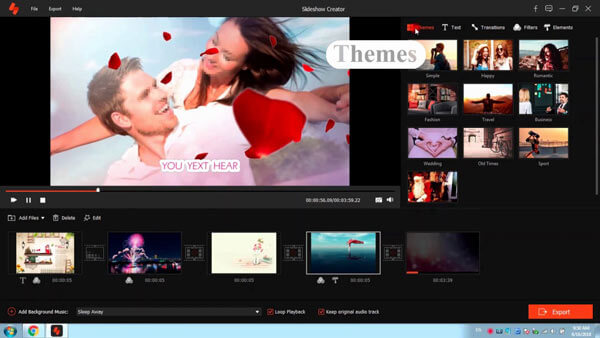 Flipagram - Instagram slideshow maker for Android/iPhone
Flipagram is a free Instagram slideshow maker which available for Android phone, iPhone and Windows phone. It can work as a great photo slideshow maker to help you create a slideshow video for Instagram. Flipagram can link up your Instagram account and post the created Instagram slideshow directly from it.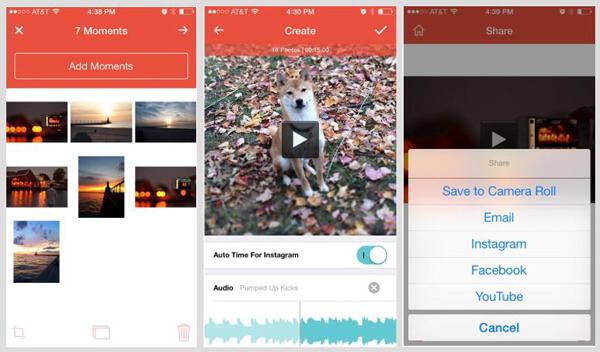 Similar to making a slideshow on Instagram, Flipagram enables you to select pictures from Camera Roll and choose music from music library with ease. It allows you to freely set the slideshow length. But one thing you should know is that, Instagram only supports 15-second video clips.
Animoto - Instagram video editor
Animoto is another popular Instagram slideshow video maker which lets you quickly create slideshow ads, promos and product videos and so on. Besides turning photos and music into slideshow for Instagram, it also has the capability to edit and convert any video to an Instagram-ready square slideshow. Animoto offers an easy way to make your own video ads for Instagram.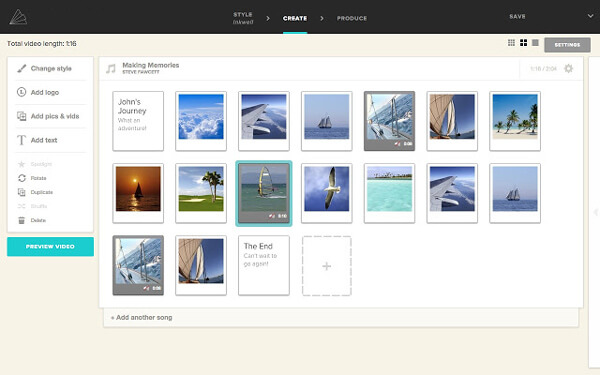 After selecting pictures or videos, it allows you to add music to Instagram slideshow from its extensive music library or your own music folder. This Instagram video editor can help you edit brand's colors, text, design and more of your Instagram slideshow. In addition, it gives you full control of the slideshow time limit. Check here to get more video editors for Instagram.
Animoto can link your Instagram account. So when you preview and feel happy with the created Instagram slideshow, you can directly post it to your Instagram page.
We mainly talked about how to make a slideshow on Instagram and slideshow app for Instagram in this post. After reading this page, you can easily find what you need. Keep in mind that music is very important for showing your ideas in Instagram slideshows. If you still have any question related to Instagram slideshow or slideshow video maker, don't hesitate to leave us a message.