LRTimelapse Introduction, Review, Tutorial and Its Best Alternative
Want to know more about LRTimelapse?
There are many video editor applications on market, but only a few have the ability to create timelapse effect. As technology developing, people are increasingly embrace videos. Many people not only discover videos online, but also create and share original videos. A regular video apparently cannot meet their demands, and people want to create special effect with their videos, such as timelapse effect. Recently, some people asked what LRTimelapse is and how to use it. Therefore, in this post we are going to show you all necessary knowledge about LRTimelapse, including introduction, tutorial and review of LRTimelapse. Make fun using your videos? You will find this post is useful.

LRTimelapse
Part 1. What is LRTimelapse
First of all, what is LRTimelapse? It is a powerful piece of video editor software used to create time lapse effect by photographers of all skill levels, which was developed by Gunther Wegner in 2012. This time lapse video maker allows people to take time lapse images from their cameras to professional looking time lapse videos.
There are three versions of LRTimelapse, free evaluation version, private license and pro license, and the available features in each are different. The features available to all versions include:
1. Key frames wizard and Holy Grail Wizard.
2. Lens Tagger for manual lenses.
3. Directly import images from camera memory card by LRTImporter.
4. Export the time lapse video in 720p or 1080p MP4.
5. Support in the forum.
The limitations for free evaluation version of LRTimelapse include:
1. The maximum number of images for creating a time lapse sequence is 400.
2. Maximum output resolution is 1080p.
3. Cannot overlay watermarks on time lapse videos.
4. No motion blur-plus-effect on exported videos.
5. Lack filters for long-term time lapses.
On the other hand, pro license version ($295) does not have these limitations.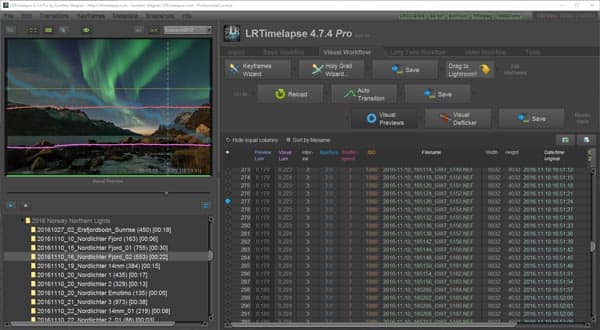 Part 2. LRTimelapse tutorial
Now, let's talk about how to create a time lapse video with images using LRTimelapse.
Step 1 Import the images into the time lapse video maker
Insert the memory card into your computer and open LRTimelapse. Use the "LRTimelapse Importer" to add time lapse images from the memory card to your hard disk.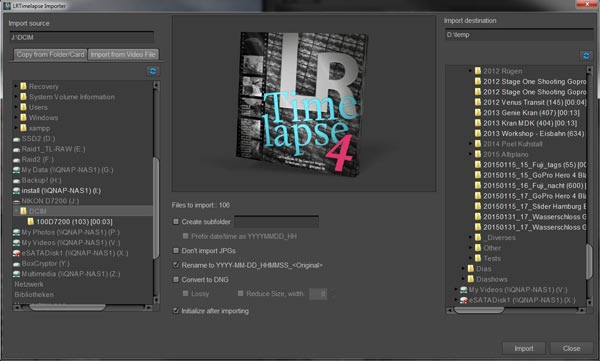 Step 2 Create Keyframes for the sequence
After importing, click the "Keyframes Wizard" button to create key frames for the time lapse sequence. It will automatically analyze your images and place keyframes using algorithm.

Step 3 Edit keyframes in Lightroom
Make sure the Lightroom is open and transfer the sequence to Lightroom Library by click the "Drag to Lightroom" button. Go to the folder in Library and select the last import. Unfold the Filter menu and pick LRT4 Keyframes. Then you can edit the images in keyframes. If you want to bring the develop settings from the first keyfram to all selected ones, select "LRTimelpase Sync Keyframes" in "Scripts" menu.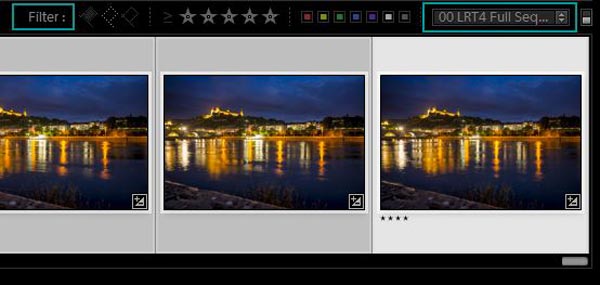 Step 4 Create auto transition in LRTimelapse
After editing, click Reload to update changes in LRTimelapse, then you can see the keyframe's parameters have changed. To retouch the intermediary images, click "Auto Transition" button. Then LRTimelapse will create smooth transitions between keyframes.

Step 5 Preview and save the time lapse video
When it is done, click the "Save" button next to Auto Transition. Then you can view the output by click "Visual Preview" button. And you can adjust the Smoothing by moving the slider. If you are satisfied with the time lapse video, select the whole sequence and pick "Read Metadata" from Files in "Metadata" menu. This will take all edits in Lightroom. To save the result, click "Export" and follow the onscreen instructions to save the time lapse video to your computer.

Part 3. LRTimelapse review
LRTimelapse is the best time lapse video maker, but it is not a perfect application for all people. According to our lab testing and hundreds of user reports, it has several advantages and downsides.
Pros
1. It offers a wider range of tools to make the time lapse video looking professional.
2. The customer support is great and you can find a lot of info and tutorials in the forum.
3. The basic version is free of charge, though has limited features.
Cons
1. To beginners, LRTimelapse is a bit difficult.
2. The Lightroom is necessary for this time lapse video creator.
3. The private and pro versions are rather pricey.
Part 4. LRTimelapse alternative
Maybe you need a LRTimelapse alternative, an easier-to-use time lapse video maker, such as Aiseesoft Video Editor. Its main features include:
1. Create time lapse effect with video clips in one step.
2. Cut a clip out of the video for making time lapse video.
3. Keep original video quality during editing.
4. Enhance and optimize video resolution using advanced algorithm.
5. Provide plentiful video editing tools on the intuitive interface.
6. Compatible with all video and audio formats.
7. Edit the video and audio together or separately.
In a word, it is a simple way to create time lapse video on Windows 10/8/8.1/7/XP/Vista and Mac OS.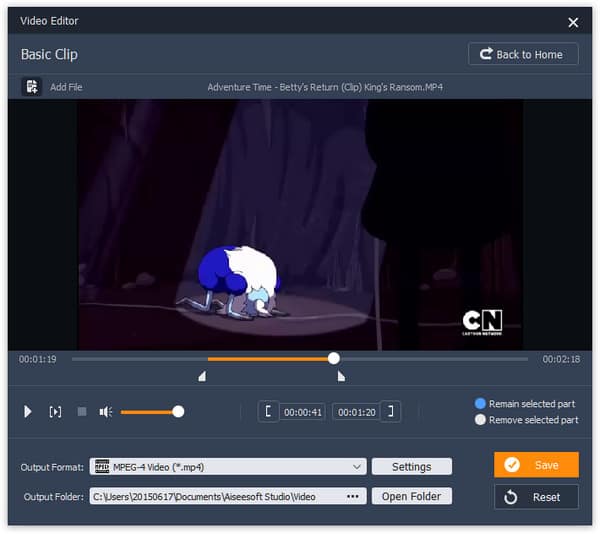 How to create time lapse video without LRTimelapse
Step 1 Import the original video
Download and install the simple timelapse video maker on your computer. Launch it and select "Basic Clip" on the home interface. When the video clip window open, press "Add File" to import the video you want to make time lapse effect.
Tip: If you want to separate the video and audio when making time lapse video, you have to select "Advanced Clip".
Step 2 Cut the clip out of the video for making time lapse
Select "Remain selected part" and then move the sliders on the timeline to select the clip to keep. Then click the Settings button to open the settings dialog.
Step 3 Make time lapse effect
Locate to the "Speed" option on settings dialog and change the value based on original speed. For example, if the speed is changed to 200%, the 10-second clip will be 5 seconds. After setting, click "Ok" to confirm it. Preview it and click "Save" button, if you are satisfied.
Conclusion
In this post, we have introduced one of the best timelapse video makers, LRTimelapse. It is professional tool to make a time lapse video using a sequence of images. And it has three versions, from free to private to pro. You can read our introduction and review to make a better decision. And when you begin to use this editor, you can follow the guides above. On the other hand, if you feel LRTimelapse is expansive or complicated, you can try Aiseesoft Video Editor. It is able to streamline the time lapse editing.