Best 5 Memory (RAM) Cleaners for Mac to Clean Mac Memory
I tried to download diablo 3 beta, but failed. So, I deleted everything related to it. However, it seems the space taken in the storage didn't decrease and stays the same. How can I completely delete diablo 3 beta?
I have a 60 Gb Mac that stores most of the music. I only have 30 Gb of music on it, but I only have 1Gb left. How can I cleanup Memory for my Mac? Or is there any memory cleaner for Mac recommended?
Sometimes, your Mac may get full due to big game apps installed on it or a large portion of files stored on it. You may be eager to find a memory cleaning tool right now. That's exactly what we are going to share with you. In this post, you will see best 5 Mac RAM cleaners and solution on how to clean your Mac memory with the best Mac memory cleaner.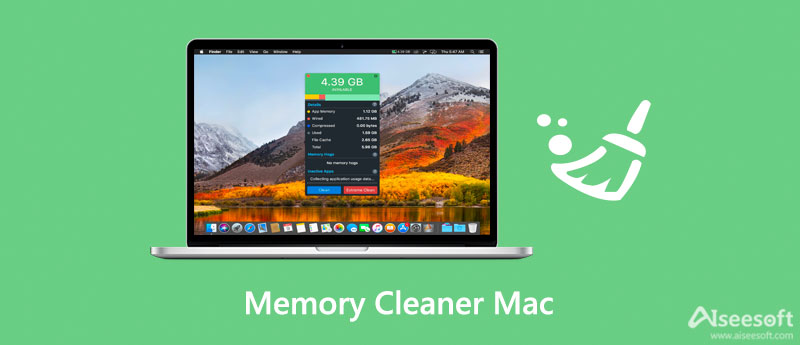 Part 1. What Does Refurbished iMac Pro and MacBook Pro Mean
There is a lot of Mac Memory Cleaning software on the market, such as Mac Cleaner, Memory Cleaner, MemoryFreer, ZipZap Memory Cleaner, etc. Here, we ranked the top 5 Mac memory cleaners. You can choose the most suitable one for your Mac after reading the detailed information and reviews.
1. Aiseesoft Mac Cleaner - The Best RAM Cleaner for Mac
Aiseesoft Mac Cleaner is an all-featured Mac memory cleaning tool. You can remove junk files, clutter, large/old files, shred files, delete duplicate images to free up Mac memory. It allows you to preview junk files, unneeded files and old files before cleanup. You can try the trial version to free download, clean and speed up your Mac.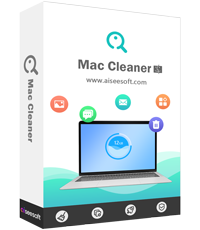 155,539 Downloads
Mac Cleaner - Best Mac RAM Cleaner
Scan and delete junk files, large and old documents, duplicate files, unnecessary apps to free up Mac memory storage.
Monitor Mac status, such as disk utilization, battery status, memory usage and CPU usage.
Compatible with iMac, iMac Pro, MacBook, MacBook Air, MacBook Pro.
Erase adware, malware, virus, and associated files to protect and optimize Mac.
Support macOS Monterey, macOS Big Sur and macOS Catalina, macOS 10.14, 10.13, 10.12, 10.11.
If you are urgent to know how to free up Mac RAM with Mac Cleaner, you can navigate to Part 2.
2. Memory Cleaner - Free Up Memory with One Click
Nektony Memory Cleaner is a cleaning and memory optimizing tool for Mac. You can view RAM memory usage, disk usage statistics and clear RAM automatically. You can free up memory when you quit large apps. Just with one click, you can free up RAM memory and speed up your Mac.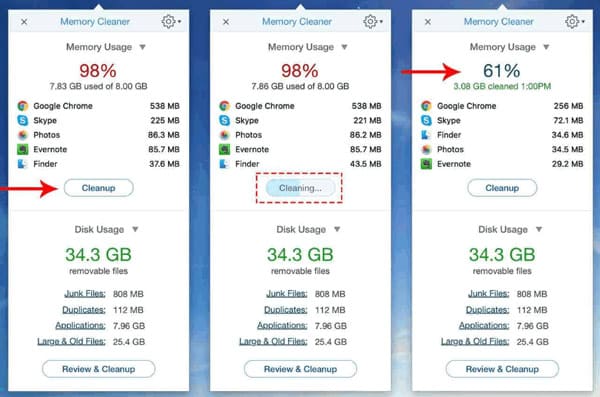 Pros
app is amazing for being free.
It is a powerful all-in-one tool to optimize and clean up your Mac.
It works in the background and alerts when memory cleaned.
3. Memory Clean 3 - Super Powerful Memory Cleaning Utility
Memory Clean 3 is a powerful tool to clean your Mac and optimize your Mac memory. You can free up unneeded memory to keep your Mac running smoothly. If you have a lot of problems with RAM or memory hogging issues, it is the quickest way to boost your Mac.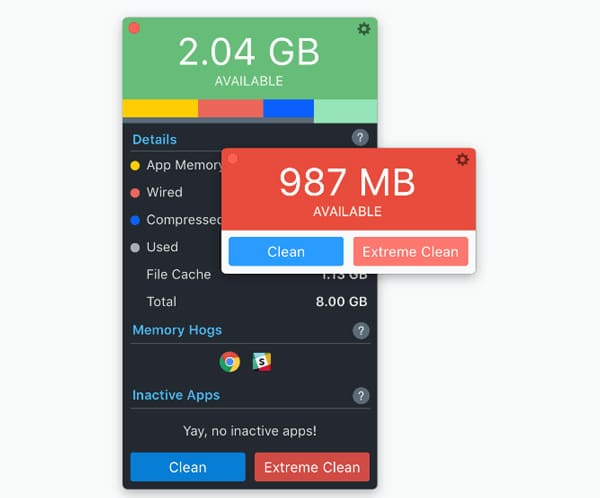 Pros
instantly flushes RAM and saves tons of RAM.
is mainly used to speed up file system operation.
New feature like "auto clean after a memory hogging app is closed" are nice.
Cons
is not necessary if you have plenty of RAM.
Charging extra became recharged when updated to a new version.
4. MemoryFreer - Free Up Mac Memory with A Few Clicks
MemoryFreer is an easy-to-use app that designs to free up inactive Mac memory with a few clicks. Just click on "Free Memory" button, the program will start to free up your Mac space. What's more, you can also check the allocation of RAM on your Mac system through the status menu bar.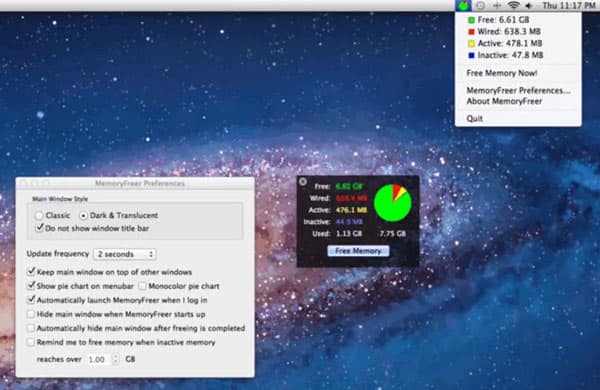 Pros
It is simple to use with user friendly interface.
It runs constantly in the background.
Cons
It takes time to finish and only works with some certain programs.
5. FreeMemory for Mac - Keep an Eye on Your Mac Memory
FreeMemory for Mac is a memory cleaner to free up unnecessary memory in your Mac OS X device. It only takes a few seconds to run, and can show you what is draining your memory in a graph. FreeMemory can save your memory in a few clicks. You can monitor the memory usage in the menu bar.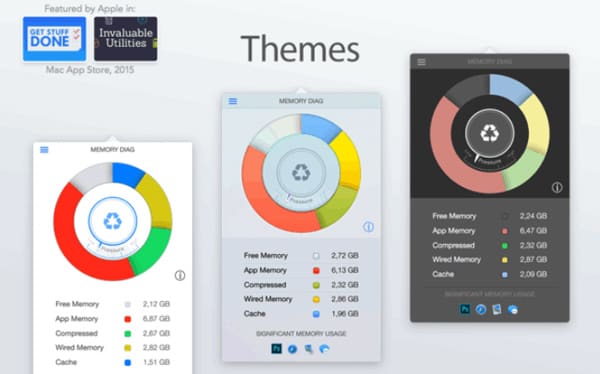 Pros
is an easy to use with simple user interface.
The memory utility is shown dynamically.
Cons
You have to purchase and upgrade FreeMemory when adding FreeMemory Extras.
Part 2. How to Free Up Mac RAM with the Best RAM Cleaner
With the professional Mac memory cleaning software, you can easily remove junk files, clutter, unneeded apps, duplicate images, etc., as to save memory storage. Just follow the steps below.
Free download and install Mac Cleaner. Run it after successful installation. Here, you can check the memory usage, CPU status and disk utilization. Your memory statistics are shown dynamically.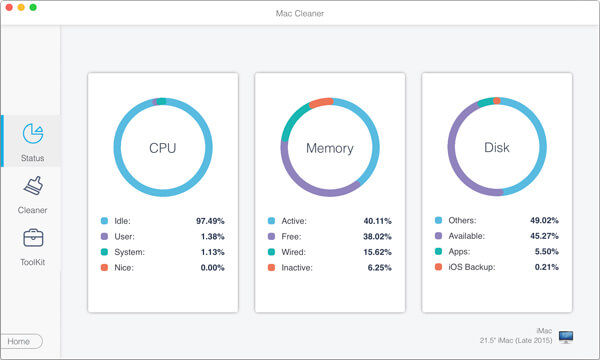 Click "Cleaner", and choose "System Junk" feature. Click "Scan" button to scan system junk, including system cache, application cache, system logs, user logs.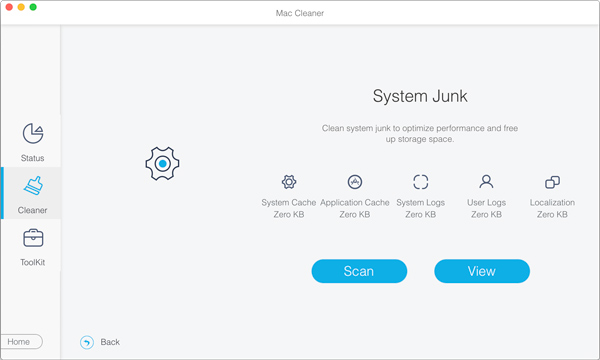 After scanning, you can click "Clean" to free up your Mac memory.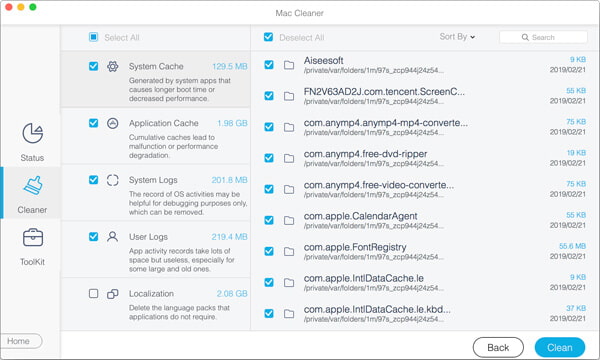 Mac Cleaner also provides you other features to clean your Mac memory. It helps you to scan and clean iPhoto junk, email junk, similar photo, iTunes junk, trash, large & old files, duplicate files.
Part 3. FAQs about Mac Memory Cleaner
Question 1. Does Mac have a built-in cleaner?
Yes, macOS has a built-in memory cleaner called Optimized Storage. But you can only use it to find where to begin the cleanup. If you have to clean up your Mac thoroughly, you can use Aiseesoft Mac Cleaner.
Question 2. Why does my Mac keep losing Storage?
The reason might be the Apple's encryption system called Filevault. During the process of data encryption, the additional storage will be used, so the storage of your Mac loses.
Question 3. How do I manually clear my Mac storage?
Click and hold the Trash icon with your mouse, then place it on the Dock. A pop-up window will appear and you can click the Empty Trash to clear your Mac storage.
Conclusion
We mainly introduced top 5 memory cleaner for Mac. Seeing from the pros and cons, it is clear to choose the best Mac memory cleaner.
Aiseesoft Mac Cleaner is a powerful tool, acting not only as a memory cleaning tool, but as a Mac management tool. With it, you can better clean your Mac and monitor your Mac performance.

Leave your comment and join our discussion