M4B File Format
M4B is the audiobook format based on MPEG-4 container format, which is regularly compressed with AAC encoding. A file with the M4B extension is actually an MPEG-4 audio book file. Compared with other audiobook formats, M4B has a great advantage of allowing you to bookmark audiobook file at any specific point you want. So it's very convenient to jump to any chapter to continue reading.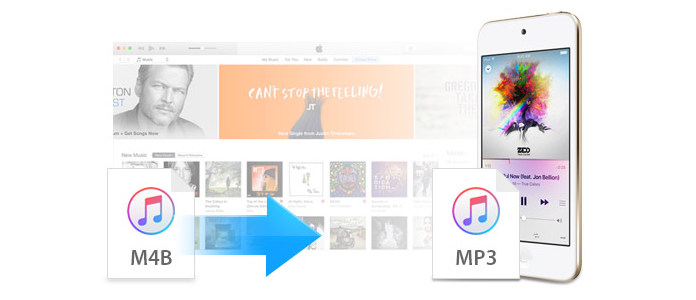 What is M4B
M4B vs MP3
When you first find iTunes M4B file on your Windows or Mac, perhaps you know nothing about it. Once you notice M4B is an audio book file, you will definitely think about one most popular audio format, MP3. MP3 is MPEG-1 Audio Layer 3, which is a standard technology and format for compressing a sound sequence into quite a small file. It can keep the original sound quality but is limited to store audio file. M4B is nearly identical to M4A, it typically used for audio books. Moreover, M4B file can carry several information, including chapter markers, images, and hyperlinks.
Convert M4B to MP3
M4B file format is used by audiobook downloaded from the Apple iTunes Store. However, because of the copy-protect of Apple's FairPlay DRM, you are only allowed to play them on authorized computers and Apple devices like iPhone, iPad and iPod. Very frequently, you may find out that some iTunes M4B audiobooks cannot be playable on PC or Android/Windows phone. What should you do? It's quite hard to find a perfect media player to remove DRM and play M4B file. To solve this problem, the best way is to convert M4B to MP3.
There is no doubt that MP3 is the most popular audio format. You may consider that MP3 even is not a lossless audio format and can't provide a high-quality sound. But MP3 is highly supports most media players and portable iOS/Android devices. So if you want to play M4B audio files, all you need to do is find a professional and trustworthy M4B to MP3 Converter. After converting iTunes M4B audio books to MP3 files, you are free to play them on any device you like.
When you download M4B audiobooks from iTunes, you must have already gotten the authority. You surely can play them on the authorized device. The most inconvenient part is that, when you transfer M4B to another iPhone/iPad/iPod or Android phone, the audiobooks become unplayable. On this condition, as long as you can play M4B files on one authorized device, you can convert M4B to MP3 by recording the audio tracks. You should find the best M4B to MP3 Recorder to help you change M4B to your wanted MP3. Just play and record the iTunes audiobooks, then you can enjoy the M4B contents or share with friends freely.
M4B player and how to play M4B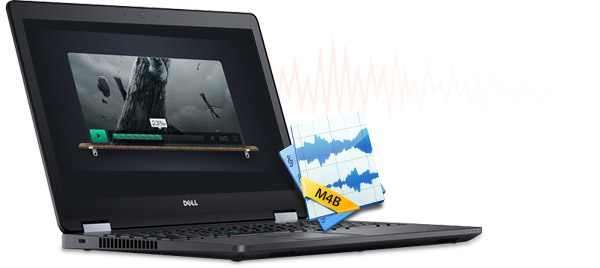 If you are a Windows 10/8/7/Vista/XP user, when you want to open an iTunes M4B file, the easiest method is to double-click on it and select the preferred software from the pop-up window. It will automatically play M4B for you if there is a suitable application. You can use iTunes, Microsoft Windows Media Player, Roxio Creator, Microsoft Zune and other media players to play M4B audiobooks on your PC.
If you are using a Mac OS X, after downloading M4B format audio books in iTunes Store, you are able to easily play M4B files with iTunes. Just like playing M4B on PC, double-click on it and iTunes will open and play it immediately. Also, you can back to main interface of iTunes and choose "Books". Then enter the "My Audio Books", find the M4B file and play it. Besides iTunes, you can also use 5K Player, QuickTime Player and other M4B players to play M4B audio books.
Want to play M4B with these basic media player, there must be a premise that you need to remove the copy-protect of Apple's FairPlay DRM or play M4B files on authorized PC/Mac and iOS/Android device.
Play M4B on Android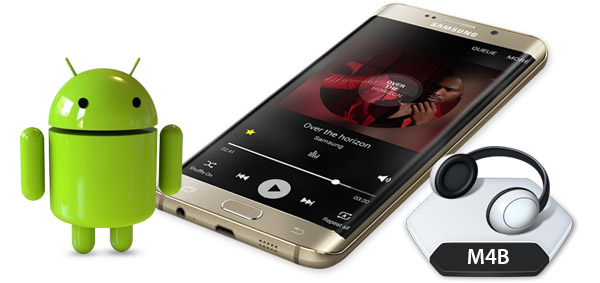 It is easily considered that M4B files are more compatible with iOS device. You mainly get the M4B audiobooks from iTunes, and you can naturally open it with iTunes when you want to play M4B. What if you receive M4B files from friends or others and you prefer using Android phone? You can handily transfer them to Android, but the real problem is how to play M4B on Android?
You can find lots of Android M4B players in Google Play, such as AIMP, Smart AudioBook Player, Material Audiobook Player, eReader Prestigio, etc. Download the M4B playing app and install it on your Android phone like Samsung Galaxy S7 edge/Note 5, LG G5, Sony Z5, HUAWEI P9/Mate 8 and more. After that, you are able to find the M4B files and play them. However, there will be the same problem that, you still can't open some protected M4B audiobooks.
Back to the original point, before moving the M4B files to Android phone, you'd better convert M4B to MP3. Apart from the professional M4B to MP3 Converter, you can also try some online M4B to MP3 converting software, such as Zamzar, media.io and more.
Take media.io as an example. Enter the media.io and upload the target M4B file. Select the suitable output format and quality. At last, just click "Convert" and you can convert source M4B to MP3. It will take a while to finish the audio conversion, after that, you need to download it to your computer. In this way, you can easily play any M4B file on Android.