How to Enable Apple Keychain and Backup Keychain to iCloud
Does iCloud backup Keychain? How do you backup passwords to iCloud?
Apple Keychain is a password manager that is mainly designed to help you keep and save different passwords for applications, websites, and other services. It can remember various passwords created on iPhone, iPad, and Mac devices. You may wonder if these Keychain passwords are backed up to iCloud?
This post gives you a basic introduction to Keychain. You can learn how to enable Keychain and backup Keychain to iCloud.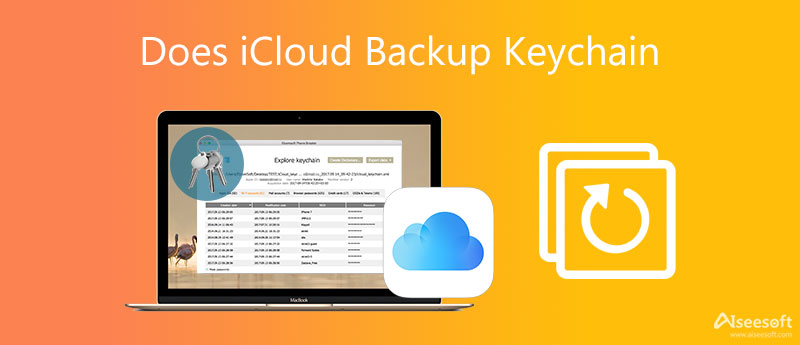 Part 1. What Is Apple Keychain
As mentioned above, Keychain is the official Apple password manager. You can use it on Apple devices like iPhone, iPad, or Mac to save passwords. With its help, you are allowed to directly log into your accounts and access services without entering passwords manually.
Keychain can remember your passwords and other secure information. Moreover, it will keep all these passwords updated across all your Apple devices. Keychain enables you to auto-fill your user names, associated passwords, credit card numbers, Wi-Fi passwords, and others.
Part 2. Does iCloud Backup Keychain Passwords
After you turn on Keychain, you can easily access the related passwords on different Apple devices. So you may wonder if iCloud backup Keychain? Truth is, iCloud does backup Keychain. You are allowed to use all saved passwords by Keychain on your approved iPhone, iPad, and Mac. Keychain uses iCloud to sync all its passwords.
Part 3. How to Set up and Use Apple Keychain
Keychain offers a secure and safe way to store your passwords, private data, and other secure information. It uses the highest level of security and end-to-end encryption. This part tells how to enable Keychain and use it to manage passwords.
How to turn on Keychain on a Mac
To set up and enable Keychain on your Mac, you can click on the top Apple menu and then choose System Preferences. When you get to the System Preferences window, you can click on your Apple ID and then go to iCloud in the left sidebar. After that, you can easily locate the Keychain option on the right. You can turn on it on this Mac.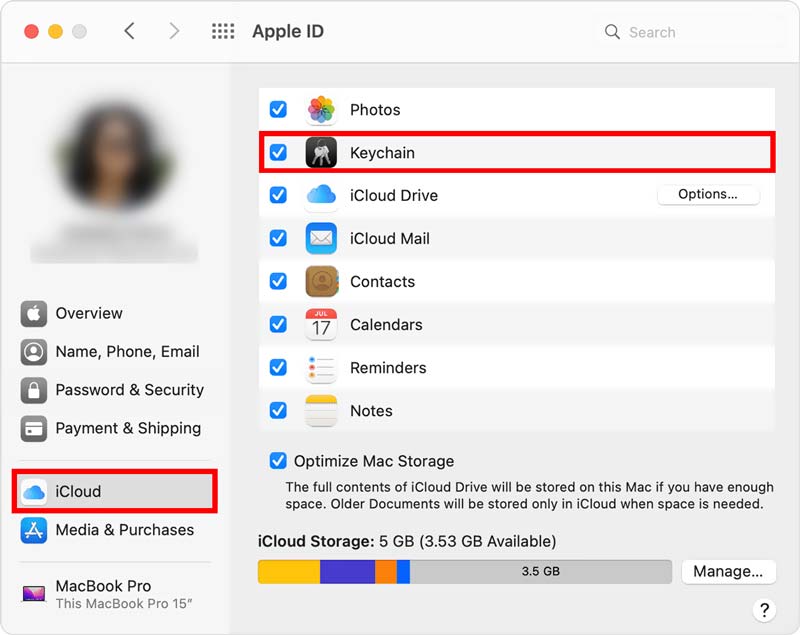 How to set up and enable Keychain on an iPhone
As an iPhone or iPad user, when you need to turn on Keychain in iCloud, you can open the Settings app. Tap on the top Apple account to enter the main Apple ID interface.
Tap on the iCloud section and then locate the Keychain option. Switch its slider to the On position. During this step, you may need to enter your password to confirm that.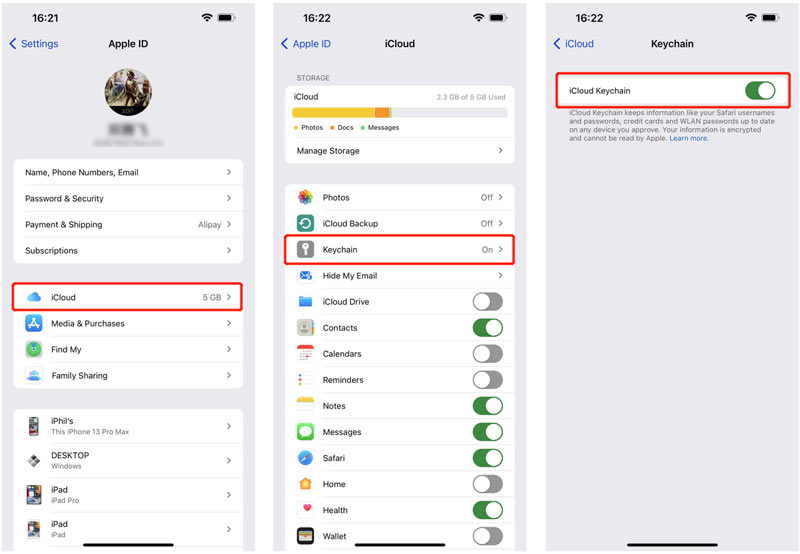 How to use Apple Keychain on your iPhone, iPad, and Mac
After you enable Keychain in iCloud, you can use it to remember and save your passwords, accounts, credit card details, different verification codes, and other secure information. When you enter a new password, you are offered options like Save Password, Not Now, and Never for This Website to manage it. Next time when you need to enter these details, Keychain will prompt you to directly auto-fill them.
Best Keychain alternative to save passwords on your iPhone
iPhone Password Manager can be the best Keychain alternative to help you store and manage various passwords on your iOS device. It gives you a convenient way to remember your Apple accounts, Keychain passwords, website and app login details, Wi-Fi passwords, and more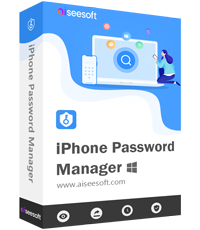 Downloads
Access and manage various Keychain passwords on iPhone and iPad.
Edit Keychain password, login details, Google passwords, and others.
Backup and export all iPhone passwords on a Mac or Windows computer.
Offer a 100% safe way to store and secure all iPhone passwords.
You can free download this iPhone Password Manager on either a Mac or a Windows 11/10/8/7 PC. Launch it and then connect your iOS device to the computer through a lightning USB cable. Click the Start button to access all your passwords on this iPhone or iPad.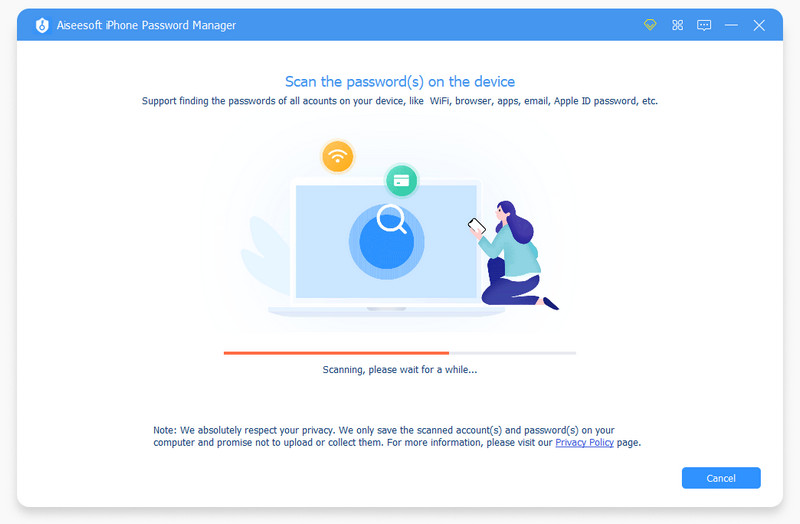 When the passwords scanning is finished, all these passwords will be listed in categories on the left panel. You can click the specific password type to check detailed information. And you can use this tool to manage passwords on iPhone.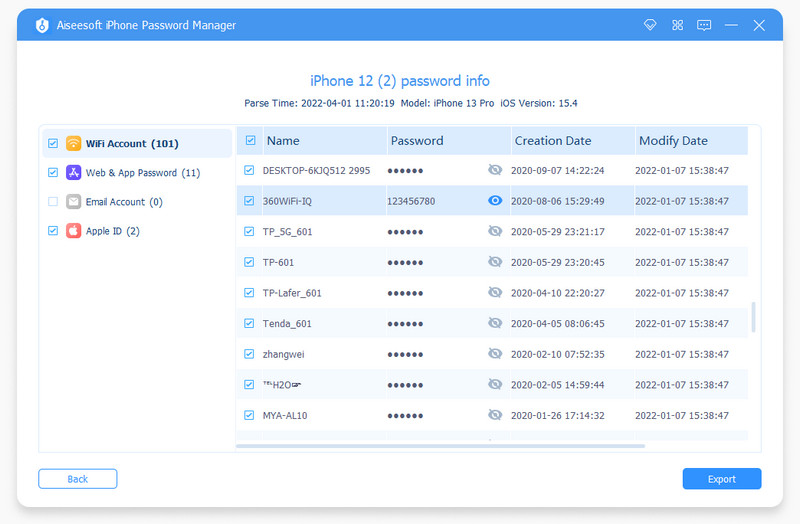 Part 4. FAQs of How to Backup Keychain to iCloud
1. Why I can't turn on Keychain?
You should know that, both your iOS device and Mac have the Keychain Access app. Various reasons will cause you to fail to enable Keychain in iCloud. In that case, you may need to create an iCloud security code or set up the two-factor authentication.
2. Where can I check Keychain passwords on my iPhone?
To view your saved Keychain passwords, you can go to the Settings app and then scroll down to select the Passwords option. You are required to use your Face ID, Touch ID, or screen lock passcode to proceed with this process. After that, you can easily check all stored Keychain passwords on your iPhone.
3. How to edit Keychain passwords on an iPhone?
When you need to manage and edit your Keychain passwords, you can follow the steps above to access these passwords, tap Edit in the upper-right corner, and then choose the specific password you like to edit.
Conclusion
After reading this post, you can learn that iCloud will automatically backup various saved Keychain passwords. If you don't know how to enable Keychain in iCloud, you can use the method above. In addition, you are introduced to a great iPhone Password Manager to better manage all types of passwords on your iPhone.

Leave your comment and join our discussion