Manage Various Passwords on Mac Through Keychain Access
Now you are using different passwords to log into applications, services, websites, and more. With so many passcodes, you may feel hard to remember all of them, or can't directly enter the correct one.
Mac uses Apple's iCloud keychain to manage various passwords. You can use rely on Keychain Access to keep track of and protect account numbers, passwords, and other personal information on your MacBook.
This post covers what Keychain for Mac is, where to find Keychain Access, and how to use Keychain to access and manage Mac passwords. You can learn a detailed guide to viewing and managing keychains on Mac using the Keychain Access app.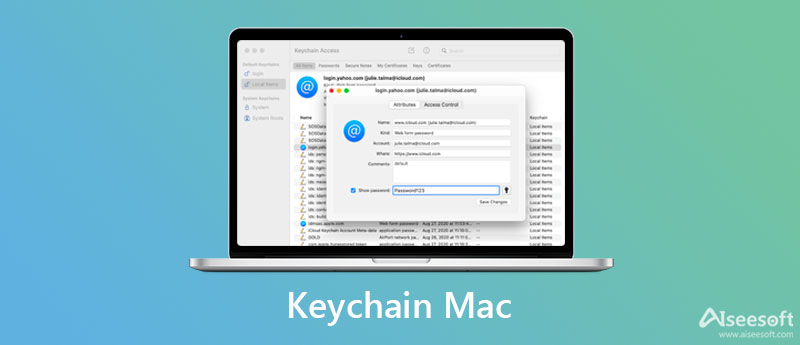 Part 1. What Is Keychain for Mac
As mentioned above, macOS uses keychains to remember and save your passwords and other secure information. A keychain for Mac is an encrypted container that is mainly used for keeping your account name and passcode. It can store all types of these contents for applications, servers, websites, keys, certificates, notes, credit card numbers, bank account PINs, and others. It has been around on the Mac since the release of Mac OS X.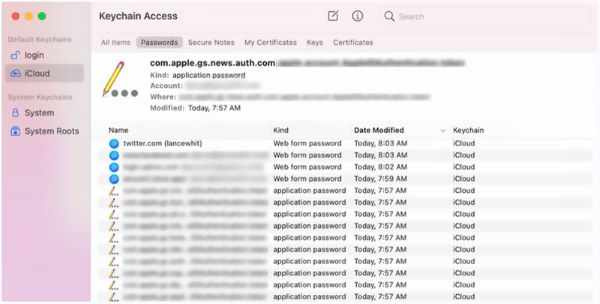 Keychain Access on Mac is pre-installing a Keychain Access app securely store and retrieve your passwords. It offers an effective way to make individual passwords more complex and difficult to break. Moreover, Keychain Access on Mac can help you remember different passwords and make all your accounts more secure.
Part 2. How Keychain Access Works on MacBook
Keychain Access comes with macOS and is pre-installed on every Mac device. After you enable it on your Mac, you can use the Keychain Access app to remember or save passwords. In that case, you can reduce the number of passwords you have to remember and avoid the passcode forgotten situation.
When you open an app, get to a website page, or access your email account, network server, and other password-protected items, you will see the pop-up Keychain Access window to keep your account and related passcode. Next time you go to the password-protected site or app, you can directly log in to your account through keychain without entering the password manually.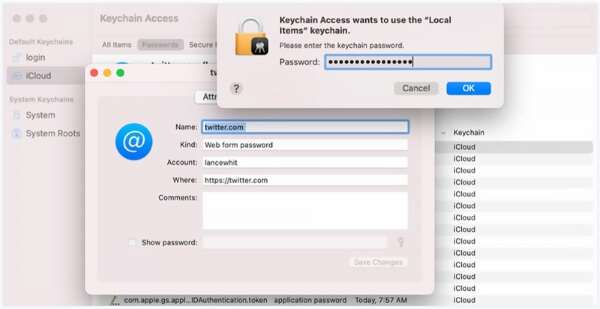 Both Macs and iOS devices like iPhone and iPad have keychains. The Keychain Access app on Mac can work in collaboration with iCloud Keychain. Because of that, all your accounts, passwords, and other private files can be synced via iCloud. By doing so, you are allowed to easily access keychains on all Apple devices.
Part 3. How to Use Keychain Access to Manage Passwords on Your Mac
Where is Keychain Access on Mac? If you want to remember and keep different passcodes on your Mac using Keychain Access, you should enable it first. This part will show you how to use Keychain Access on your Mac to manage passwords.
Step 1:
Find and open
Finder
from the dock on your Mac. Choose Applications from the left sidebar. Then on the right
Applications
window, locate and enter
Utilities
.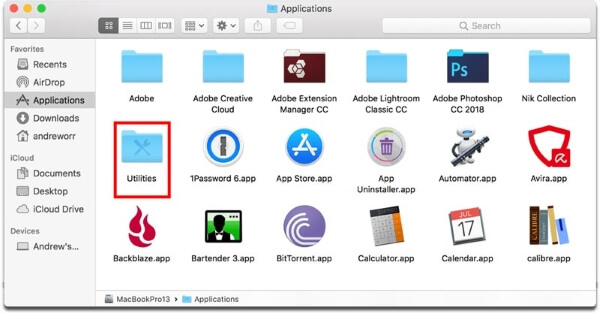 Step 2:
When you see
Keychain Access
in the Utilities folder, you can double-click on its icon to open the app. After that, you can check your saved account and password information. Also, you can search for the Keychain Access app in
Spotlight
to quickly open it.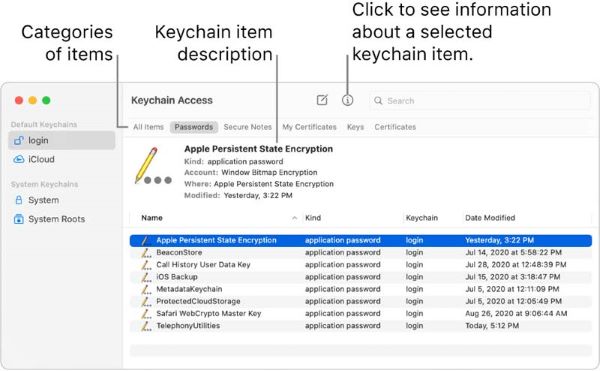 Step 3:
When you go to a password-protected website, Keychain Access will prompt you with a pop-up window and ask if you want to save the password. Here you are offered 3 options,
Save Password
,
Never for This Website
, and
Not Now
. You can simply click on the
Save
Password button to securely store this passcode in your Keychain. When you get to a web page or open an app where the password is stored in the keychain, you can choose to view, edit, or update password based on your need. Click here to learn how to do when
forgetting Mac password
.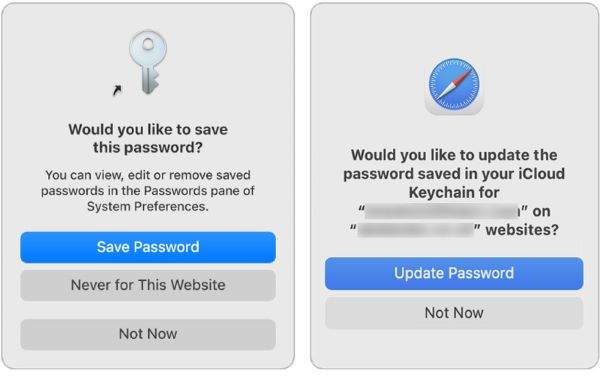 Part 4. Better Way to Protect Your Mac Data, Password, and Personal Files
To manage all types of data on your Mac, secure personal files and privacy, and protect Mac from different threats including virus, malware, adware, and others, you can rely on the all-featured Mac Cleaner.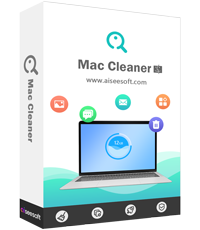 161,522 Downloads
Protect privacy, passwords, and other personal data on Mac
Monitor Mac current status and improve Mac performance in real-time.
Remove useless data and uninstall unused apps to free up Mac space.
ACarry Privacy, Hide, File Manager, NTFS, WiFi, and more useful tools in ToolKit.
Step 1:
After free installing and launching Mac Cleaner, you can click
Status
to display your Mac statuses including disk usage, battery, CPU, GPU, and memory.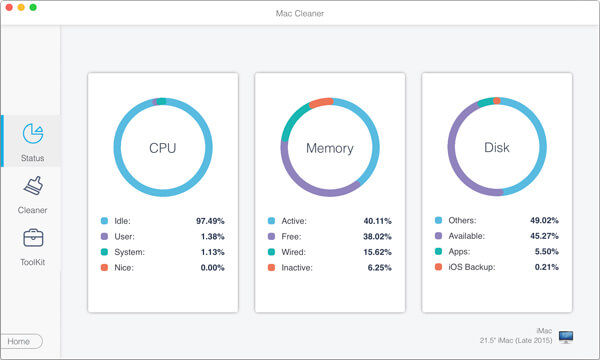 Step 2:
This recommended Mac Cleaner offers 3 main features, Status, Cleaner, and ToolKit. You can go to
Cleaner
to access 8 data categories for accurately managing your Mac data. All kinds of useless files on your Mac, such as system junk, large files, old files,
duplicates
, caches, cookies, and others can be removed from Mac with ease.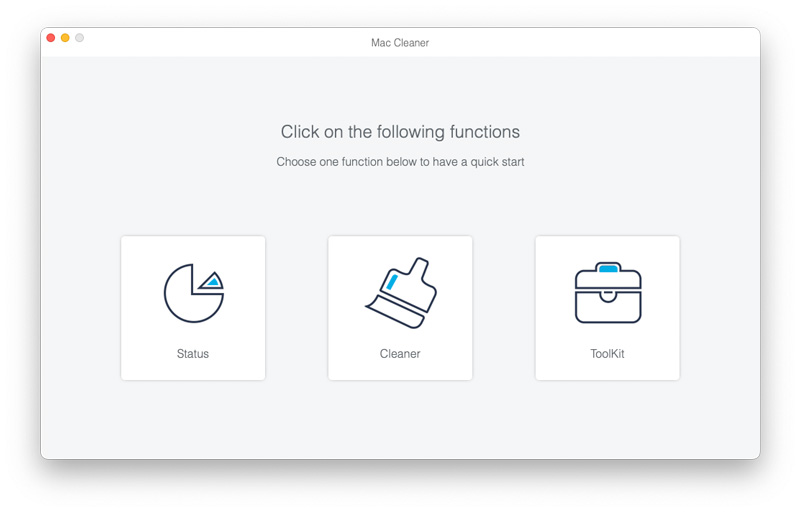 Step 3:
When you enter
ToolKit
, you can get other useful tools like File Manager, Hide, Privacy, Optimize, Uninstall, NTFS, and more to better optimize Mac.
s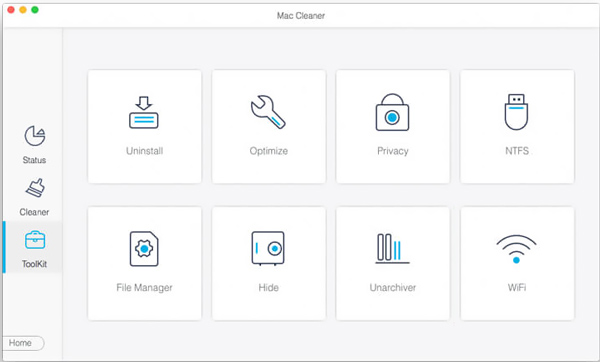 Part 5. FAQs of Keychain for Mac
1. How can I reset my default Keychain settings?
You can go to Finder on your Mac, from the drop-down list of Go menu, select the Utilities option. Find and open the Keychain Access app. Click on the top Keychain Access, and then choose the Preferences option from its dropdown. In the Preferences window, locate and click on the Reset My Default Keychain button. After that, you can follow the onscreen instructions to reset Keychain Access.
2. Where to enable iCloud Keychain on my Mac?
When you want to turn on iCloud Keychain on your Mac, you can click on the top Apple menu and go to System Preferences. Click Apple ID and then select iCloud from the left sidebar. After that, you can find Keychain and enable it in iCloud.
3. What happens if I disable iCloud Keychain on a Mac?
After you turn off iCloud Keychain on your Mac device, your new saved passwords and other personal information will be only stored on this Mac locally. These files won't be synced to your other Apple devices. When you choose to sign out of iCloud on your Mac, you will be asked to keep or delete keychains.
Conclusion
You should not use the same password for different accounts, websites, or services. Thanks to Keychain Access on MacBook, you can easily remember various passwords on Mac. This post has mainly talked about Keychain for Mac. You can know its key features, how it works on Mac, and how to use it to save passwords on Mac. For more questions about Keychain Access, you can leave us a message.

Leave your comment and join our discussion