MacBook Crash? How to Reboot and Fix a Crashed MacBook Pro/Air
Various reasons will lead to MacBook crash. This post shows why your MacBook Pro or Air keeps crashing and effective solutions to fix a frozen Mac.

My MacBook Pro 2017 (i7, 32 GB RAM) keeps crashing nowadays. It often freeze or crash when I'm downloading a new app, chatting on Facebook or doing some operations simultaneously. RAM issue or what? Any help for the MacBook crash?
Relatively speaking, MacBook can provides you with a reliably and comfortable user experience. But it seems like that crashed computer is a common and inevitable issue, and it happens on MacBook too.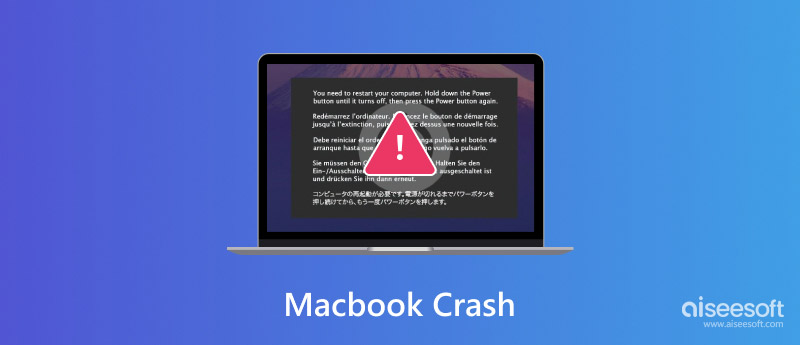 Macbook crashes out of nowhere and in many cases, it doesn't allow you to reboot. You have no choice but to stuck there and wait. How to fix a crashed MacBook Pro or Air, especially when it crashes randomly. Why MacBook/iMac keeps crashing? In the following parts, we will show you details about the reasons that MacBook crash and how to fix it.
Part 1. Why MacBook Pro Keeps Crashing
As we mentioned above, MacBook Pro/Air crash can be caused by a variety of reasons. When your Mac constantly crashes, you may wonder what happens while the Mac crashing process. This part will show you some typical reasons causing Mac crash.
Third party software errors
Some unknown Mac OS bugs
Malware or virus infect Mac
Damaged OS installation
Corrupted kernel cache or NVRAM
Faulty internal hardware or peripheral device
Not enough RAM for software to run properly
Insufficient CPU capacity for resource-intensive programs
Surely there are many other factors will cause your Mac freeze or crash. To know more about these reasons can help you better fix a crashed MacBook.
Part 2. How to Reboot and Fix a Crashed MacBook
After knowing the reasons why your MacBook keeps crashing, you take corresponding solutions to fix it. The following part will show some simple ways to fix a crashed Mac.
Reboot to fix the MacBook Pro crash
Rebooting Mac is always the first and worth-trying way to solve many problems. Considering that your Mac is freezing or crashing, you can't use the regular way to restart your Mac. Here you can take the manual way.
Step 1.
Keep pressing the power button to
shut down your Mac
. Then release the button and wait a few seconds.
Step 2.
Press power button again to restart your MacBook. Then your Mac will be back to normal condition.
Fix the MacBook crash with Safe Mode
If your Mac crash is due to the corrupted kernel cache, you can rely on Safe Mode to get rid of it.
Step 1.
Shut down your MacBook and then press power button to reboot it. Press and hold the "Shift" key on keyboard as long as you hear the start-up sound.
Step 2.
When you see the "Safe Boot" appear on screen and enter the login window, release the "Shift" key. Here you may need to sign in two times because of the
FileVault encryption
.
Step 3.
Safe Mode can help you check hard drive for problems and turns off add-on programs and fonts. Here you can locate the problematical program caused the MacBook crash and remove it. Then restart your MacBook.
Clear caches to fix the MacBook Pro crash
With so many caches on your Mac, it can't offer you a brand new or normal performance. Similarly, too many useless apps' running will also stuck your Mac. Here you recommend a professional Mac Cleaner to help you better clear caches and better manage all types of data on Mac.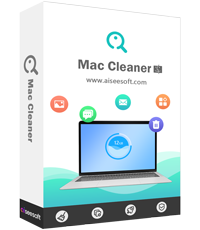 Downloads
Clean junk files created by Mac system, including temporary files, memory dumps, log files, event logs, old data, etc.
Scan worthless cache data/logs quickly and delete all trash items to regain more Mac space.
Remove unneeded iTunes backup files and delete unnecessary localization of apps.
Monitor Mac performance in multiple aspects, like disk utilization, battery status, memory performance and CPU usage.
Step 1.
Click the download button above to free install and run this Mac Cleaner. When you enter the main interface, click the Status on the left to check the system status of your Mac.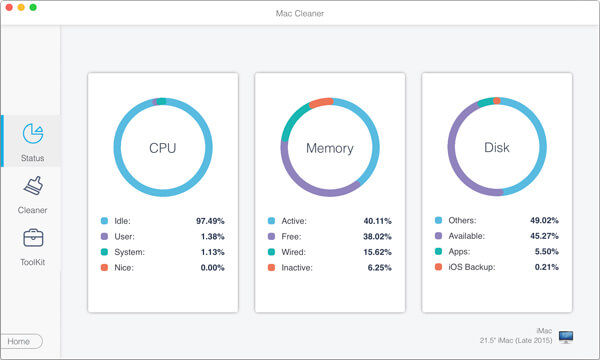 Step 2.
Click Cleaner and you can start to clear caches on your Mac with ease. For instance, you can click "Junk Files" on the left sidebar and then click "Scan" to scan all useless cache files and logs.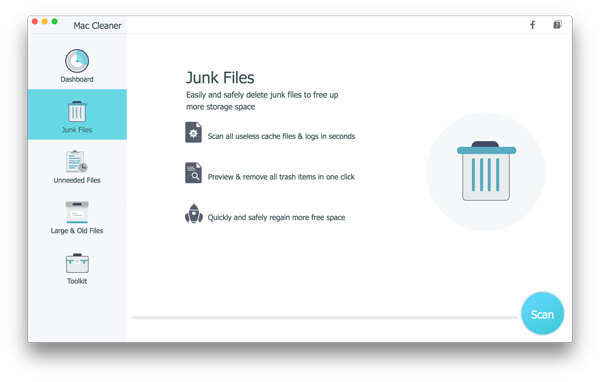 Step 3.
After scanning, you can preview the useless caches like app caches, system caches, photo caches and so on. Here you can select the specific caches you want to clear and then click the "Clean" button to remove all of them.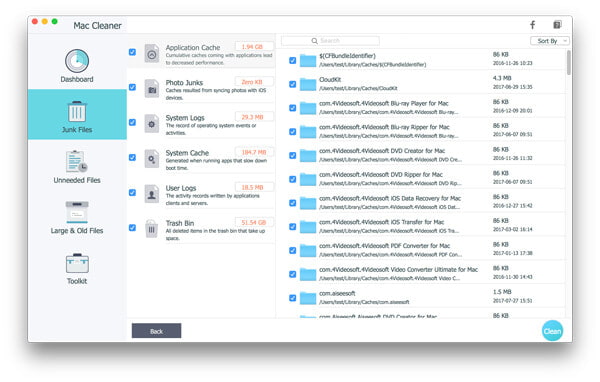 For more details about how to clear Mac caches, you can check the video below: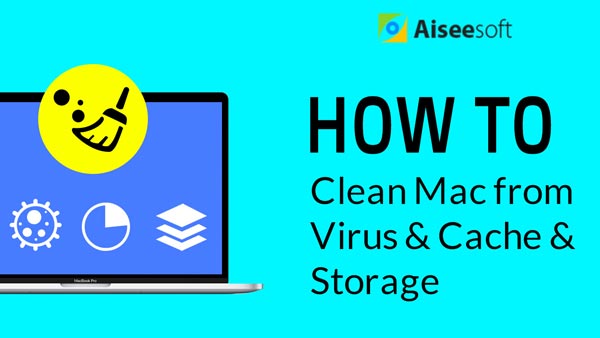 Install more system memory to fix a crashed MacBook
Sometimes, insufficient system RAM will easily cause your MacBook Pro/Air stuck or crash. To avoid this situation, you can add more system memory.
Reinstall or upgrade Mac OS to avoid MacBook crash
If your MacBook often crash and you don't want to reboot it all the time, you can try re-installing the Mac OS to fix the issue. You can also upgrade the Mac OS if there is an available one. New Mac OS will always fix some bugs in the earlier version.
Part 3. How to Recover Data Caused by Crashed MacBook
When MacBook is dead, you will try many solutions to fix it. While some wrong operations will easily cause important data loss during the fixing process. You can rely on the powerful Mac Data Recovery to get all lost files back if you are facing the data loss situation.
Mac Data Recovery is specially designed to recover various deleted/lost Mac files like images, documents, emails, audio, videos and more. It enables you to restore data from Mac, hard drive, flash drive, memory card, and digital camera.
Step 1.
Free download, install and run Mac Data Recovery on your Mac. Choose Mac Data Recovery feature and click "Start".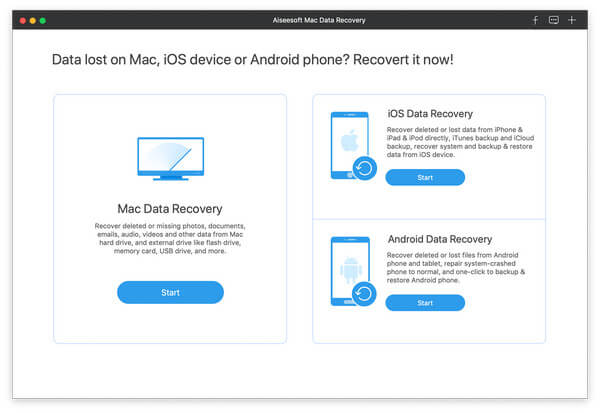 Step 2.
Click "Scan" to perform a quick scan on Mac.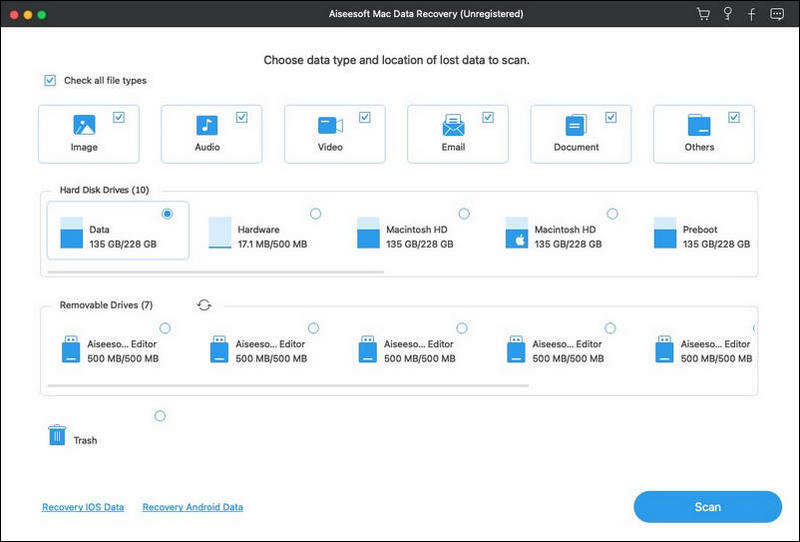 Step 3.
After scanning, you can click specific data type on the left panel and then check details on the right window. Choose the files you want to recover and click "Recover" to get them recovered.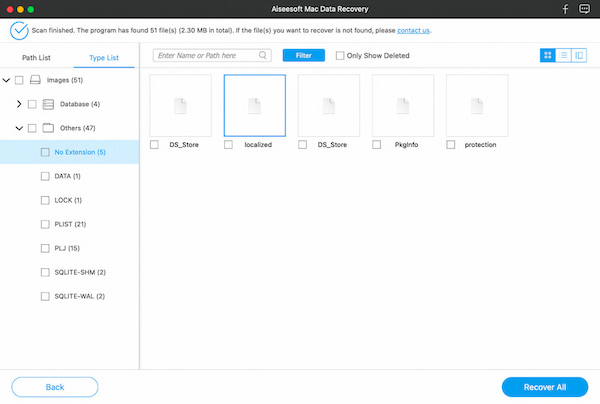 Whether you lose data due to crashed Mac, deletion, formatted partition, hard drive problem, or other reasons, you can easily find them back with this recovering software.
We mainly talked about the MacBook crash issue in this post. We tell you some basic reasons why your MacBook Pro/Air or iMac keeps crashing. In addition, we shows some effective solutions to help you solve the problem. We also introduce you with a great Mac data recovery in case you want to restore lost Mac files. Hope you get all you need after reading this page.

Leave your comment and join our discussion