"I am in need of a reliable and decent quality way of recording my game play for improving my skills on Diablo 3. I have used some video recorders to capture game play. But the size of the recorded file is too large and needs compressing with another program. Is there any alternatives that you would recommend?"
Thankfully, there are various applications for us to record our game play. Here, we recommend you the best one to use Game Recorder by Aiseesoft and teach you how to record your game play step by step.
How to record Diablo 3 gameplay
The facts:
Name: Diablo 3 (D3)
Developer: Blizzard Entertainment
Publisher: Blizzard Entertainment
Genre: Action role-playing, video game
Platforms: Windows, OS X, PS3, PS4, Xbox 360 and Xbox One
The steps:
Download and install Game Recorder to your computer.
Open Diablo 3 and set up it.
Open Diablo 3 > click Play > click Option > click Video > Select the resolution and Windowed Mode > click Apply.
Note: the quality and size of recorded videos vary with the resolution. Just choose a proper one to balance them.
Start to record your gameplay.
Before playing Diablo 3, launch screen recorder and adjust area and sound to record. Once adjustment is finished, click REC to start your recording and game-playing too.

Preview and save your recording.
When you won the grand battle in Diablo 3, your recording would stop. You can preview your recording and save it to your computer for reviewing later. You can also upload it to YouTube and share your excellent skills.
Screen Recorder also can do the following:
◆ Record online videos/audios in high quality.
◆ Record webcam videos.
◆ Make video tutorials.
Apart from capturing Diablo3 gameplay, many video game fans also record their playing of League of legends gameplay.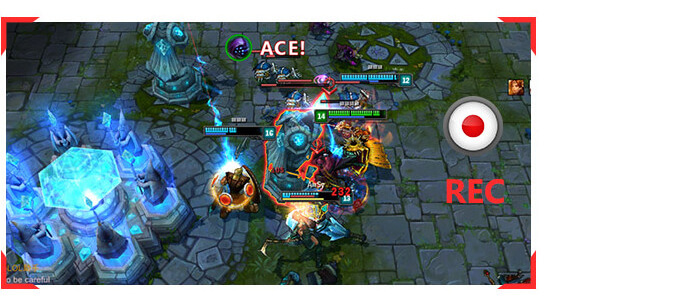 How to record League of Legends gameplay
The facts:
Name: League of Legends (LOL)
Developer: Riot Games
Publisher: wwRiot Games, CNTencent Holdings Limited, SEAGarena
Genre: Multiplayer online battle arena
Platforms: Windows, OS X
The steps:
1. Download and install Screen Recorder to your computer.
2. Launch LOL and choose a match.
3. Open Game Recorder and adjust screen and sounds.
4. Start your match by clicking Play and start your recording by clicking REC.
5. Playing finished, Recoding ends.
More interests, learn more details about how to record LOL gameplay.
With your recordings, you can improve your skills in game, share your amazing skills with others on YouTube, or just record a gorgeous moment with buddies. No matter what reasons leading you to record your gameplay are, Gameplay Recorder is your best choice.
You can learn the steps from the video below: