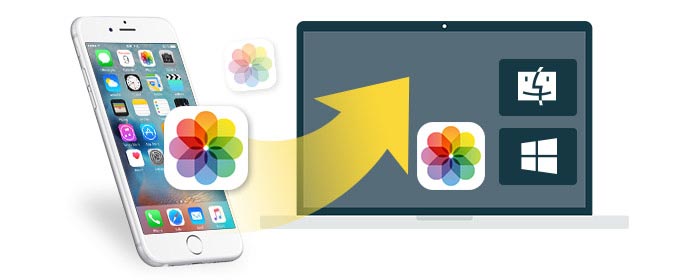 As iPhone brings higher image quality, people tends to use iPhone as an alternative to camera for taking photos. When you find some beautiful scenery, you may take photos. When you see some interesting pictures via Safari or your email, you may download those pictures with easy tabs. However, one day, you find that your photos and pictures have almost taken all storage of your iPhone, what will you do? Delete them? No, they are so precious. How about transferring photos from iPhone to your Mac or Windows computer for backup? It sounds like a good idea. But how to copy pictures and photos from iPhone to PC/Mac? Keep reading this article to get 6 ways to import photos and pictures from iPhone to PC/Mac.
Method one: Transfer iPhone pictures to Computer with Windows Explorer
Windows Explorer displays the hierarchical structure of files, folders, and drives on your Windows (10/8/7/Vista/XP ...) computer. It enables you to copy, move, rename, and search for files and folders.
1Connect your iPhone to PC via USB cable; and wait for it to detect your iPhone. Computer can not connect your iPhone? fix USB driver diabled.
2You might see a notification with Trust option. Choose trust. The "AutoPlay" window will automatically appear. Click "Import Pictures and Videos" button and enter "DCIM" folder. Then you can select iPhone pictures or its folder and paste them to the desired location of your computer.
If the "AutoPlay" window doesn't appear automatically, you can open "My Computer" and find your iPhone under the "Portable Device". Then you are able to import iPhone pictures to laptop as expected.
Method two: Transfer iPhone photos to Computer with iPhoto
iPhoto is the widely-used tool to manage your photos and pictures from iOS deives (iPhone, iPad and iPod). It also allows you to get photos from iPhone to Mac. But you should know that it only allows you to sync Camera Roll photos from iPhone to Mac. If you have other photos and pictures in Photo Library, then you will fail to move those photos and pictures from iPhone to Mac.
Connect your iPhone to Mac with USB cable > Launch iPhoto if it does not run automatically > Select those photos that you want to transfer to Mac > Click "Import" to import pictures and photos from iPhone to Mac. If you choose some of the photos or pictures, then click "Import Selected" to get photos off iPhone to Mac.
This method can only be used to transfer iPhone photos and pictures from Camera Roll, and you can't use it to transfer other files, even the iPhone videos.
Method three: Upload pictures from iPhone to Computer (Windows/Mac) with email
If you are emergent to upload several photos and pictures from iPhone to Mac, then you can use your E-Mail to transfer iPhone photos and pictures to Mac with Wi-Fi.
On your iPhone, tab Photos > Hit "Albums" to choose the photos or pictures that you want to copy from iPhone to Mac > Hit the "Share" button on the left bottom corner > Mail > Input your email address and password > Click "Send" > Sign in your E-Mail in your Mac to access and download iPhone photos or pictures.
In this way, it is suitable for your few of photos and pictures. And you have to connect Wi-Fi to make sure you can transfer photos from iPhone to Mac by Email.
Method four: Sync pictures and photos from iPhone to computer via AirDropr
Before you starting to transfer iPhone photos and pictures to Mac, you must make sure your iPhone runs iOS 6 or later, and Mac runs OS X 10.5 or later to use AirDrop.
1 On your iPhone, drag "AirDrop" out from the bottom > Click "Contacts Only".
2 In your Mac, click "Go" > "AirDrop". You will find your iPhone' s Apple ID shows in this interface.
3 In your iPhone, navigate to the photo or picture that you want to sync, click the upload button -

> Choose more photos or pictures to transfer if you need > Find your Mac ID and click "Send" to transfer iPhone photos and pictures to Mac.
4 In your Mac, there is a reminder that tells that there is a file that is sent to you. You can open it to download iPhone photos and pictures to Mac for backup.
This method can only be used on Mac. If you are using a Windows computer, you should choose the next way.
Method five: Sync iPhone photos to computer using iTunes
If you're using Windows PC, you can sync the photos on your iPhone with iTunes.
1 Connect your iPhone to computer and launch iTunes.
2Click the iPhone icon on the menu bar and then click "Back Up now" to sync iPhone photos and other data to computer.
You can check the photos by visiting iTunes backup location
You can also use iTunes to copy pictures from Mac to your iPhone. But if you choose this way, all the original photos and pictures will be replaced by the selected ones on your PC/Mac.
Method six: Transfer iPhone photos to PC/Mac with professional transfer software
The above five ways have some limitations to get photos and pictures off your iPhone, so here we recommend you the easiest way to transfer photos from iPhone to PC/Mac with a third-party tool. FoneTrans. This tool has its Windows and Mac version, and you are allowed to download the correct version as you like. Here we take "transfer iPhone photos to PC" as an example. At first, you need to download and install this software on your computer.


Main Functions
◆ Transfer all your photos from your iPhone to PC/Mac, including Camera Roll, photo Library and Album.
◆ It can works as an iOS files transfer to share photos and other files with iOS devices and PC/Mac.
◆ It enables you to move other files between iOS devices and Computer or Mac.
After backing up iPhone photos to PC/Mac, you can deal with the photos and pictures in your iPhone casually. The six ways are easy, right? Try it by yourself to manage your iPhone photos and pictures.
Noreover, if you have video that want to save on your computer, then go to transfer video from iPhone to computer.