Part 1. The Safest Way to Permanently Delete Messages on iPhone
In this part, we will show you how to delete iMessages or text messages on iPhone completely and permanently with the best iPhone messages erasing tool. iPhone Cleaner, the professional tool to clean up your iPhone data, can erase all your contents and settings at one time. Besides, iPhone Cleaner supports almost all iPhone models, like iPhone 14, 13, 12, 11, XS, XR, X, 8, 7, 6, 5, and more. You don't need to worry that others can retrieve your deleted data with some recovery tool.
Step 1:
Free download iPhone Cleaner on your computer. Then follow the on-screen instructions to install the software. Open it after the installment. Then you need to connect your iPhone to the PC with a USB cable. Unlock the screen and trust your computer on the iPhone.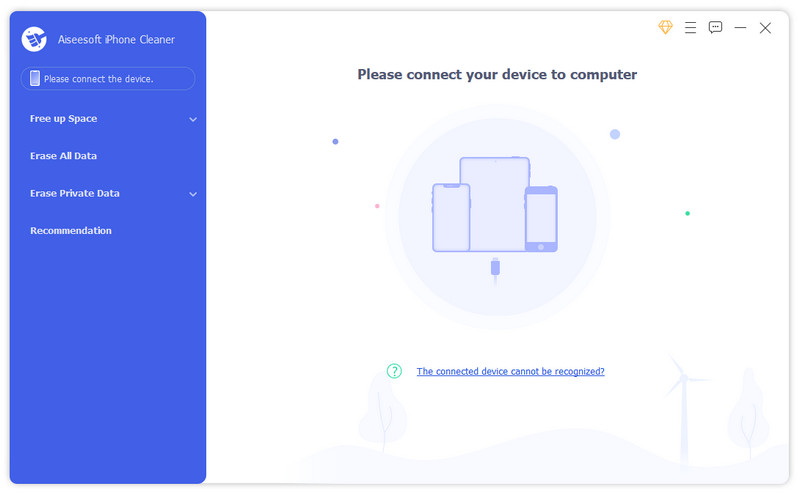 Step 2:
Go to the
Erase All Data
tab from the left panel. You can choose the safety level according to your need. The higher the level is, the more thoroughly your iPhone will be erased.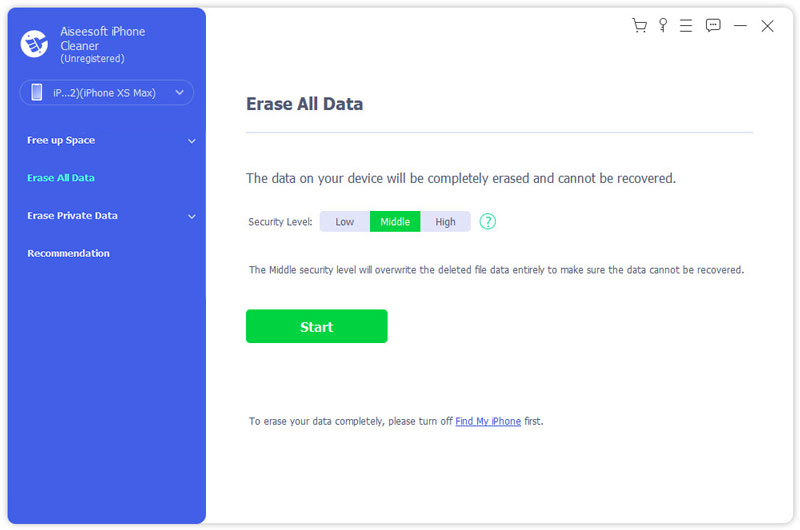 Step 3:
Input
0000
to the textbox. After that, click the
Erase
button and start deleting everything on your iPhone. But you should be aware that if you use this cleaning tool to delete your messages, all of them will be erased thoroughly. So, we highly recommend you to
back up these iPhone messages
before you try this program.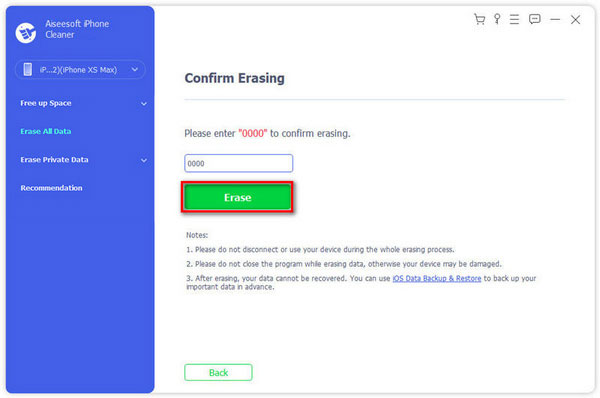 Part 2. Delete Text Messages on iPhone Directly
If you have enough time to delete your text messages on iPhone, then you could follow this way. It is very simple to delete text messages one by one or wipe them out at one time.
◆ If you use latest iOS versions, you can open your Messages > Tap the three-dot icon > Choose Select Messages > Check all messages that you want to delete > Tap Delete to delete selected messages.
◆ If your iPhone runs iOS 8, then you could go to Messages app > Hit Edit > Choose the messages that you want to delete > Tab Delete to delete single specific message. (See how to delete iMessages apps on iPhone)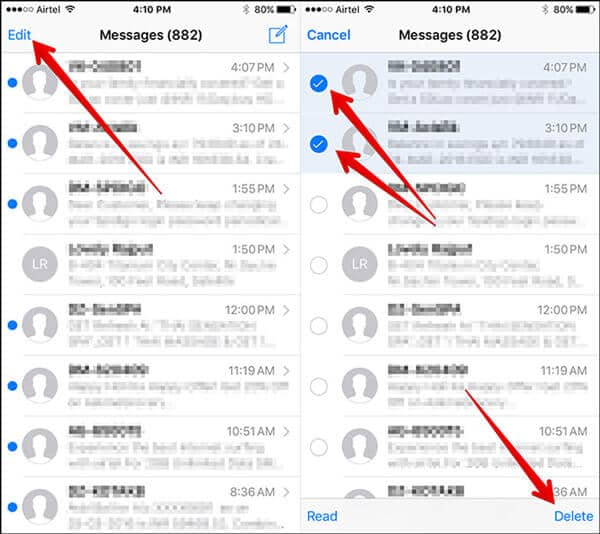 ◆ If you want to delete all old messages on iPhone, then you need to go to Settings > Messages > Keep Messages to keep old messages for 30 days and delete them at a time.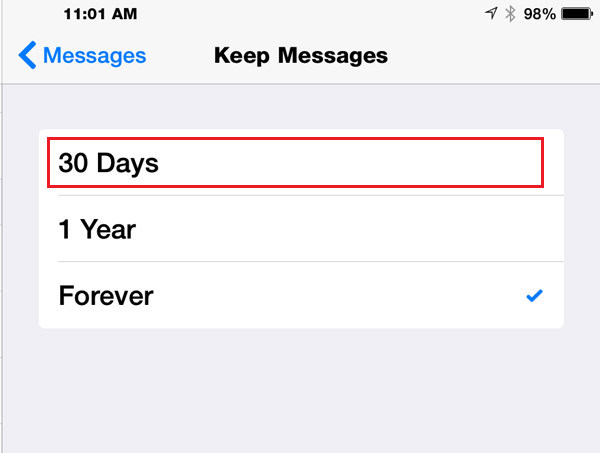 ◆ If your iPhone runs iOS 7, hit the person's name from Message to see all the messages that you send to and receive from this person. Press and hold the message that you want to delete from iPhone, click More... > Choose the messages that you want to remove > Hit the trash icon on the left bottom side > Tab Delete Message to delete your messages on iPhone.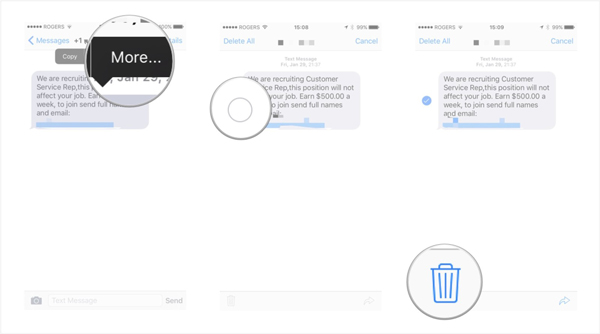 ◆ Alternatively, you are allowed to go to Messages > Slide the message to left or right to wipe out the message one by one. But it seems time-wasting for deleting lots of text messages on iPhone.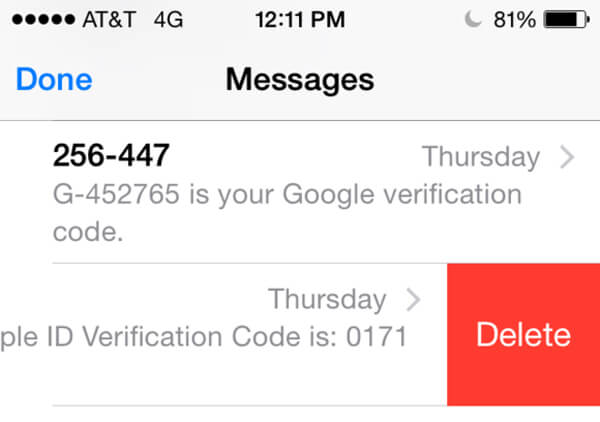 ◆ If your iPhone runs iOS 6 or before, then you are able to follow this way to delete one specific message on iPhone.
In your Message interface on your iPhone, click the name of the person whom you want to delete the messages exchange with, click Edit on the right top corner > Checkmark the messages that you want to delete > Tab Delete on the left bottom corner to confirm that you want to delete the messages.
The above way to delete text messages on iPhone directly is very easy. But do you think you are really deleting those text messages completely? Have you notice "Other" on your iPhone? If you rely on test messages on your iPhone, then your messages cache will be part of "Other". And when you use an iPhone recovery app to recover your deleted text messages, you will find they will appear on your iPhone. Such way of deleting text message really makes you feel relieved from a sale of your iPhone on eBay? Actually, not. You may release your private information from messages on iPhone.
So, iPhone Cleaner should be your first choice to delete your iPhone text messages permanently.
Part 3. Get Rid of iMessages Using Factory Restore Settings
In addition to using third-party tools and deleting messages directly in Messages, you can permanently delete them by restoring your iPhone's factory settings. This way is more thorough, and all your data will be removed after completing the setup. So you can make a backup of your data in advance.
Here are the detailed steps to delete iPhone messages using Factory Restore Settings.
Step 1:
Come to
Settings
of your iPhone, and tap
General
.
Step 2:
Tap
Transfer or Reset iPhone
in the menu, and select
Erase All Content and Settings
. Then just click
Continue
to confirm.