2 Easy Ways to Clear Safari Cache on iPhone and iPad
The cache is the data stored locally on your device by the operating system and apps. It saves temporary information when writing files or when it needs a scratchpad. Safari also has such caches to store your searches, browses, and other operations on the internet. While in many cases, you should clear Safari cache on iPhone and iPad. This post will share two simple ways to clear the cache on Safari.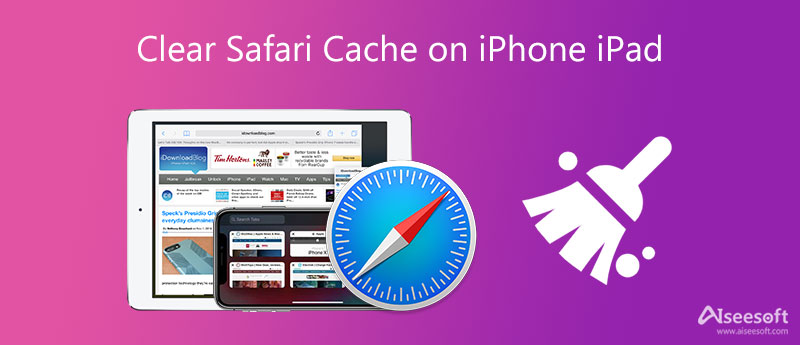 Part 1. Clear Safari Cookies and Caches Completely on iPhone Using iPhone Cleaner
To easily clear Safari cookies and caches on your iOS device, whether you are using an iPhone or iPad, you can rely on the powerful iOS data cleaning software, iPhone Cleaner. It supports iOS devices and iOS versions, including iOS 14, iOS 13, iOS 12, and the latest iOS 15. iPhone Cleaner offers a convenient way to remove cache on Safari.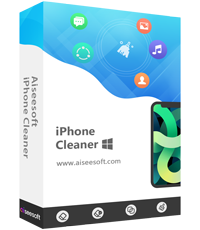 143,600 Downloads
iPhone Cleaner – Clear Safari Cache on iPhone and iPad
Easy clear Safari caches, histories, and cookies on iPhone and iPad.
Remove junk/duplicate/old/large files to free up iPhone storage space.
Uninstall unwanted apps, erase private data and compress images.
Offer three erasing levels to wipe all iOS data on iOS devices permanently.
Step 1:
First, you should free install and run this easy-to-use iPhone Cleaner on your computer. It is compatible with both Windows 11/10/8/7 and macOS. After launching it, you can connect your iPhone or iPad to the computer as it prompts. Here we take clearing Safari cache on iPhone as an example. You can use the same method to remove the Safari cache on an iPad.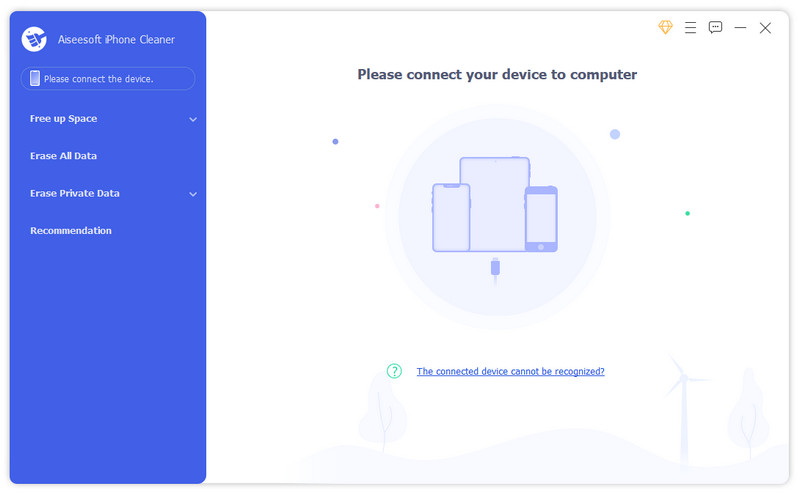 Step 2:
Unlock your iPhone screen, and tap
Trust
to help it connect successfully. After that, you can see some storage information about this device, such as the used space, available space, and capacity. Click on the
Quick Scan
button to scan all types of data on the iPhone.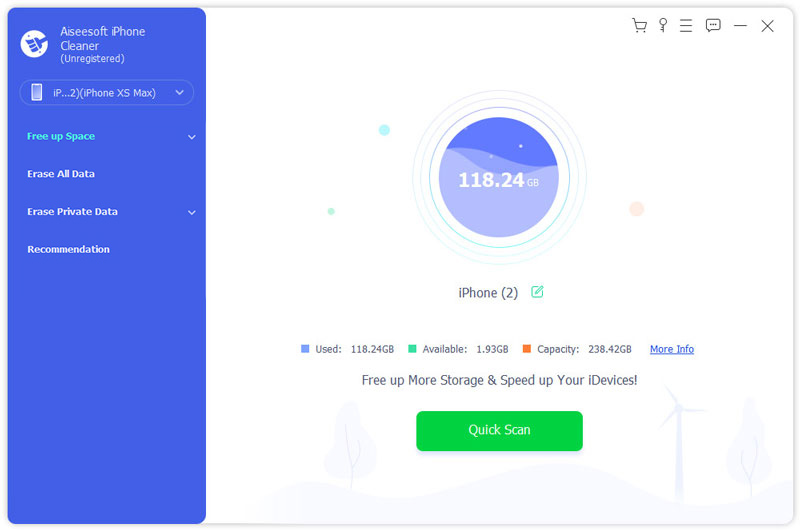 Step 3:
On the left panel, click the
Free up Space
. You are offered four options, Erase Junk Files, Uninstall Applications, Delete Large Files, and Clean up Photos.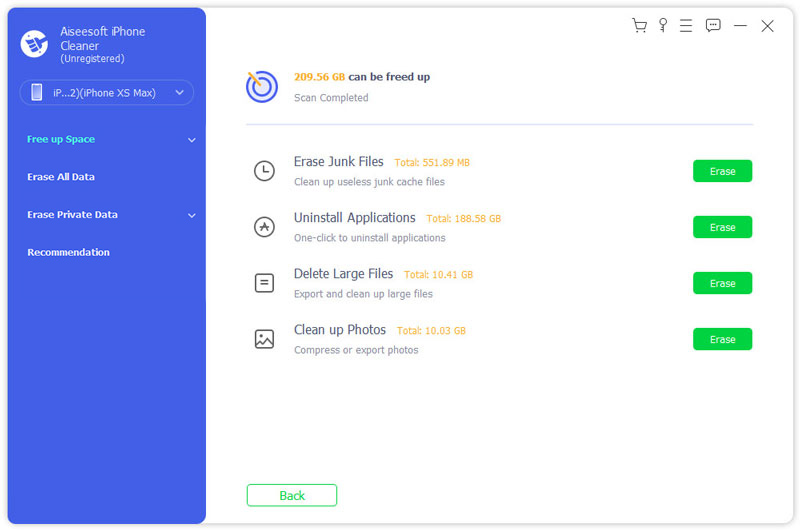 Step 4:
Choose the
Erase Junk Files
option to clear Safari caches and cookies, iTunes caches, invalid files, and temporary files, and so on.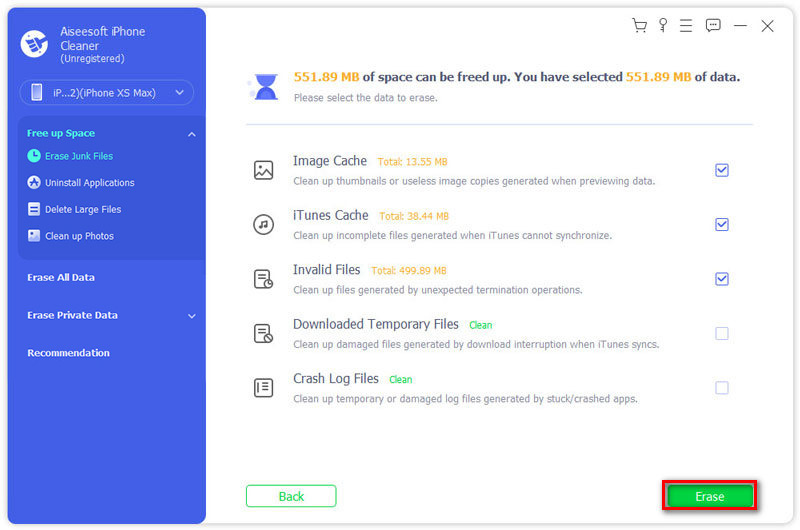 Step 1:
Click on
Erase
button to quickly remove all these useless files from your iPhone. As you can see, this iPhone Cleaner also allows you to erase all iOS data and private files. It is equipped with many other valuable functions to help you erase unnecessary files on iPhone, free up iPhone storage, and optimize iOS device performance. You should free download it and try these features.
Part 2. Official Way to Clear History, Cookies, and Caches in Safari
These gathered Safari caches, cookies, and histories on your iPhone and iPad will take up storage space and cause it to run inefficiently. So Apple also offers a way to clear cache in Safari. You can follow the steps below to clear the Safari cache on iPhone.
Step 1:
Unlock the iPhone screen, find and open the
Settings
app. Scroll down to find the
Safari
app. Tap on it, and you can enter the main Safari interface. Here you can tap on
Clear History and Website Data
to clear caches and cookies on Safari. To confirm the clearing operation, you need to tap the Clear History and Website Data again.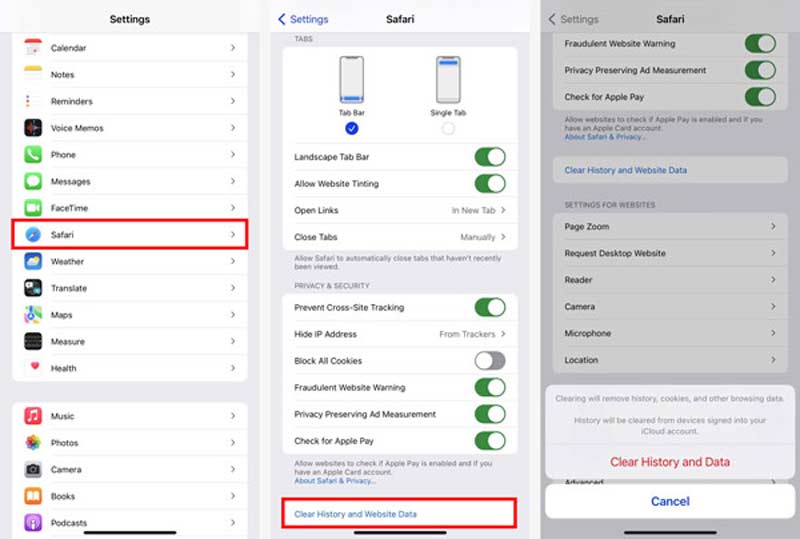 Step 2:
If you want to quickly delete all website data on iPhone, you can tap the
Advanced
option at the bottom part of the screen. Then tap on
Website Data
and use
Remove All Website Data
to clear all these data with ease.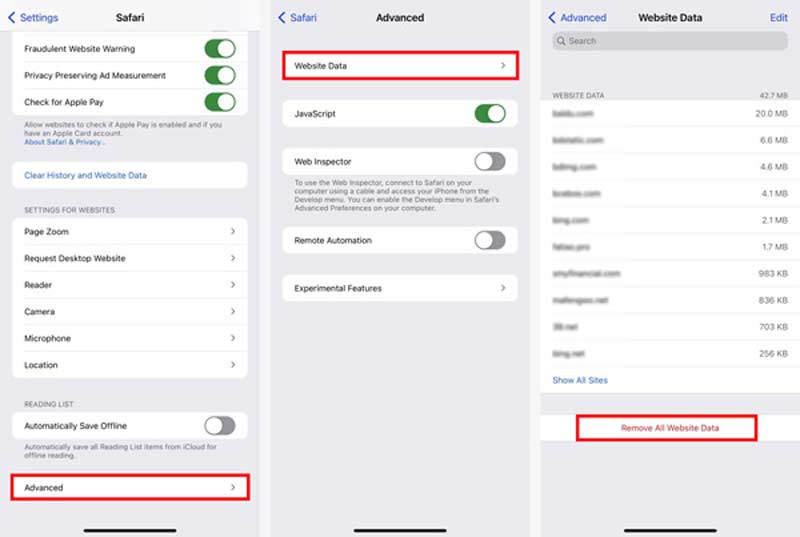 Part 3. How to Block Safari Cookies on iPhone and iPad
If you do not want or need Safari caches and cookies, you can choose to block them. iOS offers a Block All Cookies feature for users to easily prevent all Safari caches and cookies from collecting. You also can delete cookies on your iPhone. This part tells how to block Safari cookies on iPhone and iPad. Similarly, we take the iPhone as an example to show you how to block all cookies on Safari.
Step 1:
Open the
Settings
app on your iOS device like iPhone or iPad. Scroll down to choose
Safari
.
Step 2:
In the main Safari interface, find the
Block All Cookies
feature and enable it.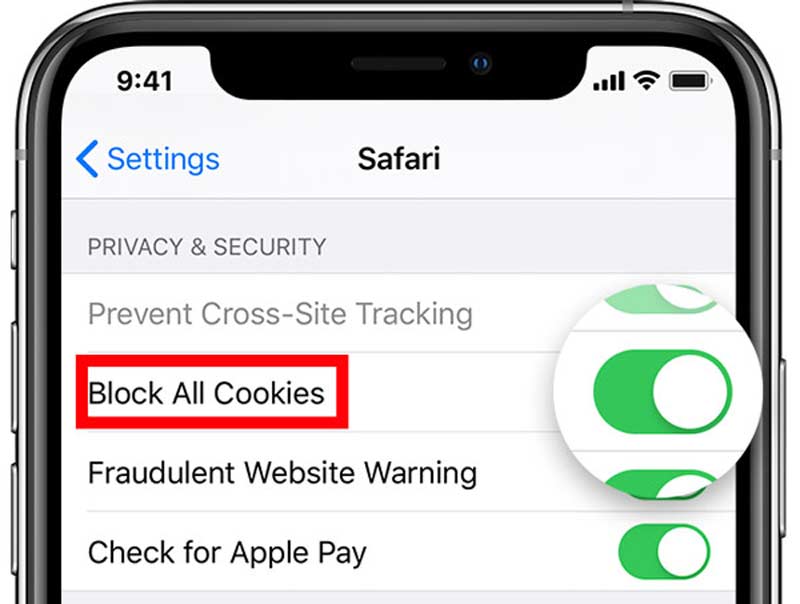 Note that, after your turn on the Block All Cookies feature, some web pages may not work normally. Also, you may need to re-sign your account again and again. In some cases, you will see a message prompting that cookies are required or your browser's cookies are off.
Part 4. FAQs of How to Clear Safari Cache on iPhone and iPad
What happens after clearing the Safari cache?
Whether you clear Safari cache on iPhone, iPad or Mac, you can clean up unwanted junk files and free up storage space. Also, clearing the Safari cache can help troubleshoot and speed up browsing. Relatively speaking, it helps increase the loading time of new web pages. While for some old sites that you have ever visited, you need to reload pages and download some temporary files.
Can I recover deleted Safari history?
Yes, you are able to restore deleted Safari history with the help of some third-party iOS data recovery tool, such as the popular iPhone Data Recovery. It can help you find the deleted Safari history directly from your iOS device.
What is the shortcut to clear Safari cache on Mac?
You are allowed to use a shortcut to clear the Safari cache through the developer menu quickly. You can press Command + Alt + E keys at the same time on your keyboard to remove Safari cache on Mac with ease. Also, you can set and enable several professional options in the Safari developer menu.
Can I use the Safari browser on a Windows PC?
The Safari browser is mainly designed for Apple products like MacBook, iPhone, iPad, and iPod touch. It also offers a Windows version for users to freely use on a Windows computer. But you should know that Safari 5.1.7 is the last version made for Windows users. Apple doesn't offer Safari updates for Windows any longer.
Conclusion
With the Safari caches and cookies on your iPhone and iPad, you can handily revisit sites next time. However, in many cases, you need to remove the collected Safari cache from your iOS device. This post gives you a detailed guide to clear Safari cache on iPhone and iPad. When you want to delete these browser caches, cookies, and histories, you can choose your preferred method to do that.

Leave your comment and join our discussion