Method 1. Clear YouTube History from Computer (Signed in)
Navigate to your watch history while you sign in YouTube, which includes videos that you have watched in YouTube app on iPhone/iPad/Android phone, as well as youtube.com. It also includes videos you've watched in a YouTube player on other websites when you log in to Google Chrome. Changes you make to your account watch history will appear on all devices you sign in to with this account.
Step 1:
Visit
youtube.com
, and click the "Sign in " button to log into YouTube account. Find and click the History tab from the left menu column. If the column doesn't show up, you can hit the three-line guide icon near the "YouTube" logo.
Step 2:
And here, you are able to find Watch history , Search history and comments on videos. Remove a video: Hit the "Cross" to the right of the video details to remove a individual video from your watch history.
Clear all watch history: Remove the entire watch history in one click.
Pause watch history: You can watch any YouTube videos while the watch history will be paused to record. This can influence your recommendations for YouTube videos.
Method 2. Clear YouTube History form Mobile Site (Signed in)
For clean the YouTube watch history, the very first step is to sign in your account and select "History" option from the mobile site. After this, you need to hit "Watch history" option. Now choose "Remove from Watch history" option from the menu.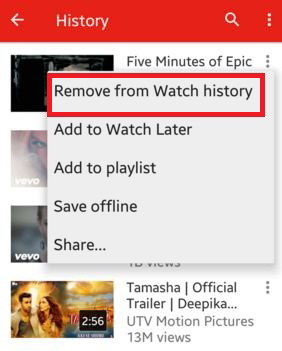 For Search history, go to "Account" > "History" > "Search history" and click on "Clear all Search history"from your account.
You can also choose "Pause watch history" to stop record the recent watched video caches.
Method 3. Clear YouTube History on iPhone/Android with YouTube App
You can rely on the following guide to clear YouTube watch history on YouTube app.
Step 1:
The foremost step is to launch the YouTube app on your iPhone or Android phone, and then sign into it.
Step 2:
Tap on the three-line guide icon next to the red YouTube "play" icon. After tapping it, you can find the list of menu items. You may need to choose the "Settings".
Step 3:
Now you are able to select history option from "Privacy" in settings. And here, you are allowed to clear or pause YouTube watch history as well as search history.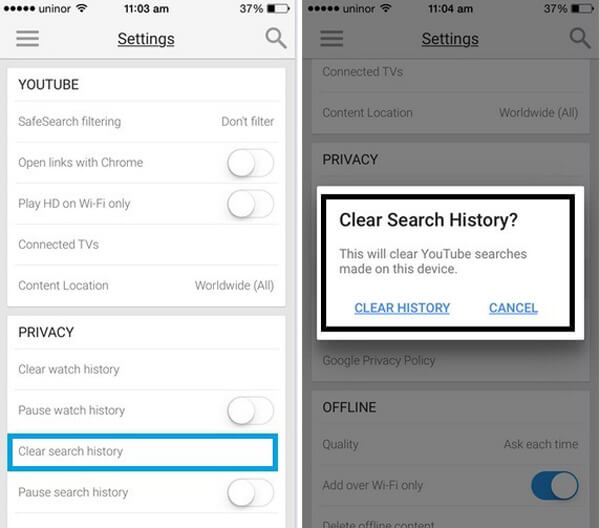 Method 4. One-Click to Clear YouTube History for iPhone
To clear the YouTube history and free up your iPhone space storage, you are introduced with iPhone Cleaner to help you do that. You are allowed to get rid of any unwanted data on your iPhone including the YouTube history safely and permanently.
Step 1:
Launch iPhone Data Eraser
Connect your iPhone to computer with USB cable and launch iPhone Cleaner. The program will detect your device quickly.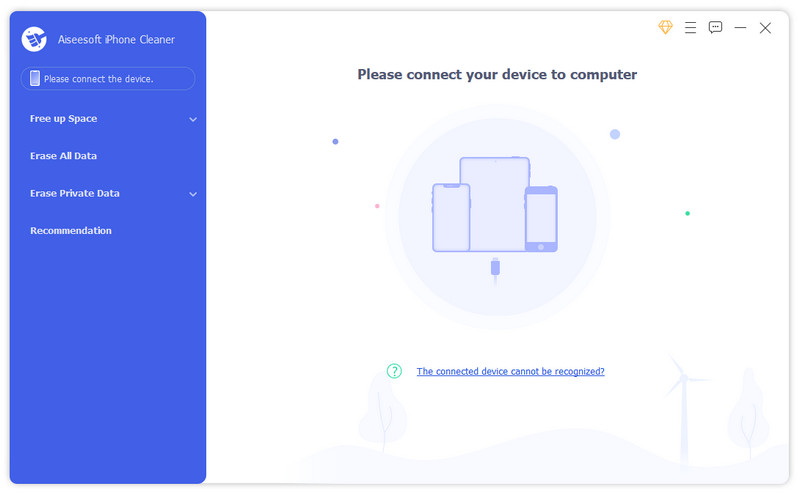 Step 2:
Select Erasing Level
Go to the "Erase All Data" tab on the left. Three erasing levels are provided: Low, Middle, and High level for overwriting different times to erase your iPhone content and settings as you want.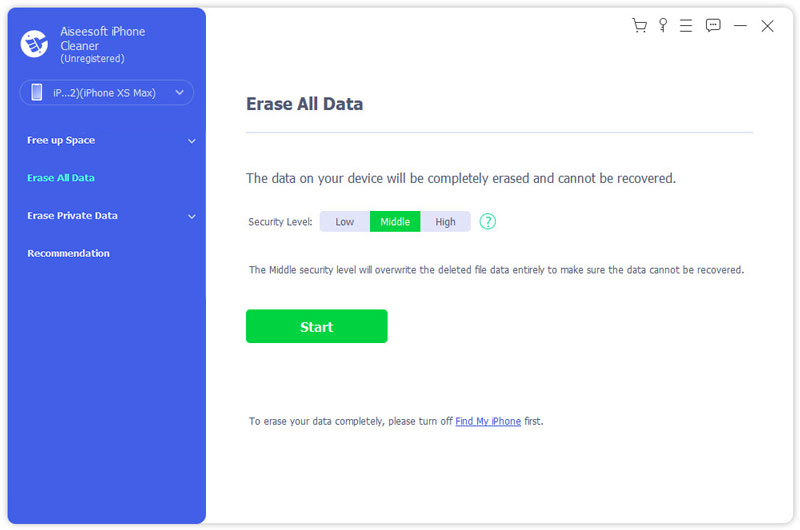 Step 3:
Start to Clear YouTube History
After choosing erasing level, you can click "Start" button. Then enter "0000" to the textbox and click "Erase" to free up your iPhone, including clearing the YouTube history.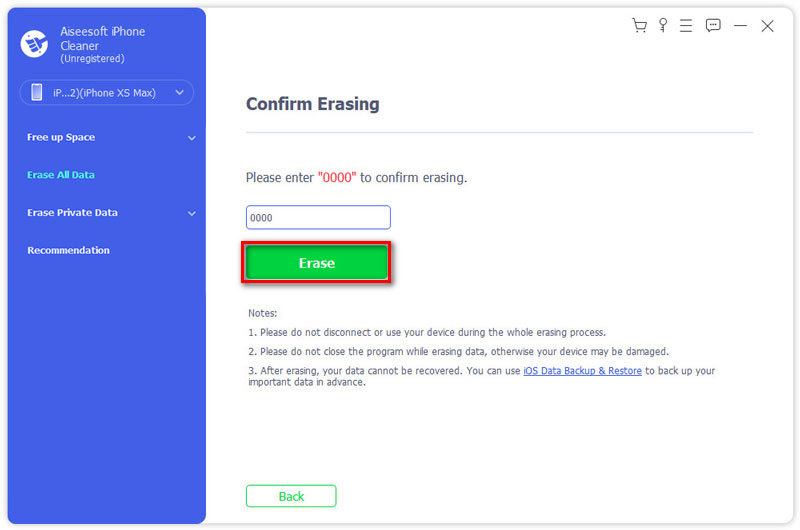 Note: iPhone Cleaner enables will delete the iPhone files and settings in one click, so you'd better back up iPhone to computer at first.