How to Delete Contacts from Facebook Messenger on iPhone/iPad
"I need to delete several Facebook contacts out of my iPhone contacts, but there is no option in the Facebook app, is there any suggestion?" You may suddenly find hundreds of Facebook contacts appearing on the contact list on your iPhone as using the social media app on your handset. Someone may like the integration, but most users just feel confused. This tutorial shows you how to delete Facebook contacts on iPhone properly.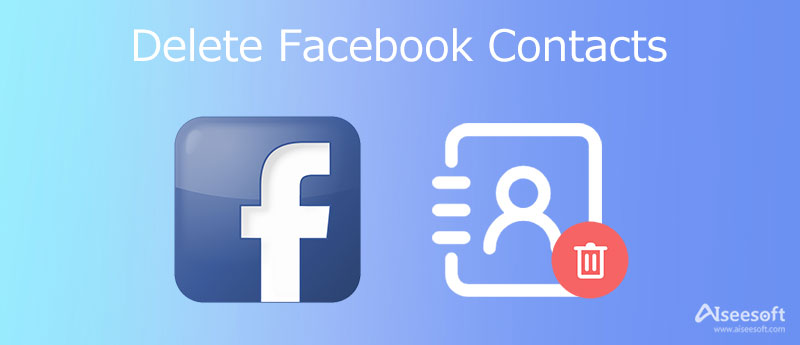 Part 1: How to Delete Contacts from Facebook on iPhone
According to our research, there are two ways to get rid of Facebook contacts on the iPhone, one is deleting contacts from the list and the other is hiding contacts. We share the steps respectively below.
How to Delete Facebook Contacts on iPhone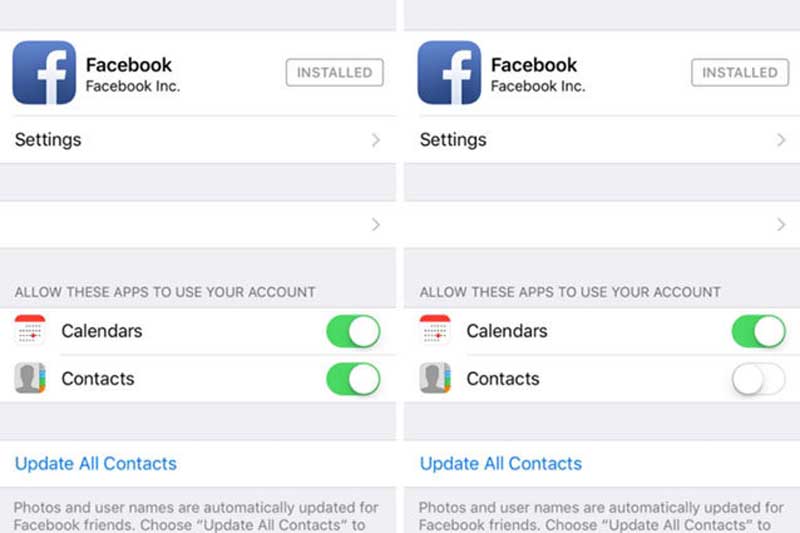 Step 1:
Fire up the
Settings
app from your home screen.
Step 2:
Scroll down until you see the
Facebook
, and tap it.
Step 3:
Locate the
Contacts
option under
Allow These Apps to Use Your Account
, and toggle off the switch.
Now, the Facebook contacts are deleted from the iPhone contact list. Don't worry! Your Facebook contacts remain available in your Facebook account.
How to Hide Facebook Contacts from iPhone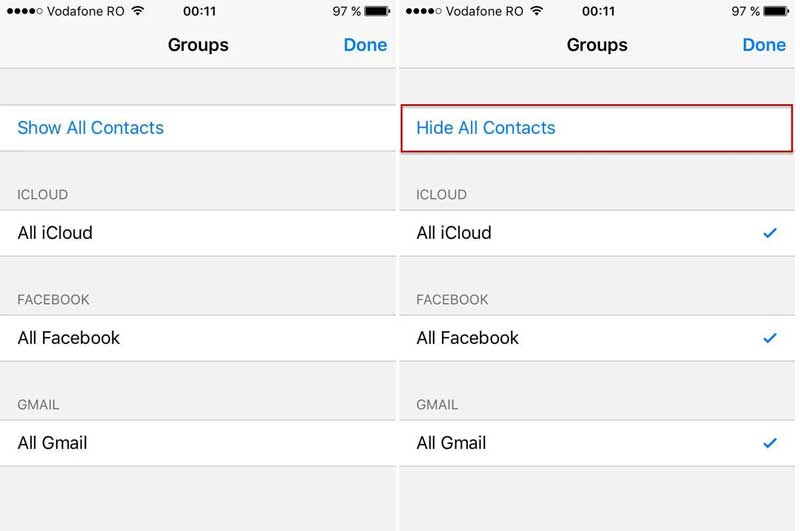 Step 1:
Run the Contacts app on your iPhone.
Step 2:
Tap the
Groups
link at the top left corner, and press the
Hide All Contacts
link from the top of your screen.
Step 3:
Now, iOS will organize your contacts by groups. Tap the groups that you want to display on iPhone except the
All Facebook
group. Press the
Done
button on the top right side.
Part 2: Ultimate Way to Delete Facebook Contacts from iPhone
The built-in methods can only delete all Facebook contacts on iPhone. If you intend to delete specific contacts, you will need a powerful tool, such as Aiseesoft iPhone Cleaner. It allows you to preview Facebook contacts on iPhone and delete selective items.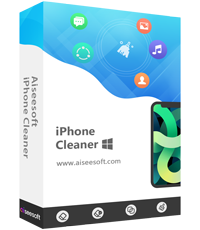 143,600 Downloads
How to Delete Facebook Messenger Contacts on iPhone
Make sure to install the best Facebook contact cleaner on your computer. It is compatible with Windows 10/8/7 and Mac OS X. Plug your iPhone into the same machine using a Lightning cable. Launch the software and it will recognize your handset immediately.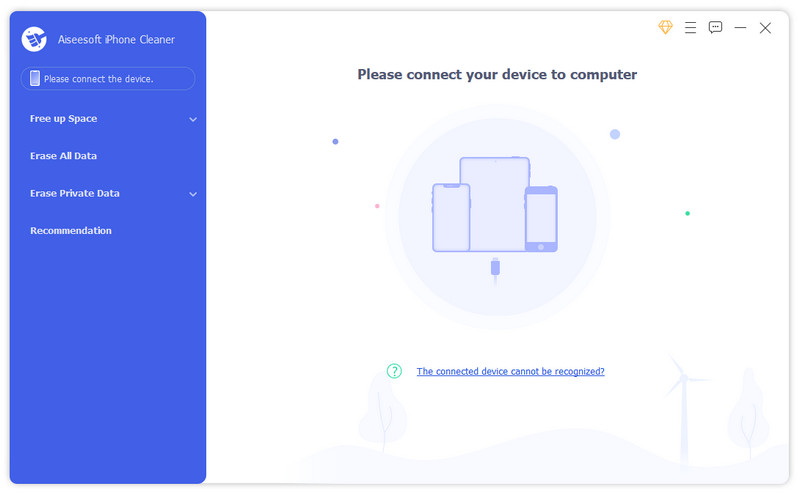 For iOS 13, you need to type in the passcode to permit the connection.
Step 2:
Preview Facebook contacts
After connecting, head to the Erase Private Data tab from the left-hand column, and click the Custom Erase button to begin looking for Facebook contacts on your iPhone. When it is done, check and highlight the Contacts and other data types that you want to delete under Private Data. Now, you can see the Facebook contacts and detail, such as phone number, name, etc.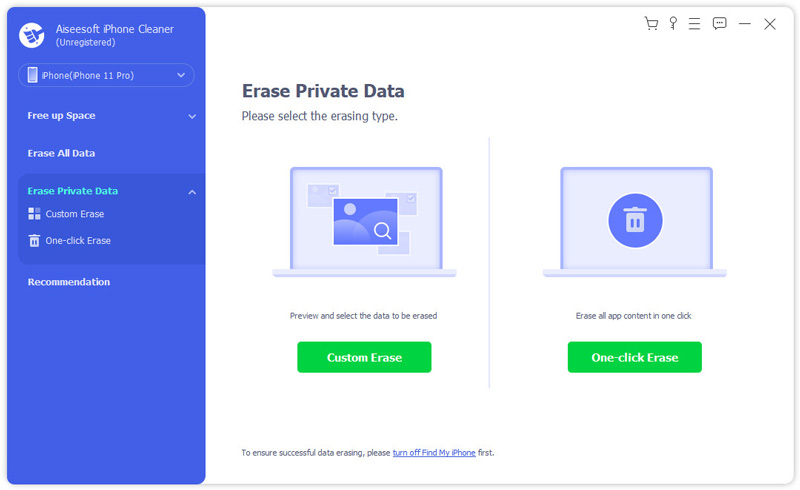 Step 3:
Delete Facebook contacts on iPhone
Select the unwanted Facebook contacts and check the box in front of each item. At last, click on the Erase button to initiate deleting Facebook and Messenger contacts from iPhone. During the process, you must keep your iPhone connected to the computer. After deletion, disconnect your iPhone and you will find the selected Facebook contacts disappeared but other contacts are still here.
This way will delete Facebook contacts permanently, so you'd better back them up before clearing.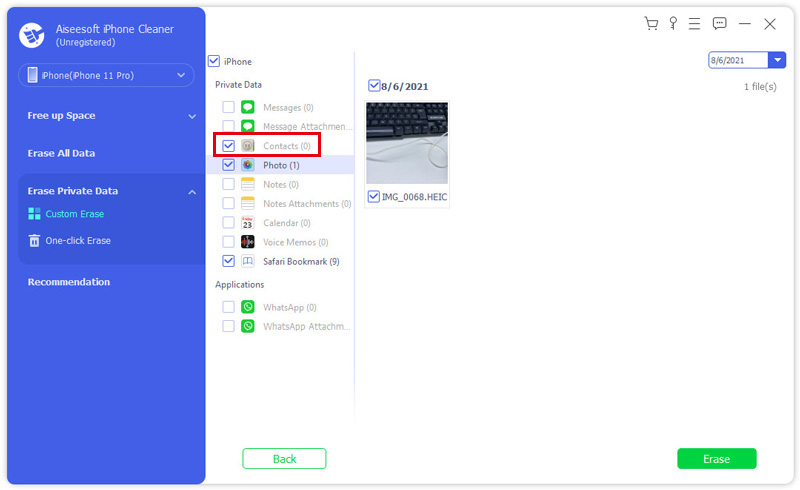 Part 3: FAQs about How to Delete Facebook Contacts
How do I remove non-friends from Facebook Messenger on My iPhone?
Open the Messenger app, press your profile photo on the top left side, and choose Phone Contacts. Next, move ahead by tapping on Manage contacts, and you will show with the Non-Friends list. Tap Delete All Contact to remove them.
Can you unfriend someone on Facebook but still have them on Messenger?
When you unfriend someone on Facebook, it just removes the connection on the social platform. That does not disconnect you from Messenger. The contact and conversations are still present.
What is the easiest way to delete contacts on iPhone?
To delete a contact from iPhone, the easiest way is the built-in feature in the Contacts app. If you want to delete all contacts, you can get it in the Settings app.
Conclusion
This guide has talked about how to delete Facebook and Messenger contacts on iPhone. You can follow our guide to delete or hide the contacts without extra apps. Sometimes, you just want to remove specific Facebook contacts. Aiseesoft iPhone Cleaner can meet your need. Moreover, it is pretty easy to use. If you have other suggestions, please feel free to write them down below this post and we will reply with them as soon as possible.

Leave your comment and join our discussion